Police chase, arrest two women with 300 kilograms of compressed marijuana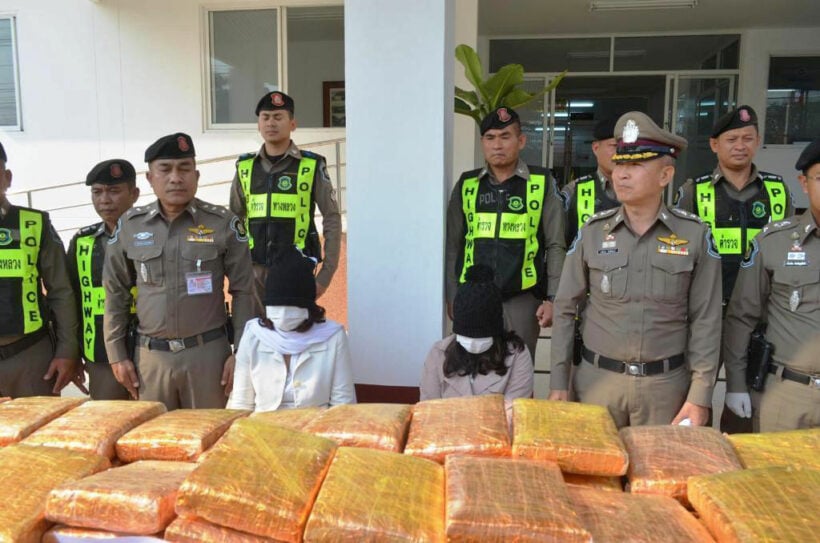 Authorities in the northeastern Nong Khai province arrested two women yesterday and seized 300 kilograms of compressed marijuana. The two were captured after trying to run a police checkpoint. Police told reporters the arrests came after a tip-off that marijuana would be smuggled from neighbouring Bung Kan province, once a part of Nong Khai. It was to be transported to Khon Kaen.
Police set up a checkpoint on the Mittraphap highway in Khon Kaen's Nam Phong district and at about half past midnight, a Mitsubishi Pajero was seen approaching. Before reaching the checkpoint, the Mitsubishi made a sudden U-turn and sped off, ignoring police demands to stop. Police quickly gave chase. The Mitsubishi raced through Udon Thani until police shot out the SUV's tyres.
Two women were arrested and identified as 33 year old Suthida Kuapol and 40 year old Aporn Klinnoy. Eight fertiliser sacks with 300 compressed bricks of marijuana, each weighing a kilogram, were found in the vehicle.
Thai media report that the two women have been charged with possession with intent to sell.
SOURCE: Chiang Rai Times
Keep in contact with The Thaiger by following our
Facebook page
.
Drink-driving professor crashes, injures 2 police and elderly woman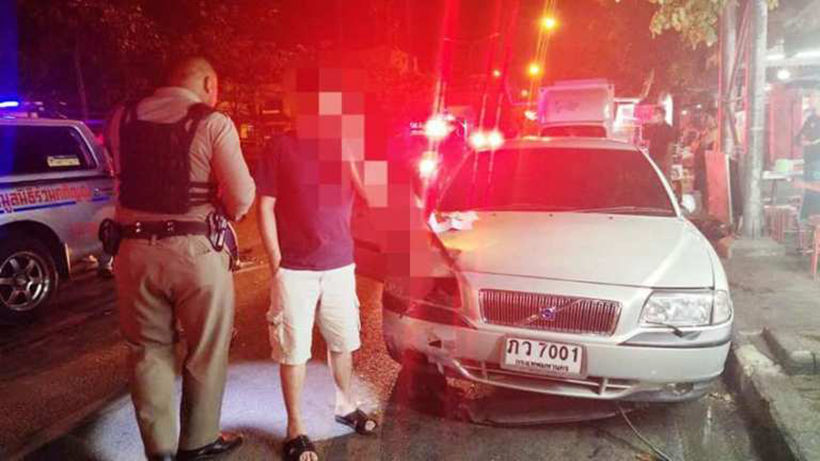 A university professor has been arrested for drink driving in Samut Prakan, just south of Bangkok, after he crashed into a police motorcycle. Two police officers and an elderly woman were injured in the incident. Police and a rescue team were called to the scene and discovered a police motorbike lying on the road and 2 injured officers.
The injured woman was a 70 year old roadside foodstall owner. She says was working as usual when the car drove into her. Police say the car drove directly into their police bike from behind. The motorbike was thrown 20 metres away, while the two officers fell to the ground.
Officers asked the professor to step out of his car but he appeared drunk and refused. When he eventually came out officers took photos of the scene and checked security footage before removing his car to the station.
Police invited him to the station but the professor insisted on waiting for his sister. Officers asked him to take a breathalyzer test, but he refused and tried to drive away using his sister's car. An officer tried to stop him as he was still drunk, sparking a heated argument with the sister.
Police reported the professor alcohol level was roughly three times the legal limit. He was charged with drink driving causing injury to 3 persons and other damages.
The professor's sister filed a report alleging that officers abused her during her brother's arrest.
SOURCE: Chiang Rai Times
Keep in contact with The Thaiger by following our
Facebook page
.
Death penalty sought for Lop Buri gold shop shooter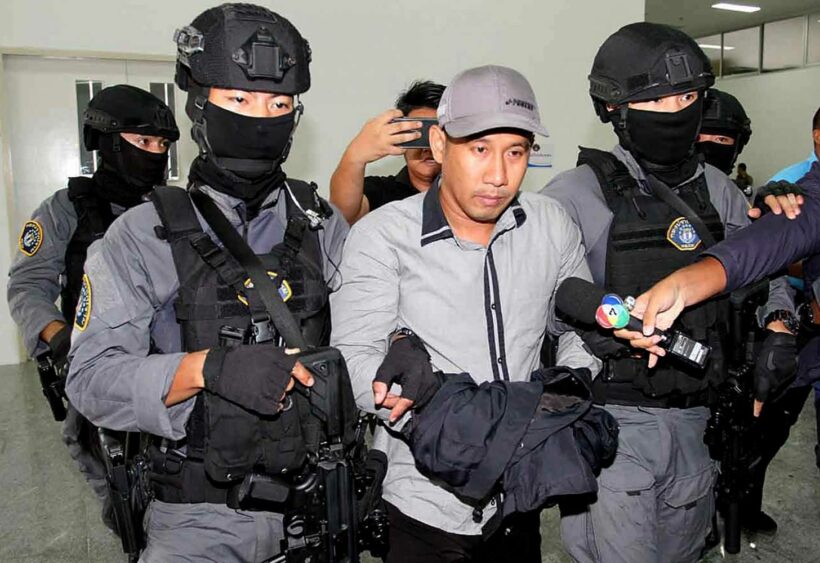 Thai Prosecutors are seeking the death penalty for a school director who killed three people, including a two year old boy, in a gold shop robbery in Lop Buri last month. Prasittichai Khaokaew will face execution for his "horrific actions," prosecutors say. The Thai Criminal Court was asked yesterday to try the 38 year old for premeditated murder over the armed robbery at Aurora Gold Shop in Robinson shopping centre on January 9, which also wounded four other shoppers.
Prasittichai originally claimed he robbed the shop for "some excitement," but a source close to the investigation revealed he desperately needed money to settle gambling debts of some two million baht. Investigators say Prasittichai used a CZ P-01 gun borrowed from his father's house, fitted with a silencer which he later threw into a river. He made off with gold worth about 635,000 baht.
Deputy Criminal Litigation Department chief Phonchai Chonwanitkun was frank in his assessment:
"We have to convince the court his confession doesn't mean he has repented. It simply means he gave in to the weight of evidence. More importantly, his cooperation does not benefit the trial. But whether he receives harsh penalties will depend upon the court."
The Bangkok Post reports that prosecutors studied a police report from February 11 and decided to charge Prasittichai with nine crimes, including killing a person in the commission other offences, robbery, illegal firearm possession, and firing a weapon without sound reason.
SOURCE: Chiang Rai Times
Keep in contact with The Thaiger by following our
Facebook page
.
Abbot who embezzled 69.7 million baht gets fines, suspended sentence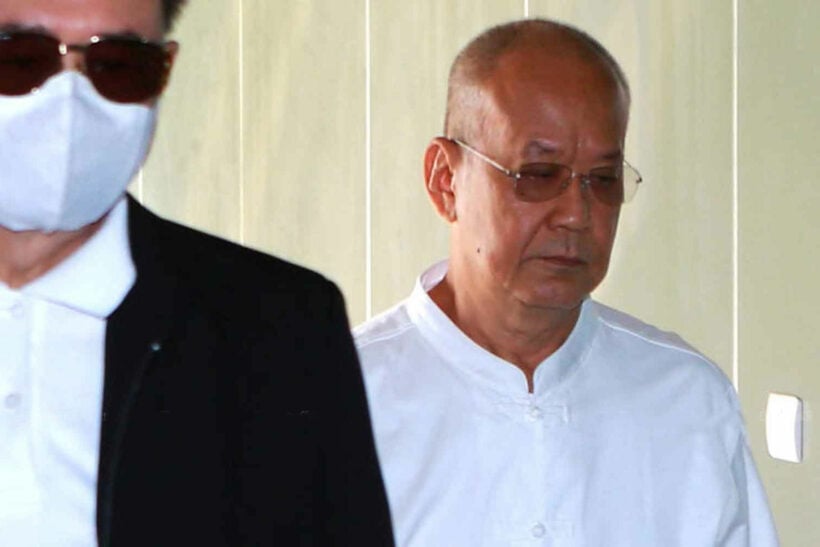 An ex-abbot of Wat Sa Ket (Golden Mount Temple), found guilty of embezzling 69.7 million baht in temple funds, has been fined 27,000 baht and given a jail term of 36 months, suspended. The sentence was handed down at the Central Criminal Court for Corruption and Misconduct Cases yesterday. The court found 64 year old Thongchai Sukkho guilty of "malfeasance."
Prosecutors told the court that Thongchai conspired with former officials of the National Office of Buddhism (NOB), funneling 69.7 million baht to Wat Sa Ket, the only temple to receive such an amount from the office's 5.36-billion-baht budget in 2016. The court found that the money was embezzled for personal use.
However, the court suspended the former abbot's jail term for two years because he "had promoted Buddhism" and had "never previously breached Buddhist rules."
Thongchai was among several former members of the Sangha Supreme Council arrested in 2018 for temple fund embezzlement, according to the Bangkok Post. The same case also involved four other defendants, all executives of the NOB: former director Phanom Sornsilp; former deputy director Chayapol Pongseeda; former director for Buddhism promotion Narongdet Chaiyanet, and former academic official Pattana Su-ammatmontree.
Phanom was sentenced to two years and 12 months and the three other defendants got three years and 18 months.
COURCE: Chiang Rai Times | Bangkok Post
Keep in contact with The Thaiger by following our
Facebook page
.