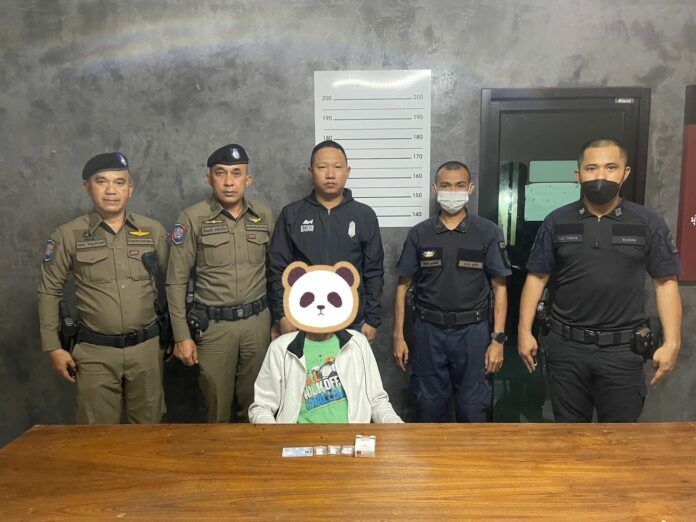 Cops nabbed a Patong entertainment staffer on Saturday who allegedly sold cocaine to tourists. Police patrolling the infamous party hotspot of Bangla Road received a tip-off from an anonymous entertainment venue operator that a staffer was selling cocaine to tourists on the road.
The police then caught the staffer, 61 year old Rueng, reportedly with three bags of cocaine weighing 1.77 grammes in total.
Patong Police and Phuket Tourist Police seized the bags, and brought Rueng to Patong Police Station to face charges of illegal possession of Category 2 drugs in Thailand, The Phuket Express reported.
Police busted Rueng just a day after another cocaine bust in Phuket. Thai police arrested an Uzbek woman at the Phuket International Airport for possession of 2.23 kilogrammes of cocaine. The Sakoo Police said they received a tip-off about a suspicious person and brought her in to be searched.
Police identified the woman as 41 year old Shoira Rakmonova. Upon searching her, they found the illicit drugs stashed in her laptop bag. The Uzbek woman had been travelling solo and had entered Thailand yesterday morning on a direct flight from Doha, Qatar to Phuket International Airport.
Inside the woman's laptop bag, police recovered eight bags, each filled with cocaine. The total weight of the bags was 2.23 kilogrammes, a sizeable among for an airport drug bust.
The police said that she was charged with importing Category 2 drugs to Thailand.
In Thailand, the possession, production, and distribution of illegal drugs are all considered criminal offences, and those convicted can face life imprisonment or even the death penalty.
Thai police have recently been cracking down on drug crimes in Phuket, and other southern provinces. Earlier this month, it was reported that police nabbed over 400,000 meth pills in seven provinces in South Thailand. Some 430,029 meth pills were found in the provinces of Surat Thani, Nakhon Si Thammarat, Chumphon, Krabi, Phang Nga, Ranong, and Phuket.