All calm in Bangkok following Friday morning's spate of explosions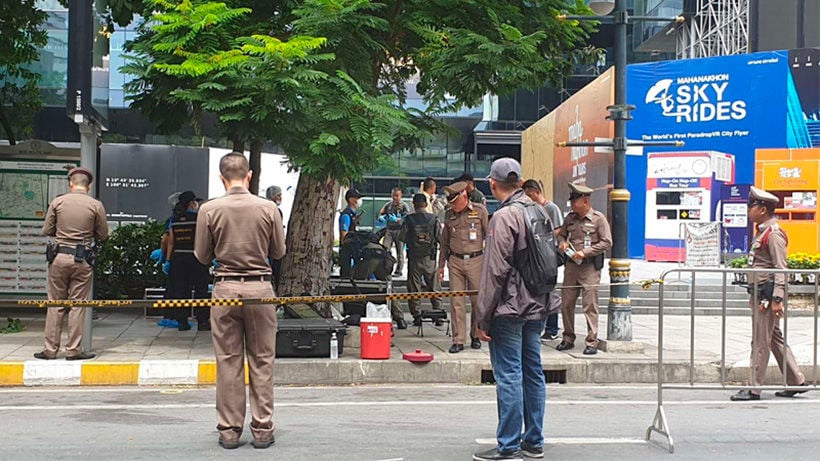 The PM says there will be no special laws enacted to respond to yesterday's bomb blasts around Bangkok.
Prayut continues to urge people not to panic and says police will rush to bring the perpetrators to justice.
The PM, who is also the defence minister, also ordered police to step up security and appealed for people to report any irregularities as they move around the city.
The incidents took place as Thailand hosts ASEAN summits with regional foreign ministers in town for post ministerial conferences and related meetings until today.
There were multiple locations where the bombs went off. Five of them occurred at the Government Complex (B Building) on Chaeng Watthana road, a spot near Chong Nong Si BTS station, Soi Rama 9, the Royal Thai Armed Forces HQ, and the Office of the Permanent Secretary For Defence (Sri Samarn Road).
After the blasts, key politicians and ministers came forward to condemn the incidents while urging that people should remain calm and avoid sharing rumours on the internet. Many key locations, including transport sites, have seen security stepped up with many businesses, including shopping centres, initiating security step-ups with car and bag searches at entrances.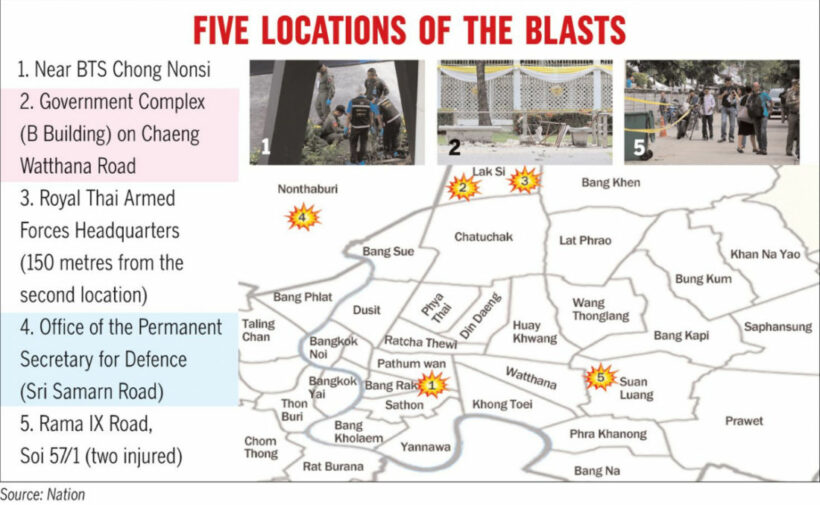 Meanwhile, two men were arrested in the early hours yesterday, preceding the spate of small bomb blasts around the city, when going through a checkpoint on a south-bound bus in Chumphon province on suspicion of placing two fake homemade bombs in front of the Royal Thai Police headquarters on Thursday evening.
After placing the 'fake' bomb on the steps of the police headquarters the pair seen on CCTV used two different methods of transport to flee the area before boarding their south-bound bus at Chatuchak as well as changing their clothes twice.
Read more HERE.
At this stage there are no specific links between the Thursday night 'fake' bomb placement outside the Royal Thai Police HQ and the blasts yesterday morning, mostly between 7am-9.10am.
The small explosive devices were mostly 'ping pong' bombs and have been clearly detonated to 'send a message' rather than intentionally causing damage or kill citizens.
Four people were slightly injured in yesterday morning's explosions including two road cleaners. Read that story HERE.
Army chief Gen. Apirat Kongsompong spoke out yesterday afternoon, an unusual interception by the Army chief, accusing "Redshirts and those controlling them" of being behind the bombings. His comments were reported in Khaosod English at 3.14pm Friday afternoon.
"This is similar to the events in 2006. It's the same group of people, with the same ideologies that used to bomb police checkpoints." Apirat did not provide any evidence to back his accusations when speaking to the media. The Army chief also said that intelligence services had been aware of plans for the attacks for a while, but did not expect the bombings to unfold so soon.
SOURCES: The Nation | Khaosod English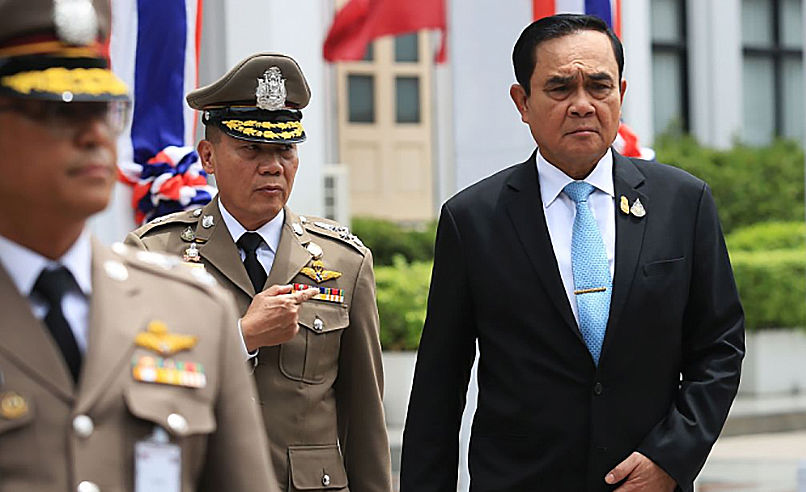 A stern-faced PM Prayut before speaking to the media yesterday afternoon where he urged 'calm' and promised the perpetrators would be caught.
Keep in contact with The Thaiger by following our
Facebook page
.
30,000 baht reward offered after prisoner walks away from Bangkok prison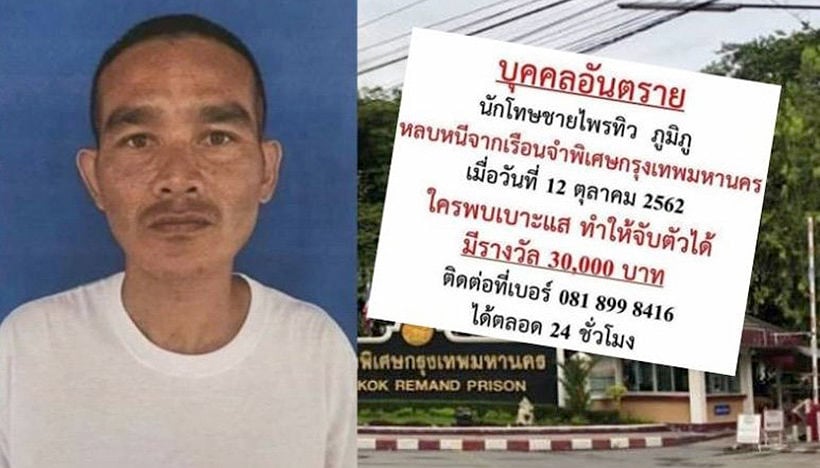 Police in Bangkok are offering a reward of 30,000 baht for information that leads to the capture of an escaped convict. The Daily News reports that Pol Col Chanaworasin Suphaphanarak, the chief of Prachacheun police in northern Bangkok, confirmed the reward yesterday.
Phraiphiw Phumiphu, a convicted thief, escaped Bangkok Remand prison on Saturday. It's understood he had been working outside the prison gates when he ran off.
Press reports say the escaped prisoner is "unstable", while the poster issued to publicise the reward for his capture describes him as "dangerous."
It's understood Phraiphiw previously served a jail sentence for theft but had re-offended.
SOURCE: Daily News | ThaiVisa
Keep in contact with The Thaiger by following our
Facebook page
.
Festival of lights will decorate 13 Bangkok bridges until October 25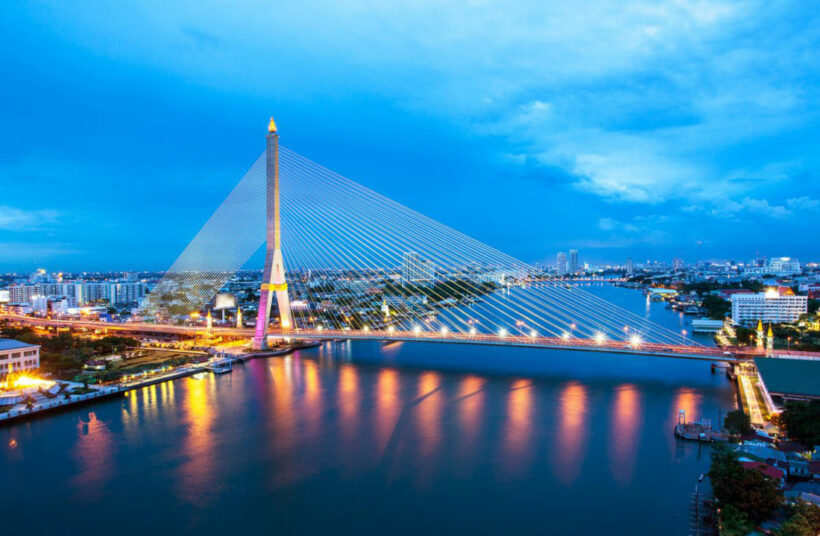 PHOTO: TakeMeTour
Thirteen bridges over Bangkok's Chao Phraya River, as it snakes its way through the metropolitan areas, will be lit up in a festival that runs through to October 25.
The Department of Rural Roads is decorating Rama III, Rama IV, Rama V, Rama VII, Maha Jesadabordinthanuson, Somdet Phra Pinklao, Phra Phuttha Yodfa, Phra Pok Klao, The King Taksin , Krung Thon Buri, Bangkok, Bhumibol 1 and Bhumibol 2 bridges.
The special decorations are a part of the final part of the May coronation ceremony and will feature barge processions along the Chao Phraya.c The bridges will be lit up from 7pm to 10pm each night, and 6pm to midnight on October 24.
The move is meant to show the unity of Thai people and project the beauty of the Chao Phraya River to promote tourism.
The Government and TAT have outlined a range of other projects to Cabinet, including concerts, festivals, expos, tourism discount promotions and even a 'Ganja World Festival' in Buriram, in efforts to push the international tourist numbers past 40 million.
In a challenging year, the tourism numbers started well with forecasts of over 40 million for 2019. But March, April and May saw some changes to the demographics and some of the traditional favourite locations noted big drops in numbers. But the numbers appear to have stabilised since and a drop in overall Chinese tourism has been matched with surges is some other markets.
SOURCE: The Nation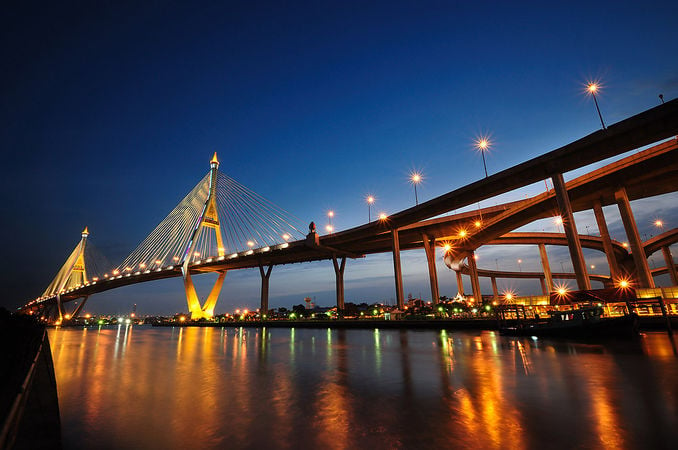 Keep in contact with The Thaiger by following our
Facebook page
.
Professor: Military government too interested in tourism – not people's welfare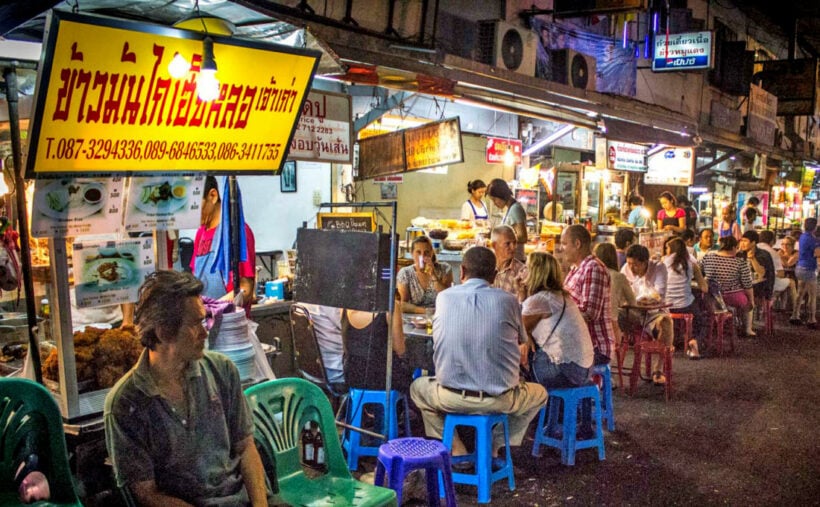 A professor of Rangsit University has criticised the previous military government for focusing too much on tourism and not enough on the welfare of the Thai people. The professor was speaking at Chulalongkorn University at a seminar discussing street stalls and urban development.
She questioned the National Council for Peace and Order's policy of clearing street vendors in all but a few areas such as Yaowarat and Khao San Road that mainly cater to tourists.
She claimed that the NCPO – in power since the coup of 2014 until this year's election – was more interested in economic development through tourism than in the welfare of the public.
Having affordable street food options was not just about tourism, she said, it was vital for poor workers who have migrated from the countryside, adding that it was part of an informal rather than a formal economy.
"For years people had earned their living from selling goods and services, including food, on the streets."
This in turn provided an affordable option to eat for workers who came to Bangkok on for large investment projects. The issue, she said, was not just about tourism but the wider economy that might benefit.
The professor noted that CNN had once called Bangkok the best place in the world for street food but this had changed with the sanitized food trucks that have appeared since stalls and vendors were banned from most areas.
The Thaiger notes that banning street vendors has divided the capital. Many are happy that the sidewalks are easier to navigate, but others – including tourists – have said that the lifeblood and character of the city has suffered.
SOURCE: Naew Na | ThaiVisa Forum
Keep in contact with The Thaiger by following our
Facebook page
.