3 arrested for rape, death of teen schoolgirl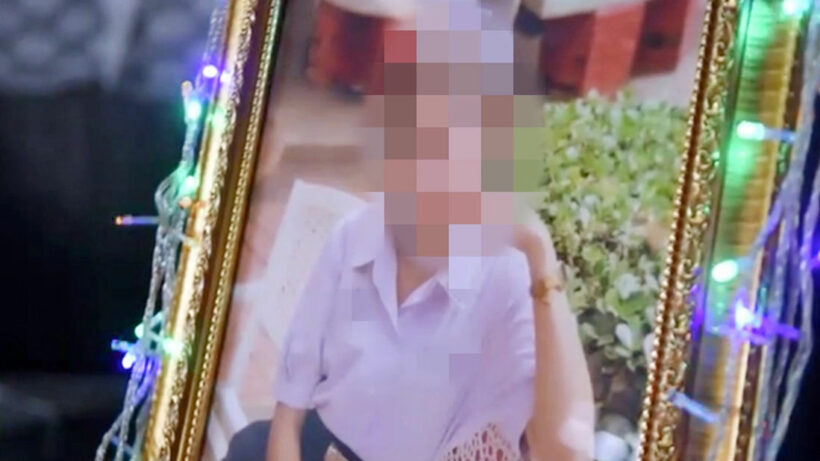 Police in Kanchanaburi, the largest of Thailand's western provinces, have arrested 2 young men in connection with the rape and unexplained death of a teenage schoolgirl. They apprehended the pair yesterday after obtaining warrants. The 2 face charges of depriving a schoolgirl aged under 18 of parental care and also performing indecent acts. 21 year old Phakhin Chanyiam and 18 year old Natthaphong (surname withheld), were taken to a Kanchanaburi police station for interrogation.
Their arrest follows that of 22 year old Pongpat Nakpian in the same case. He is charged with rape, performing an indecent act and possession of illegal drugs. The provincial court approved his detention after rejecting his bail request.
The 3 suspects are also reported to be linked to the death of grade 12 schoolgirl "Nong Dao", who was found dead in front of Pongpat's grandmothers house on June 17. Kanchanaburi police examined her body and noted traces of blood from her mouth and her nose. They are awaiting the results of forensic tests to determine the cause of death. Nong's parents believed their daughter might have been drugged, leading to her death. Police said Friday that there might be as many as 5 people involved in the case.
Thairath reports that a group of male friends drove to the girl's house to pick her up on June 16. Her family weren't able to contact her that night. They later received a phone call from one of the girl's friends, who told them she'd been found dead on a wooden bench in front of a house in the main city district.
The owner of the home, the Pongpat's grandmother, told police she'd found the girl laying dead on the bench on the morning of June 17. She said she had no idea of how the girl got there.
SOURCES: Chiang Rai Times | Thairath
Keep in contact with The Thaiger by following our
Facebook page
.
Busy motorbike thieves nabbed in Chon Buri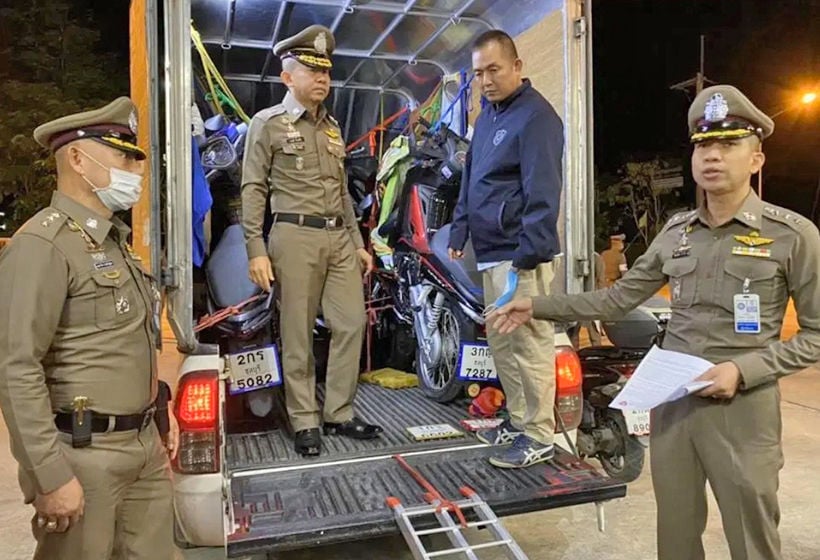 Police in Chon Buri's Banglamung district have arrested 2 prolific motorbike thieves. Officers of Police Region 2 announced that 2 suspects, identified as 31 year old Eakkachai 'Ton' Jantamoon and 34 year old Manas 'Dam' Saeueang, were arrested at a room in Soi Sukhumwit 31.
Officers seized 8 vehicles in total. The pair have been charged with multiple counts of theft by night.
Authorities say many motorbikes have been stolen in the Nongprue and other nearby areas during the last month. Several victims of the thieves thanked police for recovering their vehicles.
The suspects reportedly confessed that they stole motorbikes and sold them on a LINE group. The motorbikes would then be sent to Wangnoi in Phra Nakhon Si Ayutthaya before being transferred to buyers in neighbouring countries.
Police also report that the suspects were previously arrested for drug charges.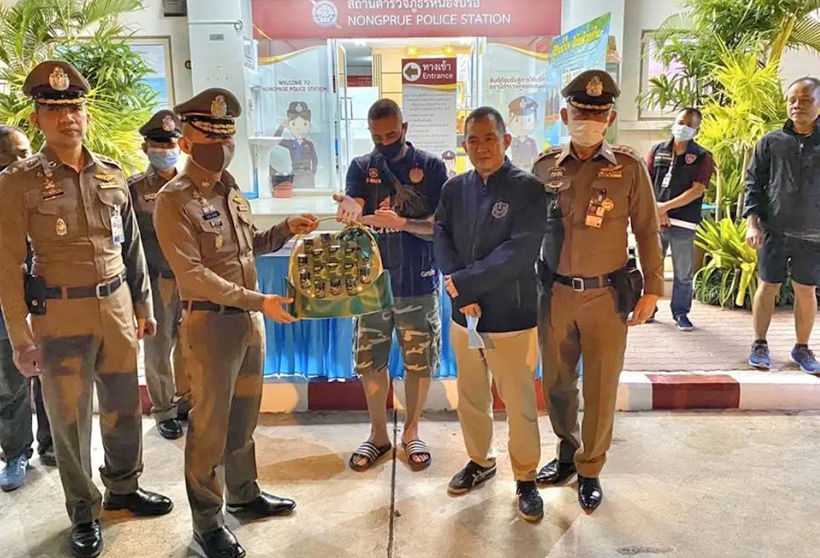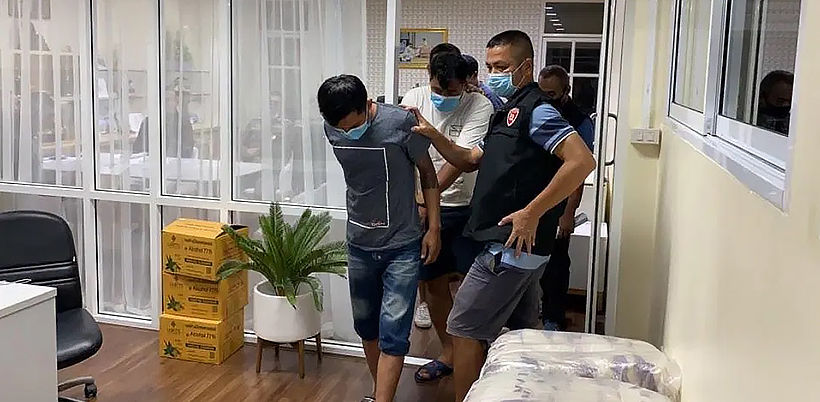 SOURCE: The Pattaya News
Keep in contact with The Thaiger by following our
Facebook page
.
Sexual assault, not theft, motive for spiked water bottles – Police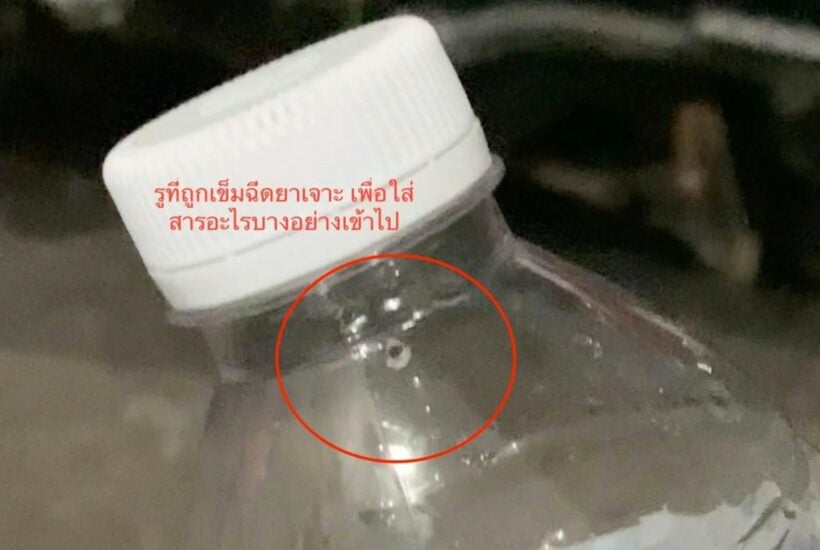 In an unexpected development to a story which has recently made headlines, police in Nonthaburi, just north of Bangkok, now claim sex, rather than theft, was the likely motivation behind the cases of spiked water bottles of joggers at a public park. On Friday police announced progress in the investigation into cases at the park in the government complex, following reports in June of joggers being hospitalised after drinking water from their sports bottles.
9 men have now been questioned and detained by police over alleged sexual activities at Nonthaburi City Hall's park. They were detained as part of an ongoing investigation into the mysterious complaints.
Tests indicated the water from the bottles had been spiked with Xylazine, and the bottles appeared to have been pierced by a syringe needle. Xylazine is an anaesthetic and sedative used by veterinarians for cattle, horses and cats.
"2 similar incidents were reported on June 15 and 19, and both victims were males aged 43 and 42 respectively. They suffered from blurred vision, shortness of breath and vomiting after drinking water from their bottle before passing out, and had to be hospitalised. Preliminary investigation on the water bottles and the victims' urine found traces of Xylazine."
Police say they worked with local government offices, who told them the park is a known meeting place for gay men. Since the victims did not report any valuable items stolen, officials suspected sex was probably the motivation.
"We have investigated 9 suspects who frequently visited the park. All are male and were carrying items such as condoms, lubricant gels as well as "homosexual video clips" on their phones."
Nonthaburi's governor says when he was alerted to the incidents, he ordered municipal officials to deploy surveillance staff in the park and other public parks in Nonthaburi, to prevent any more such incidents.
"We have also installed more lighting and CCTV cameras in suspected areas to ensure people's safety."
SOURCE: Nation Thailand
Keep in contact with The Thaiger by following our
Facebook page
.
Police in Chon Buri display huge cache of seized weapon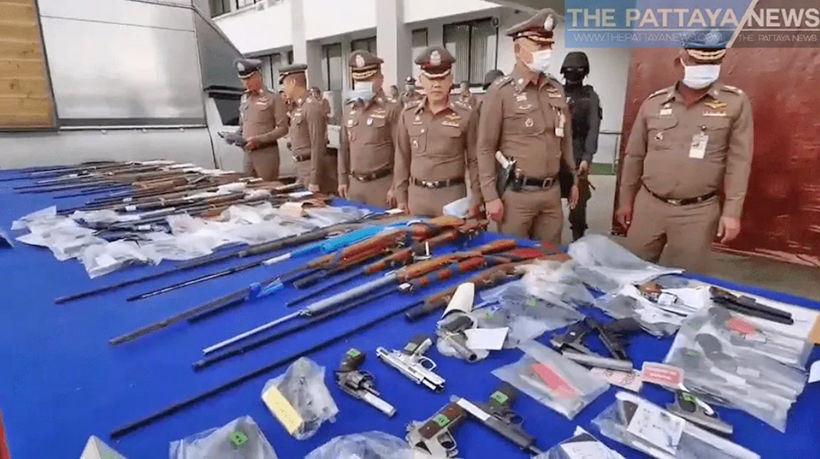 Officers of Thailand's Police Region 2, covering the entire eastern region, displayed a huge cache of weapons seized so far in a crackdown this month. The news was released yesterday at a press briefing at the Region 2 headquarters in Chon Buri.
From July 3-9, police of Region 2, comprising 8 provinces: Chanthaburi, Chachoengsao, Chon Buri, Trad, Nakhon Nayok, Prachin Buri, Rayong and Sa Kaeo, seized 334 firearms, 1,356 rounds of ammunition, 5 bombs, and arrested 291 suspects.
A spokesman said they're a mission to rid the region of crime and have been working continuously toward this goal, especially in light of the recent increase in violent and gun-related incidents. He said their efforts are a major step to make the streets safer.
Thailand has one of the highest rates of gun ownership in the world. About 1 in 10 people in Thailand legally own a gun. It's estimated that there are more than 6 million registered guns in a country with a population of 69 million.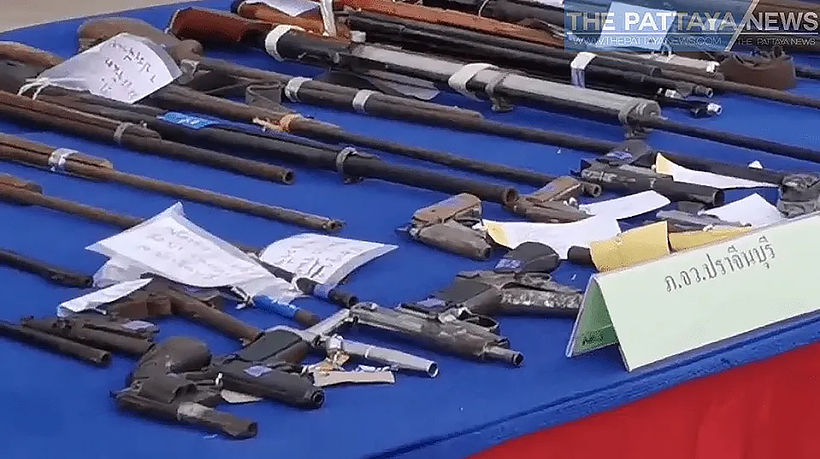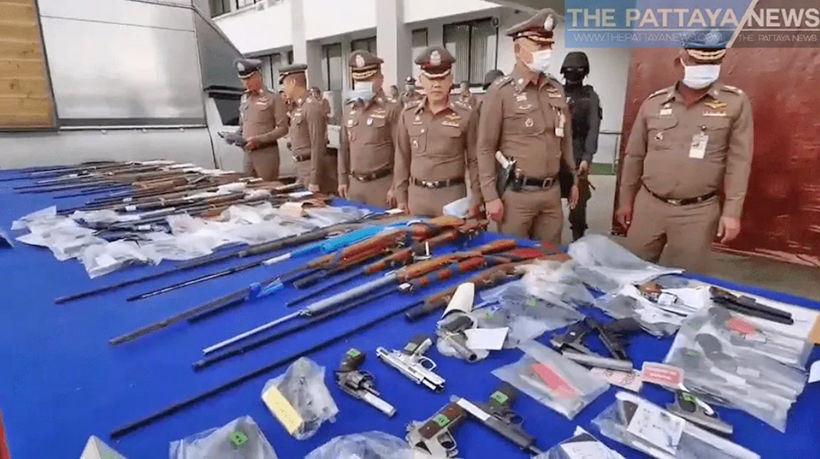 SOURCE: The Pattaya News
Keep in contact with The Thaiger by following our
Facebook page
.