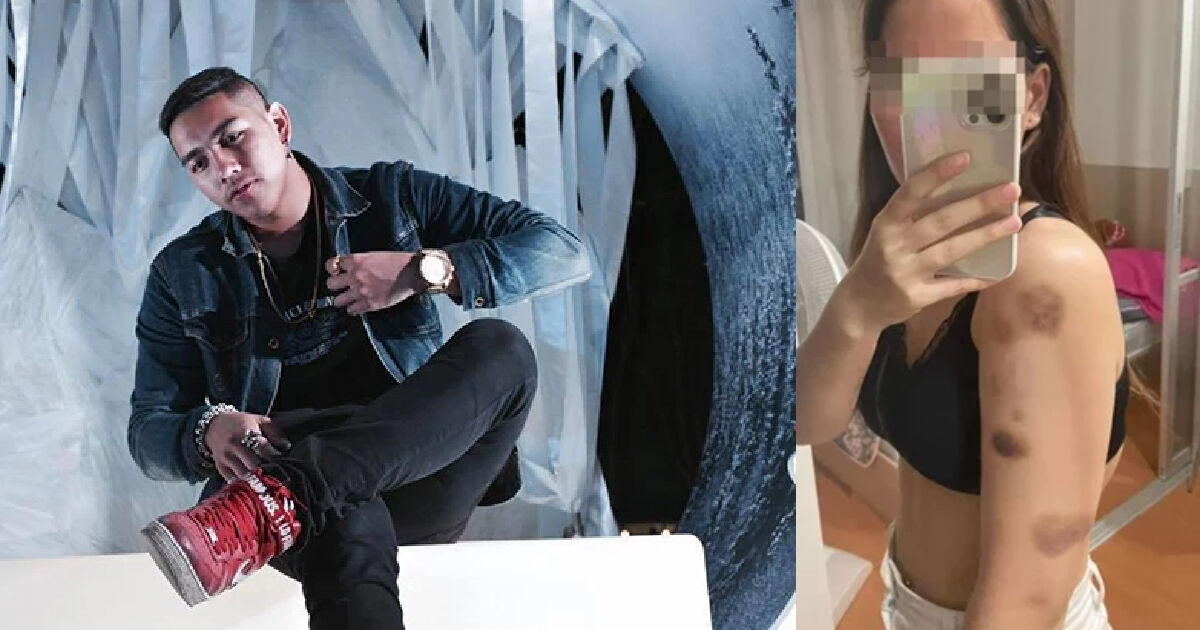 UPDATE
The billionaire's son accused of assaulting a woman he met on a dating app in Nonthaburi province, central Thailand, denies that he bit her genitals.
He did admit to "squeezing" the victim out of "jealousy" leaving her badly bruised.
Reporters managed to contact 22 year old Khittiphot aka "Micky" who said that A (pseudonym) invited him to her condo room. He said he could not go to the room on his own without a keycard.
He claims that A's legs were bruised because they hit the edge of the bed during sex.
Micky, rather incoherently, argued his case…
"As for the assault during sex, I didn't rape her and I was not that sadistic. She got bruises on her legs from hitting them off the edge of the bed.
"Her body is bruised because I found out she has a child and an ex-boyfriend, so I told her straight that I'm still young and I'm jealous, so I squeezed her arms and legs.
"I've spoken to my father now and I'm ready to speak to the police, I'll have to see when.
"As for sex, it's sadistic. Western sex is already like this. I didn't do anything that was too much. I did not assault her and I didn't imprison her. We went to a liquor store in Rangsit together like a normal couple.
"As for the assault, if some things I did were wrong then I'll admit it. But the parts where I wasn't wrong, I won't admit it.
"As for the mediation talk, I tried to call but she didn't answer. I want to ask her why she did this. I am still a student. I'm about to enter my first year. My parents scolded me. They asked, 'why did you have to do something like this?'
"I already explained to my parents that I was jealous but I didn't intend for this. If it's wrong then I'll admit I was wrong.
"As for biting her genitals, I never did that. I am prepared to pay for her treatment and pay for the damages to get this over with."
Yesterday, A travelled to Pranangklao Hospital yesterday for a medical examination to check for signs of assault and sexual harassment.
A said that she is scared that Micky will come back and hurt her. She said she has notified her security guard at her condo that he is absolutely not allowed in.
The victim said she hopes that Micky is prosecuted according to the law to prevent him from hurting more women.
ORIGINAL STORY: Thai police summon billionaire's 'sadistic' son who allegedly bit date's genitals
Police in Nonthaburi in central Thailand summoned a Chiang Mai billionaire's son to face charges filed by a woman he met on a dating app who alleges that he assaulted her, sadistically bit her during sex and forced her to transfer money to his bank account.
Yesterday, the 28 year old victim A – an office employee – went to Rattanathibet Police Station in Nonthaburi, covered in bruises, to file a complaint against a 22 year old Thai man of Indian-American descent named Khittiphot [surname withheld].
A said she knew Khittiphot for just five days having met him on a dating app on March 1. She says that Khittiphot beat her during sex, leaving her with bruises all over her body, and bit her genitals causing a painful injury.
A said the accused swore at her and sadistically bit her legs, bit her fingers, bit her face and genitalia causing several wounds and bruises.
He also threatened her into sending thousands of baht to his bank account, A told police.
Khittiphot, who has an American mother, is the son of a famous billionaire hotel owner in Chiang Mai, reports DailyNews.
Superintendent of Rattanathibet Police Station, Pol. Col. Thanamet Wichitjariya, said that he got a call from A saying she had been attacked, so he sent patrol officers to her condo.
Police found A and Khittiphot arguing outside the condo and separated them. Police asked A whether she wanted to file a police report, to which the victim said it was inconvenient to report at that time.
A requested that the police remove him from the condo initially until she is ready to file the report. So, the police asked Khittiphot to leave. He collected his belongings from the room and drove away.
The victim filed a police complaint against the billionaire's son yesterday. She said she only wanted to press charges of assault against him.
A said that she was threatened by Khittiphot since the first day she met him but couldn't escape. A said that when she talked about going to the police, Khittiphot angrily responded, "You think the police can touch me?"
She said she wanted to escape from her condo room for several days but couldn't due to the threats and physical attacks. She said she didn't go anywhere.
The victim said she wants to warn women about the dangers of using dating applications. She advised women to be careful because although there are advantages of dating apps, they are also very risky. Don't believe everything someone tells you on a dating app, she warns.
Police tried to call the accused to invite him to the police station, but he didn't answer. Therefore, the police have issued a summons for his interrogation.

Join the conversation and have your say on Thailand news published on The Thaiger.
Thaiger Talk is our new Thaiger Community where you can join the discussion on everything happening in Thailand right now.
Please note that articles are not posted to the forum instantly and can take up to 20 min before being visible. Click for more information and the Thaiger Talk Guidelines.