Thailand's covid vaccine passport – will it only be used for travel?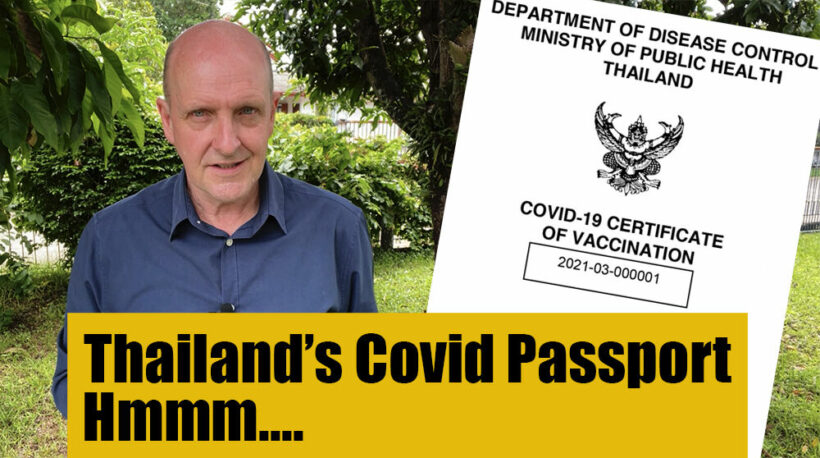 Hi. Im Tim Newton. Just upfront saying that these are my personal opinions and don't necessarily reflect that of The Thaiger.
So today the Thai Government now has officially announced vaccine passports. The documents are going to be the next big thing in the long and winding Covid road. Firstly, before some comments, the details that we actually know.
This Covid passport legislation has now been announced in the Royal Gazette, so it's not being considered, it's actually law. According to media info, the vaccine passport will be an official document which can be used by vaccinated people travelling abroad.
I fear this Covid passport will end up as just another victim of the unintended consequences. The benefits, mostly intended for international travellers, will be used as another way of whittling away our remaining privacies and adding another layer of little annoyances to life and work in the Land of Smiles.
Look at the vaccine roll out in Thailand. Usually a business should try and under-promise and then over deliver. In this case the Thai government have done the exact opposite. Timelines for vaccination are not being met and the ordering of vaccines appears chaotic and, at best, just slow in getting to the startline.
The PM has rushed to assure the citizenry that the delays have been caused by an abundance of caution. And unfortunately the 2 horses they've backed in the vaccination race are having a few bad PR days and neither may be a long term solution to the latest variants of Covid-19 spreading around Thailand. But I'll let the scientists sort that out… certainly not the legion of instant vaccine experts that have now infected the internet.
I'm all for trying to get the country open again, as soon as practicable, and safe to do so. But I'm starting to think the best course of action is to lock my gate and resort to an online worklife and Food Panda… the mad foreign guy locked up in his house with his 3 cats.
Here in Phuket we now have an arrival regime that demands either proof of vaccine, a negative Covid test, or a 300 baht rapid Covid test at the airport. The chances of me subjecting myself to an airport officials sticking a swap up my admittedly large nose in the vague hope it will probably come back negative, is zero. Again, on a daily basis we get emails from foreigners who say they've been whisked away to hospitals, and more recently field hospitals, with no recourse or means of appeal, or even the chance to get a second test.
Here's one from this morning…
I can't call the embassy as I don't have a SIM card, I also have been told to order outside food as they won't feed me. They won't provide me with my test results and told me that I'd need to stay 14 days here in quarantine, but the doctor I talked with yesterday said 5 more days. I'm so confused as to what to do next.
Now, stripping all this back to basics, I'll concede that we're all in this mess together at the moment, and that we may have to forego a few personal freedoms for the greater good. I have no issue wearing a mask in public. I have no worries leaving my phone number at the door when entering premises. I will do my best to stay socially distant when in public.
But all these restrictions are easy to ramp up and much harder to wind back. And, at a deeper level, our trust in institutions, governments, and medical officials is being eroded. And that's not good as we stumble forward in trying to get the world open again.
Will I get a vaccine passport? Probably. And I'll also expect to have to carry it everywhere I go as it's used as just another reminder that I'm just a guest in this country and I better just get used to it.
Want more from the Thaiger family?
📱 Download our app on Android or iOS for instant updates on your mobile
📧 Subscribe to our daily email newsletter
👍 Like/Follow us on Facebook
🔔 Subscribe to or Join our YouTube channel for daily video updates
Phuket red zone list adds Krabi, Trang, Ranong, Phatthalung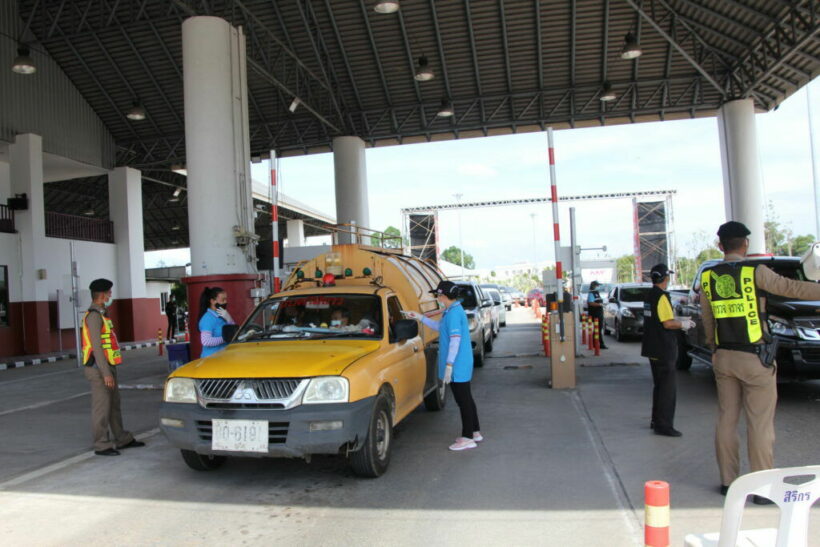 Visitors to Phuket from Krabi, Trang, Ranong, and Phatthalung will now have to prove they're vaccinated or have a negative Covid-19 test within 72 hours of arrival, as they've been added to the red zone province list. People entering without those qualifications will have to take a rapid antigen test on the spot before being allowed into Phuket.
The 4 provinces join a group of 21 other provinces already on the Phuket red zone list requiring strict measures to enter. That list even includes Phuket itself, as people do exit the province have to prove a negative test or vaccination before being allowed to re-enter.
Phuket's vice governor made the announcement yesterday after the governor signed the order and put it into effect until at least May 15th. That same order requires all trucks transporting goods to travel from 11 pm to 5 am, the nighttime hours that other people are not allowed to enter the island. Phuket recently closed its entry checkpoints from late night to early morning after reports of exhaustion from the health officials working to test everyone or verify their credentials.
Delivery drivers will also have to pass the same requirements as red zone province arrivals before entering Phuket. Any driver who does not have a negative test within 72 hours or proof that they've received both doses of a vaccine approved by Thailand's Food and Drug Administration, will be forced to wait until the regular checkpoint opens at 5 am to receive a rapid antigen test.
Over 40,000 people from red zones have now been tested at the checkpoint to enter Phuket. In the first week of the requirement which began on April 22, health officials tested more than 22,000 people, overwhelming staff and prompting the government to close the entrance from 11 pm to 5 am to give checkpoint workers a break.
The 25 provinces currently classified as a red zone for entering Phuket are as follows:
| | | | | |
| --- | --- | --- | --- | --- |
| Bangkok | Nakhon Pathom | Pathum Thani | Rayong | Suphan Buri |
| Chiang Mai | Nakhon Ratchasima | Phatthalung | Sa Kaeo | Surat Thani |
| Chonburi | Nakhon Sri Thammarat | Phuket | Samut Prakan | Tak |
| Khon Kaen | Narathiwat | Prachuap Khiri Khan | Samut Sakhon | Trang |
| Krabi | Nonthaburi | Ranong | Songkhla | Udon Thani |
SOURCE: The Phuket News
Want more from the Thaiger family?
📱 Download our app on Android or iOS for instant updates on your mobile
📧 Subscribe to our daily email newsletter
👍 Like/Follow us on Facebook
🔔 Subscribe to or Join our YouTube channel for daily video updates
BMA admits Covid virus spreading fast in Bangkok, speeds up testing and jabs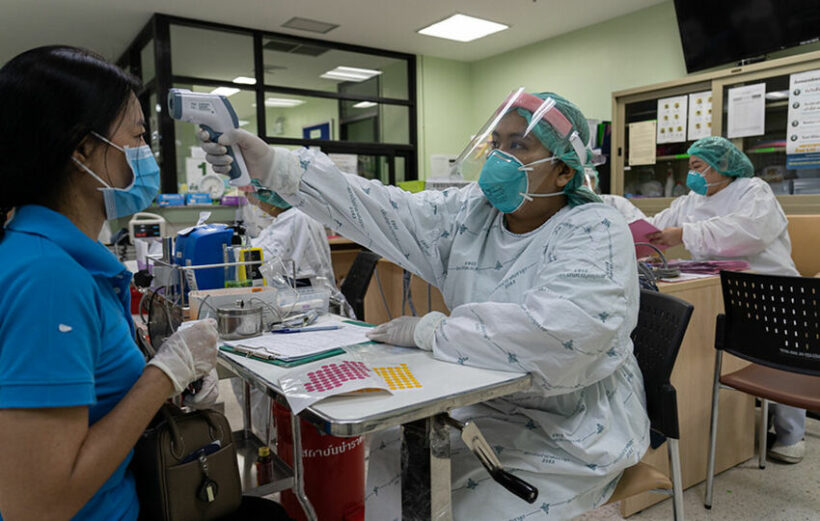 The Bangkok Metropolitan Administration says it is speeding up mass Covid-19 testing and inoculations in communities hit strongly by the virus, after admitting the virus is spreading fast in Thailand's capital.
The city clerk says the administration, along with the Public Health Ministry and other agencies, are speeding up the collection of nasal swabs for Covid-19 tests, with a plan to test 3,000 people in high-risk groups per day. Those people deemed to be at an increased risk of the virus have been clustered by districts, with testing units in each of the 6 districts…
Laksi district, 70 Pansa Min Buri park in Min Buri district, Huai Khwang stadium in Huai Khwang district, under the Rama III expressway in Yannawa district, a public park under Rama VIII bridge in Bang Phlad district and The Mall Bangkae shopping centre in Bang Kae district.
The virus has been found in densely populated, low-income areas such as the Klong Toey community in Klong Toey district, Bon Kai community in Pathumwan district and Ban Khing community and The Mall Bangkae in Bang Kae district. In an effort to help those residents stay at home to prevent the possible spreading of the coronavirus, community-level organisations are teaming up to provide food, water, and supplements to those in the areas.
But stay at home orders are a problem for many as starvation is more frightening than the virus and 90% of residents in the slum communities still need to leave for work each day to keep food on the table. The daily average income for those in the slums is around 120 to 150 baht. The CCSA yesterday declared that is is focusing on containing major Covid clusters in 3 key Bangkok communities – the Klong Toey 'slums', Bon Kai in Pathumwan and Ban Khing in the Bang Kae district, on the west side of the Chao Phraya.
Today's nationwide Covid update includes compiling the regional totals from yesterday, with a total of 27 new Covid-related deaths and 2,044 new Covid-19 infections over the past 24 hours. The numbers continue a statistically consistent rise in the number of Covid infections over the past 2 weeks.
Meanwhile, talking about Phuket's plans to open in July, the Tourism and Sports Minister, Phiphat Ratchakitprakarn, said yesterday that the number of new cases on the island must reach zero before the government can contemplate the 'Sandbox' plan for no-quarantine travel.
SOURCE: Bangkok Post
Want more from the Thaiger family?
📱 Download our app on Android or iOS for instant updates on your mobile
📧 Subscribe to our daily email newsletter
👍 Like/Follow us on Facebook
🔔 Subscribe to or Join our YouTube channel for daily video updates
Phuket visitor Covid-19 rapid antigen testing may end May 15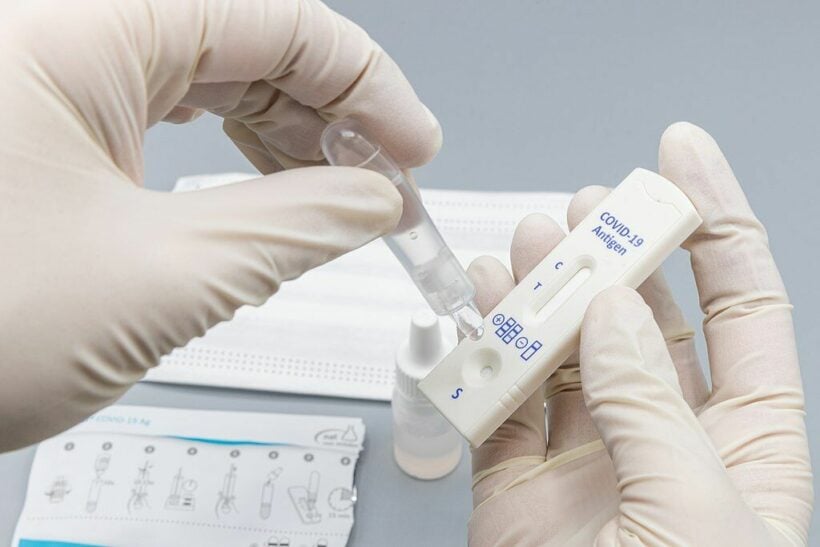 In a live broadcast, Phuket's Vice Governor Piyapong Choowong said officials will consider discontinuing Covid-19 rapid antigen testing for people arriving into Phuket after May 15. The interview from the Phuket Check Point at Tha Chatchai yesterday seems to contradict a recent statement from the governor launching additional rapid testing from today.
Entry to Phuket since April 22 has been limited for travellers from red zone provinces, requiring proof of vaccination or a negative Covid-19 test within the last 72 hours. Anyone arriving without either of these would be screened on the spot with rapid antigen tests. Though originally offered for 300 baht per person, controversy arose over Thailand's 2-tier pricing as it was announced that testing would be free for Thai people and 500 baht for foreigners.
The National Health Security Office provided 40 billion baht for testing in Phuket, allowing free testing for nationals, but as that funding is used up, Phuket Governor Narong Woonciew announced that the testing will no longer be free for Thai people after May 15. Phuket does not have the budget for free rapid antigen testing so they will likely be forced to require payment after that date.
The current testing has seen a decline in positive Covid-19 infections, not finding any new cases for several days, prompting the government to rethink whether the current system of rapid testing those who are not vaccinated or holding a recent negative test certificate is worth the money spent.
Over 40,000 people have been tested since the program began April 22 until the current figures on May 5, with only 22 covid infections identified. Furthermore, 5 of those infections turned out to be false positives.
The vice-governor conceded that Phuket has Covid-19 outbreak problems with growing infections every day, but explains that the infections are from within the community and not from outside visitors. The latest infections stem in large part from gambling get-togethers without proper Covid-19 safety.
As of now, the rapid antigen testing will continue until the May 15 cut off, but government officials are still debating whether to continue testing and whether funding will exist for it after that date.
The NHSO has recently hinted that they will approve more funds to continue testing, a signal that had not been received before the governor's announcement on Wednesday about the rapid antigen testing.
The vice-governor stressed that the situation is constantly evolving and that new information it's shared frequently, and often out of local control. He urges everyone to pay attention to forthcoming announcements.
SOURCE: The Phuket News
Want more from the Thaiger family?
📱 Download our app on Android or iOS for instant updates on your mobile
📧 Subscribe to our daily email newsletter
👍 Like/Follow us on Facebook
🔔 Subscribe to or Join our YouTube channel for daily video updates