Thai manufacturers of 'substandard' sanitisers warned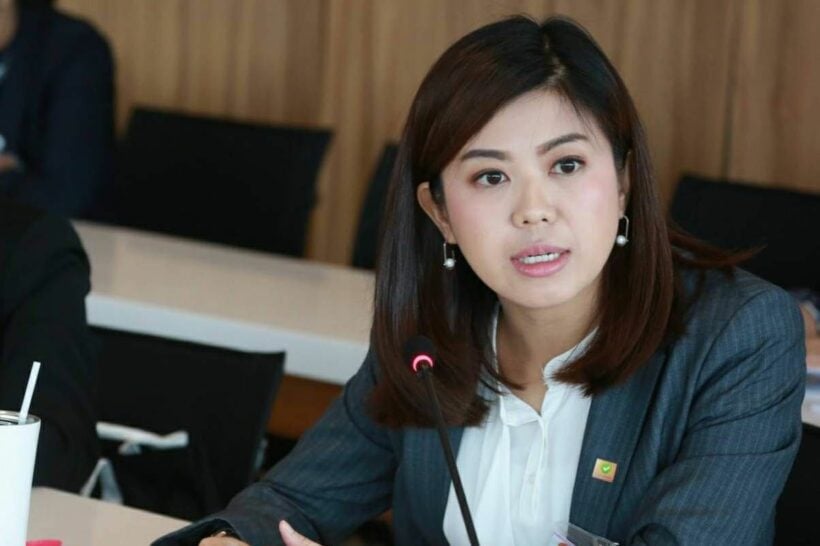 The ruling 'Phalang Pracharat' Party has given a warning that using counterfeit alcohol-based sanitisers can lead to lethal health conditions and vendors will face imprisonment. Tipanan Sirichana, a deputy spokesperson of the ruling party, posted on her Facebook account that there were several cases of patients suffering from respiratory illness, nausea, vomiting and diarrhea after using substandard sanitisers.
"The chemical used in counterfeit products is methyl alcohol, which is a by-product of the petrochemical process and used in the furniture industry. Methyl alcohol can penetrate the skin and evaporate into the respiratory system leading to bronchitis, conjunctivitis, headache, dizziness and nausea."
"If the body accumulates too much methyl alcohol, it can cause blindness, glomerulonephritis, sepsis, hepatic infarction leading to death."
"The vendors of counterfeit products could face up to seven years of imprisonment and 100,000 baht fine. She also advised people to use gloves and wash their hands constantly if alcohol-based sanitisers were in short supply."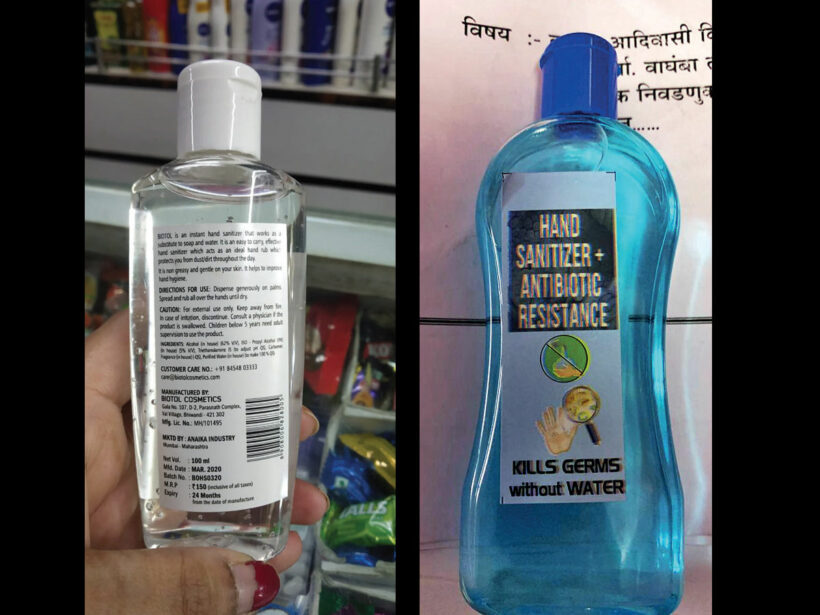 SOURCE: The Nation
Keep in contact with The Thaiger by following our
Facebook page
.
108 arrested in Bangkok for illegal gambling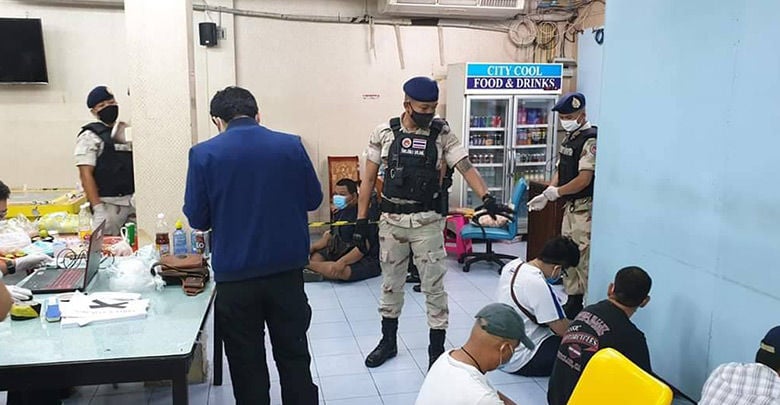 Too close and too many people. 108 people have been arrested illegally gambling in a secret casino near the Nonthaburi Market.
The Department of Provincial Administration raided a casino in the greaterBangkok Metro Area's Nonthaburi province and discovered 200,000 baht in cash, Hi-Low boards and two gaming machines, along with 108 people taking part in the illegal activity and ignoring the health and safety regulations of social distancing and refraining from large gathering during this emergency Covid-19 crisis.
The game of choice at the casino was Thai style Hi-Low which is played using a Hi-Low board with a dice shaker and two to three dice. The gambler will place their money on a number square from one to six. Once the dice are cast and the results come up, the winner then takes all, but more often than not, the house wins (surprise!).
The DOPA received a tip from locals in the area worried about lack of social distancing as a potential hot bed for the virus. The residents said, despite the Emergency Decree, curfew, and social distancing requests issued by the government, people were still coming to gamble every day.
When officials arrived at Soi Piboonsongkram 32, officers confiscated the gambling equipment and arrested all 108 before they had a chance to escape.
Facebook page
.
Police say most Chiang Mai curfew violators drunk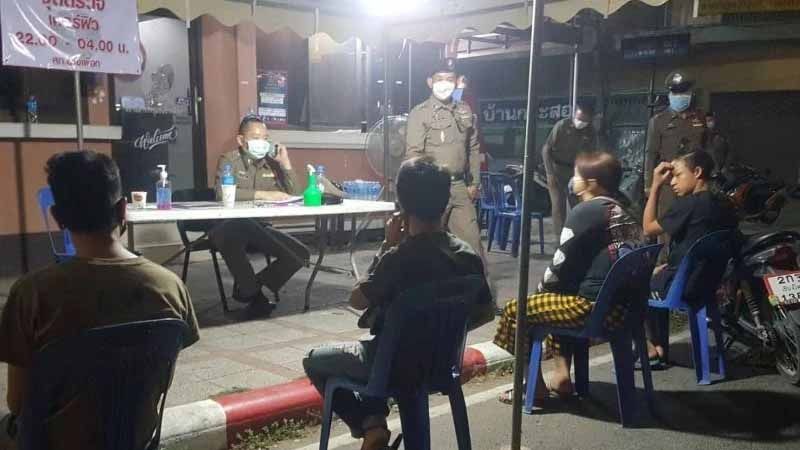 More than 250 people have been arrested in Chiang Mai province since the national state of emergency was enacted on April 3 to fight the spread of the Covid-19 coronavirus, after breaking its subsequent curfew. Police say most were drunk.
Another 43 people were arrested overnight on Tuesday for violating curfew. Police report that amongst those arrested, 2 were in possession of illicit drugs as well. Many of the remaining people "had also been drinking."
Police say they have so far arrested 278 people for violating the curfew in Chiang Mai.
"Anyone caught breaching the curfew is being fined 1,500 baht and faces being imprisoned for 15 days. After release, they're subject to 7 days of home detention and a 1 year probation period."
There have yet to be any reports of police officers with the virus, though 17 are in quarantine and under close observation.
Chiang Mai's governor yesterday issued an alcohol ban, prohibiting all alcohol sales from April 10 to 20.
"Anyone found in violation of this will face up to a year in jail and or a fine of up to 100,000 baht."
SOURCE: Chiang Rai Times
Keep in contact with The Thaiger by following our
Facebook page
.
Aviation industry estimates that 25 million jobs are in peril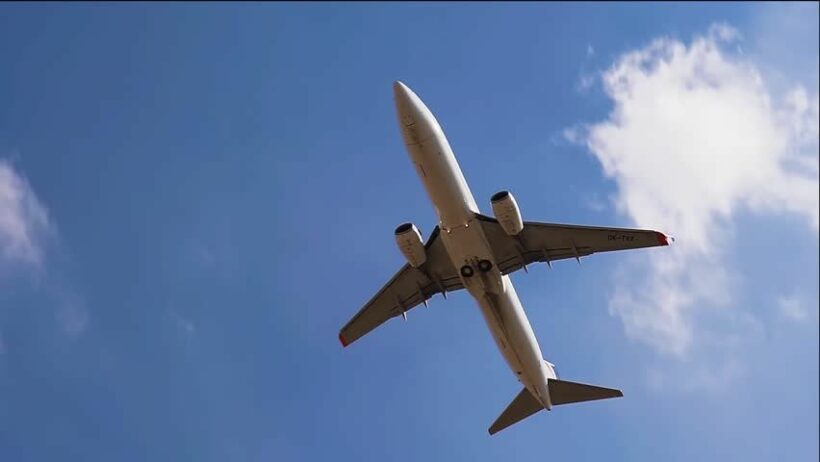 Amongst industries hit during the Covid-19 situation, the aviation industry has probably been hit harder than most with huge investments, millions of staff, complicated infrastructure, small margins and thousands of down-stream businesses. It will also take a lot longer to wind the whole aviation machine back up when things eventually settle down.
The International Air Transport Association estimates that some 25 million jobs are at risk due to the impact Covid-19 is having on the industry. It reports that the livelihoods of some 65.5 million people. dependent on the aviation industry, including sectors such as travel and tourism, are also at peril. Among these are 2.7 million airlines jobs.
In a bleak scenario, assuming travel restrictions could last for three months, the IATA report estimates that 25 million jobs in aviation and related sectors are endangered …
• 11.2 million jobs in Asia-Pacific
• 5.6 million jobs in Europe
• 2.9 million jobs in Latin America
• 2.0 million jobs in North America
• 2.0 million jobs in Africa
• 0.9 million jobs in the Middle East
Airlines could also expect to see full-year passenger revenues fall by US$252 billion, a whopping 44% drop for 2020, compared to 2019. It's also estimated that world airlines have burned through US$61 billion in cash during the past three months, limping along as countries close borders and airports shut down.
Airlines are now calling on governments for critical financial aid to help airlines to remain viable businesses. Clearly, whenever planes start taking to the sky again, there will be some brands missing who were unable to survive the financial impact of the industry collapse.
IATA is calling on governments to support local airlines with…
• Direct financial support
• Loans, loan guarantees and support for the corporate bond market
• Tax relief
Alongside vital financial relief, the industry will also need careful planning and coordination to ensure that airlines are ready when the pandemic is contained. It will be complicated. At the practical level airlines will need contingencies for licenses and certifications that have expired.
Planes, sitting gathering dust for months on end will need critical maintenance and testing before returning to service.
At the root of the industry's problems is that airlines have been such a vital part of the contagion's ability to spread. The popularity of plentiful, cheap, airfares, linking the world, has provided the perfect environment for the virus to spread. All those people waiting in queues, cooped up in a plane for hours creating the same air, sitting inches away from each other.
The industry will have to find a more predictable and efficient approach to managing travel restrictions which need to be lifted before we can get back to work. And there won't be a single day when the shutdown is magically lifted and all airlines leap back into the sky. It will be a lumpy lurch back into service as countries, one by one, start re-opening airports and borders.
These are just some of the major tasks that are ahead of us. And to be successful, industry and government must be aligned and working together," according to director general and CEO Alexandre de Juniac.
"We ended up with a mess of measures that we are still sorting out today. The 25 million people whose jobs are at risk by this crisis will depend on an efficient re-start of the industry."
Keep in contact with The Thaiger by following our
Facebook page
.