Pattaya motorbiker seriously wounded in early morning shooting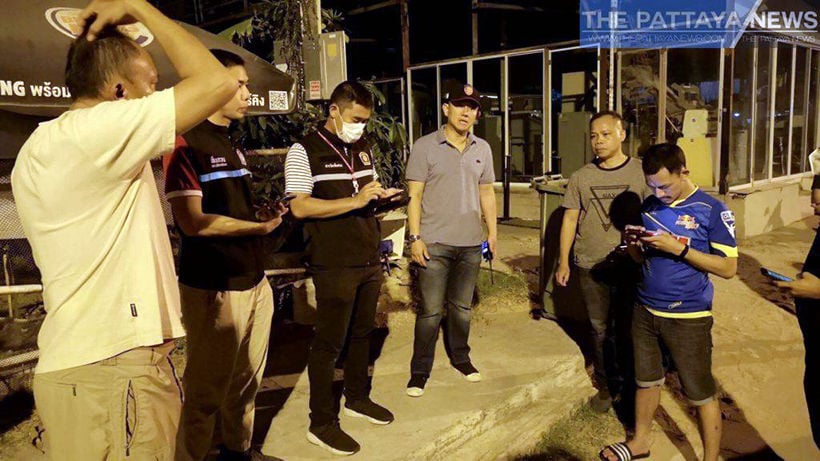 A Pattaya motorbike taxi driver was seriously early this morning when he was allegedly shot by another motorbike taxi driver following a dispute over money.
Police were notified of the incident at 2:30am. Officers, and emergency responders and reporters rushed to the motorbike taxi stand, where the supervisor, 52 year old Pairoj Laipueangthong, and 21 year old witness Jennapa Kaewta were waiting.
Jennapa told police that she is the girlfriend of the victim, Battawut Paechuat, aged 28, who sustained serious injuries from a single bullet wound.
She told The Pattaya News that Battawut "sold various consumer goods independently" and had recently taken on the other driver as a business partner with a shared bank account. The dispute was over a financial transaction involving that account and the "lack of transparency" between the two men.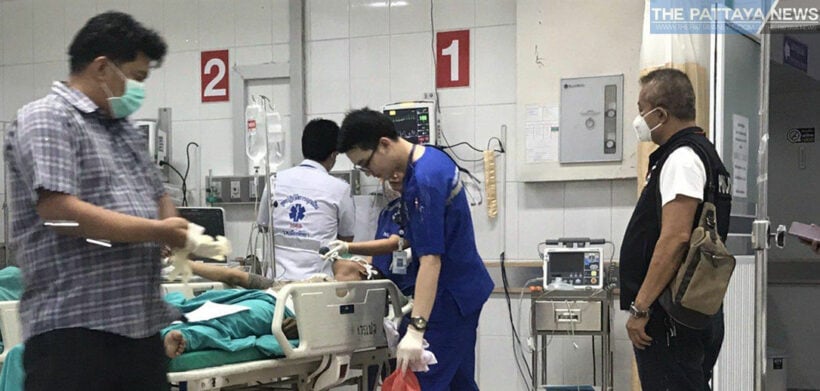 The suspect allegedly went to the motorcycle stand and began an argument with the victim before shooting him and fleeing. Pattaya Police have already identified the suspect with the help of witnesses and say he will be in custody shortly.
SOURCE: The Pattaya News
Keep in contact with The Thaiger by following our
Facebook page
.
Illegal Chinese casino in Pattaya operating after curfew – VIDEO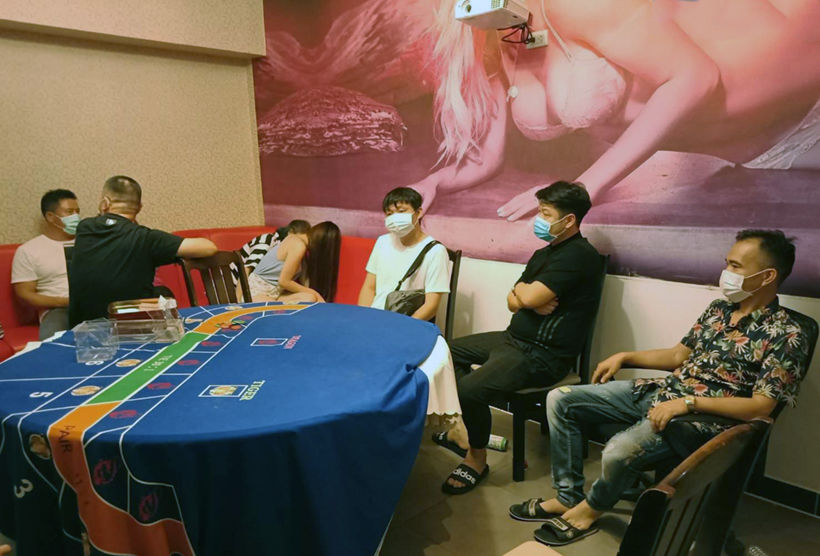 Police from several units, including the Transnational Crime Unit of Chon Buri, led a raid last night on an illegal casino in Pattaya where nearly a dozen people were gambling. It was located above a Chinese Restaurant.
Police went to the Fu Manow Chinese Restaurant at about 10:15pm after a tip that there was an illegal gathering happening in a secret VIP room above the restaurant. Such a meeting violates the current national curfew period of 10pm to 4am, under the Emergency Decree to help stop spread of the the Covid-19 coronavirus.
Police found a posh VIP karaoke room on the second floor along with 10 people gambling. 7 Chinese men, 2 Thai women and a Russian woman were gambling with about 100,000 baht, playing several different Chinese style gambling games on a custom table.
The owner of the restaurant, 50 year old "Beijing Heilongjiang" (clearly a pseudonym) was immediately arrested. He faces multiple charges including providing gambling facilities, violating the Thai emergency decree, curfew violations and possibly other charges as well.
The ten unnamed gamblers will also face significant charges including violating the Emergency Decree, gambling and curfew violations. All 10 were arrested and taken to Pattaya Police Station.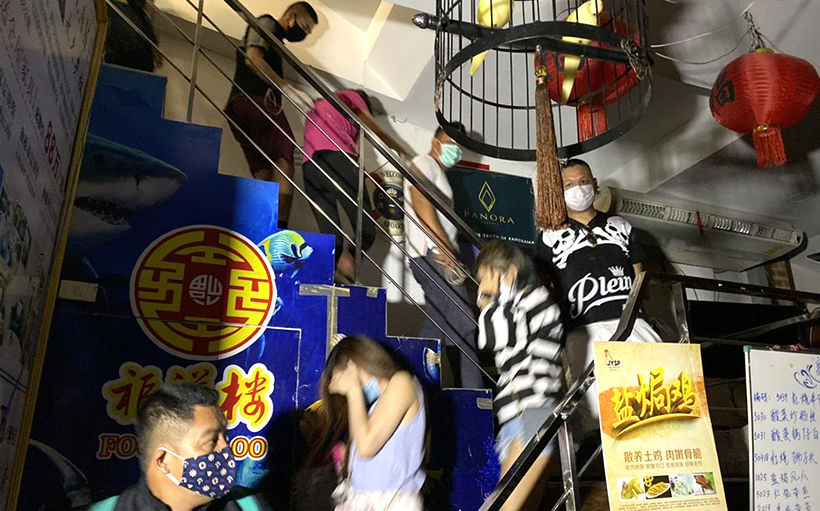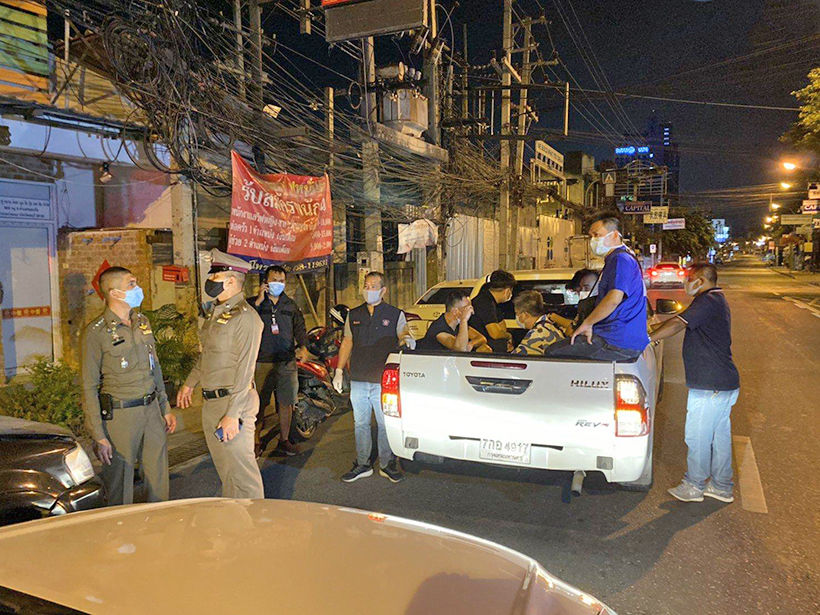 Police warn Pattaya residents that those who violate the Emergency Decree and continue to hold gatherings and parties that threaten public health by potentially spreading the Covid19 Coronavirus will be "dealt with severely".
Violation of the Emergency Decree carries penalties of fines of up to a 100,000 baht and/or up to 2 years in prison.
SOURCE: The Pattaya News
Keep in contact with The Thaiger by following our
Facebook page
.
Former deputy commerce minister faces charges over murder of Judge's brother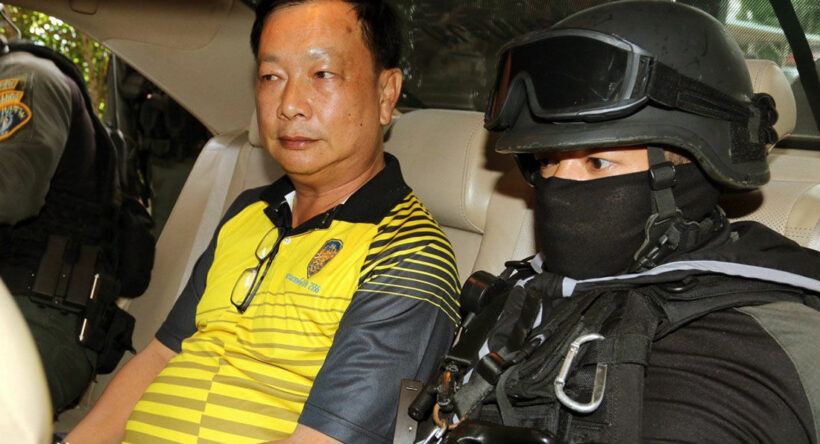 Former deputy commerce minister Banyin Tangpakorn, along with 5 other suspects, is facing charges from the Crime Suppression Division (CSD) relating to the killing of a senior judge's brother.
Deputy chief of the CSD Anek Taosupab, says investigators are planning to question Banyin in prison over the murder of Wirachai Sakuntaprasoet, (brother of Criminal Court senior judge Phanida Sakuntaprasoet).
Banyin is currently detained at the Bangkok Remand Prison, where he is serving time for forging documents to transfer 263 million baht worth of shares to two associates. The court found Banyin guilty of colluding with Kanthana Siwathanapol, a former golf caddie, and stockbroker Uracha Wachirakulton to transfer the assets of the late billionaire contractor Chuwong Sae Tang.
The suspects allegedly tried to force Judge Phanida to drop Banyin's charges in the share transfer case. The CSD say they have evidence, including forensic tests, to prosecute murder charge against Banyin and the five other suspects.
According to a report, Judge Phanida asked Wirachai to pick her up from work after she was assigned to hear Banyin's forgery case. When the victim arrived at the court, he was kidnapped and later killed. The case was then assigned to another judge, and the trial ended with Banyin sentenced to 8 years in prison for forgery.
Currently, Banyin and the suspects are facing charges of assault, abduction and threatening a state official.
SOURCE: Bangkok Post
Keep in contact with The Thaiger by following our
Facebook page
.
Burmese pair arrested at border for smuggling 16.5 million baht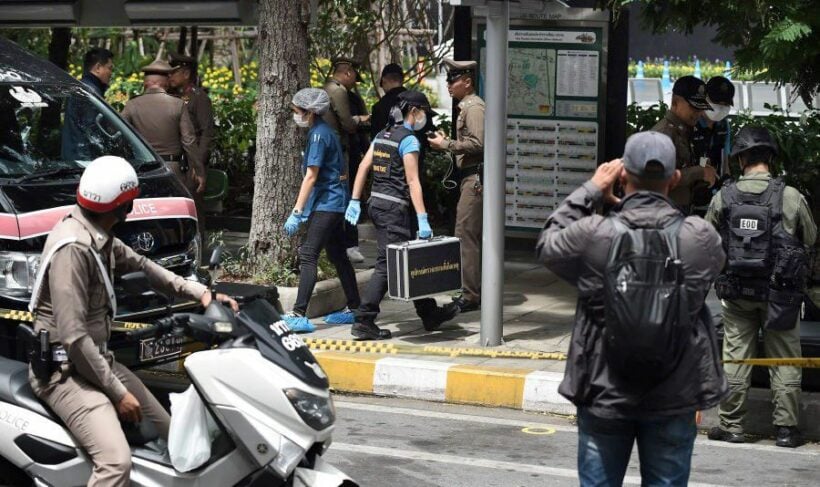 Police in the Tak province, northern Thailand, yesterday arrested two Burmese nationals for trying to smuggle 16.5 million baht in cash into Thailand. Authorities say the two, identified as 29 year old Ded Paioou, and a 24 year old woman called "Namitu" were arrested in tambon Tha Sai Luad, following a tip-off.
Officers say the pair were driving a pickup truck with Burmese licence plates and entered Thailand by the second Thai-Myanmar Friendship Bridge. Having passed through the immigration checkpoint, they headed toward Wang Ta Kean, a village about 200 metres from the customs checkpoint. Police then flagged the car down for a search.
The suspects had all the documents required for entry, but police found 16,500 1,000-baht banknotes in two black plastic bags in the car.
Police say the pair claimed they were going to deposit the cash at a Kasikorn bank in Mae Sot. Unfortunately for them, they couldn't prove they had an account with the bank.
The pair were charged with trying to bring Thai currency into the country without declaring it to customs.
The Central Investigation Bureau chief ordered police to take the suspects and the confiscated money to Crime Suppression Division 4, which is investigating where the money came from. Police say the Anti-Money Laundering Office was also asked to press an additional charge of money laundering against them.
The Burmese border is notorious for drug smuggling, as well as human trafficking activities.
SOURCE: Bangkok Post
Keep in contact with The Thaiger by following our
Facebook page
.