Thai Airways suspends all flights, some from today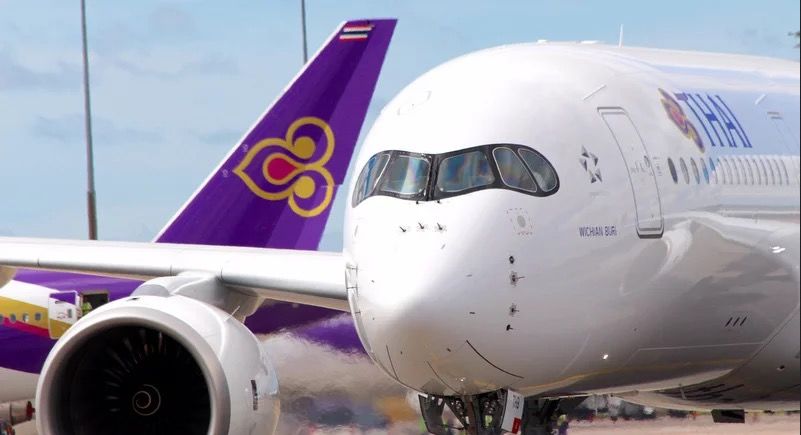 The Covid-19 coronavirus pandemic has claimed another victim: Thai Airways, the national carrier, has announced the suspension of all operations until May 31. The struggling carrier, once considered one of Asia's most luxurious airlines, said yesterday that the suspension is necessary "because the global pandemic has prompted many countries to impose border closures and lockdowns, forcing many Thai offices abroad to close temporarily and making it impossible to operate to those destinations."
Acting president Chakkrit Parapanthukul said in a statement that, compounded by a sharp reduction in passenger numbers, the continuation of operations would increase the airline's already massive losses.
A statement from the airline's public relations department read:
"Starting today (March 25), all Thai flights from Bangkok to Hong Kong, Taipei, Tokyo, Osaka, Nagoya, Seoul, Phnom Penh, Vientiane, Ho Chi Minh City, Hanoi, Yangon, Singapore, Jakarta, Denpasar, Kunming, Xiamen, Chengdu, Beijing, Shanghai, Guangdong, Karachi, Kathmandu, Lahore, Dhaka, Islamabad and Colombo are suspended.
Domestically, flights to Chiang Mai, Phuket and Krabi will be operated by Thai Smile, a subsidiary of Thai Airways.
Starting March 27, Thai flights to Brisbane, Sydney, Melbourne and Perth will be suspended
From April 1, Thai will cease all flights to Europe, which includes London, Frankfurt, Paris, Brussels, Copenhagen, Oslo, Moscow and Stockholm."
Thai Airways has already suspended services to Sendai, Sapporo, Fukuoka, Pusan, Manila, Kuala Lumpur, Rome, Milan, Vienna, New Delhi, Mumbai, Calcutta, Chennai, Hyderabad, Muscat Dubai, Oakland and Bengaluru airports.
Passengers who purchased Thai Aiways tickets or joint tickets with Thai Smile before today can exchange their tickets for travel vouchers, which are valid for one year without extra charge, on flights scheduled between today and May 31 for Asian routes, and between April 1 and May 31 for European routes, as well as routes to New Zealand and Australia.
Alternatively, passengers can use the thaiairways.com website to changes their flight plans.
SOURCE: Thai PBS World
Keep in contact with The Thaiger by following our
Facebook page
.
Mobile users can now register for 30 days of free data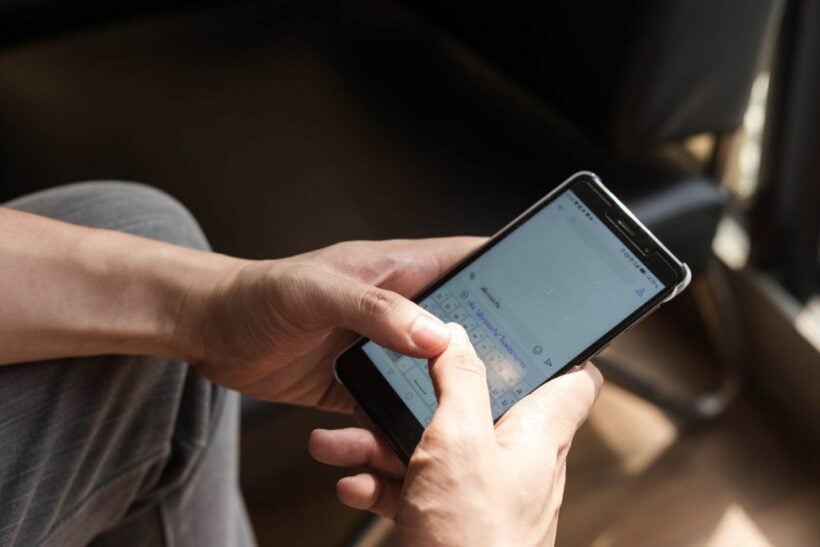 The National Broadcasting and Telecommunications Commission yesterday gave details on how to register for 30 days of free mobile internet and a broadband speed upgrade. Registration begins today. The move supports the government's policy of social distancing and encouraging people to work from home, while helping people cut utility bills during the spread of the Covid-19 coronavirus.
But you need a Thai ID card to get your free internet and speed upgrade.
The measure is being financed by the Universal Service Obligation Fund, which comes from telecommunication licence auctions and contributions from telecom and broadcasting companies.
For free mobile internet, registration runs from today to April 30. All Thai nationals can register for 10 free gigabytes of mobile data for a single mobile number, so long as it was opened or registered on or before March 31.
Those who use monthly packages with more than 10 GB or unlimited data, and the numbers registered by companies and "juristic persons" are not eligible.
To register, a users should type *170*[their 13-digit national ID number]# and tap "call."
The user will shortly receive a text message confirming or rejecting the registration. In case of rejection, a reason will be given. If the registration is successful, users can start using the free internet in a few minutes.
The NBTC's secretary-general shared tips on how to make the most of the offer in a video clip on the agency's Facebook page yesterday.
He says a user should first check how much data he currently gets under his package by typing *165*1# and tapping "call." Then, he should also check the remaining time of the package (*165*2#).
For example, if the package ends on April 15, the user is advised against registering today. Instead, he should wait until his package ends and register on the following day, so he can use the free internet for the full 30 days.
For broadband internet users, service providers will automatically upgrade speeds to 100 megabits per second, so users don't need to register. The speed upgrade is valid for 30 days from today.
Those who use ADSL or older techonologies will receive an upgrade to the highest speeds supported by equipment.
SOURCE: Bangkok Post
Keep in contact with The Thaiger by following our
Facebook page
.
Policeman nabbed with 7,500 masks and for breaking national curfew in the north-east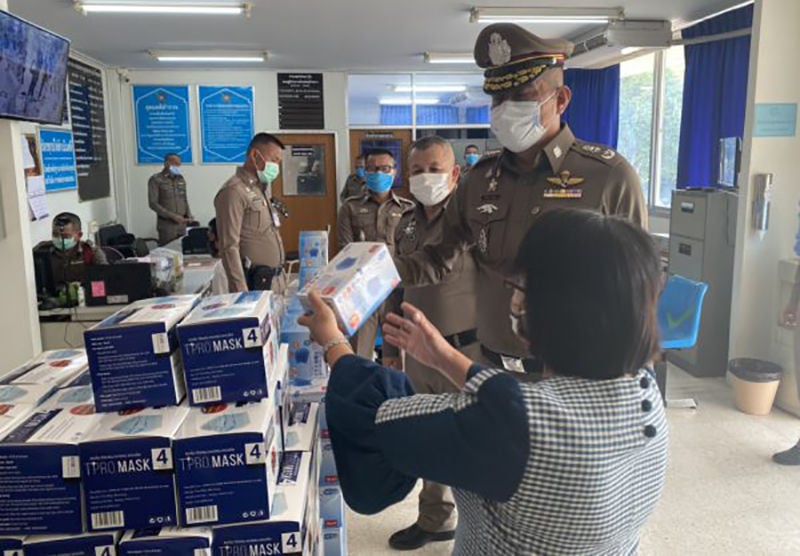 Police were checking cars along the Phon Thong-Kuchinarai road in Roi Et, far north-east Thailand, when a dark grey Honda sedan approached. Stopping the car for a routine inspection they found that the driver was a fellow police officer, 33 year old Police Sergeant Pitak, along with a passenger. But when officials searched the car they found 3 boxes full of medical face masks branded 'Tpro Mask' – a total of 7,500 masks. It was 11.40pm when the car was pulled over, long after the 10pm curfew.
So why does a 33 year old policeman need 7,500 masks?
He told that police from the Phon Thong Police Station that he was taking the masks from Mukdahan to Phon Thong district in Roi Et. But the license plate on the Honda didn't match the vehicle information and the exhaust pipe had been modified. The policeman claimed that he planned to give the masks to a relative for a funeral.
Police Sergeant Pitak has now been charged with breaking the national curfew 'without exemption' and other charges relating to the hoarding of medical face masks. Oh, and the issue of the fake license plate registered to the vehicle.
It was later discovered that the 7,500 masks were made in Vietnam and the Department of Internal Trade is now investigating if the suspect had the proper permissions to distribute medical face masks, or whether he holds a license to import medical products from Vietnam.
Somewhere in Roi Et there's a funeral that may have to cope without the delivery of 7,500 face masks.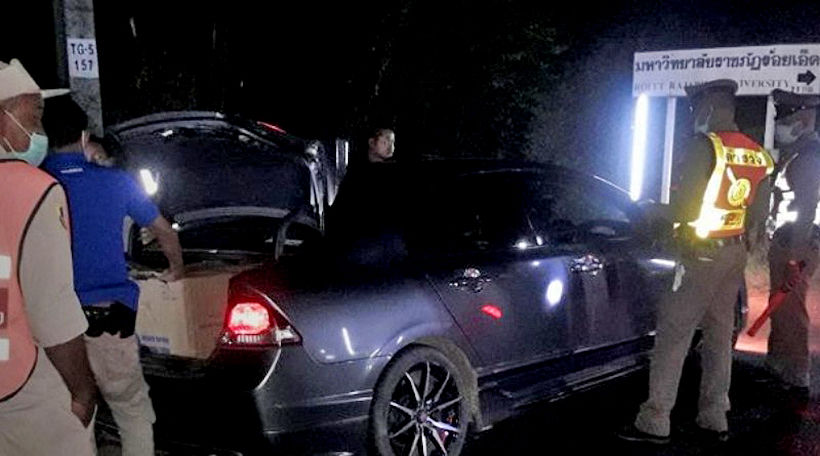 SOURCE: Thai Residents | Sanook.com
Keep in contact with The Thaiger by following our
Facebook page
.
Did an Issan woman get coronavirus for a second time?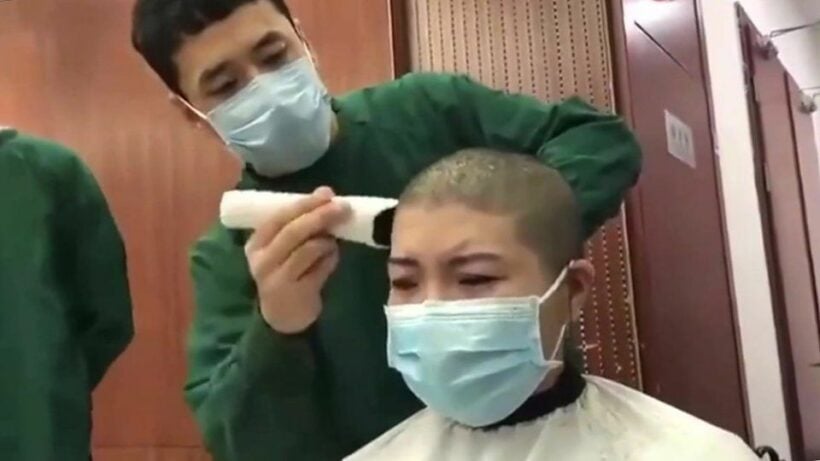 A 38 year old woman from Thailand's northeastern Chaiyaphum province in the Issan region appears to have contracted the Covid-19 coronavirus for a second time, after she was 'cured' of the virus in Bangkok in the middle of March.
The woman, who in March had only recently returned from overseas, was found to be infected with the virus and was admitted to Phyathai 2 Hospital in Bangkok. She apparently made a full recovery and was discharged, and soon returned to her hometown.
But somewhere around April 3-5, she became sick again and went for a test. The result showed that her throat was infected with Covid-19.
A similar case involved a 42 year old construction worker who returned from Qatar on April 2.
Both cases are now under treatment in local hospitals, and authorities are trying to trace people who might have been in close contact with them. Doctors in New York now believe its possible for the virus to lie dormant in patients who've been treated
A report yesterday showed that Chaiyaphum currently has 109 Covid-19 patients. 8 were new cases. The local government has asked its residents to strictly follow curfew directives to limit the spread of the virus.
Testing remains the core of identifying patients with Covid-19 but there have been cases of false positives that may lead to apparent re-infections.
SOURCE: The Nation
Keep in contact with The Thaiger by following our
Facebook page
.