Trials and tribulations 3. Returning to Thailand in the Covid era – on the home straight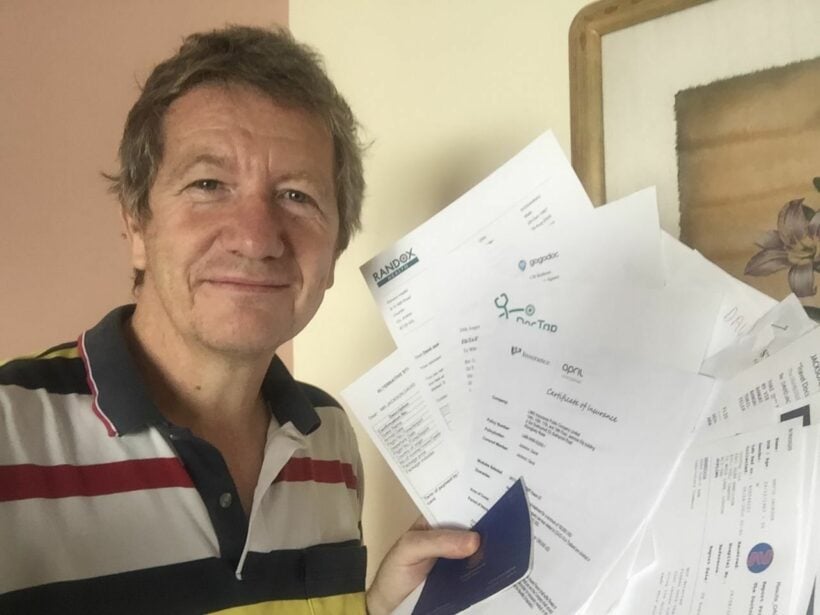 byDavid Jackson
Monday morning and I'm on the home straight assuming I pass my final Covid test that I took yesterday morning.The situation hasn't been too bad over the weekend as I was allowed outside into the hotel's garden area for 40 minutes each day. On Saturday the threat of rain caused the nurse to request my early return to my hotel room, presumably the paranoia of any possible illness caused her some consternation; luckily the rain didn't materialise and I stayed outside, I am a Brit… rain happens!
It certainly feels good on the eyes to see infinity and to finally observe people going about their daily business in the adjacent street whilst safely socially distanced at 300m.The garden area here in this hotel is full of flowers and small trees so I have modified my room race track into an outside one although, regrettably, my times for ten laps are actually getting longer.
You can read David's first and second articles about his time in quarantine.
Every Alternative State Quarantine (ASQ) Hotel is paired with a local hospital and the nurses keep a good eye on you via the Line app.Every morning and night you have to report your temperature and they especially enjoy asking about your stools… welcome to Thailand. Incidentally, and most definitely not in any way related to the previous statement, there has been plenty of fruit and vegetables provided in both the Thai and Farang meals.
I have been asked to go into greater detail about the processes involved in the home country prior to embarkation.I must make a disclaimer here since I imagine systems and procedures will be changing rapidly, but this was my process.I have not included costings because this would depend upon the point of origin and many other factors.
The flight for me was booked via Thai Airways although the initiator of the paperwork for this flight was, in my case the Royal Thai Embassy in London.I eventually managed to book an ASQ myself after some stress because I was convinced there were not initially enough available.
In my case I did not need a visa since I already had a work permit and my exit/re-entry visa from a few months ago was still valid.The embassy will then issue you with a Certificate of Entry document so they know exactly when you are arriving in order to arrange the welcome committee (see my first article from last week). Incidentally I did everything online and there are some excellent staff at this embassy who really are working way beyond their remit so treat them well because they sincerely want to facilitate your return.
So, you now have a date and confirmed flight so stage two needs to begin.For me, I needed an additional insurance although I imagine many repatriates will already be covered, the key statement which should be shown on the certificate is Covid Cover to USD 100,000 and the welcome party will scrutinise this piece of paper so make sure it is bona fide.I used a Thai company via an agent and this contract was efficiently turned around in less than 48 hours.
The final two products are time specific.A 'free of covid' certificate undertaken via the PCR (aka. swab-up-nose) method plus fit-to-fly certificate.The rules are a validity of 72 hours prior to checking in for the flight and the embassy eventually confirmed a revised statement of 72 hours from the result and date of the certificate, not when the swab was taken. For me my covid test certificate was dated one day too early yet the doctor writing the fit-to-fly was happy to write a statement confirming the Covid test and dated it all within the 72 hour period.
This is what you need in specific order (excluding visa)…
Flight
Hotel
Insurance
Certificate of Entry (free from Thai embassy)
Covid Free Certificate
Fit to Fly certificate, or letter from a doctor (online in my case)
It was not cheap so do your maths; I have a job here in Thailand and certainly did not want to let down my boss, colleagues and students, so I 100% had to return. I personally do not think any of this is sustainable long term since the process which I followed, plus the 15 days lack of freedom, are brutal.Nevertheless, the hotels have done a grand job at making this happen so I imagine there will be some reverse pressure to maintain the 14 day quarantine for the time being if only to recoup some of this investment.
What an incredibly difficult year. The world is in a mess; we have virtually overnight destroyed the numerous transhumance systems created over many years to apparently save lives. We walk around scared to shake hands hidden behind masks and visors, like Armageddon is imminent, yet the 900,000 covid deaths are replaced in less than three days with new born children globally.
Let us hope that over the next few months the decision makers become slightly more pragmatic and, in my opinion, start to think about the longer-term economy and the status of foreign visitors within that.In the meantime, good luck with your paperwork and welcome back to The Land of Smiles.
The accompanying picture shows what can be achieved in eleven days using volumes and volumes of food packaging, chop-sticks, random pieces of plant and a pot scourer.
David Jackson in an English teacher and former headmaster from London working at St Mark's International School, Bangkok.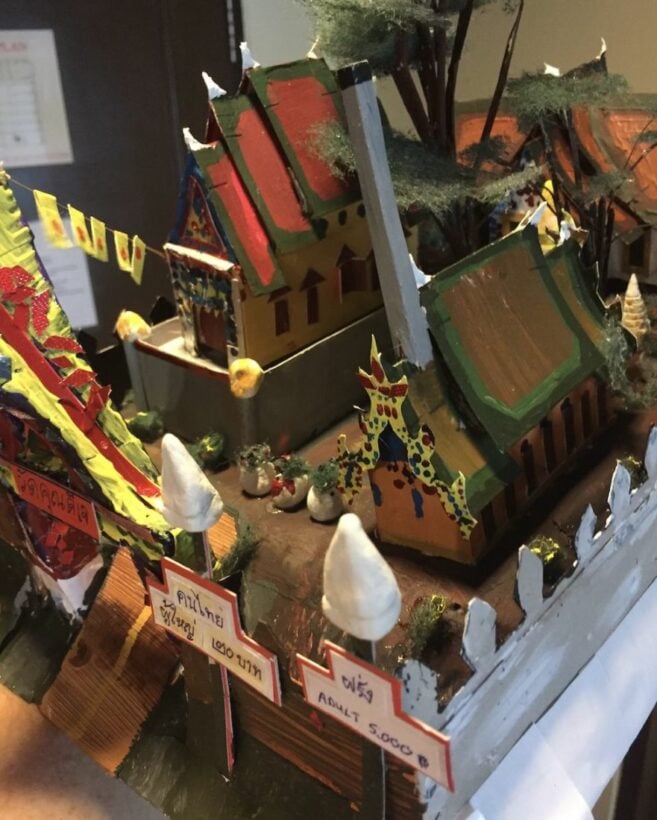 Keep in contact with The Thaiger by following our
Facebook page
.
Never miss out on future posts by
following The Thaiger
.
Bangkok DJ dies in high speed crash on notorious 'death road'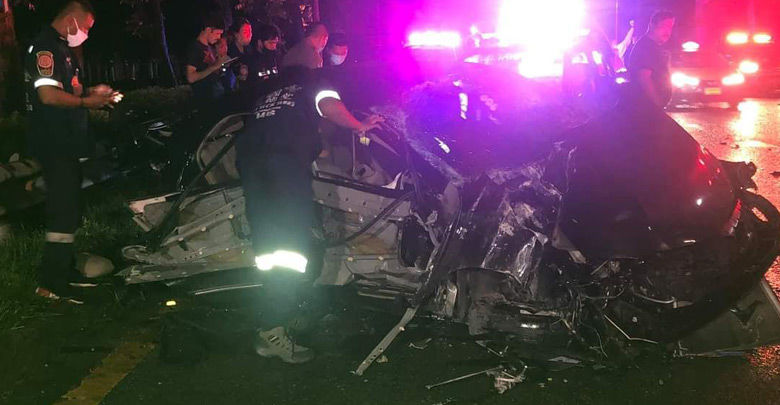 A well known local DJ died early this morning in a high speed car crash on a Bangkok road bend nicknamed "Curve of 100 Deaths." Police say his car's speedometer was found stuck at 200 kilometres per hour.
Police suspect 33 year old Annop Poonsripattana was going around a curve when he lost control of the car due to the slippery road conditions from the rain. His black Toyato Altis was found smashed into an electricity pole around 2:30am today. The impact caused Annop to be flung to the back seat. Police say his skull was shattered and his neck broken.
A security guard at a nearby building says heard an explosion and the electricity cut out. The entire area went black, he says. The so called "Curve of 100 Deaths" is near Ratchada Criminal Court in Bangkok's Chatuchak district. The guard says many fatal crashes happen on the road.
"This area is highly prone to road accidents. Just last week a mother and her small child were killed here."
The Ratchada Road curve so dangerous that locals honk when driving through the curve to show respect and to ask for permission from the spirits of those who have died there for safe passage, according to Coconuts Bangkok. In the past, many people have left offerings like zebra statues in honour of those who died in car incidents while driving on the road.
Annop played music at many entertainment venues in Bangkok. He was also a contestant in the Take Me Out Thailand TV show in 2015. An autopsy is being done at the Police General Hospital. Electricians are working to fix the electricity pole and restore power.
SOURCES: Nation Thailand | Coconuts Bangkok
Catch up with the latest daily "Thailand News Today" here on The Thaiger.
Keep in contact with The Thaiger by following our
Facebook page
.
Never miss out on future posts by
following The Thaiger
.
1 dead, 2 injured, as out-of-control construction truck ploughs into family car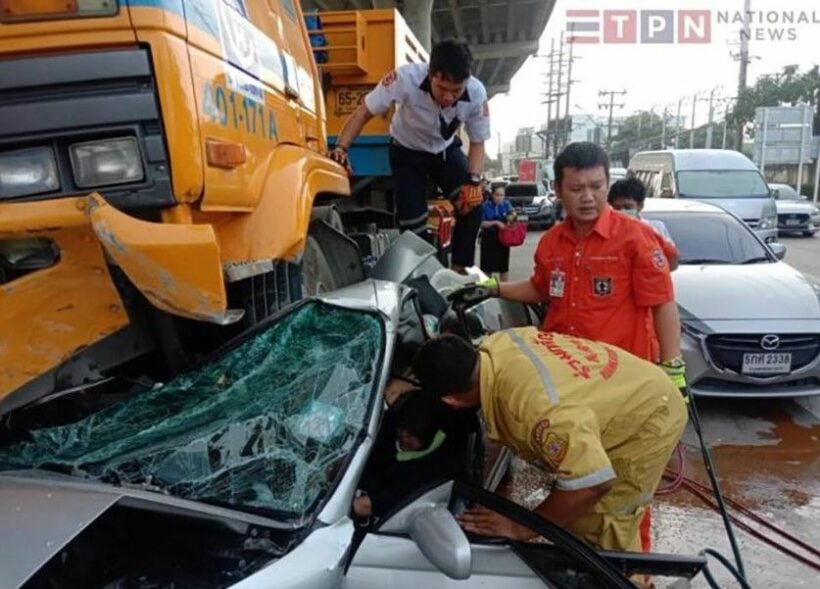 A man has died, and his parents have been injured, after a construction truck lost control and ploughed into their car, crushing the vehicle and killing the 27 year old driver instantly. The Pattaya News reports that the truck also hit 5 other vehicles in the incident, which occurred in the Minburi district of Bangkok.
The truck driver, named as 41 year old Piean Sricharoen, says he was having problems with the truck's brake booster while travelling from the central province of Saraburi. While attempting to emergency park in the middle lane to check the booster, the truck began to lose its balance, crashing into surrounding vehicles. One witness confirms the account, saying the truck began to sway back and forth before crashing into the victim's car, crushing the vehicle, and causing a 7 car pile-up.
Emergency workers arrived on the scene and rushed the dead man's parents to a nearby hospital. The truck driver has been charged with reckless driving causing death and is in police custody.
SOURCE: The Pattaya News
Catch up with the latest daily "Thailand News Today" here on The Thaiger.
Keep in contact with The Thaiger by following our
Facebook page
.
Never miss out on future posts by
following The Thaiger
.
Bangkok officials issue advice to motorists to avoid parliament area due to protest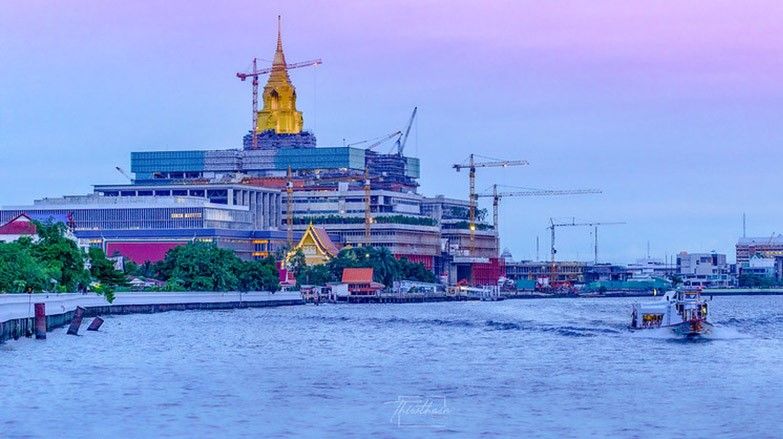 Bangkok motorists would do well to avoid the roads around the Sappaya-Sapasathan building later today, with a political rally set to take place there this afternoon. That's the word from officials, who have issued guidance to motorists ahead of the protest in front of the new parliament building, expected to kick off at 2pm and continue late into the evening.
According to a report in Nation Thailand today, the Metropolitan Police Bureau are advising drivers to avoid Kiak Kai Road, in front of the parliament building, as well as a number of other roads in the vicinity.
"On Thursday afternoon, the Free Youth group will hold a political rally in front of Parliament, where a meeting to amend the constitution is taking place. We expect the rally to start at 2pm and last until 10pm."
MPB chief Pakkapong Pongpetra adds that the following roads are also best avoided:
• Samsen Road (from Bang Kra Beu intersection to Kiak Kai intersection)
• Pracharat Sai 1 Road (from Kiak Kai intersection to Bang Pho intersection)
• Thaharn Road (from Kiak Kai intersection to Saphan Daeng intersection)
Nation Thailand reports that drivers who need to get from Bang Kra Beu intersection to Bang Pho intersection are advised to take Amnuay Songkram Road, to Rama V Road, Techa Wanich Road, Pracharat Sai 2 Road, and finally Bang Pho intersection.
Pakkapong says officials are not expecting any trouble at today's rally. The rally was announced last Sunday by protesters at the weekend demonstration held around the grounds of the Thammasat University's Tha Prachan campus and the adjacent Sanam Luang royal parade grounds. The weekend protests attracted around 30,000 people.
"Protest leaders have asked Parliament for permission to hold the rally and have promised to obey the law and not block public roads. The MPB expects the rally to end peacefully, when the meeting concludes at 10pm."
Despite officials' confidence that the rally will pass off without incident, security has been tightened around the building. Additional police officers are being drafted in, as well as a security patrol along the Chao Phraya River, and an evacuation helicopter in the event senior parliamentarians need to make a swift getaway.
Meanwhile, motorists in need of further traffic information or roadside assistance can visit www.trafficpolice.go.th or call 1197.
SOURCE: Nation Thailand
Catch up with the latest daily "Thailand News Today" here on The Thaiger.
Keep in contact with The Thaiger by following our
Facebook page
.
Never miss out on future posts by
following The Thaiger
.