Travel and tourism in the Land of Smiles – 12 predictions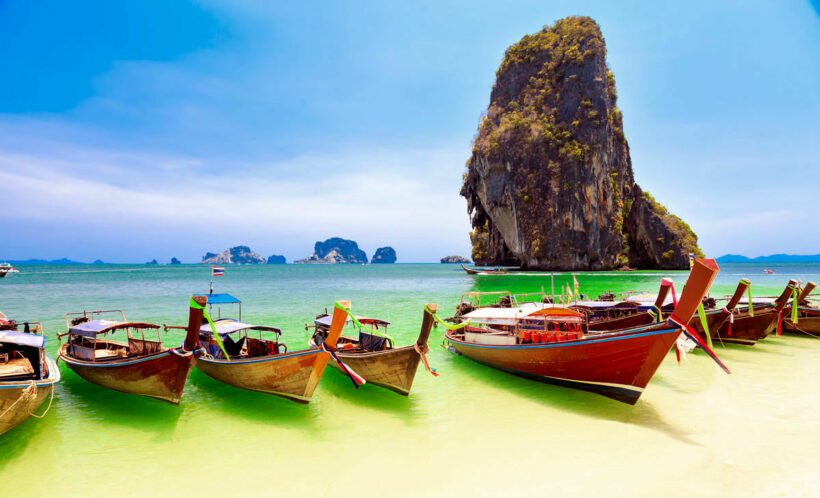 OPINION byAndrew Wood
Casting our eyes into the crystal ball has never been so difficult with so many varied issues clouding the post-coronavirus future. For Thailand, the future of world and domestic travel has never been so critical as tourism drives much of the Thai economy. Will the tourists come back? Will they be allowed back? When? And under what restrictions? What will happen with all the empty hotels? How long will it take for Thai tourism to recover?
Skål International Bangkok President, Andrew J Wood, has been looking into the crystal ball and shares what we can expect to see once the Coronavirus starts to dissipate in Thailand, and the world.
---
Whoever said the virus will not change the world are WRONG. There have been so many changes in the past three months our industry is still reeling as all marketing and business plans go out the window as the whole world applied the brakes and came to a complete standstill.
So when the wheels finally start turning again what are we likely to see? Here's my 12 predictions for the travel and tourism industry. It is based on my experience in Asia however we are a global industry and I believe there are global ramifications.
• Coronavirus will dissipate becoming less deadly but will not disappear.
• Rebounds are a very real danger and countries such as NZ and AUSTRALIA are already discussing keeping borders CLOSED for 12 MONTHS to avoid any rebound. Stopping both INBOUND and OUTBOUND visits. They will not be alone – other countries will restrict access also.
• Domestic tourism and travel is set to EXPLODE.
• Family travel will also boom. The decision makers – will be the kids! Gear activities and menus around the decision makers.
• Activity and experiential vacations will be key.
• Hotels will take firmer control of room inventory – having best available rates only on their websites for direct bookings and their own social media platforms.
• OTA's will finally lose their stranglehold on hotel bookings and their huge 25% commissions.
• Travel Agents regrettably will see even further business declines in their business volumes post Corvid-19. Potential travellers will continue to D-I-Y digitally as they are becoming increasingly computer proficient and savvy surfers.
• Green travel and care of the environment will see record volume growth as the travelling public now 'get-it' after the effects of a virus that stopped the world in its tracks.
• Business travel and daily commuting will decline as we embrace work-at-home. It works! We will see, in city locations, corporate business shrink to 4D3N (4 days, 3 nights) during the week and leisure relatrd business increase to 3D2N.
• Video conferencing and webinars will increase but face-to-face meetings and conferences along with trade shows and congresses will survive. We are human and we like human interaction.
• As domestic and family travel grows, 5-star hotel occupancies will decline. Mid range hotels will see the fastest growth.
Stay safe, stay well.
Andrew J Wood
#StayAtHomeSoYouCanTravelTomorrow
About the author…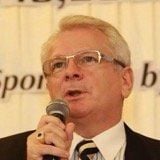 Andrew was born in Yorkshire England, he is a professional hotelier, Skalleague and travel writer. Andrew has over 40 years of hospitality and travel experience. He is a hotel graduate of Napier University, Edinburgh. Andrew is a past Director of Skal International (SI), National President SI Thailand and is currently President of SI Bangkok and a VP of both SI Thailand and SI Asia. He is a regular guest lecturer at various Universities in Thailand including Assumption University's Hospitality School and the Japan Hotel School in Tokyo.
Keep in contact with The Thaiger by following our
Facebook page
.
Bangkok hospitals use baby face shields, US health officials say it could be dangerous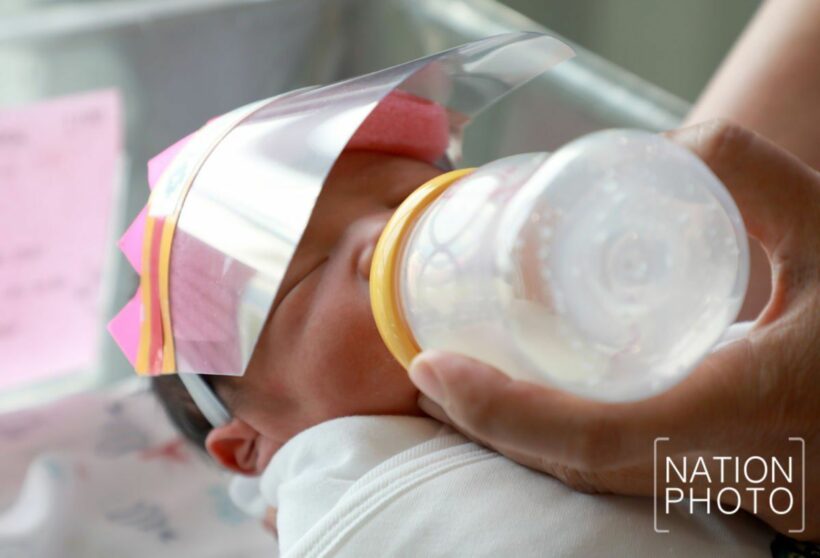 While Bangkok hospitals say they are protecting newborn babies from the coronavirus with baby-sized face shields, health authorities in the US disagree with the move, and even claim it could be dangerous.
The US Centre of Disease Control says an infant face shield could increase the risk of sudden infant death syndrome as well as suffocation or strangulation.
Since infants and newborns often toss and turn in bed, the nose and mouth could become blocked by the face shield and suffocate, according to a CDC report on the matter.
"Parts of the shield can also get caught around the neck and cause them to suffocate."
They say that there is no data supporting the use of infant face shields for protection against the coronavirus.
SOURCE: US Centre of Disease Control
Keep in contact with The Thaiger by following our
Facebook page
.
Pattaya's beaches are still a 'no go' area this month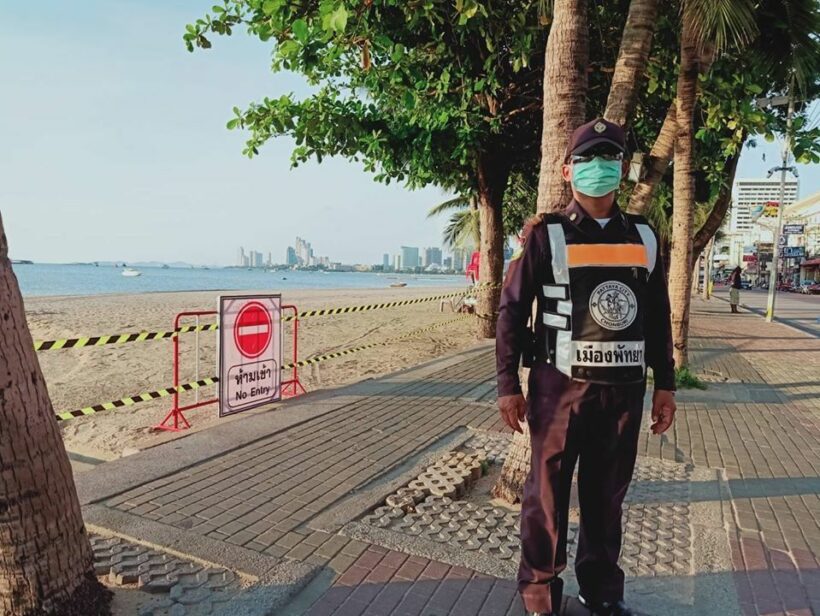 Don't go to Pattaya's beaches unless you're willing go to jail or pay a hefty fine. Starting tomorrow, the city's beaches will be closed until the end of May in an effort to prevent socialising and to slow the spread of the coronavirus.
Pattaya's police posted photos on Facebook of the taped-off beaches and warning signs.
"Those who try to access the beach could face a year in jail or an up to 100,000 baht fine. People and tourists are prohibited from gathering in the areas between 9am and 9pm during the three-week period."
However, people are still allowed to walk and exercise on the sidewalks adjacent to the beaches. The closed beach areas include… Pattaya beach, Jomtien beach, Phra Thamnak beach, Cosy beach, Wong Amat beach, Krathing Rai beach, Lan Phor Na Kluea public park and the Bali Hai pier area.
SOURCE: Bangkok Post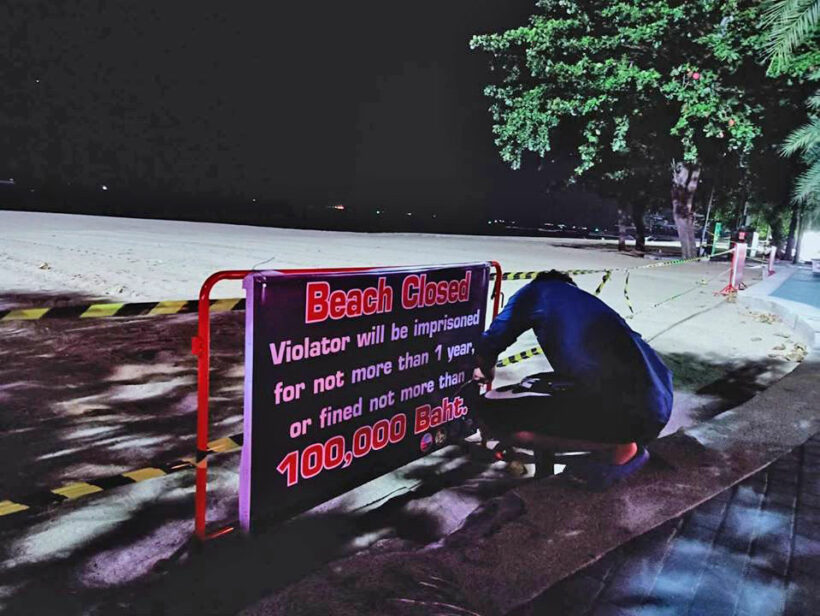 Keep in contact with The Thaiger by following our
Facebook page
.
10 arrested in Chon Buri for house party in violation of Emergency Decree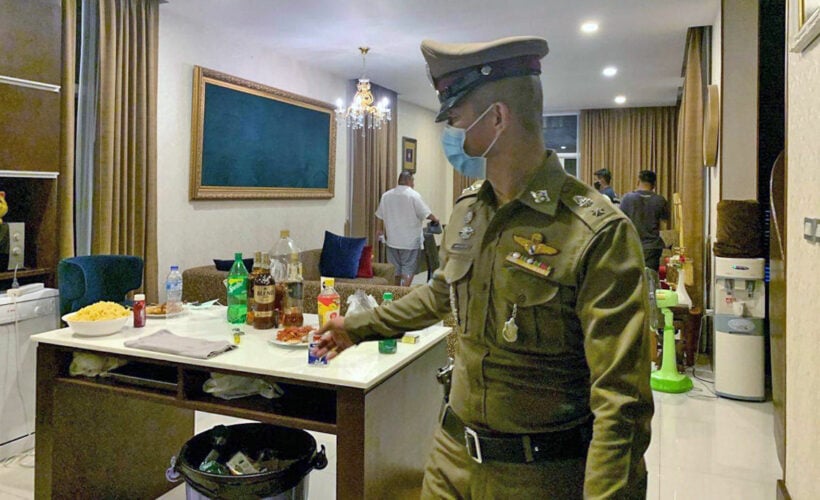 Police in Chon Buri province's Sattahip subdistrict, south of Pattaya, raided a party last night at a house with 10 people, most of them from out of town and described as domestic tourists. The gathering was a direct violation of the Emergency Decree enacted to stop the spread of Covid-19
Na Jomtien police were notified by a "concerned citizen" that there was a noisy party at a house in a housing estate at 9:30pm. They arrived at the house, knocked on the door and were greeted by 37 year old Paruehat Tampanon, who said he's renting the house for several days, and that he and his friends were staying there for 2 days.
Na Jomtien police discovered 9 other people inside the house, 2 of whom tested positive for illegal drugs, police say, without naming the specific drugs. Many bottles of alcoholic and other beverages were found.
Paruehat claimed he did not know that Chon Buri still has strict social distancing measure in place and bans private parties. He also claimed all 10 people know each other and live with each other so there was be no threat of spreading the virus.
The owner of the house, 35 year old Piyanuch Ignatov, was charged with illegally operating a hotel and disobeying a Chon Buri order. (Rentals of fewer than 30 days are technically not allowed under Thai law.)
All those arrested face stiff Emergency Decree penalties, which means fines of up to 100,000 baht and/or up to 2 years in jail.
SOURCES: The Pattaya News | Naew Na
Keep in contact with The Thaiger by following our
Facebook page
.