Another family kept apart by Thai red tape and quarantine confusion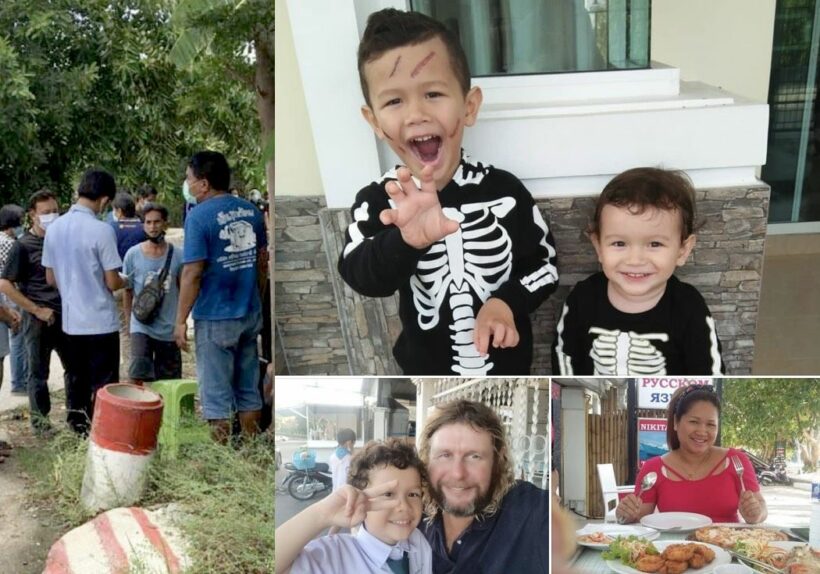 Sometimes you cross all the T's and dot all the I's and it's still not enough to satisfy the paper-pushers, especially at this disruptive time in Thailand, and everywhere else. One Australian father has ended up separated from his family – he's in Australia and his wife and 2 children are in Thailand being shuffled around Phuket and Bangkok in a Thai paperwork nightmare. Sam Kelly wants his family onto a repatriation flight being organised by the Australian Embassy out of Bangkok on June 6. For now, for reasons not immediately apparent, that's not going to happen.
"I just want to get my family out of quarantine and onto this flight. I understand that this is not normal circumstances. But the facts are: The Thai and Australian governments have put on this flight to repatriate citizens to Australia. The Thais and the Australians have already shown they can be flexible, but now it looks as though my family might miss this flight. They have been tested and are Covid-19 free."
The full story of Sam and his family's plight is below. But Sam is grateful for the help from Australian consular officials up to now.
"I want to thank all the Australian consular staff in Bangkok and Canberra that have been helping me. You have been a great help in a very difficult situation."
Sam's story is one among thousands of families separated by the lockdowns and border closures in Thailand, and around the world. The Thaiger believes Sam's wife and kids, and similar families, should be put on the top of the list of repatriation efforts when bans are lifted and flights resume.
The Thaiger hopes cooler-heads prevail in this case and that Sam, Kanny, Ronny and Adam are back together again soon.
Here is the full unedited text from Sam…
---
Help me get my family to Australia.
I'm one of the many offshore workers around the world that have been prevented from re uniting with their families
My base is in Phuket Thailand and has been for the last 15 years, I have a wife and 2 children. My wife's name is Kannika "Kanny" Polngam who is a Thai national and my 2 kids Ronald "Ronny" Kelly (2) and Adam Kelly (5), who are dual Thai and Australian citizens with passports.
On the 12th of February I left Phuket to go on a 4 week on 4 week off rotation. I saw the situation regarding Covid-19 was deteriorating, so I started the process of getting my family out to Australia. I chose to stay here in Australia, so I was available for work, and still be able to provide for my family.
On the 5th of March my kids were taken out of school in Phuket and very strict curfews were imposed to deal with the Covid-19 pandemic.
Flights in and out of Thailand all but stopped with the occasional charter/repatriation flight going out of Bangkok to a few different airports in Australia. I managed to secure a flight on only one of 2 flights from Thailand to Australia for the whole month of June. I spoke with Australian consular officials in Bangkok on the phone and was told that it was a good idea to get the family up to Bangkok in case they needed to do more paperwork, etc.
On around the 19th of May, I told Kanny to just lock the house up, throw away anything we don't need, just pack a few bags and drive off the island, stay with her parents in Bangkok and wait for the flight. She obtained permission from the Wichit Police Department in Phuket Town to leave the island and drive to make the long 12 hour drive to Bangkok. After being granted permission to get off the island my family was stopped at a Surathani checkpoint which is a few hours north of Phuket and directed to drive directly to:
Queen Sirikit Stadium
Klong 6, Tanyaburi, Pathumthani, Bangkok
When they arrived on the 21st of May they were all locked into a very small apartment that was once student housing at a university.
Kanny contacted the authorities and started to make noise. Everyone in my family has been self isolated for months. The kids actually had more people from the schools and government checking on their welfare in our Phuket house than in this little state sanctioned Bangkok student accommodation. No Thais authorities are checking on their welfare now, they just get a few bags of food thrown on their doorstop every day.
After Kanny made some noise the Thai authorities came and did a Covid-19 check on everyone. The results came back negative the next day and it was agreed that they would all be released and go to my mother and father in laws house nearby in Bangkok.
Now today it is Friday, my wife just got a phone call and one of the head honchos there by the name of Mr Boonlert, he has decided to revoke what he promised which was them being released into self isolation. The date that they will be released now is the 6th of June. This is one day after this flight leaves from Bangkok to Brisbane.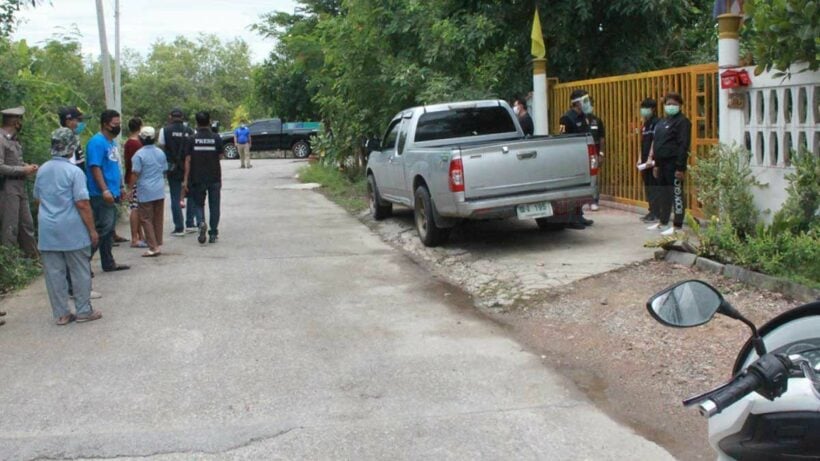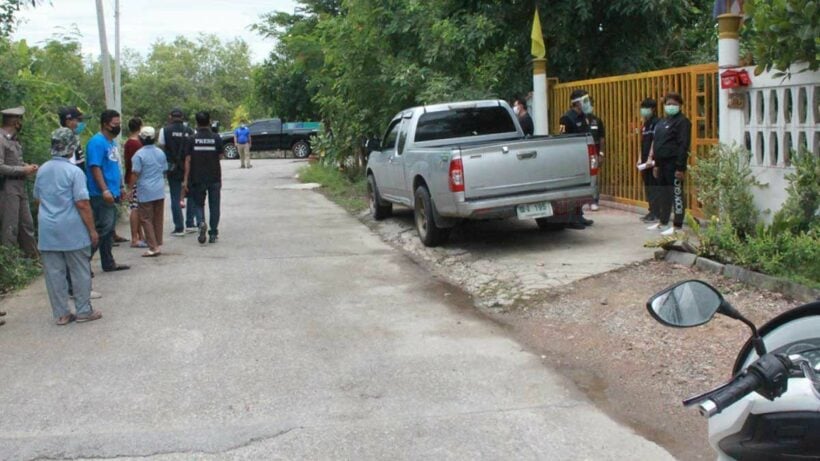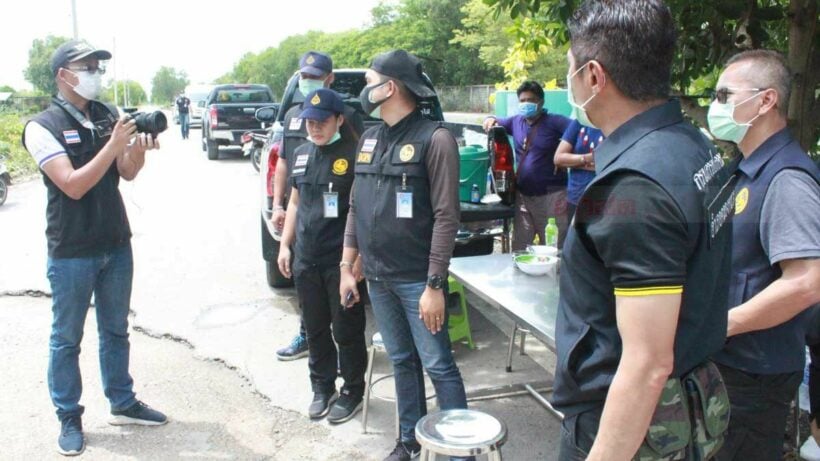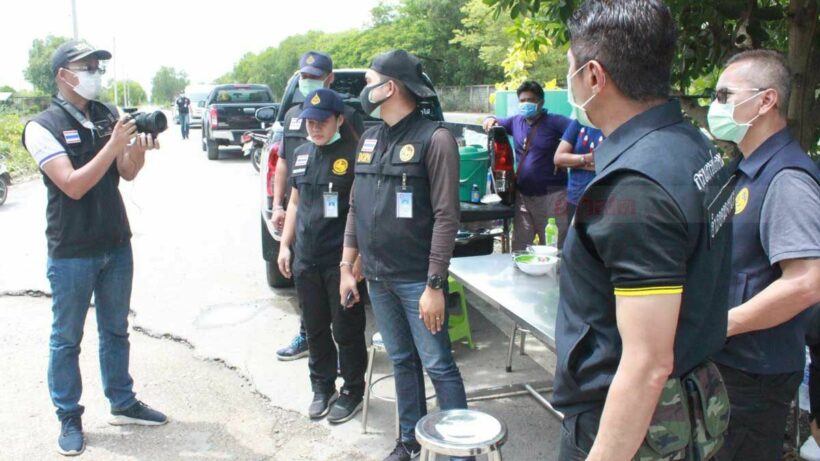 PHOTO: Kannika and the two boys are removed from the self-isolation they had been granted and returned to state quarantine – khaosod.co.th
During this time the Australian Consulate and the Australian Department of Foreign Affairs and Trade have been in touch with me stating, they cannot issue a ticket for my family to fly to Australia on this special flight until the family are out of quarantine. The Thai authorities have quite happily let people transit through Bangkok who have tickets out of Thailand, but as the Thai authorities have my family in detention, the Australians authorities will not issue a ticket to fly out.
So I am stuck between a rock and a hard place, my family has:
• Been in self isolation for months
• Been checked regularly by the Thai government and their school teachers doing home visits during the time schools closed on the 5th of March
• Have attended regular doctors appointments, including a health screen for my wife to apply for an Australian visa
• Have been in enforced state quarantine for over a week now and passed a Covid-19 test which was a horrible experience for them
• Look like they might miss one of the last flights back to Australia due to this Thai state quarantine period and if by some miracle they make the flight, they have the absolute joy of doing another 2 week quarantine in a hotel in Australia
Thousands of people have travelled to Bangkok from Phuket and none of them have been quarantined, the quarantine is actually a DISCRETION. There has been Australians being repatriated from Phuket, and they have been able to travel hassle free to Bangkok and wait for their flights out. Why are my kids the only Australians that have been locked up? I'm having serious concerns about their mental health at the moment.
All I want is the best for my kids, and neither the Australian or Thai public servants are providing that now.
These boys have not played with another kid or seen a blade of grass since the 5th of March, that means that if they went to Australia, it would be over 3 and a half months by the time they finished their last isolation period.
I have paid taxes in both countries for many years. I want some sort of communication between the Thai authorities and the Australian authorities.
Why are these Australian children being detained? They don't have Covid-19 and they need to get out of quarantine to get back to Australia on the 5th of June.
Keep in contact with The Thaiger by following our Facebook page.
Never miss out on future posts by following The Thaiger.
Quarantine for vaccinated travellers to be reduced to 7 days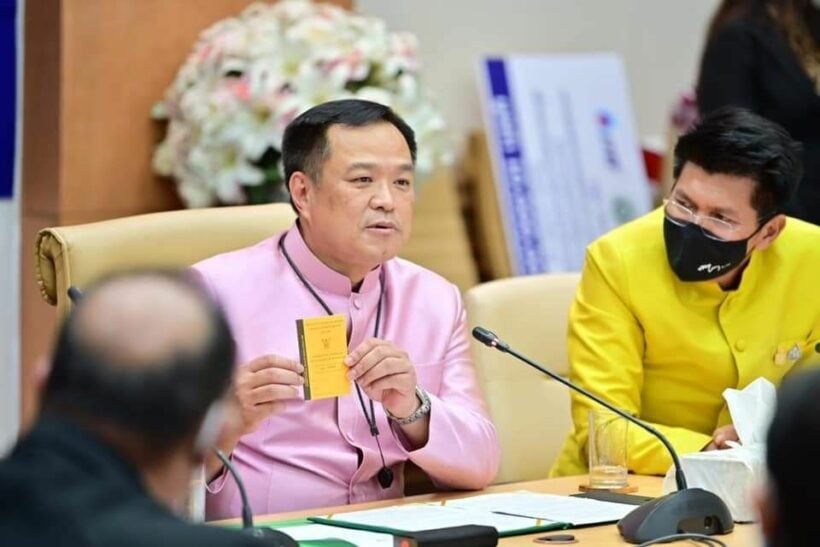 The mandatory quarantine period for those who have been vaccinated against the coronavirus will be reduced from 14 days to 7 days, Thailand's Public Health Minister Anutin Charnvirankul said in a press conference. Those who have not been vaccinated, but have a medical certificate declaring that they are Covid-free, will be required to quarantine to 10 days, Anutin said, according to Reuters.
The health minister says vaccinations must be administered within 3 months of travelling to Thailand. Travellers must still show negative Covid-19 test results issued within 72 hours of their departure to Thailand. Those travelling from Africa must still quarantine for 14 days due to concerns about new variants of the coronavirus.
SOURCE: Reuters
Keep in contact with The Thaiger by following our Facebook page.
Never miss out on future posts by following The Thaiger.
CCSA Update: 71 new Covid-19 cases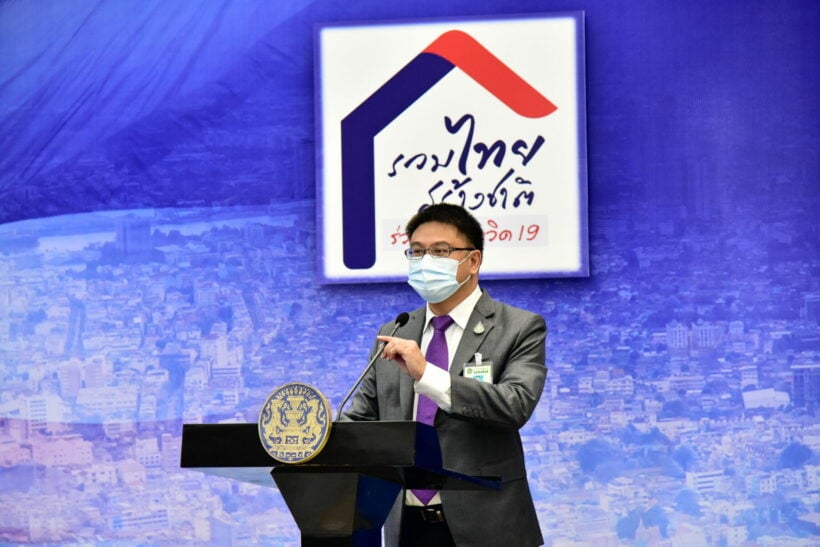 71 new Covid-19 cases were reported today in the Centre for Covid-19 Situation Administration's daily briefing. There are currently 579 active cases. Since the start of the pandemic last year, the CCSA has reported a total of 26,441 coronavirus cases in Thailand and 85 deaths.
"The numbers are getting better," according to deputy spokesperson for Foreign Affairs Natapanu Nopakun, who gives the CCSA report in English. The daily active case count has remained between 500 to 600 cases for the past week, a much lower average than last month when mass testing campaigns were actively rolled out in high risk areas to help trace and contain the virus.
Out of the 71 cases, 41 were detected in hospitals, primarily in Samut Sakhon. 7 cases were detected in active case finding, including 6 in Samut Sakhon and 1 in Pathum Thani. The other 23 cases were detected in quarantine for those travelling to Thailand from overseas.
Recently, 2 beauty pageant contestants tested positive for Covid-19 while in quarantine after arriving in Thailand from overseas. Women from 63 countries travelled to Thailand to participate in a beauty pageant scheduled for later this month. Natapanu praised the health care workers for their effectiveness at detecting the virus at an early stage.
Over the weekend, the CCSA reported 65 new cases yesterday and 64 new cases on Saturday.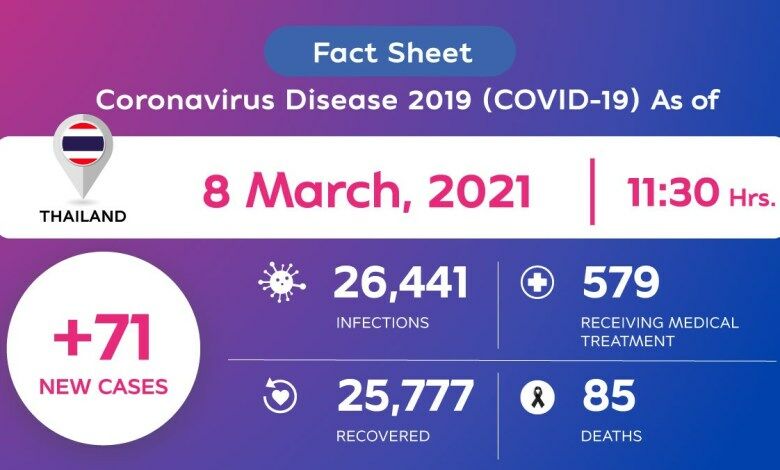 SOURCE: CCSA
Keep in contact with The Thaiger by following our Facebook page.
Never miss out on future posts by following The Thaiger.
Chiang Mai hotels slash prices amid ongoing slump in tourism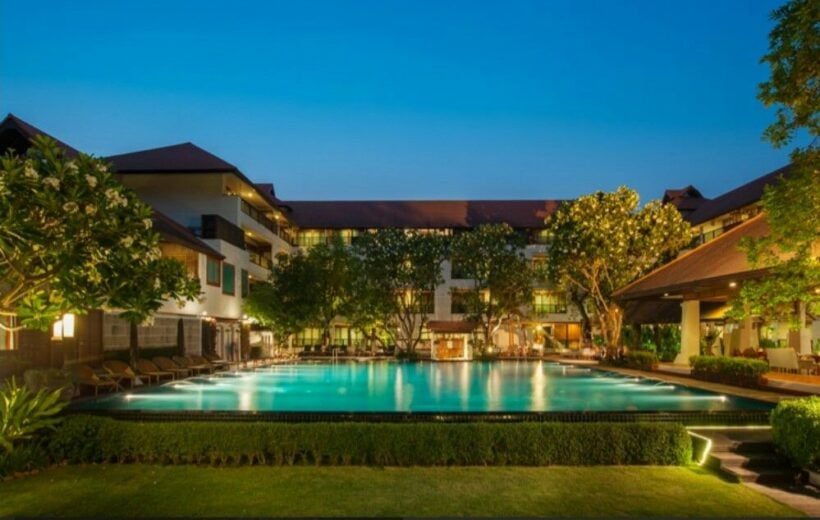 Hotels in the northern province of Chiang Mai have been forced to cut their rates by up to 90%, in a desperate bid to attract more domestic tourists. According to a Bangkok Post report, La-Iad Bungsrithong, from the northern chapter of the Thai Hotels Association, says with tourists mainly favouring the southern beach destinations this month, hotel operators in the north of the country are preparing for the forthcoming low season.
The resurgence of Covid-19 late last year meant that in December, only 1,000 Chiang Mai hotels, offering between 20,000 and 30,000 rooms, stayed open. This month, occupancy rates have plummeted to less than 3% and are not expected to rise beyond 5% during the Songkran holiday next month.
La-Iad says traditional target markets such as China are currently off-limits due to the Chinese government placing restrictions on citizens travelling out of the country.
"Even though vaccine distribution has started globally, the target markets for Chiang Mai such as China still cannot take outbound trips. Operators have to rely on the domestic market for the whole year."
She adds that the Rati Lanna Riverside Spa Resort, of which she is general manager, has cut room rates to 1,500 baht a night, compared to the normal rate of 13,000 baht prior to the pandemic.
Hotels are also being forced to explore new ways of making money, with around 30 hotels – all 4 and 5 star properties – now offering a "drive-thru" food service. La-Iad says hotel operators are also calling on the Chiang Mai office of the Tourism Authority of Thailand to provide visitors to the province with a 500 baht coupon to be redeemed in hotel eateries. She says the authority also needs to do more to promote inter-provincial travel, in particular from the south and north-east of the country.
In 2019, Chiang Mai welcomed 11 million tourists, with 70% of them being Thai. By contrast, there were only 1 million in 2020. This year's number is expected to be around 25% of the 2019 figure.
SOURCE: Bangkok Post
Keep in contact with The Thaiger by following our Facebook page.
Never miss out on future posts by following The Thaiger.