Regional news source publishes smuggled photos from Bangkok's Immigration Detention Centre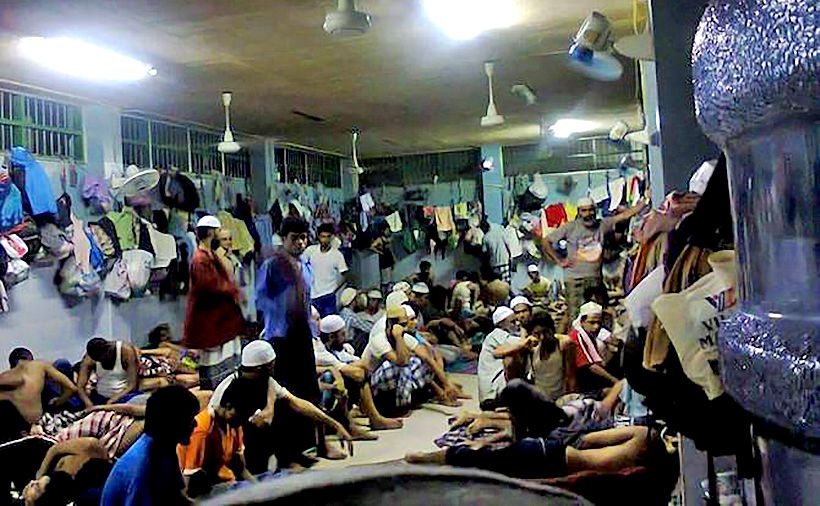 A regional news source, linked to the Catholic Church, has published a group of photos over the weekend slamming Thailand's notorious Bangkok's Immigration Detention Centre. The article claims the Centre has "squalid and overcrowded conditions in which inmates, including children, women and the elderly, have been forced to languish for months and even years on end."
The Union of Catholic Asian News (UCAN) is a news agency that covers issues and matters of interest for the Catholic Church on the Asian continent. It was launched in Hong Kong in 1979. Since its foundation, it has become one of the largest Catholic news agencies in the world, as well as the largest in Asia.
The writer of the story containing the photos and claims has been credited to an UCA News reporter in Hong Kong.
UCA News say the photo's were taken and smuggled out of the Centre "surreptitiously" and paint an even darker picture of inmates' living conditions inside the Bangkok holding facility.
"More than 1,000 inmates have been squeezed into tightly packed cells that provide no privacy and barely any room for individual detainees."
Bangkok's IDC, ironically situated in Bangkok's swishest district of Sathorn, was designed to hold no more than 500 detainees at most, but even officials admit that it frequently needs to accommodate up to 1,200 people at any one time. The article says, inmates are let out from their cramped cells to get some fresh air in an outdoor area, for a few hours a day.
"Here they have access to a canteen where those fortunate enough to have money sent from the outside can buy food to supplement meagre prison rations."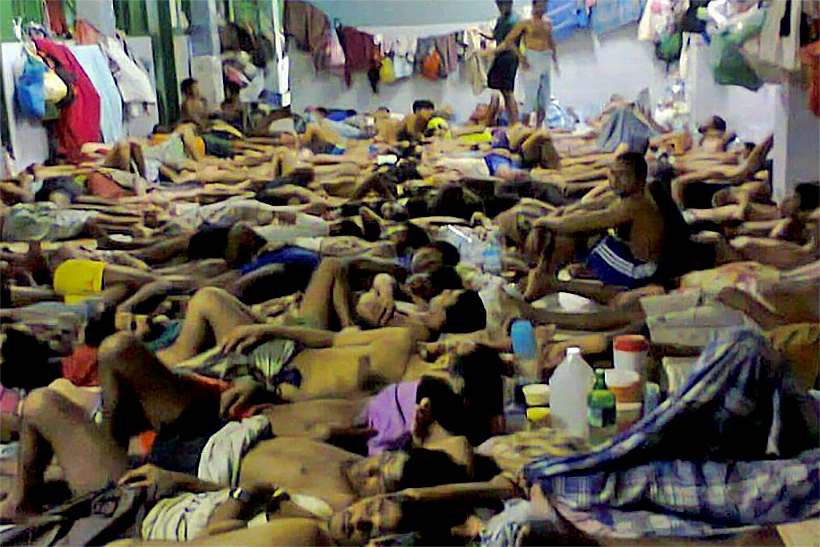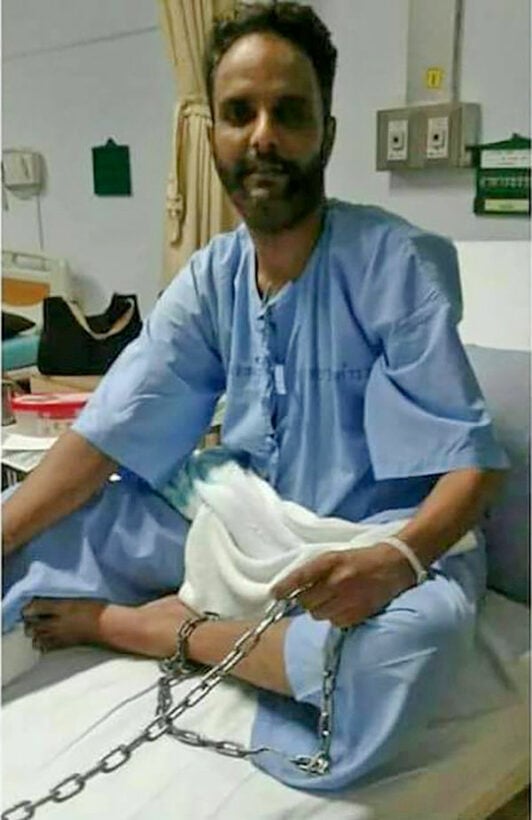 Much of the knowledge of conditions inside the IDC has come from testimonies of former and current detainees. Cameras and mobile phones are strictly prohibited and if any devices are found they are immediately confiscated and the memory wiped.
Only one photo of the Centre's insides was smuggled out last year and ended up in major Thai newspaper and, subsequently, widely shared on social media. These photos of the interior of the IDC, given to the UCA News by an undisclosed source, are probably the largest number of images ever to be published.
UCA News says the photos show… "life inside for detainees whose only crime has been to overstay their visas."
The outlet also complains that numerous inmates are simply asylum seekers… "such as Catholics from Pakistan whose right to refugee status and appropriate treatment has been denied by Thai authorities".
The article goes on to list other detainees as visitors with invalid passports or expired visas, migrant workers without work permits, and refugees who fled persecution in their countries, ending up incarcerated in Thailand as illegal migrants.
UCA News, goes on to compare the living conditions inside the IDC with the Kingdom's other prisons.
"In effect, the IDC is no different from any Thai prison where conditions have long been known to be similarly appalling."
In November, news was leaked by a British detainee in the IDC who says he witnessed another inmate "dying in his arms" following a brutal beating.
A British father of two has shared his horror story after being locked up in a Thai jail. Imprisoned for overstaying his visa, 35 year old Kai Isaacs claims a fellow inmate died in his arms following a brutal beating. The incident happened back on May 21 in the International Detention Centre, situated next door to the swanky Sathorn residential area in Bangkok.
Kai, from the Isle of Wight, was imprisoned with 150 other inmates at the IDC. He says he was locked up with "gangsters and suspected terrorists", according to the article in the Mirror Online. He said all 150 inmates had to sleep on the floor, ten in a row.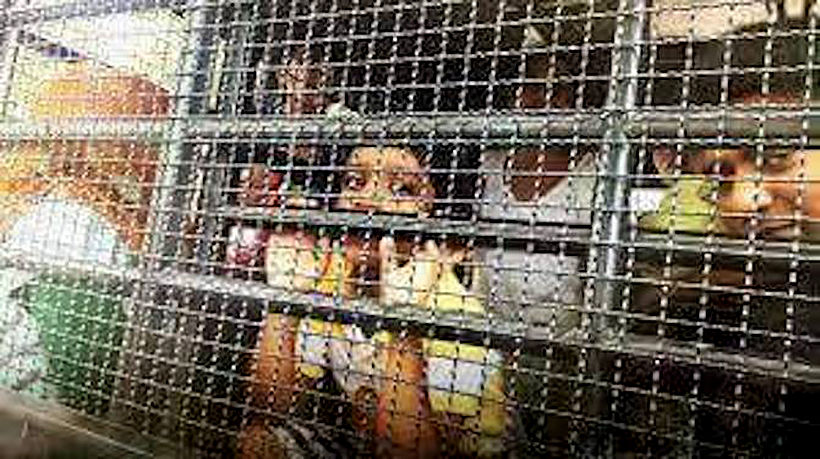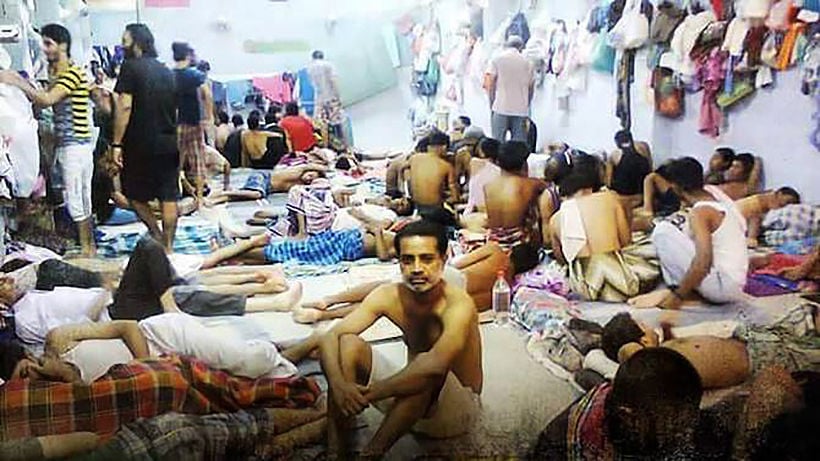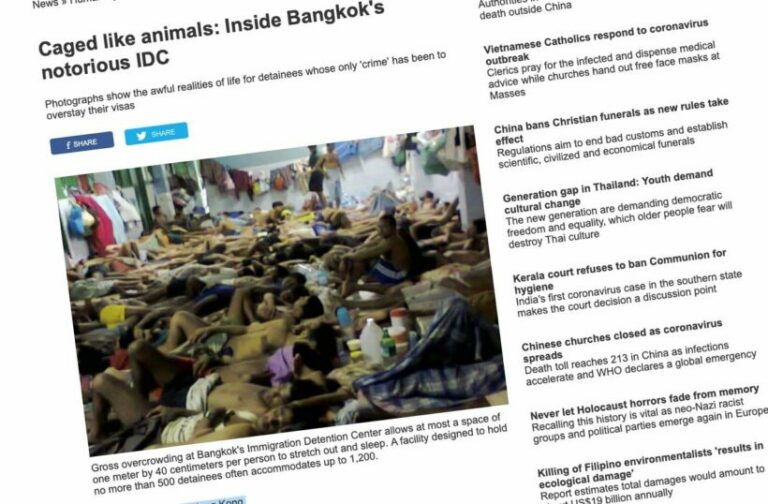 Keep in contact with The Thaiger by following our Facebook page.
Never miss out on future posts by following The Thaiger.


Find more SE Asian News courtesy of The Thaiger.

Broke? Find employment in Southeast Asia with JobCute Thailand. Rich? Invest in real estate across Asia with FazWaz Property Group. Even book medical procedures worldwide with MyMediTravel, all powered by DB Ventures.

Companies pull out from Trump brand after storming of Capitol incident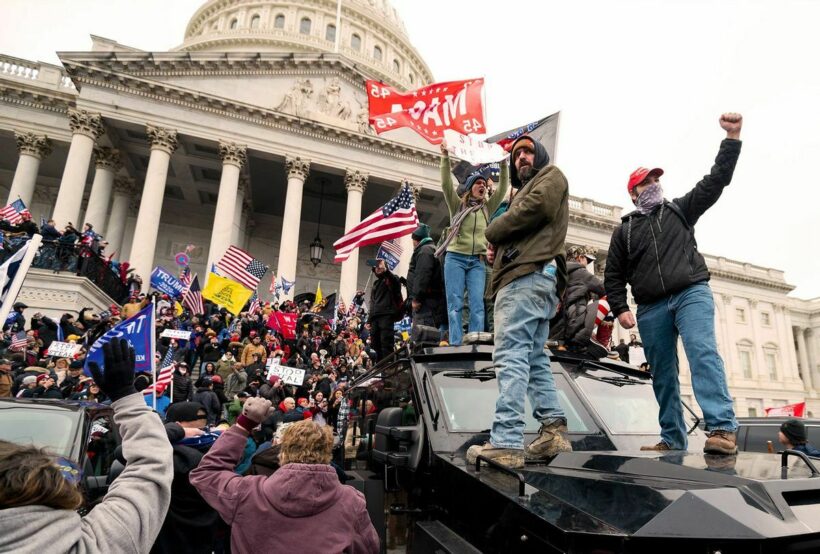 Corporate America is adding its weight in response to the insurgency at the Capitol building on January 6, and are pulling out from any association with the Trump brand after the storming of the capitol incidentwhich economists say will have a profound medium and long-term effect on his business interests. Recently, Signature Bank closed Trump's personal accounts and the PGA of America stopped plans to hold its 2022 championship at Mr. Trump's New Jersey golf course.
Such a parting of ways signals the business community's weariness in being associated with a political figure that has attracted worldwide attention and is indicative of what may happen to the Trump brand. The president's role in the incident, confirmed by his impeachment by the House this week, has gained criticism from the Business Roundtable to the AFL-CIO labour federation.
Michael D'Antonio, the author of a Trump biography, says the capitol incident has been a game-changer for the support of extreme politics.
"Trump's name is really an albatross. He is the most disgraced president in history. This is a person who's synonymous with a mob attacking the US Capitol. I just think this went a step too far."
Other experts like Tim Calkins, a marketing professor at Northwestern University's Kellogg School of Management, say Trump's brand will inevitably suffer long-term.
"Before his term, Trump stood for wealth, success and over-the-top luxury. Now the brand has associations with anti-government views, racism and extremism. This makes the brand fairly toxic."
Deutsche Bank, to which Trump reportedly owes around $400 million, is also planning to stop engaging in business with him. But the president dismissed any business challenges in an October 15 televised event by saying that the $400 million he owed was "a tiny percentage of my net worth."
It appears true that some of Trump's properties have benefitted from his presidency as taxpayer revenue has continuously flowed into his golf courses and clubs where he stays with his family, the secret service and the White House staff.
In fact, CREW estimates that Trump's properties took in over $100 million from more than 500 visits by the president, according to a report in September 2020. But even that business transaction has received widespread criticism as many say Trump should not have mixed politics with his personal businesses.
D'Antonio predicts that Trump may sell current assets to pay off his Deutsche Bank debt, which means there could be fewer to none Trump hotels, golf courses or towers in the next 10 years.
SOURCE: Bangkok Post
Keep in contact with The Thaiger by following our Facebook page.
Never miss out on future posts by following The Thaiger.
Norway adjusts advice after 28 possible vaccine-related deaths of elderly people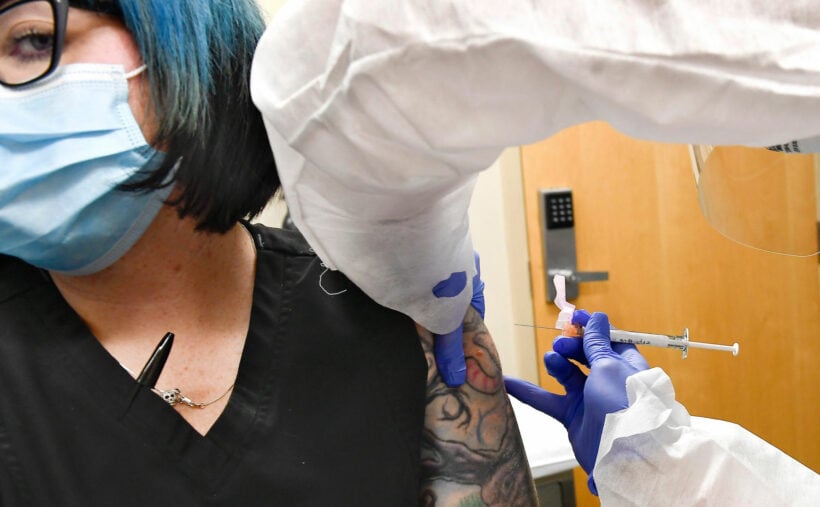 The deaths of 23 elderly people are being investigated after dying a short time of receiving their first Covid-19 vaccine in Norway. Apart from the 23 deaths, medical officials are also reporting several people falling ill after receiving their first dose of the Pfizer-BioNTech Covid-19 vaccine.
At this stage there has been no direct correlation between the people's deaths and inoculation wit the Pfizer vaccine, but medical officials report that 13 out of 23 people who died showed "common side effects of mRNA vaccines" such as "diarrhea, nausea and fever".
mRNA vaccines are a new type of vaccine to protect against infectious diseases. To trigger an immune response, many vaccines put a weakened or inactivated germ into our bodies. Not mRNA vaccines. Instead, they teach our cells how to make a protein—or even just a piece of a protein—that triggers an immune response inside our bodies. That immune response, which produces antibodies, is what protects us from getting infected if the real virus enters our bodies – cdc.gov
The Norwegian Institute of Public Health has taken the action of cautioning against vaccinating elderly people above 80 years of age saying "those with a short life span may not benefit much from the jab".
"For those with the most severe frailty, even relatively mild vaccine side effects can have serious consequences."
"The agency listed fever and nausea as side effects which may have led to the deaths of some frail patients."
Earlier this week, the Public Health authority noted that "any side effects of the vaccine will be outweighed by a reduced risk of becoming seriously ill with Covid-19 for elderly, frail people."
Steinar Madsen, the medical director of the Norwegian Medicines Agency, says that it may be a coincidence, "but we aren't sure".
Pfizer and BioNTech are actively working with the Norwegian authorities to investigate the death.
"The regulator discovered the number of incidents so far is not alarming and in line with expectations."
But experts are of "the strong opinion" that doctors need to exercise caution in vaccinating people in the wake of the deaths of the 23 elderly people. The Norwegian Medicines Agency also reported that 21 women and 8 men reported side effects. Apart from the 23 deaths, 9 people have reported "serious side effects" without fatal outcomes such as "allergic reactions, strong discomfort and severe fever. Seven people reported less serious side effects such as severe pain at the injection site".
Norwegian medical staff had administered at least the first dose of the Pfizer or Moderna coronavirus vaccines to approximately 33,000 people as of the end of December.
Keep in contact with The Thaiger by following our Facebook page.
Never miss out on future posts by following The Thaiger.
Covid-19 projected to reduce Americans' life expectancy – USC/Princeton study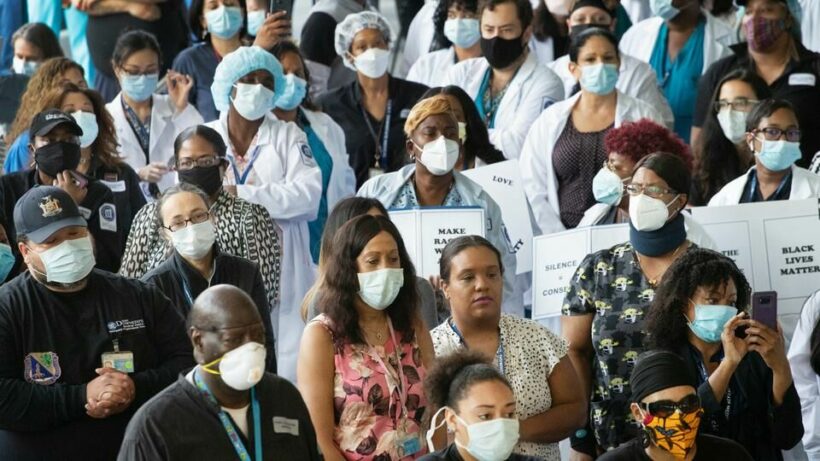 With Covid-19 linked to more than 336,000 deaths in the United States, American's life expectancy will decline, especially among black and latino people, according to researchers from the University of Southern California and Princeton University.
The study published in Proceedings of the National Academy of Sciences shows that life expectancy at birth for Americans will shorten by 1.13 years to 77.48 years, while blacks and latinos life expectancy is expected to shorten by more.
For blacks, their life expectancy would shorten by 2.10 years to 72.78 years, and for Latinos, by 3.05 years to 78.77 years. This is said to be the lowest life expectancy estimated since 2003. The disproportionate impact on the 3 groups of populations is believed to relate to social and economic advantages.
The study author Theresa Andrasfay, a postdoctoral fellow at the USC Leonard Davis School of Gerontology, says that why the study analyses the number of deaths and how it affects the life expectancy at birth, it also shows the consequences for marginalized groups.
"The Covid-19 pandemic's disproportionate effect on the life expectancy of Black and Latino Americans likely has to do with their greater exposure through their workplace or extended family contacts, in addition to receiving poorer health care, leading to more infections and worse outcomes."
The researchers say life expectancy is an important indicator of a population's health and a tool for examining the impact of COVID-19 on survival.
SOURCE: USA Today | University of South California
Keep in contact with The Thaiger by following our Facebook page.
Never miss out on future posts by following The Thaiger.