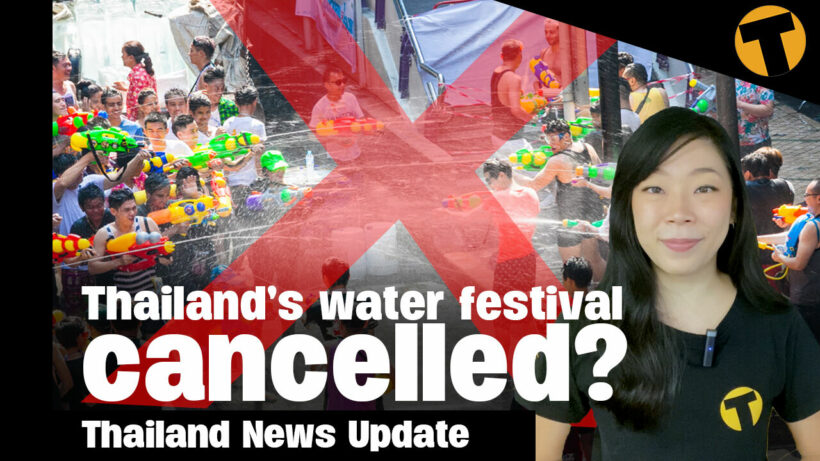 Thailand's famous water festival Songkran might be cancelled for 1 third year in a row if the daily Covid-19 infections reach 30,000 per day. The massive water festival and gun fight, celebrating the Thai New Year, has already had the tap turned off due to coronavirus restrictions.
The DDC warns that Songkran, which is April 13 to 15 this year, will be cancelled again if the Covid-19 situation isn't under control. Health officials expect the numbers to peak around the end of February to early March… at least a month before the annual water-fest.
The head of the DDC is urging the population, especially those in risk groups, to get a booster and to avoid group gatherings in family, school and workplaces. He also told residents not to panic as most of the cases are those with mild or no symptoms.
---
For those planning a trip to Thailand, travellers will need to register for the required Thailand Pass QR code no LESS than 24 hours before a trip, but the Thai government is highly recommending that travellers register and plan a trip at least seven days in advance as the processing time before approval can take three to seven days.
For those who are travelling to Thailand for an emergency or urgent situation, you're being told send a request and relevant documents to testgo@consular.go.th to expedite the registration process for the Thailand Pass.There's a full list of details for registering your Thailand Pass at thethaiger.com
---
The Bank of Thailand predicts the country's inflation will exceed the target rate in Q1 this year. They're blaming rising raw food and energy prices, especially oil as world oil prices continue to soar.According to the Thai central bank's inflation targeting , the headline inflation rate was in a range of 1-3% for 2022. But now they're saying upside risks to inflation have increased.
But they've also claimed that there is no indication of broad-based increases in the prices of goods and services.A spokesperson says the rate of raw food price increases has been below 7-8%, which is not a huge concern in the larger scheme of the Thai economy.
---
In Petchaburi, a central province south of Bangkok, monkeys are breeding like rabbits. They might look cute at first, but the booming number of monkeys might threaten tourism since the monkeys often steal peoples' belongings and go on occasional rampages through the main city with their Simian gang wars.
Right now there are 1,000-1,500 per district, and this number is rising to 3,000 in the city. An adviser to the Ministry of Natural Resources and Environment said the monkeys are now being systematically sterilised and monitored for disease.In the past year, the project has caught and sterilised 600 monkeys.
The monkeys are freed after they're sterilised. Monkeys in some Thai provinces have a reputation for becoming aggressive, most famously in Lop Buri.
---
After Songkhla authorities accused one food company of hoarding 200 tonnes of pork last month, the government is on a mission to crack down on pork hoarding. Authorities have become more strict about storage and receiving procedures, and inspected over 24 million kilograms of pork.
Pork prices are finally lowering after a drastic rise in January, where at one point many people even resorted to eating crocodile meat instead of pork. At least some good news for crocodiles.A government spokesperson said wholesale pork prices have now dropped to around 100 baht per kilogram, and retail prices at around 200 baht per kilogram.
---
Indian scientists say they have come up with a vaccine that is effective against all variants of Covid-19… Yes, ALL variants. With new SARS-COV-2 virus versions causing new outbreaks, scientists at the Indian Institute of Science Education and Research, say they've designed a vaccine which can can defend against any potential coronavirus variations.
The scientists believe that their vaccine, AbhiSCoVac, "would be able to generate protective immunity against all six virulent members of the SARS-CoV-2 family".The researchers first discovered several common areas in the spike protein of the six distinct virus variants, which experience a few changes and thus vary just slightly during the outbreak.
---
In a Singaporean news broadcast on the Winter Olympics, it wasn't the coverage that got the attention of viewers, it was what was happening in the background at the Beijing bar. Behind the Channel News Asia correspondent were two men passionately kissing, a taboo for Singaporeans where broadcasting laws prohibit LGBT content and same-sex relationships remain officially illegal.Although the kiss was removed from a version on CNA's website, a video of the kiss has been seen over 825,000 times on TikTok and a popular Chinese social media network Weibo.
One TikTok user wrote "This is actually an act of revolution".It was the look given by one of the couple who posed directly to the camera post-kiss that has caught many people's attention, according to a representative of Kaleidoscope NTU, a group formed by students at Nanyang Technological University in Singapore to raise awareness of discrimination on LGBTB rights.
Activists are now enjoying the effect of the Winter Olympic photo bomb to point out the obsolescence of Singapore's laws since the video has sparked outrage in the city-state where LGBT rights have advanced at a snail's pace compared to the world's more progressive economies.
---
Villagers in Indonesia have freed a crocodile of a motorbike tyre that had been stuck around its neck for more five years. Since 2016, conservationists have been trying to capture the crocodile to free him from the tyre, but had not been successful.
But this week, a villager from Sulawesi island in the east of Borneo, along with dozens of other villagers, caught the 5.2 metre long reptile and removed the tyre before releasing it.The latest rescue effort took three weeks. A 34 year old bird-seller, identified as Tili, snared the reptile using chicken as bait and ropes to catch the saltwater crocodile.
Dozens of other villagers assisted in dragging the crocodile to shore and cutting the tyre off its neck. Tili is now in line for an award when his bold strategy pays off according to the local conservation agency.

Join the conversation and have your say on Thailand news published on The Thaiger.
Thaiger Talk is our new Thaiger Community where you can join the discussion on everything happening in Thailand right now.
Please note that articles are not posted to the forum instantly and can take up to 20 min before being visible. Click for more information and the Thaiger Talk Guidelines.