A day that I will treasure forever – visit to the Elephant Jungle Sanctuary Phuket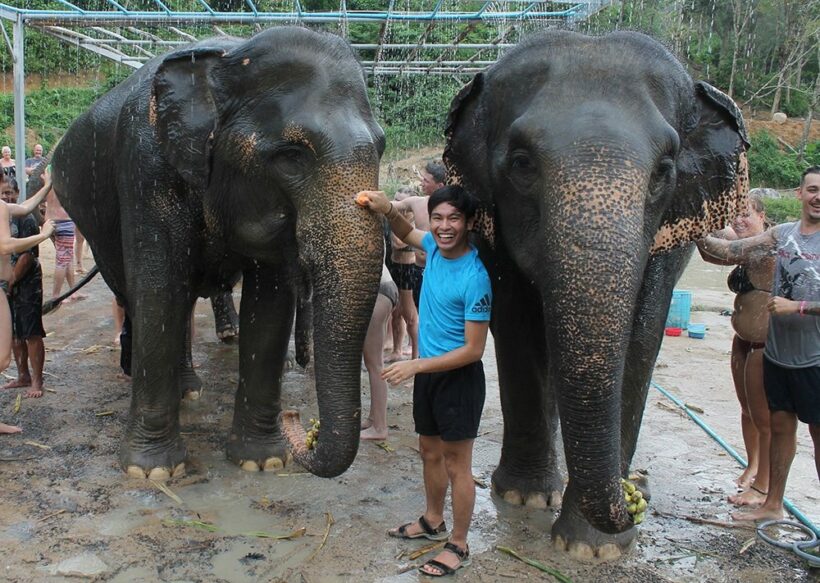 by guest writer Mark Louie Maycong
When I visited Chiang Mai last year, I was not able to visit the Elephant Sanctuary. Little did I know that my unexpected trip to Phuket was the perfect time to visit the Elephant Jungle Sanctuary Phuket.
Like my random trip to the island, booking my slot for the Sanctuary was random as well. I just had a quick glance of the website just to check the price, the list of things to bring and of course to see the elephants in the pictures. The booking that I did was late at night and I'm so lucky that someone picked up my phone call and instantly listed my name for the next day's afternoon itinerary.
The day arrived!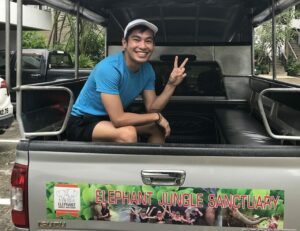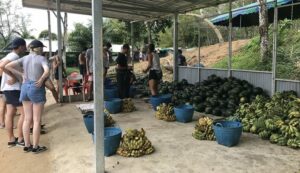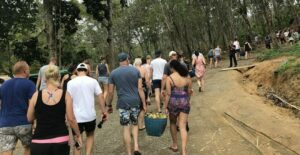 Riding the mini jeep towards the sanctuary in Nai Thon takes about 40 Minutes from where I am staying in Kathu.
The moment we reached the sanctuary I immediately saw some elephants. I was very happy to see them free!
At the dining area our volunteer guide, Syaza Koh from Singapore, told us very heart wrenching stories about these beautiful creatures; some of the elephants worked as loggers, performers or providing rides for tourists on their backs.
After hearing a list of Do's and Dont's in the sanctuary, here we go! We prepared the food for the elephants – bananas, sugarcane and watermelons – and carried them to the elephant feeding area. Being up close and personal with the elephants is so overwhelming; you'll feel very different emotions as if you are riding a roller coaster or flying an airplane for the first time.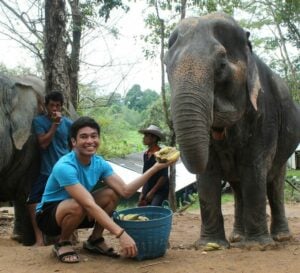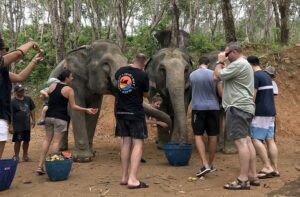 After we fed them, we went straight to change into our 'swimming attire'. At the mud pool we played, swam, laid down, ran and crawled with them. But my sentimental favourite was cleaning their enormous bodies. The happiness of giving their trunks a scrub whilst having eye to eye contact was a priceless feeling.
No need to worry about taking pictures, there are photographers on site to take all the photos you would ever need, and that's free of charge.
To all fellow travellers, Phuket is not just about beaches and parties, explore the island, do some research and find these hidden gems that many tourists will never get to experience. For sure you will learn and enjoy like me!
To all my Thai friends, you are so blessed to have a wonderful country, full of beautiful places and people. I hope that creating and building sanctuaries for animals is just the beginning; I hope there will be more in the future.
These creatures are blessings not just in Thailand but for the entire world. They have rights to be loved and respected like everybody else. Compassion towards living things great or small should be equal and that is something we need to remember.
Thank you so much, Elephant Jungle Sanctuary Phuket for educating us and providing an unforgettable experience I will remember forever.
Khop Khun Krub!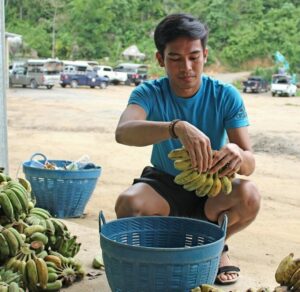 You can read the original article HERE.
Mark Louie Maycong is a pre-school teacher, yoga teacher and writer living in Singapore.
Keep in contact with The Thaiger by following our
Facebook page
.
Never miss out on future posts by
following The Thaiger
.
Suvarnabhumi's new terminal ready for 2022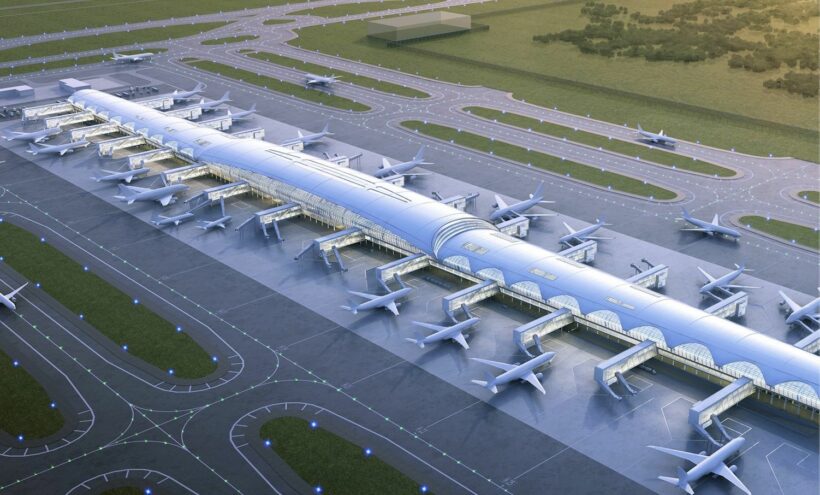 The extension of the Suvarnabhumi terminal will be operational by the start of 2022, according to Thai transport minister Saksayam Chidchop. The new Satellite Terminal 1 at Suvarnabhumi International Airport will increase the total capacity of Thailand's largest airport terminal by 15 million passengers a year, allowing the total airport capacity to cope with traffic up to 90 million per year.
The 4-level concourse building has 28 aircraft contact gates, 8 of which will serve aircraft up to the A380 jumbo size. A new underground automated people mover and baggage handling system connects the new building to Suvarnabhumi's main terminal.
The concourse's contemporary design is infused with subtle cultural references that add to its "Thainess". It includes a diamond-patterned ceiling, with crisscrossing arched ribs infilled with timber-coloured slats. Interior gardens follow the trend of Singapore's Changi adding a tropical landscape.
Construction on the 3rd runway has also commenced and should be receiving aircraft by 2023.
Suvarnabhumi Airport management has also used the downtime, whilst the airport has been quiet during the 'disruption' to fix the potholes and 'sinkage' in parts of the existing runways. Some 700,000 square metres of runway and taxiway service is under repair at this time, soaking up a budget of 4 billion baht.
The new terminal and repairs come at a time when world airline traffic is at its lowest for decades. The world wide Covid-19 pandemic has closed borders, grounded entire airline fleets and decimated the world's travel industry. Since March when air traffic plummeted, there has been a gradual ungrounding of fleets, primarily in non-commercial and non-passenger-carrying fleets. Commercial scheduled traffic is still very low.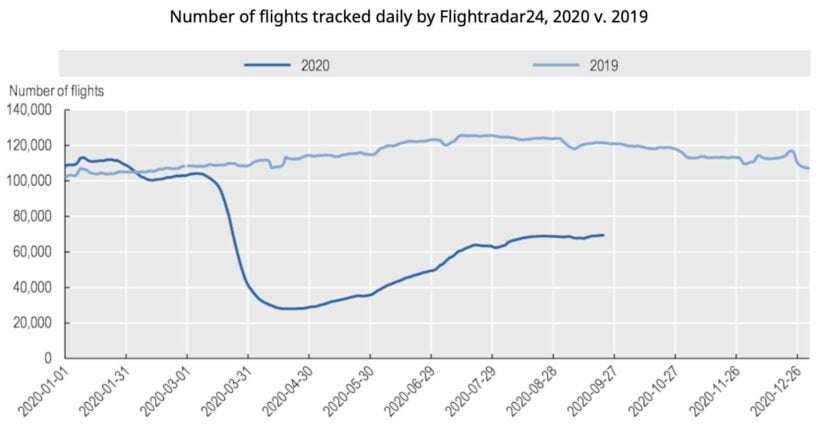 Keep in contact with The Thaiger by following our
Facebook page
.
Never miss out on future posts by
following The Thaiger
.
From tourist heroes to zero – how the world's former tourist magnets are coping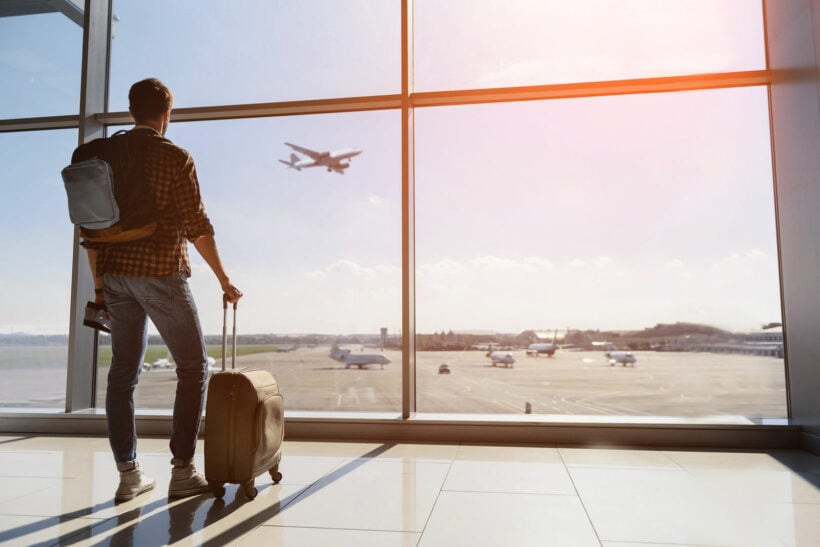 If over-tourism became the buzzword in the travel industry in 2019, the opposite applies in 2020 when most of the world's most popular tourist magnets are now facing a genuine economic crisis, forced on them by government closures and a risk-averse travel public, most of whom are prevented from travel beyond their own borders. We visit Dubrovnik, Santorini, Ibiza, Barcelona, Venice, Bali and Phuket.
Despite the perils of overtourism, and all sorts of plans to limit the rising foot-traffic, nothing could have prepared these bucket list locations for the challenge they now face. Travel bans, quarantines and nationwide lockdowns are forcing travellers to stay home and face their own domestic economic issues.
Travel is a long way down the list now for much of the world's middle class who made up the vast majority of global travellers. More than most industries, Covid-19 has brought the world's travel industry to its knees.
Keep in contact with The Thaiger by following our
Facebook page
.
Never miss out on future posts by
following The Thaiger
.
Koh Pha Ngan and Chiang Mai win gongs in the latest Condé Nast Traveler Awards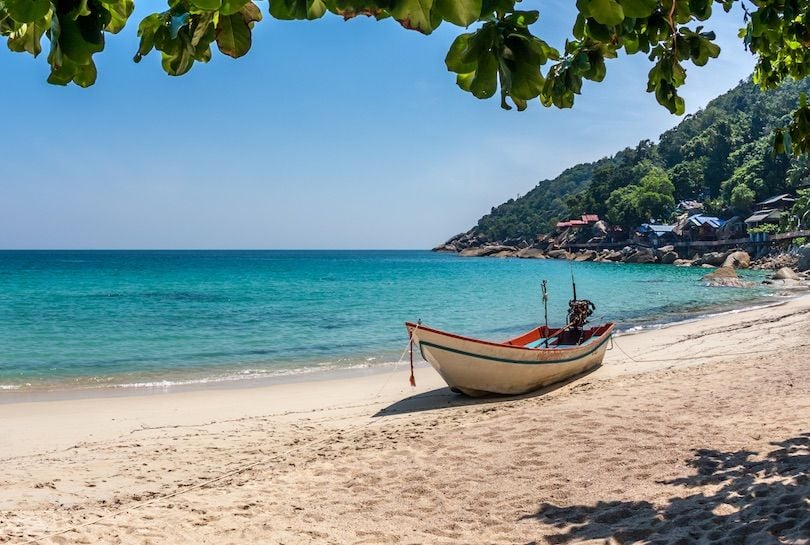 Koh Pha Ngan, a short ferry ride from Koh Samui off the coast of mainland Surat Thani, is the 'third best island in Asia', according to a vote in the readers' choice awards by Conde Nast Traveler. Thailand also ranked in 7th place in the 'Top 20 Countries in the World list.
Topping the 'Best Asian islands' list were Cebu & Visayas, Philippines and Sri Lanka. Koh Pha Ngan, at 3rd place, is the home of Rin Nok beach where party-going tourists gather for the monthly full moon parties. But they've been shut down since April when Thailand shut its borders. Two other Philippine islands – and Siargao and Palawan – made up the top 5.
But Surat Thani's governor Wichawut Jinto maintains there is more to Koh Pha Ngan than its full moon parties.
"The island boasts a blend of nightlife and beautiful natural scenery. The beach is a perfect cove flanked by mountains."
"Koh Phangan also has other beautiful beaches such as Thong Nai Pan, Khuad and Yao beaches. Apart from the beaches, Than Sadet waterfall is also a landmark attraction."
In other Condé Nast Traveler Awards, Chiang Mai was placed 2nd on the 'Top 10 Best Small Cities'. Who was number 1? San Miguel de Allende, Mexico. Bangkok, often a contender in the Best Big Cities Awards, didn't even figure in the Top 10 on the Condé Nast list this year. Kyoto, Japan, scored top spot in the Big City list this time.

Of course the TAT Governor Yuthasak Supasorn, seized the opportunity.
"We are always proud to see Thailand on this list, but in this challenging year when the Covid-19 restrictions are affecting international travel, it is indeed a very special honour."
"We would like to extend our sincerest appreciation to the readers of Condé Nast Traveler as well as travellers from across the globe for their confidence in Thailand. When all difficulties from the Covid-19 pandemic have improved, Thailand will certainly be more than ready to welcome international tourists once again."
But this year's Condé Nast Traveller Awards were announced at a time when much of the world isn't travelling. The magazine says the names in this year's edition were the ones that "brought voters comfort", that they "still connected with" long afterward and got them through the months without travel.
"These are the enduring gems that can withstand the test of time and the vicissitudes of circumstances. So while it is always an honour to be on this list, in this strangest of years, it is a special honour, indeed."
"Many readers have told us that when we emerge from this pandemic, they want to turn their attention to the classics, whether that means personal favourites or places they know have brought joy to others."
For more information on Condé Nast Traveller's Readers' Choice Awards 2020, check the full list HERE.
Keep in contact with The Thaiger by following our
Facebook page
.
Never miss out on future posts by
following The Thaiger
.