Water, water, everywhere!
PHUKET: Property and families have been destroyed by the recent floods in Thailand. What is Mother Nature trying to tell us?
When I flew across the Pacific some weeks ago, the final descent took us over the central plains of Thailand. Looking down, there was water as far as the eye could see.
It was a scene awash in melancholy: paddy fields and roads submerged out of sight, whole settlements isolated by flooding, and the few trees in the landscape were up to their boughs in water.
We all know the power of this inundation: now more than 600 people are missing, hundreds of thousands rendered homeless and destitute, the livelihoods of countless farmers gone. The financial cost is massive; the human cost incalculable.
And who is to blame? While attention in the national media has focused on the slow and indecisive action on the part of politicians, illegal building across canals, on "dams and water management designed for an older era", few have judged the actual storms to be anything other than a natural catastrophe, an occurrence, like earthquakes, hurricanes and droughts, to be expected. Hardly anyone has attributed any blame to greenhouse gas emissions or global warming; to man's mismanagement of the planet. But it is worth noting that the average annual rainfall for Thailand has gone up steeply from 1,200mm a few years ago to over 2,000mm in 2011. Pure coincidence? Maybe, but one thing is certain, if you tamper with Mother Nature, sooner or later, she will get her own back.
We are living in an era where climatic patterns, particularly in tropical regions, have been rendered unstable by an atmosphere struggling to deal with its highest concentrations of carbon dioxide in 600,000 years.
Although the jury may still be out on the effects of global warming on rainfall, it looks increasingly more likely that there is an effect. Put crudely, warm air holds more moisture than cooler air, and this causes heavier precipitation. What is accepted by ecologists everywhere, is the almost irreversible impact of global deforestation. If Thailand's recent rash of floods has a root cause that predates the mismanagement of its rivers, dams and canals, it resides in its systematic destruction of rainforest.
Thailand's recent record is lamentable and a consequence of cultivating cash crops, commercial logging, forest fires, industrial and urban development. From 1945 to 1975 Thailand lost 28.4 per cent of its forest cover; between 1975 and 2005, about 60 per cent of the remaining primary rainforest was lost.
The effect of this on the atmosphere is tangible. After all, the foliage of trees filters out huge amounts of carbon dioxide during photosynthesis, and also releases life-enhancing oxygen into the environment. Cut the trees down, and oxygen levels will be seriously depleted. Worse, if you use slash andburn techniques,most of the stored carbon will be released back into the air. It is estimated that tropical deforestation discharges 1-5 billion tonnes of CO2 into our polluted atmosphere every year.
Arboreal degradation does not help. Replace tropical bio-diverse forests with a mono-specific cash crop such as rubber trees, oil palms or – as has happened in north Thailand – with eucalyptus, and most arboreal benefits will disappear. Such crops drain the same nutrients from the soil time and time again eventually depleting these plantations, which may become arid.
However, there is another affect of deforestation that is precisely relevant to Thailand's present watery problems. Trees are nature's way of coping with saturated earth and too much water. Their canopies act as spongy umbrellas, soaking up much of the rain as it falls, and slowing down the process of surface run-off.
The water that does reach the ground is quickly absorbed, first by organic matter such as leaf litter and then by root systems. These roots both take up moisture, and create channels in the soil, which increase the rate of absorption of water. Better still, a living tree "breathes" by a process known as transpiration, thus gradually returning 99% of this retained moisture back into the atmosphere.
Trees have one other crucial function. Their roots help to bind and retain soil, especially precious, humus-rich top soil. This layer of soil is usually thin and often conceals rock beneath. Protected by rainforests, the rate of top-soil erosion is low, but in areas denuded of trees the rate is high.
When trees on steep slopes are removed (often illegally) by loggers or so-called property developers, the effect is to make whole hillsides prone to rock slips and landslides.
A warning note was sounded during the heavy rains of 1988, when whole areas of Khao Luang mountain in south Thailand, partly cleared to make way for a rubber plantation, crashed down on the villages below. Several hundred inhabitants were killed.
I live in Phuket because it is a mountainous island and because secondary rainforest still covers most of its uplands. Phuket has escaped serious flooding during the recent heavy downpours. However, where hillside trees have been uprooted in the name of "progress", such deforestation has resulted in mud-slides, which have caused considerable damage, and threatened to engulf the properties below.
And it is not just the landscape that has suffered here. Much of this liquefied soil or silt finds its way onto beaches and worse, into the sea, where the run-off creates huge slicks of suspended particles of mud.
Coral, along with its precious micro-organisms, undisturbed for aeons in limpid seas, is suddenly engulfed by suffocating clouds of silt. It dies.
But in parts of northern and central Thailand, in the plains of the rice belt and beyond, the problem is incomparably worse. Too few trees to help mop up the surplus water, to absorb all that excess moisture and gradually return it to the atmosphere. Only flooded roads and paddy fields, swollen, silted waterways, and sodden settlements.
Mother Nature is not a respecter of persons or resources. The inevitable breaching of Bangkok's defenses was only a matter of time. One of the world's great citadels has failed to keep her fury at bay.
— Patrick Campbell
Keep in contact with The Thaiger by following our
Facebook page
.
Thai authorities track down contacts of Covid-19 victim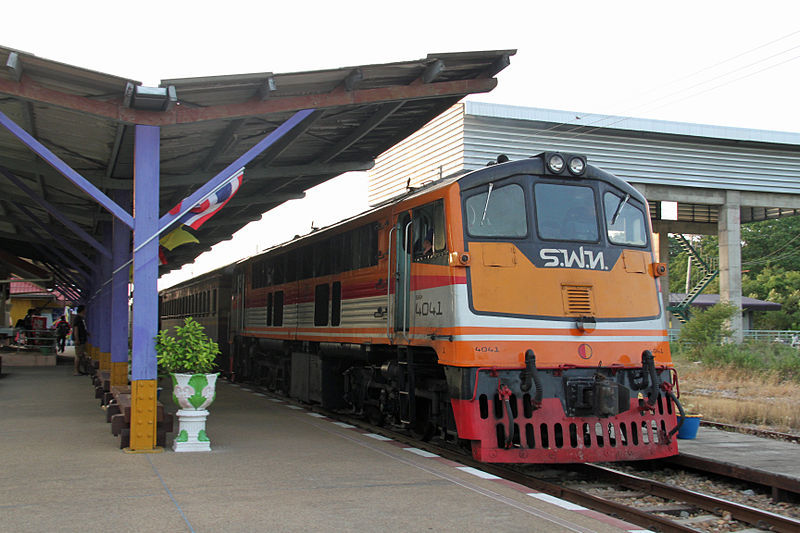 Yesterday a 57 year old man, named as 'Anan Soho', passed away due to the effects of the Coronavirus. Authorities are now trying to track down people who came in contact with the man. The man died travelling on a southbound train on Monday night.
A spokesperson from the Immigration Bureau says that Anan had returned to Thailand from Islamabad, Pakistan, on Flight TG350 at 5.50 am on Sunday along with 279 other passengers, who were mostly Thai students returning home."
"6 Immigration police have been identified as those who had potentially been in contact with Anan as they were involved in handling his immigration clearance documents upon his arrival at Suvarnabhumi airport," according tot he Bangkok Post.
"At least 13 of the students arriving on the same flight were found to have body temperatures exceeding 37.5C and were transferred to a hospital serving as a Covid-19 quarantine zone. Anan had travelled to Pakistan alone and passed a Covid-19 screening test at the immigration check counter upon return."
Kittiphong Kittikahchon, Suvarnabhumi deputy director of airport operations, says that the passenger had been walking with a limp and requested a wheelchair and spent a long time at the baggage claim area due to long queues.
"An airport worker pushing the wheelchair for him and the taxi driver who took him from the airport after baggage claim were located and have been tested for Covid-19."
The State Railway of Thailand director for train service operations, says that a male passenger, who happened to be at Bang Sue central station at the same time as Anan on Sunday morning, was caught on a security camera as the infected man appeared to cough on him.
"After the security footage was aired by the media, the man in the video contacted the SRT to say Anan did not cough on him. However, he now must quarantine himself in case of possible infection."
SOURCE: Bangkok Post
Keep in contact with The Thaiger by following our
Facebook page
.
Thai Airways goes into hibernation until end of May, others ground fleets too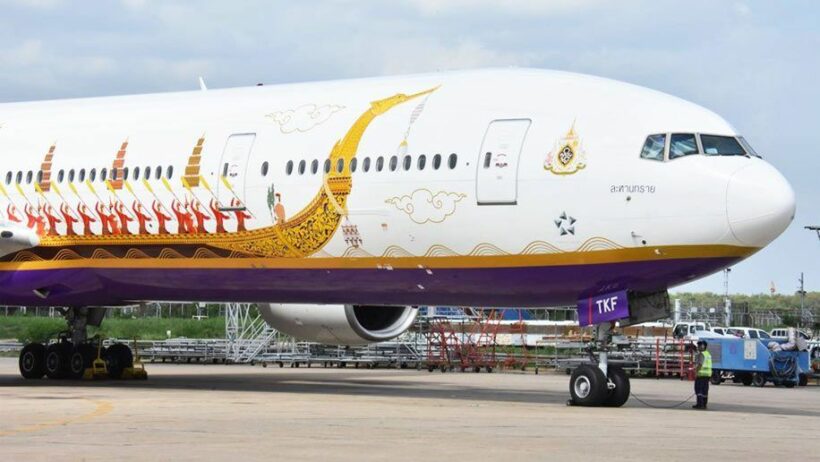 After a decade of financial struggles and corporate upheaval, Thailand's national flag carrier, Thai Airways, with a previous reputation as one of Asia's premier airlines, is ceasing all flights for a period of at least two months, due to the Covid-19 coronavirus pandemic. The Civil Aviation Authority of Thailand has now allowed the suspension of all domestic and international flights.
The once proud airline made the initial announcement a week ago, suspending some flights at that time. Then, acting president Chakkrit Parapanthukul said in a statement that, compounded by a sharp reduction in passenger numbers, the continuation of operations would increase the airline's already massive losses. So, the company has now asked employees to take two months off from Saturday (tomorrow) to May 31. Along with this, staff salaries will be reduced by 10-50%.
Thai has transferred flights from Bangkok to Phuket, Krabi and Chiang Mai to its sister company Thai Smile Airways.
Passengers who have Thai Airways or Thai Smile code-share tickets issued before March 25 with the date of travel between March 25-May 31 for Asian routes and between April 1-May 31 for European, Australian and New Zealand routes can convert the tickets to one-year-valid travel vouchers without a fee and surcharges. Visit thaiairways.com.
It's not only Thai Airways grounding its fleet. Thai Smile suspended all international flights beginning on March 23 but is still operating a few domestic flights. Passengers can ask for a full refund without any charge via member.thaismileair.com/customerservice/refund.
Thai AirAsia has temporarily suspended all international flight services from now until April 25, and April 30 for domestic flights.
Passengers who booked tickets before March 20 can rebook the flights on the same routes within 180 calendar days from the original date without additional cost. They can change the tickets to credit accounts, which can be redeemed for booking within 365 calendar days from the issuance date.
Passengers can ask for a full refund in the amount equivalent to the original booking. Visit support.airasia.com.
Bangkok Airways also halted international services until further notice. It's also reducing domestic flights and has temporarily closed its lounges at Suvarnabhumi and other airports.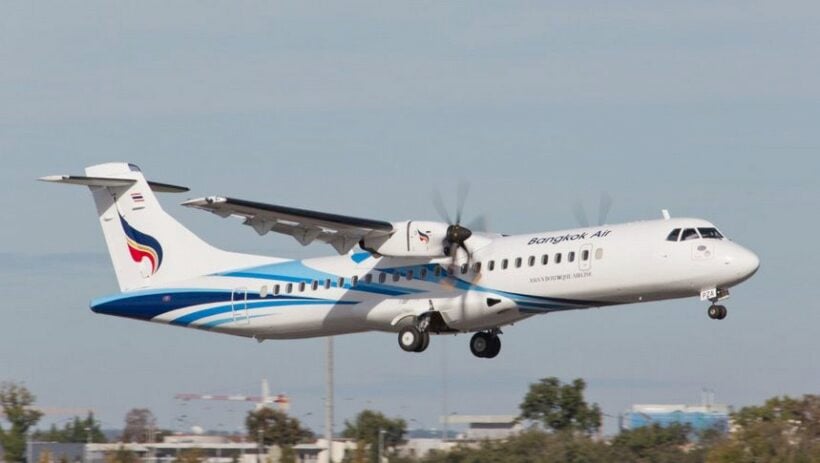 Passengers can request refunds without a service charge by contacting its sales offices, or call Bangkok Airways' call centre at 1771.
Nok Air has suspended services from Bangkok to Nanning, Chengdu, Hiroshima and Yangon until April 30. Direct flights from Bangkok to Ho Chi Minh City are halted until May 31.
Passengers can rebook or reroute for a new flight until Nov 30 without a fee. The change must be made before the date of departure. Passengers can also request a ticket refund via its contact centre at 1318.
Thai Lion Air has suspended all domestic and international flights until April 30. Passengers can rebook tickets without a change fee or fare difference. The new travel date must be on or before September 30. Passengers can request a full refund at lionairthai.com.
To check which airlines still offer international flights, visit the website of Airports of Thailand at airportthai.co.th/en/flight-schedule.
SOURCES: The Nation | Bangkok Post
Keep in contact with The Thaiger by following our
Facebook page
.
Thai banks report they can handle the impacts of the virus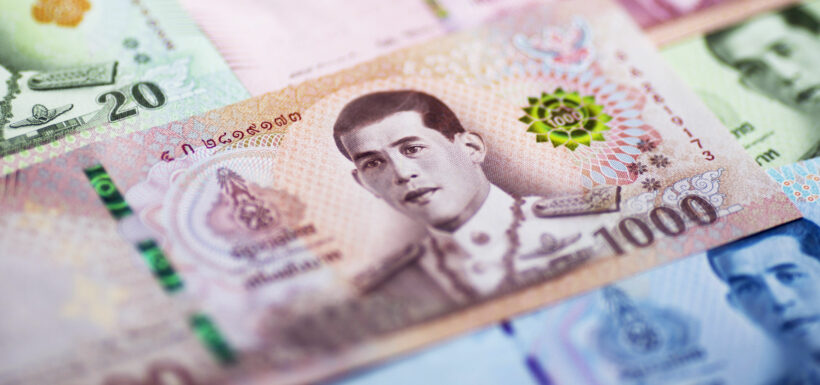 As the Covid-19 coronavirus continues to spread in Thailand, authorities have temporarily shut off shopping malls, entertainment and sporting venues while allowing food stalls and restaurants to open, but only for take-out and delivery services. The measures have led to social disruption, unemployment, leave without pay and salary cuts.
However, a senior official at the Bank of Thailand reports, "Thailand's banking sector is strong enough to defend against a potential upsurge in bad debt as well as debt restructuring cases stemming from the ongoing Coronavirus outbreak and official measures to contain the spread."
Senior director for the economic and policy department Don Nakornthab says that banks have a sufficient capital buffer in the event of higher past-due payments and debt restructuring. Unlike the 1997 Tom Yum Kung (Asian financial crisis in Thailand) crisis, the banking system's financial position is much more solid now."
"At the end of 2019, the banking system's capital funds totalled to 2.85 trillion baht, with a capital adequacy ratio of 19.6% and loan-loss provision of 701.2 billion baht, according to central bank data."
"The non-performing loan coverage ratio was stable at 149.9% at the end of last year, and the liquidity coverage ratio remained high at 187.5%."
"The banking system delivered a 30.8% rise in net profit to 270.9 billion baht in 2019."
Siam Commercial Bank 's co-president Apiphan Charoenanusorn says that more than 100,000 clients with over 150 billion baht worth of total loans have requested financial aid to ease their burden after the bank launched the scheme in February.
Last week The central bank has set guidelines for the minimum assistance that financial institutions must offer to debtors to ease their financial burden amid the pandemic, which is effective from April 1st. All lenders, comprising commercial banks, specialised financial institutions, and non-bank and leasing companies, are required to comply with the guidelines covering 6 types of loan product…
Credit cards
Personal and car title loans
Auto and motorcycle loans
Machinery leasing
mortgages
SME – Nanofinance and Microfinance loans
Krungthai Bank data shows that the bank has already provided financial aid to 1,500 customers with combined loans of 30 billion baht, while another 70,000 clients with total loans of 250 billion baht are in the process.
The strongest demand for debt restructuring is seen in the bank's mortgage and personal loans.
At the state-owned Government Savings Bank, President and chief executive, Chatchai Payuhanaveechai says that the GSB has offered a three-month grace period on principal and interest for all debtors who still service debt and miss payment for less than three months as of the end of March.
"The scheme, will run until June 30 and is automatically applied to qualified debtors without any registration requirement, adding that those who do not want to participate in the scheme can honor their debt as usual."
SOURCE: Bangkok Post
Keep in contact with The Thaiger by following our
Facebook page
.