SPECIAL REPORT: Saving paradise by setting limits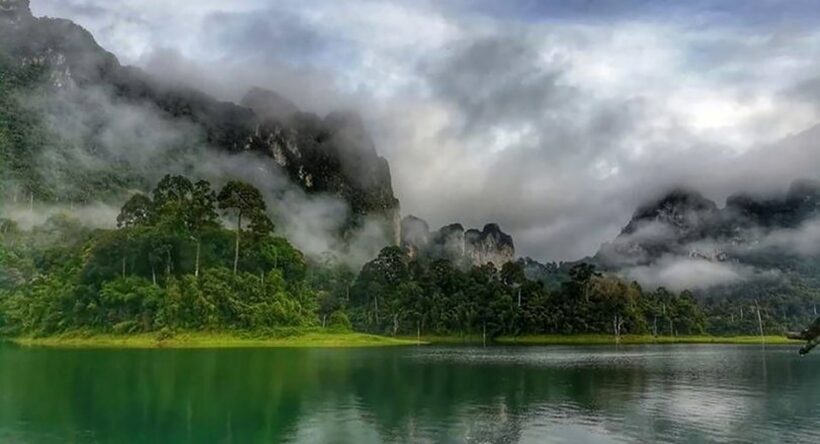 By Piyaporn Wongruang
Maya Bay has finally been closed down. On Thursday, park rangers at Had Nopparat Tara-Mu Ko Phi Phi marine national park placed buoys demarcating a no-access zone to prevent tourist boats getting in, as a part of a long-term rehabilitation process for the park's world-renowned Maya Bay.
The bay was made famous by the 2000 Hollywood film "The Beach" starring Leonardo DiCaprio, but has subsequently been ecologically degraded by the excessive number of tourists – a daily average of about 4,000 people and 200 boats.
Following a recommendation by marine experts, the National Parks Department decided to put the bay off-limits from yesterday until September 30.
The closure is seen as an entry point for a new approach to tourism management at the park, and would also set a new standard for another 26 Thai marine parks that also bear a similar burden, according to the department.
Maya Bay is just another story of a timely rescue of the country's natural attractions before it is too late.

For years, national parks around the country have seen an influx of visitors who wish to enjoy nature, with resulting tourism-based pressures degrading their often sensitive ecosystems.
In a bid to cope with such the building threat posed by these pressures, the department has come up with measures to ensure that national parks nationwide, 131 in total, can respond effectively to tourism impacts.
The concept of "Green National Parks" has been introduced to guide tourism management in the parks, with trophies set to reward good practitioners, and at the same time hopefully to lead ultimately to sustainable tourism that is kept within the ecological carrying capacity of these precious idylls.
"If a number of tourists visit our places, but they are later damaged, we should consider that a failure of our national park mission. We would be successful only when our places are still in a good condition despite their intensive visits. It really much depends on management," said Songtham Suksawang, a director of the department's National Parks Office.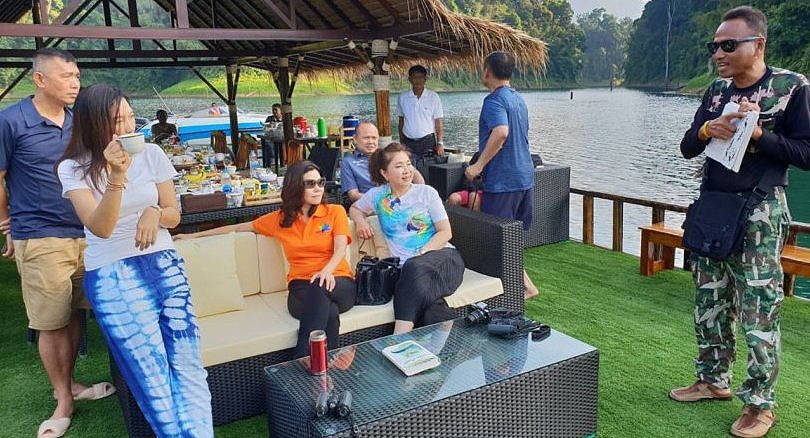 Khao Sok National Park won an award last year along with other 14 parks for being "green national parks"
More park function
Since the first national park, Khao Yai, was declared nearly 60 years ago, national parks have always aimed to help preserve the natural values of the ecosystems of the country's forests.
As explained by the department's deputy chief, Jongklai Worapongsathorn, the department's prime mission when it was first separated from the Royal Forestry Department as an independent department in 2002 was to take care of national parks, seen as the core areas of the country's ecosystems.
Since then, tourism in national parks has been left largely unattended, with management following the park chief's capacities and directives. Areas were zoned to aid in better management and boundaries of the heavily used recreational areas determined using better criteria.
The number of tourists visiting the parks were already a concern and some pilot projects to limit tourist access were introduced, along with measures to keep the parks clean and more environmental friendly such as a ban on foam-based food packages and actions to reduce energy use among others.
The department studied the carrying capacity of the parks, and the issue took on more importance over the years, though limits were not initially imposed. Over the past decade, those limits have been phased in for some popular national parks, including Khao Yai.
"I, myself, also did not think that one day we would get serious about this," said Jongklai to national park chiefs attending a recent workshop to guide green national park practices for 2018. "We have seen more and more of an influx of tourists during a particular period, such as the New Year, but I think in the near future we will have to enforce limits on access to national parks regularly and popularly, as we have seen happen at some popular parks, be they Phi Phi, Similan and others.
"If we don't adjust ourselves now (to handle tourists), we will never be able to catch up on the trend," said Jongklai.
Influx of tourists
As recorded by the Tourism Department, tourist visits to national parks have increased over the past five years from around 11 million to 18 million last year – over half of them foreigners.
Tourism is a key driver of the country's economy, with the income contributing nearly Bt2.9 trillion last year, according to the department.This year, it is expected that around Bt3.3 trillion will be contributed by tourism.
Tourism has also driven the country's competitiveness to the rank of 34 out of 136 countries, the department has noted. But when environmental aspects are factored in, that ranking falls to 122, with micro dust, intensive environmental damage and threats to plant and wildlife species being the prime problems pulling the country down in rank.
Concerned parties all agree that national parks play a vital role in drawing tourists, and that role has been increasing over the years. The question is how to make it sustainable.
"The role of our national parks in tourism will never decrease, but will instead increase as more and more foreign tourists increasingly appreciate our nature and visit parks to experience it," said Prommeth Nathomthong, a deputy director of the Tourism Authority of Thailand.
"From a tourism aspect, [the national parks] are vital tools to help drive our economy. … The question is how to make them sustainable, keep them in the good condition they are supposed to be in," said Prommeth. He suggests that the concept of sustainable tourism should guide the tourism management of the parks.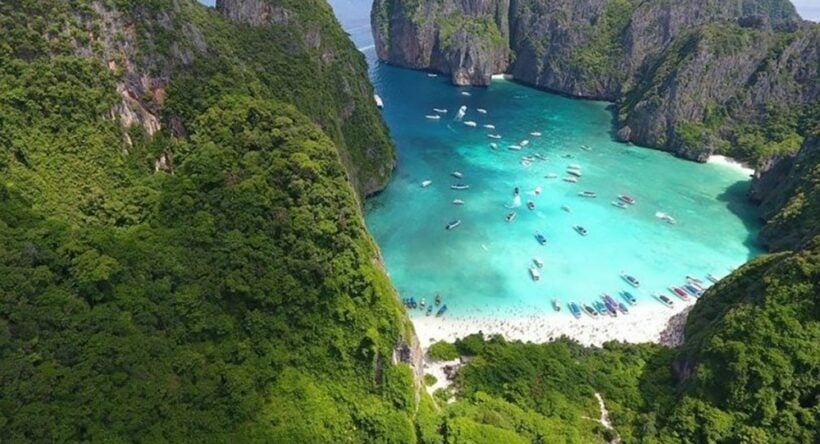 Green National Parks
Sustainable tourism is clearly addressed in the 20-year national strategy, with carrying capacity being part of the strategy to help drive the country's competitiveness and sustainable growth.
The National Parks department has adopted the concept and improved the guidelines to be followed by national parks in an effort to empower them to respond to tourism pressures.
Six areas of environmental management, and 17 related measures, have been introduced to national parks nationwide as a guideline for managing tourism and its impacts within their boundaries. The six areas are: environmental management of park offices, environmental and landscape management of the parks, saving energy, waste disposal, tourist facilities and safety.
In 2016 the department began giving out a yearly award to those completing the guidelines to it was the first year that the department gave an award to those completing the guideline. Eight national parks won the award first year, with 14 more earning it in 2017.
The department expects that in the next eight years, all the national parks will complete the guidelines and thus adhere to an international standard of practice.
"Our national parks are green by nature, but they will be not if disturbed – and now they are disturbed by tourism activities. That's the reason why we have to have the green concept to help guide us to sustainable practices. Or our resources, coral reefs for instance, will be irreparably damaged," said Songtham.
And addressing the problems head-on this way will not add yet another burden to the parks, he concluded.
Original report HERE.

The new Blue Tree waterpark and entertainment precinct unveiled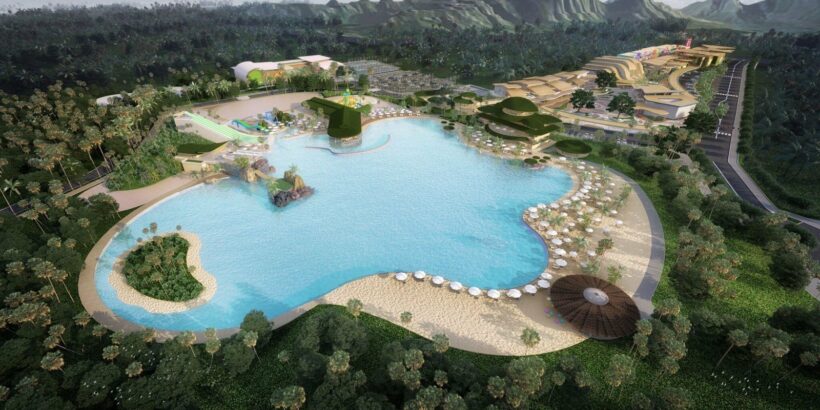 Phuket's tourism industry has received a major shot in the arm with the unveiling of the new Blue Tree Phuket – a US$40 million investment and multi-dimensional destination waterpark and entertainment complex set over 140 rai in Cherng Talay.
Positioning themselves as 'Phuket's premier family attraction', Blue Tree is the island's first international-standard, fully integrated waterpark and family entertainment complex.
The complex will feature a compelling mix of retail, destination dining, waterpark, beach club, and health and fitness with its star attraction at its centre – Blue Tree Lagoon – designed and built by world-leading US-based water attraction specialists Crystal Lagoons.
Opening early next year, Blue Tree is led by Michael Ayling, former Managing Director of Laguna Phuket.
"We are delighted to be announcing what we feel will be a key component in Phuket's tourism future as we are confident Blue Tree will appeal to families looking for high quality entertainment," said Michael.
The 10 rai (17,000 sqm) Blue Tree Lagoon, designed by world-renouned Crystal Lagoons, is the star attraction of Blue Tree Phuket.
"Phuket's tourism market has changed considerably over the past ten years. We now see strong demand for inland attractions driven by Thai families, residents of the island and the growth of the independent-travelling international tourism market. All three markets have one thing in common: a need for high-quality, family-focused entertainment away from the beach. This is what we will deliver," he said.
Blue Tree Phuket will offer a Water and Entertainment park, a four-storey vertical Beach Club, Fitness Zone, Kid's Club and multiple retail spaces. In addition, 17 restaurants and food outlets will cater to all tastes and budgets, centred around the complex's star attraction: Blue Tree Lagoon.
The 17,000-square-metre man-made lagoon has been designed by Crystal Lagoons, who most recently completed a mega inland lagoon project in the family attraction capital of the world, Florida. It is flanked by artificial beaches and offers an aquatic playground for family-friendly and adrenaline-driven activities such as a Slip N Fly, water slides, splash zone and even cliff jumping.

Michael Ayling
Aside from utilising state-of-the-art technology to maintain water clarity, Blue Tree Lagoon also boasts eco-friendly credentials. Powered by Crystal Lagoons' sustainable technology, the lagoon uses up to 100 times fewer chemicals and 50 times less energy than conventional swimming pool systems.
The vertical Beach Club is open throughout the day and into the night.
Blue Tree has been in development for the past two years, from the master planning stages to partnership selections and management – with environmental sustainability a core component of the project's DNA and fundamental to its promotion of an active and healthy lifestyle.
"Blue Tree has natural borders. These are thick, mature rubber plantations that surround the project and emphasise the lush tropical environment found throughout the grounds. The name itself is testament to our commitment – a green and blue oasis in the shape of a tree, with deep roots and strong connections to the destination, its heritage and its future," said Michael.
"Phuket will always be known for its spectacular sea and sand, but there's been a clear demand for inland entertainment alternatives for some time now and this will fit the bill, showcasing a lesser known side of Phuket but one that will appeal to both middle class Thai families and Amanpuri guests in one strategically located destination."
Admission fees will be kept affordable with a pay-and-use concept, while full access to all activities will be priced lower than 1,000 baht.
Find out more about Blue Tree HERE.

Spectacular views and the new lunchtime menu – Kata Rocks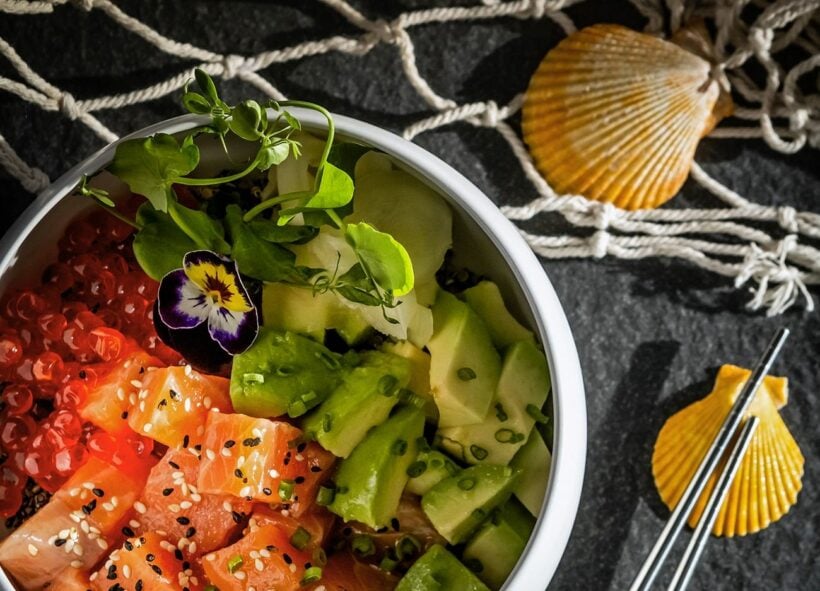 Kata Rocks, Phuket has launched a new lunch menu at the Oceanfront Clubhouse. You know the view, you'll LOVE the new menu.
With flavours inspired by both the Mediterranean and regional gastronomy, the refreshing new menu celebrates the summer and island life by using seasonal ingredients and seafood specialities. The new menu aims to make the Oceanfront Clubhouse a destination of choice for premium lunchtime dining on the island's  west coast.
Executive Chef Laia Pons says, "the highlight of this upgraded menu is not only its innovative use of unique, fresh flavours, but also its commitment to seasonal ingredients and the demands of our diners.
"We've also added some great new creative and healthy dining options on both our new menus," she added.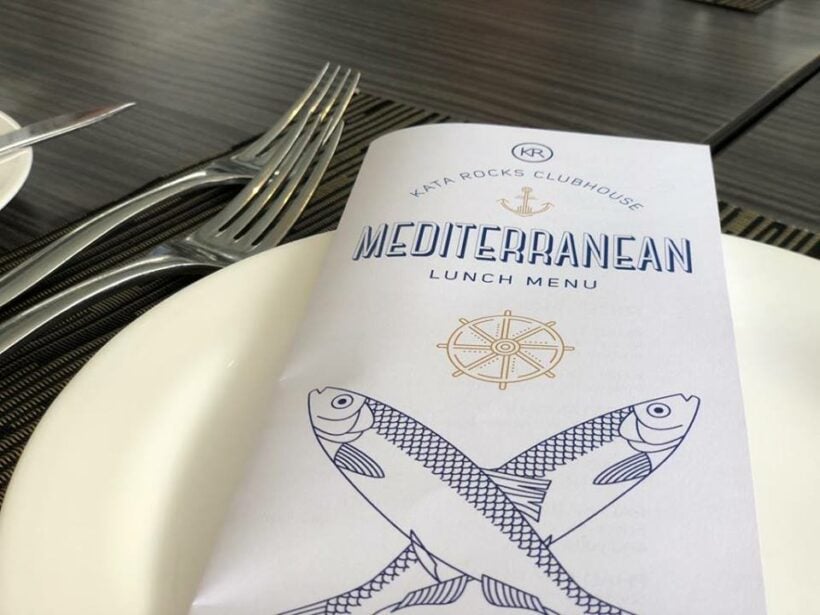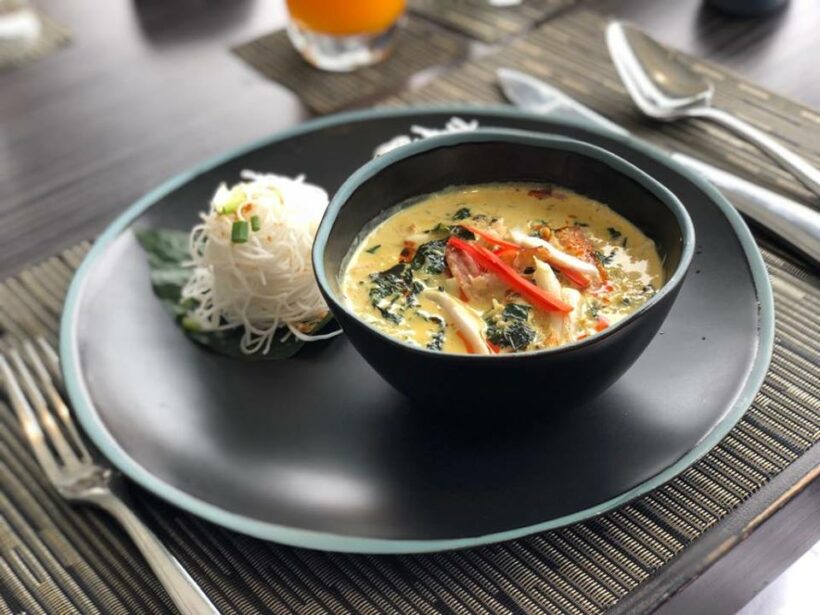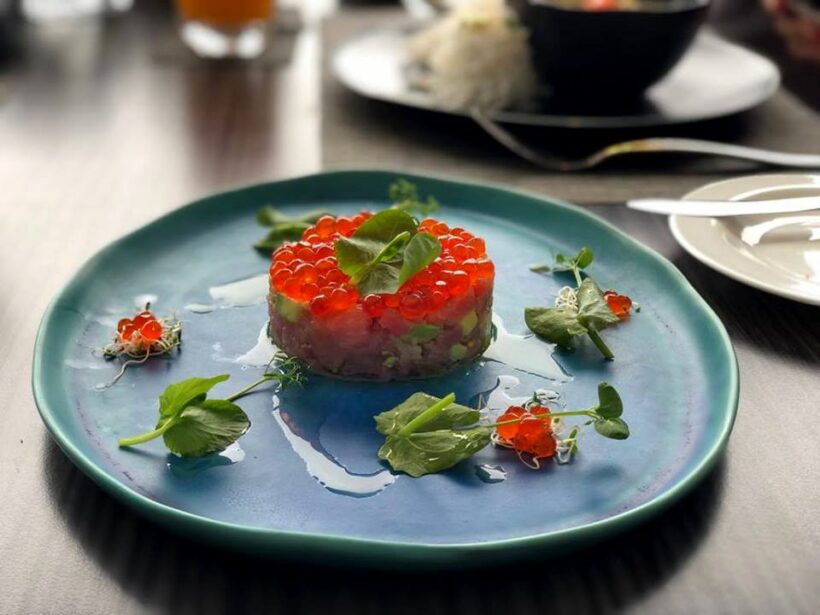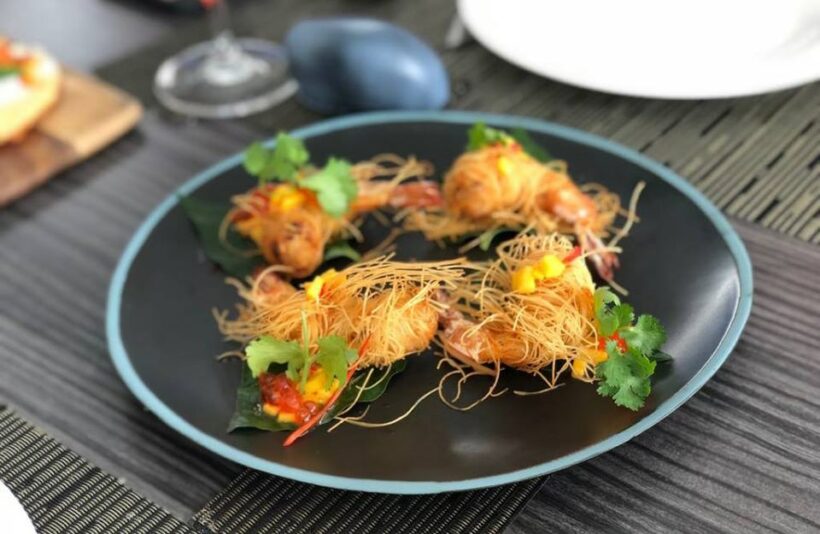 The Mediterranean Lunch Menu, which features specialities such as Grilled Lobster and freshly imported Fine De Claire Oysters, adds a touch of Riviera flair to island dining. Other new dishes include the Salmon Avocado Quinoa Bowl, Whipped Ricotta, Basil and Tomato Pizza, Lamb Burger with Tzatziki, and signature vegetarian options such as the Watermelon Rocket Feta Cheese salad with Berries and Caesar Salad with Avocado and Poached Egg.
For guests looking to experience a taste of Thailand, the new Thai Lunch Menu offers an inspired take on local gastronomy. New dishes include Nam Tok Nuea with dry chili, grapes, mint, roasted rice powder; Gaeng Phoo – Blue Swimmer Crab Curry with coconut cream, sweet basil, steamed noodles and Pla Ka-Pong – Deep fried Sea Bass with sweet and sour green mango dressing.
Wines from Kata Rocks' signature Wine Cellar, which features over 300 world-class wines, compliment the new menus and with 24 different wines available by the glass, guests can enjoy the perfect pairing. Alternatively, a selection of handcrafted cocktails are available created by the resort's master mixologists.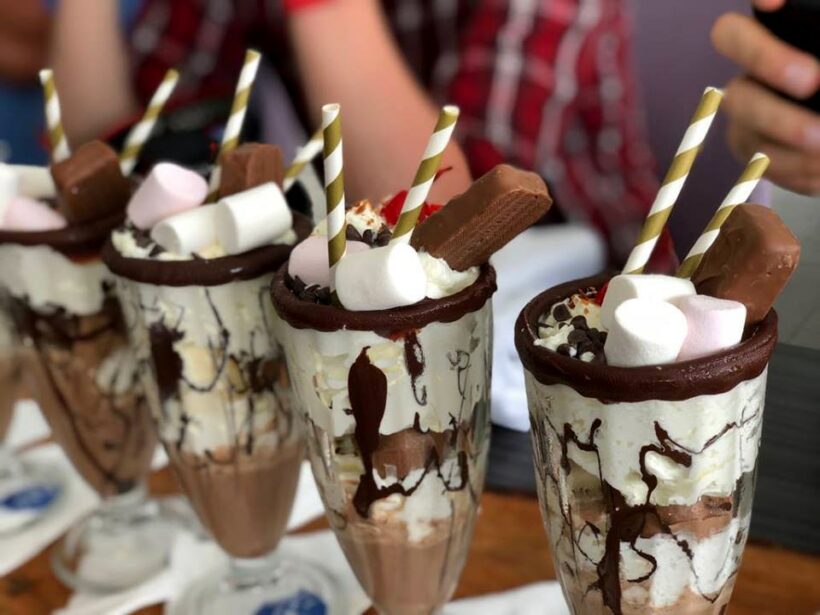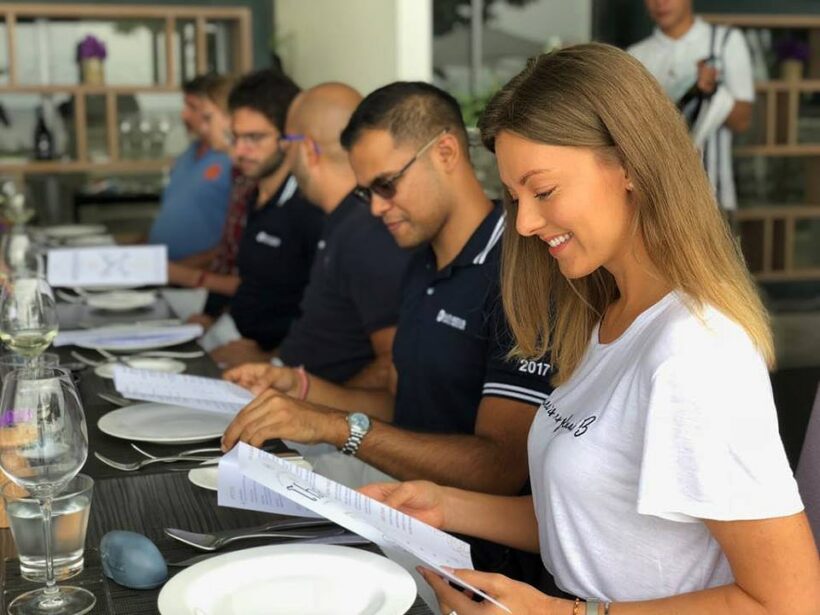 You can see the new menu HERE.
Find out more and make a booking HERE.
Tim Newton was a guest of Kata Rocks in previewing the new lunch menu.

A very Asian tale "Crazy Rich Asians" opens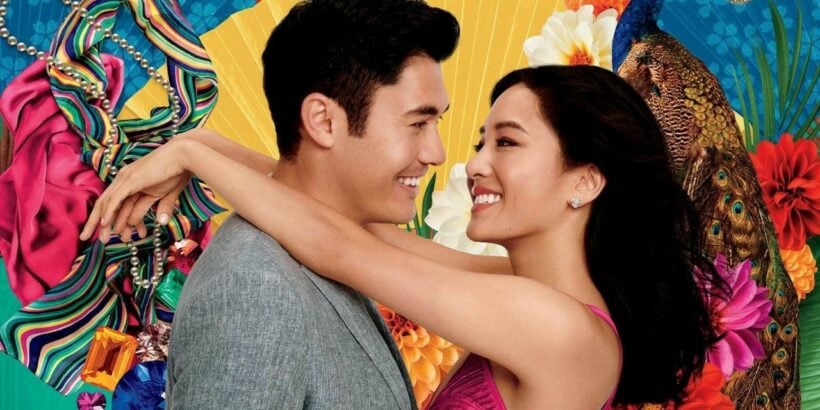 "The last high-profile Hollywood film with an all-Asian cast was The Joy Luck Club released in 1993."
By The Star, Asia News Network, Kuala Lumpur
It was a sweltering night in Singapore and the production of Crazy Rich Asians was in the last leg of filming. Director Jon M. Chu was sweating buckets and it's not entirely because of the humid weather.
Chu, who has worked on big budget Hollywood sequels like G.I. Joe: Retaliation and Now You See Me 2, said Crazy Rich Asians presented a whole new set of challenges for him.
Check out the Hollywood premiere of Crazy Rich Asians.
"Sometimes dressing people up for a wedding takes a lot more effort than filming ninjas on a mountain," Chu shared briefly on the set of Crazy Rich Asians, before rushing back to finish another scene.
Members of the media were observing the filming of an emotionally-charged moment featuring Rachel (Constance Wu, TV's Fresh Off The Boat) screaming into the night. In the scene with her were Tan Sri Michelle Yeoh and veteran actress Lisa Lu.
Some context: The ladies were all dressed to the nines for a high society wedding. At a later interview, Wu did not want to talk about how she prepared for that screaming scene.
"It's just actor stuff. If I have to tell you, it would be like I'm telling you how to fix a car, it's just boring," 36 year old Wu said with a laugh. Mind you, she had to do that scene over and over again just to get it right.
The truth is, there is nothing boring about what her character Rachel goes through in Crazy Rich Asians.

For the love of money
Rachel is an Asian-American economics professor living in New York with her charming boyfriend Nicholas Young (Henry Golding). One day, Nicholas invites her back to his country, Singapore, to attend his best friend's wedding.
It is only then that she finds out that her boyfriend is from a wealthy and well-connected family. Just how wealthy is this guy? Think crazy rich.
Based on the book by Kevin Kwan, Crazy Rich Asians is said to be inspired by real families and wealthy personalities in Asia. Kwan goes into specific details on what the rich do when they have too much money. From buying a hotel just to get rid of a snobby manager to hiring the Vienna Boys' Choir for a wedding, nothing is off-limits for the ultra-wealthy characters in the book.
However, Kwan won't divulge who these actual crazy rich Asians are.
"Nicholas is from this old money family. Wealth is passed through generations. He is very acutely aware that he is the heir to the riches that his family holds," Golding, 31, said about his character.
It's one thing to be rich but to be dating someone who is not from the same exclusive social circle? Oh, the madness.

Financial security
56 year old Yeoh steps in as Eleanor, Nicholas' mother and respected (think feared) matriach of the Young family. Eleanor makes it clear that she does not approve of Rachel. To be fair, she's just like most mothers with an only child who is set to inherit the family fortunes; tiger mum becomes (over)protective.
So, Eleanor hatches a plan to sabotage the relationship between Rachel and Nicholas.
"Eleanor would do anything for her son. She would die for him. And the thing is, she's not afraid to tell him all that," Yeoh laughed while explaining her character's motivation.
But that's not the craziest thing about Crazy Rich Asians. The fact that Hollywood is making a contemporary romantic comedy featuring Asians in leading roles is something unheard of.
Wu noted: "We've never had a studio movie with an all-Asian cast that was not a period piece."

Rich in diversity
The last high-profile Hollywood film with an all-Asian cast was The Joy Luck Club released in 1993. Wu lamented that Asians don't often get to be seen in a Hollywood film with a modern setting.
"Like, why don't we see Asians using cellphones? It's a way to include Asians in the current conversation by showing them in a contemporary context. We are here. Our stories matter and that to me is really groundbreaking," she said.
Other Hollywood cast members in Crazy Rich Asians include Ken Jeong (The Hangover), Awkwafina (Ocean's 8), Gemma Chan (Transformers: The Last Knight) and Sonoya Mizuno (La La Land).
From this region, expect to see the likes of Ronny Chieng, Pierre Png, Carmen Soo, Tan Keng Hua and Fiona Xie on screen. Hollywood newbie Golding described filming for Crazy Rich Asians as "insane" (his pun, not ours). Producer Nina Jacobson said they were looking for someone like Cary Grant to play Nicholas.
"There's a sense of class and elegance to Nicholas. At the same time, he's also down to earth. It was hard to find all those things."
"Henry did amazingly well on his screen test and he had all those qualities that we were looking for," Jacobson explained why the studio went with a newcomer.
While Golding has made Malaysia proud, his casting also stirred some controversy. There were those who noted how Golding was not "Asian enough" for the role seeing that he is part European.
Instead of dwelling on the backlash, Golding said he is proud to represent a part of South-East Asia that is mostly unknown to his Western counterparts.
"We have such a melting pot of identities in South-East Asia and that is something to be proud of. It's really important that we make this film. We're breaking boundaries and that is the most important takeaway," he said.
Value for money
Despite its very specific setting, Jacobson believes Crazy Rich Asians has stories that will resonate globally.
"We have a great universal story for anyone who has been rejected by their in-laws or people who have their foot in two different cultures," she said.
She also identified with Rachel as someone who is fascinated by a strange yet familiar new world.
"When I first read the book, I couldn't put it down. The expectations on Nick from his family was relatable. The story felt fresh and new. It took me to somewhere that I wanted to go," Jacobson said.
Will Nicholas' love for Rachel triumph over his family money?
Yeoh said you can't live on love alone: "When you're in love, you say you don't need money or you don't need anything (else). When love cools down and reality sets in, then what? Love is not bread and butter. You have to be sensible."
Yeoh saw Crazy Rich Asians as more than just a story about unimaginable wealth.
"It's also about the responsibilities of a family. Many people depend on them (Nicholas' family) for their livelihood. It's not just about them getting rich, it's also about the community.
"It's good to have money but it's what you do with it that really counts," she concluded.
And that token of wisdom is priceless.
STORY: The Nation