SPECIAL REPORT: Saving paradise by setting limits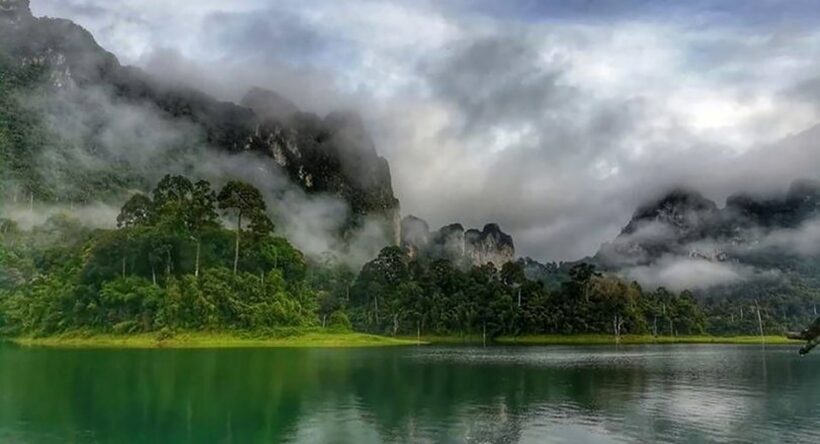 By Piyaporn Wongruang
Maya Bay has finally been closed down. On Thursday, park rangers at Had Nopparat Tara-Mu Ko Phi Phi marine national park placed buoys demarcating a no-access zone to prevent tourist boats getting in, as a part of a long-term rehabilitation process for the park's world-renowned Maya Bay.
The bay was made famous by the 2000 Hollywood film "The Beach" starring Leonardo DiCaprio, but has subsequently been ecologically degraded by the excessive number of tourists – a daily average of about 4,000 people and 200 boats.
Following a recommendation by marine experts, the National Parks Department decided to put the bay off-limits from yesterday until September 30.
The closure is seen as an entry point for a new approach to tourism management at the park, and would also set a new standard for another 26 Thai marine parks that also bear a similar burden, according to the department.
Maya Bay is just another story of a timely rescue of the country's natural attractions before it is too late.

For years, national parks around the country have seen an influx of visitors who wish to enjoy nature, with resulting tourism-based pressures degrading their often sensitive ecosystems.
In a bid to cope with such the building threat posed by these pressures, the department has come up with measures to ensure that national parks nationwide, 131 in total, can respond effectively to tourism impacts.
The concept of "Green National Parks" has been introduced to guide tourism management in the parks, with trophies set to reward good practitioners, and at the same time hopefully to lead ultimately to sustainable tourism that is kept within the ecological carrying capacity of these precious idylls.
"If a number of tourists visit our places, but they are later damaged, we should consider that a failure of our national park mission. We would be successful only when our places are still in a good condition despite their intensive visits. It really much depends on management," said Songtham Suksawang, a director of the department's National Parks Office.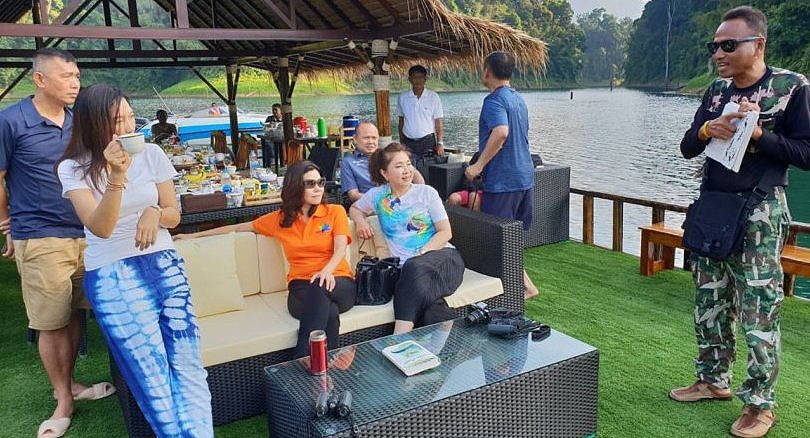 Khao Sok National Park won an award last year along with other 14 parks for being "green national parks"
More park function
Since the first national park, Khao Yai, was declared nearly 60 years ago, national parks have always aimed to help preserve the natural values of the ecosystems of the country's forests.
As explained by the department's deputy chief, Jongklai Worapongsathorn, the department's prime mission when it was first separated from the Royal Forestry Department as an independent department in 2002 was to take care of national parks, seen as the core areas of the country's ecosystems.
Since then, tourism in national parks has been left largely unattended, with management following the park chief's capacities and directives. Areas were zoned to aid in better management and boundaries of the heavily used recreational areas determined using better criteria.
The number of tourists visiting the parks were already a concern and some pilot projects to limit tourist access were introduced, along with measures to keep the parks clean and more environmental friendly such as a ban on foam-based food packages and actions to reduce energy use among others.
The department studied the carrying capacity of the parks, and the issue took on more importance over the years, though limits were not initially imposed. Over the past decade, those limits have been phased in for some popular national parks, including Khao Yai.
"I, myself, also did not think that one day we would get serious about this," said Jongklai to national park chiefs attending a recent workshop to guide green national park practices for 2018. "We have seen more and more of an influx of tourists during a particular period, such as the New Year, but I think in the near future we will have to enforce limits on access to national parks regularly and popularly, as we have seen happen at some popular parks, be they Phi Phi, Similan and others.
"If we don't adjust ourselves now (to handle tourists), we will never be able to catch up on the trend," said Jongklai.
Influx of tourists
As recorded by the Tourism Department, tourist visits to national parks have increased over the past five years from around 11 million to 18 million last year – over half of them foreigners.
Tourism is a key driver of the country's economy, with the income contributing nearly Bt2.9 trillion last year, according to the department.This year, it is expected that around Bt3.3 trillion will be contributed by tourism.
Tourism has also driven the country's competitiveness to the rank of 34 out of 136 countries, the department has noted. But when environmental aspects are factored in, that ranking falls to 122, with micro dust, intensive environmental damage and threats to plant and wildlife species being the prime problems pulling the country down in rank.
Concerned parties all agree that national parks play a vital role in drawing tourists, and that role has been increasing over the years. The question is how to make it sustainable.
"The role of our national parks in tourism will never decrease, but will instead increase as more and more foreign tourists increasingly appreciate our nature and visit parks to experience it," said Prommeth Nathomthong, a deputy director of the Tourism Authority of Thailand.
"From a tourism aspect, [the national parks] are vital tools to help drive our economy. … The question is how to make them sustainable, keep them in the good condition they are supposed to be in," said Prommeth. He suggests that the concept of sustainable tourism should guide the tourism management of the parks.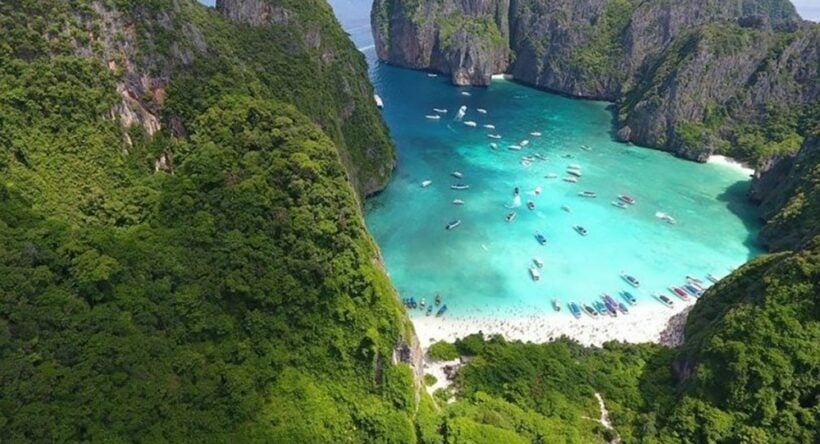 Green National Parks
Sustainable tourism is clearly addressed in the 20-year national strategy, with carrying capacity being part of the strategy to help drive the country's competitiveness and sustainable growth.
The National Parks department has adopted the concept and improved the guidelines to be followed by national parks in an effort to empower them to respond to tourism pressures.
Six areas of environmental management, and 17 related measures, have been introduced to national parks nationwide as a guideline for managing tourism and its impacts within their boundaries. The six areas are: environmental management of park offices, environmental and landscape management of the parks, saving energy, waste disposal, tourist facilities and safety.
In 2016 the department began giving out a yearly award to those completing the guidelines to it was the first year that the department gave an award to those completing the guideline. Eight national parks won the award first year, with 14 more earning it in 2017.
The department expects that in the next eight years, all the national parks will complete the guidelines and thus adhere to an international standard of practice.
"Our national parks are green by nature, but they will be not if disturbed – and now they are disturbed by tourism activities. That's the reason why we have to have the green concept to help guide us to sustainable practices. Or our resources, coral reefs for instance, will be irreparably damaged," said Songtham.
And addressing the problems head-on this way will not add yet another burden to the parks, he concluded.
Original report HERE.
- The Thaiger & The Nation
Three new luxury show suites open at flagship Twin Palms Residences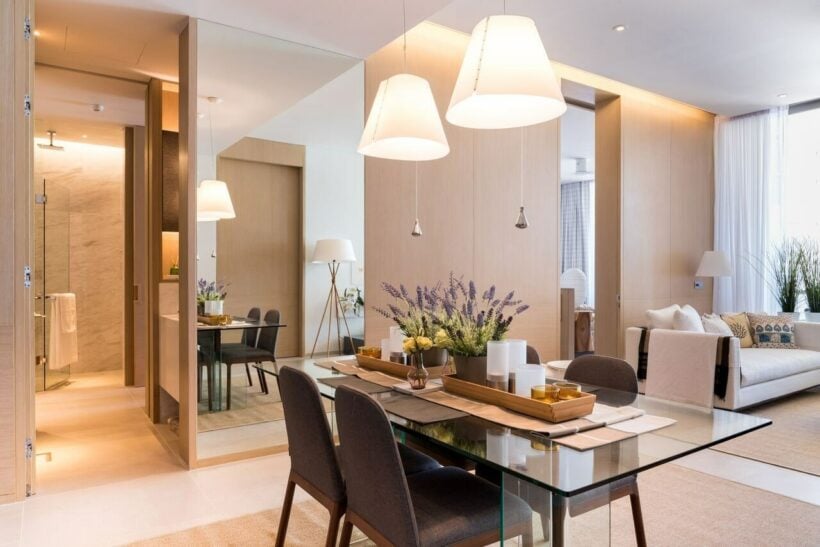 MONTAZURE ON STUNNING KAMALA BEACH
MontAzure, the upscale mixed-use residential resort community set on 454 rai (178 acres or 72 hectares) of mountainside to beachfront land in Kamala, has launched 3 new on-site beachfront show suites at the award-winning beach condominium development, Twinpalms Residences MontAzure.
Considered by real estate experts to be one of the most compelling lifestyle investment opportunities on Phuket, the development will be managed and operated by Twinpalms Group. Investors and visitors will be able to tour and experience all three of the units to really get a feel for the unique luxury island lifestyle on offer.
"Recent luxury investment trends on Phuket have seen a move away from private villas toward upscale condos, especially penthouse units with outdoor facilities. Buyers appreciate the opportunity to own these luxury properties on a freehold basis," says MontAzure Executive Director Setthaphol Boottho.
"Properties managed by reputable brands also attract savvy investors, as the condos can be rented out to international visitors and therefore generate income when owners are not using them," he added.

Andreas Savvides of Haveli Design, whose pedigree includes several landmark residential developments in Bangkok including 185 Rajadamri and The River, designed the interiors for two of the new show units at Twinpalms Residences MontAzure, one of which is a stunning penthouse with a rooftop pool and ocean view sun deck.
As the first phase of the expansive MontAzure master-planned mixed-use development, the luxury beachfront condominiums have already attracted lifestyle-driven investors looking for a combination of hotel-based yields and usage time, along with strong capital appreciation due to the rare beachfront location. Owners enjoy privacy and world-class facilities without having to employ their own staff as they would at a private villa.
The development is sensitively designed as a series of low-rise clusters orchestrated around generous communal swimming pools with intimate views of the beautifully landscaped grounds. One-bedroom units are sized from 70 to 250sqm while the two-bedroom units range from 154 to 400sqm. The developers also recently added super penthouses measuring an impressive 799sqm and offering stunning views of Phuket's idyllic sunset coast. Prices for entry-level investment units start from 15.5 Million baht.

Part of the development's beachfront zone, Twinpalms Residences MontAzure is just a short stroll along the beach from HQ Beach Lounge, which has become an island favourite for its chic, contemporary oceanfront dining and entertainment. The sea view restaurant at HQ serves delicious light fare, signature cocktails, fine wines and an eclectic music selection to match the casual surroundings. 
Right next door to HQ Beach Lounge, lifestyle aficionados can enjoy causal fine dining, world class drinks and entertainment at Café Del Mar, Phuket's hippest waterfront venue with 40 metres of beach frontage and chic tropical design. A rolling schedule of events includes weekly pool parties, international guest DJs, and tempting food and drinks promotions to attract a stylish global clientele.
Enhancing the unique choice of word-class beachfront facilities, MontAzure's anchor hotel, InterContinental Phuket Resort, will open this year to offer visitors and residents of Kamala even more options for dining and entertainment, complementing the breathtaking sea views and tropical surroundings.

"Twinpalms Residences MontAzure offers buyers a rare opportunity to own a property within an integrated beachfront resort and residential community just steps from the pristine sands at Kamala beach and within walking distance of the island's most popular beachfront venues," says Henri Young, Director of Marketing at MontAzure.
To mark the launch of the new show suites and MontAzure is offering buyers a guaranteed return on investment for 3 years on selected units, as well as free furniture packages valued up to 2 Million baht. 
For more information or to make an appointment to view the show units call +66 93 624 8800 or email [email protected]

Wai Khru – setting a bad example for the future. Thailand's demand for respect from its young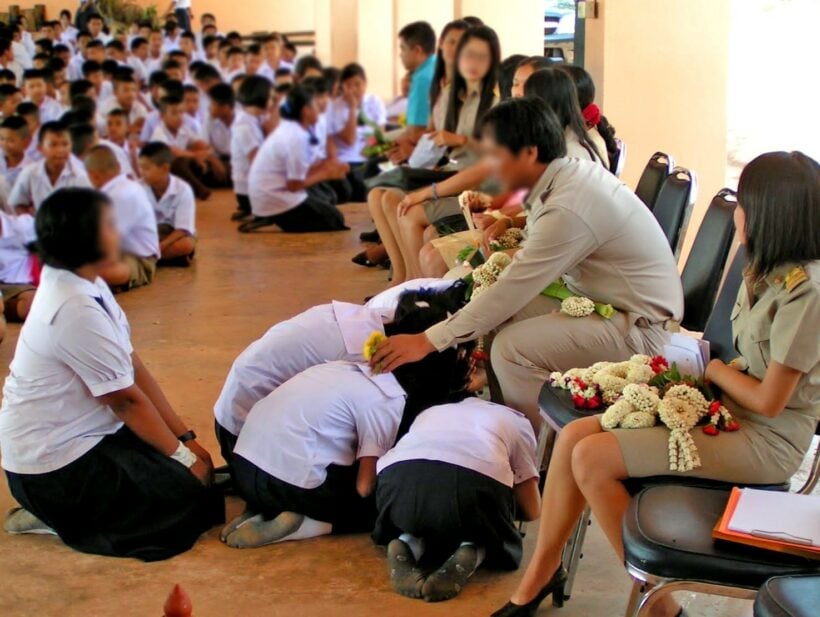 Hazing (US English), initiation ceremonies (British English), bastardisation (Australian English), ragging (South Asia), or deposition, refers to the practice of rituals, challenges, and other activities involving harassment, abuse or humiliation used as a way of initiating a person into a group including a new fraternity, sorority, team or club.
In Thailand, hazing is not only rife, it's seen as a rite of passage for young Thais as part of their cultural inculcation into the subservience they're expected to display elders or people with more money or higher positions than them. What's mistaken for 'respect' is actually a cultural party trick where children and young adults are 'trained' to be deferential from an early age.
In recent years there have a been a few high-profile deaths of army trainees, in the care of their Academy leaders, but allegedly subjected to initiations and bastardisation that is just 'par for the course' for the education of young Thais.
In a response to the recent death of Phakhapong Tanyakan at the Armed Forces Academies Preparatory School on October 17 last year, the Thai Deputy PM and Defence Minister Prawit Wongsuwan claimed that he "was not beaten to death, but just too weak to withstand tough training."
He went further saying "I was once beaten more than I could take and I fainted too. I didn't die. For this, before the school accepts kids for entry, they must give them a proper physical check-up."
When you get you get such official, public, responses from the top you can see how this hazing culture continues to thrive in the, otherwise, Land of Smiles.
We spoke to three foreign teachers in Thailand, all speaking on condition of anonymity, about the culture of hazing in their schools and the benign version of that in primary schools, 'wai khru'.
"Hazing is seen in many different types of social groups, including gangs, sports teams, schools, military units, fraternities and sororities. The initiation rites can range from relatively benign pranks and was khru, to protracted patterns of behavior that rise to the level of abuse or criminal misconduct."
For the families of hazing victims these ceremonies can be catastrophic, as in the tragic case of Phakhapong Tanyakan.
A 19-year-old armed forces cadet, previously subjected to harsh physical discipline, suddenly died a day after returning to school from a break. His parents were told he suffered from a sudden cardiac arrest but became suspicious of possible foul play after a detailed autopsy report never came. – Khaosod English
But he's not the only one. Hazing and cruel or unusual initiations are conducted every day around the Kingdom but with a growing concern about the practices, both from the young students themselves and concerned older Thais, who realise the dangers of 'persuading' youngsters to respect elders needs examination in a modern 21st century Thailand.
We spoke to a respected senior Thai businessperson, again on the condition of anonymity, who said he had seen too much hazing going on during his time at school and then whilst training in the military.
"I was a victim of this type of bullying. I was told to 'be a man' and that all Thai men have to go through this. I think it is degrading and breaks human spirits. It teaches fear of those we are meant to respect. It has to change."
It all starts when young Thais are subjected to the Wai Khru or 'Teacher Wai' where students are expected to prostrate themselves in front of their teachers in a show of respect. But a broad spectrum of foreign teachers not only feel uncomfortable with this faux-deference, some of them go out of their way to be away for that day or, sometimes, even speak out about their concern with this tradition.
"I made the mistake of speaking out about the Wai Khru in our school. I just found it demeaning for the poor students who had to rehearse all week for this totally meaningless show of respect. I didn't feel respected, I felt sick. I ended up being ostracised and had to leave that school."
Whilst many Thais continue to wonder why westerners might find all this kowtowing and prostrating could cause concern, you just need to examine the deaths in the Army preparatory schools as the end result of 'demanding' obedience and deference to elders. In western culture, I have learned, respect is something that is earned, not demanded.
"Hazing is undignified, humiliating and cruel… not my words, but the words of students who are made go through this horrible experience. It's meant to be a sign of showing respect to your seniors but it's nothing more than a shameful indulgence at the expense of the students," said a long-term foreign teacher.
"Making students crawl around on the ground acting like animals in front of their peers, does nothing for either senior or freshie students. I have stopped attending Wai Khru day as I find it terribly uncomfortable for myself and for the students. You can see the look in their eyes as they approach you and are ordered to bow before the teacher. Teachers, like everyone else, should learn how to earn the respect of their students."
A young female foreign teacher first thought that the Wai Khru was 'cute' but has changed her tune over the years.
"Wai khru was the highlight of my first year teaching in Thailand. I was, and still am, extremely humbled and deeply touched by this beautiful tradition intended to recognise a teachers' role in children's life and to give said children the opportunity to express their gratitude to their teachers.
"But throughout the years I have started to look at this event with a more critical eye and I wish it weren't as rehearsed and staged as it unfortunately is. At our school, rehearsals for Wai Kru start a week prior to the event. During this week, children are drilled incessantly until they have mastered the walk, the bow and the wai leading up to the offering of the flowers that they are eager to free their sweaty little palms of."
Wai Khru continues to be practiced in all Thai schools as a long standing tradition and show of respect for teachers.
"Although I understand and commend the wonderful intentions behind such practices, I feel that much like other sorts of drilling that these students endure, this sadly takes away from the true purpose of it all. For want of a picture perfect event, meaning is lost and a demonstration of gratitude is transformed into a dreaded labour," she said.
An investigation into the death of Army cadet Phakhapong Tanyakan, by military investigators, found no wrongdoing by the Preparatory School. The parents have consistently called for a probe into their son's death and are still pursuing legal action.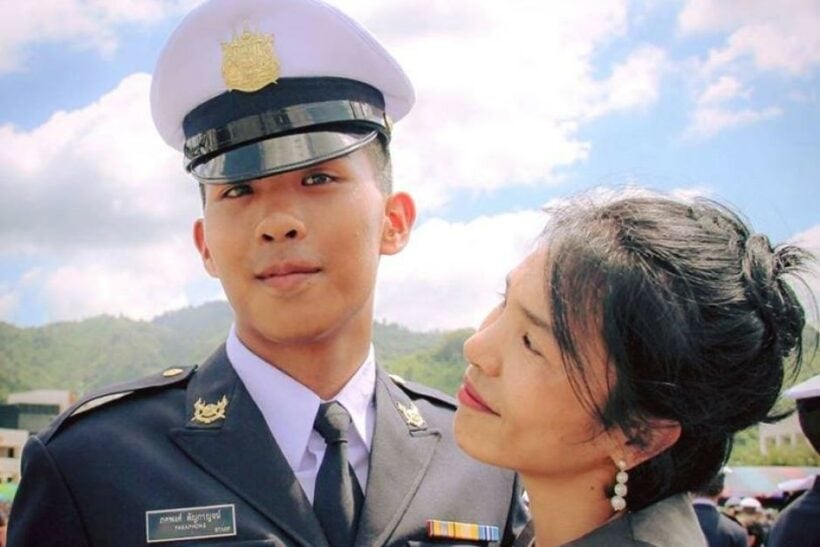 PHOTO: Army cadet Phakhapong Tanyakan, who died at the Armed Forces Academies Preparatory School on October 17 last year.
Law and Order: Tangled Thai defamation laws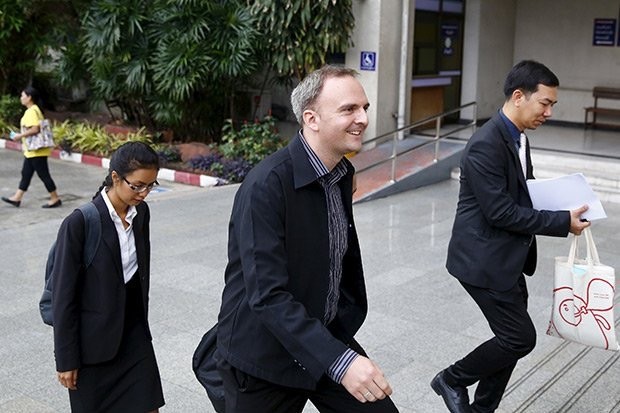 PHOTO: Rights defender Andy Hall goes on trial for criminal defamation & computer crimes
Living in the Land of Smiles you need to mind your Ps & Qs, as an expat, tourist, company or just about anyone actually. Thai defamation laws can be used to silence people, even in the most innocuous situations. It's different from the West and, living here, you need to have a basic understanding of the differences in the way deflation and slander works in Thai law. As a media publication it can be especially onerous preventing us from publishing any number of stories that we would like to, button't dare . Editor
Court cases over the past three years – the most notable the case against British national Andy Hall, Academic Dr Wyn Ellis, and local blogger Alan Morrison with his PhuketWan, reflect a peculiar aspect of the Thai criminal system. Unlike criminal court systems in most Western countries, a private person in Thailand can initiate criminal prosecution if they believe they are a victim of a crime.
In Thailand, people are able to access the criminal justice system through two channels. The most common way is for a private citizen to file a complaint with the police. The police gather evidence and submit the case to the public prosecutor. The public prosecutor determines whether to file formal charges after reviewing the evidence.
The second method is a private criminal prosecution. Under this method, crime victims have the right to file a case against the accused perpetrator. In cases where the victim is seriously injured or dead, the spouse or heirs can file the lawsuit. Generally, a private prosecution is faster, more focused and more efficient than a public prosecution because an attorney will assist in the investigation of the case to strengthen the victim's charge.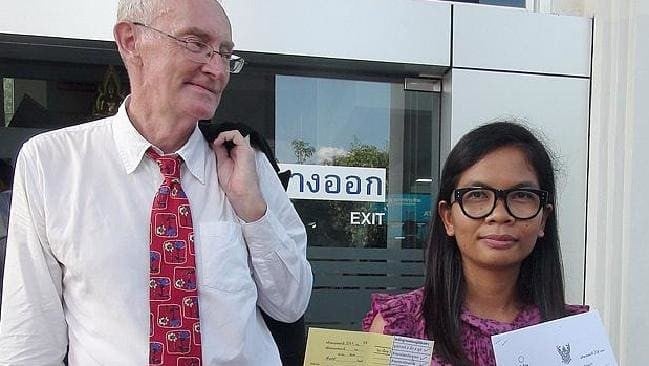 Phuket Wan journalist Alan Morison and his Thai colleague Chutima Sidasathian outside Phuket Court
(Read about their case, in their own words, HERE.)
Private prosecution of criminal cases helps to overcome several problems with the current criminal justice system. Firstly, there are limits to the number of cases that a public prosecutor can handle. Private prosecutions alleviate the shortage of prosecutors within the public system.
Secondly, there are problems with undue influence which may make public prosecution of certain crimes or charges against certain individuals unlikely. Private prosecution of crimes allows those types of cases to move forward even if they become an embarrassment to high ranking officials or other powerful individuals.
And thirdly, some crimes are just not a priority for public prosecutors. Once a public prosecutor has charged someone with a crime, he cannot allow a perpetrator to plea bargain to lesser charges to settle the case. So the prosecutor may be reluctant to file certain charges because he/she is not willing to see the case through to the end. In these situations, an injured party can still move forward to seek punishment against their perpetrator.
However, the system of private prosecution also brings a host of problems. Allowing private criminal prosecution can alleviate the manpower shortage in the public prosecutor's office, but it increases the burden on the court system. The processing of cases in Thai criminal courts can already take over a year.
There is also the problem with duplicate charges against the accused.
Andy Hall was acquitted of criminal defamation in a case filed by the attorney general's office last year. However, he is now being tried on the same charges through the computer crimes act by a private company. The fact that a public prosecution has been initiated or completed does not prejudice a victim's right to bring a criminal action on the basis of the same offence.
In addition, initiating a private prosecutorial action is generally limited to those who have the ability to fund private attorneys to file and prosecute their cases. Criminal legal prosecution can be very costly. There have been complaints that corporations and the wealthy have used private prosecution to silence critics. Criticising the wealthy and powerful can open up individuals to a costly legal action and possible imprisonment.
The private prosecution system is a tool. It can be used to bring about justice when government officials refuse to prosecute. However, it can also be used to intimidate to prevent disclosure of information or critical opinions. It is generally up to the courts to distinguish between justice and intimidation.
Additional reporting by Yutthachai Sangsirisap.