Relearning the balance of life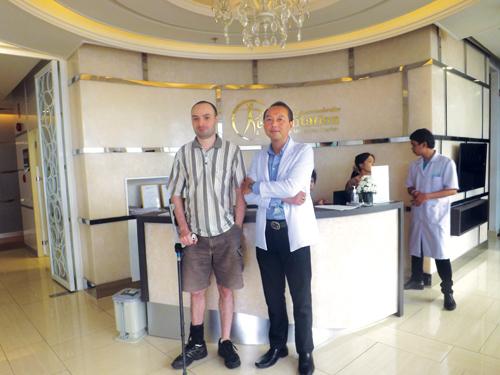 PHUKET: French national Roland Fabre, 34, was an up-and-coming Mixed Martial Arts (MMA) fighter, up until about five years ago, when his life changed forever – seemingly for the worse.
Approaching the height of his career, he was just starting to make waves in professional MMA rings in both the US and Japan.
Then, during one particular fight in Japan, something (or perhaps everything) caught up with him.
"I was about 29 then," he recalls what was the to be the last fight of his career: "I got into the ring but couldn't even keep my balance, let alone stay in the fight.
Something was unusually wrong. I collapsed, but not directly from the fight."
Shortly after that episode, at the suggestion of a friend, Roland decided to take a journey to Thailand.
Although this was his first trip to the Kingdom, Roland didn't get the rest and recovery that he was hoping for.
"As soon as I got to Bangkok, my condition rapidly got worse. The extreme temperature transition from Japan to Thailand must have been a trigger. I ended up checking into a private hospital, which is when I finally found out what was happening to me."
Roland was diagnosed with Multiple Sclerosis (MS), a condition in which the immune system attacks the central nervous system in sporadic, unpredictable and even uncontrollable episodes.
He returned to Japan and started to learn about his condition.
"It was frustrating because no one really knows the cause, and thus cure. All we know about are the symptoms and how to temporarily treat them."
Roland was injected with steroids after each attack, which initially occurred about every two to three months.
Although his physical fighting career was over from that point, a new fight – a mental one – had just begun.
Eventually, he returned to his home in France, where he started interferon treatment.
"This treatment is supposed to make the attacks less frequent, but not in my case."
Over a period of about one and a half years, Roland continued interferon treatment, but his attacks did not subside, and he still had to get injected with steroids after every relapse.
Roland describes the down-sides of this dangerous and yet ineffective treatment: "My temper got shorter, I started eating a lot, became real aggressive, anxious and started going crazy. Even as a fighter, I never took steroids and was never this aggressive."
Having his fill of the ineffective, conventional treatments, he yearned for a more natural path.
Roland moved back to Japan, where he started a small business selling MMA shirts.
"I started frequenting Thailand more, mostly for business. I would get shirts made in Thailand and sell them in Japan."
Back in Japan, his condition didn't improve. His attacks worsened, until one day he wasn't able to even walk on his own, and was forced to use a wheelchair.
At this point, about three years ago, Roland had to move back to France again so his parents could take care of him. It was his lowest point. "My mental state was really unstable, and as an adult, it was hard to have to become dependent on my parents."
Around this time, Roland's then-girlfriend Benz, whom he had met during one of his business trips to Thailand, had suggested he move to Southeast Asia.
After all, warm, tropical weather is supposed to be better than cold climates for MS patients. Besides, Benz's parents happened to be friends with a well-known acupuncture specialist, and Roland was willing to give it a try.
So, he made the move to Bangkok about a year ago and started seeing Dr Kingston CH Ooi, a Traditional Chinese Medicine expert, who runs a clinic on Sukhumwit, Soi 48 in the Thai capital.
"When I first met Roland about a year ago, he was still in his wheelchair and was unable to stand on his own," said Dr Kingston, a Malaysian national who played a fundamental role in the drafting and enacting of Thai legislation related to traditional Chinese medicine.
Leaving behind the hustle of Bangkok, Roland moved to Phuket, where he continued his acupuncture treatments with Dr Kingston and his Thai partner, Dr Jeiranai – also a traditional Chinese Medicine specialist – at the rehabilitation ward of Phuket International Hospital.
Dr Kingston splits his time between his Bangkok clinic and PIH, making trips between the two cities on a weekly basis.
"We found that Roland's MS condition caused him to lose a lot of neural function. His brain could not communicate normally with his legs due to an imbalance of chi energy."
After some initial tests, Dr Kingston was able to pinpoint the specific affected meridians, and had Roland come in for about four acupuncture sessions a week.
"Our strategy for the first six months was to reactivate the neural functions that he had lost."
While acupuncture won't provide a permanent fix for MS patients, it can bring an improved prognosis, as it did in Roland's case.
"The level of recovery depends on a number of factors, including the age of the patient and how long they've been affected by the condition. We usually start with the head to attempt to reactivate lost neural functions and try to restore balance of Yin and Yang energy," said Dr Kingston.
Initially, Roland couldn't even feel the acupuncture needles that were put in his legs.
Dr Kingston explained that this was because there wasn't sufficient chi flowing through certain 'meridians' (chi channels) as a result of his previous MS attacks. By targeting specific meridians, the acupuncture restored some Yin and Yang balance so that chi was able to flow to the point that Roland eventually could feel surges of pain when the needles were inserted.
"This kind of pain is a good thing. It means that the nerves are starting to communicate with the brain," Dr Kingston said.
While Roland admits that the acupuncture helped to reactivate nerve endings in his legs, he stresses that the ultimate catalyst for his recovery was, and is, his mental will power. Dr Kingston agrees: "After treating Roland for about six months, the next step was to let him do actions – step by step – starting with basic functions such as standing up, taking steps, balancing and eventually walking.
"It has been painful and difficult, but all worth it," says Roland, who hasn't had an MS attack since he started the treatments just over a year ago.
Both Dr Kingston and Roland agree that the optimal recovery and rehabilitation strategy should apply a holistic approach.
Roland has given up all of his unhealthy habits. He doesn't smoke or drink, and consume junk foods, and he tries to avoid sweets and commercial farm produce (such as non-organic vegetables and meats contaminated with preservatives and pesticides).
Dr Kingston concurs that a lot of commercially produced foods, especially Genetically Modified Organisms (GMO) are a primary cause for an increasing occurrence of chromosomal disorders and diseases, including cancer.
"A lot more younger people are getting cancer these days, which is related to the increase of GMO foods," he said, going on to cite a recent study that assessed immunity of GMO chicks over multiple generations.
"With each new [genetically modified] generation, the chicken offspring's immune system became weaker and the chic had a shortened life span.
"Although GMO enables farmers to produce a higher quantity of food, such as protein for example, the quality of the food is drastically reduced, and it has a direct and negative impact on consumers' health."
In addition to MS, Dr Kingston and Dr Jeiranai have used acupuncture to treat thousands of cases, ranging from motor-accident trauma, Parkinson disease and cerebral palsy to chromosomal disorders, stroke and all types of conditions that affect the centra
— Steven Layne
Thai Life

Join the conversation and have your say on Thailand news published on The Thaiger.
Thaiger Talk is our new Thaiger Community where you can join the discussion on everything happening in Thailand right now.
Please note that articles are not posted to the forum instantly and can take up to 20 min before being visible. Click for more information and the Thaiger Talk Guidelines.