Property
Something new in Phuket property design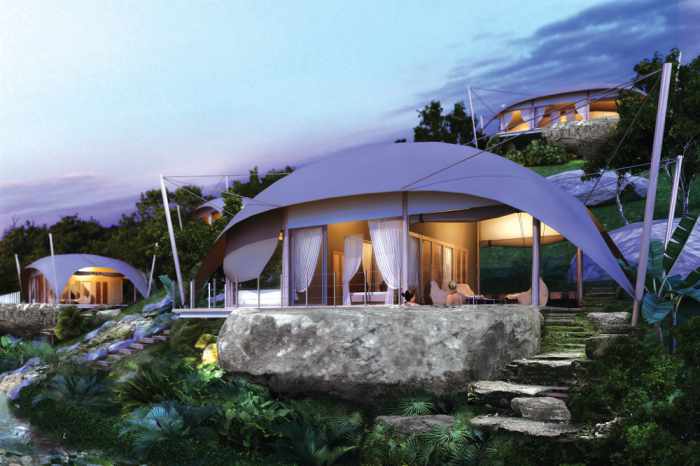 PHUKET: I've never been one for driving by the rear view mirror, and often my imagination likes to take me on a journey into the future. Living for today, or for the moment, is good for self-help types, but never discount the power of wish lists – dreaming big is good.
One of my biggest gripes about Phuket's hotels remains the same-sameness of the current spate of offerings. Once upon a time the island reveled with imagination, taking tourism out of the box and into private pool villas.
So comes the descent from hero-dom to zero-dom. What has come onto the hotel scene lately is certainly a journey back to familiar territory, where we have been many times before. Hotels don't need to be this boring. One upcoming property that has captured my attention is the Keemala in Kamala. Yes, that's a lot of K's and E's, but bear with me.
Here, Bangkok-based designer Pisit Aongskultong of the firm Movida is creating something decidedly different, with 38 private pool retreats, designs range from tent houses, clay cottages and dream-weaver spa units. We all know that beachfront real estate in Phuket is on the endangered list, so here is an "off-beach" resort in the forest which is extracting the natural surroundings and incorporating them into its DNA.
Pisit has contributed to other island hotels including the KEE, Vijitt Resort and Impiana Villas. One of the foundations of the Keemala concept celebrates the culture of four fictional ancient Phuket tribes, the Pa-ta-pea (Earth), the Khon-Jorn (Wanderers), the We-ha (Sky) and the Rung-Nok (Nest) people.
These elements have been integrated into the operating concept and design of the property. For impatient types like myself, the sad news is that the hotel will only be open next year, by August 2015.
Another Thai developer in Krabi, Matthew Na Nagara, is headlining the Port Takola
Yacht Marina and Boatyard. Located on a 300 rai site, the development will eventually house 250 pontoon berths, accommodating watercraft ranging from 10 to 35 meters long.
The first phase of the project will open next year in January with 49 berths, dry storage and facilities for yacht owners. In the future, residential units, a hotel offering and retail complex will rise up on the site, creating a unique destination.
Port Takola is looking to capture much of the excess demand of Phuket marinas which are overflowing with customers, similar to how the recently opened Boat Lagoon Krabi has established a niche. While the crowded house of Phuket continues to grow, nearby Krabi with increasing numbers of direct flights, and a new international hospital, is quietly moving its game up a notch or two.
Far too often, the focus here is based on the belief that only international brands and designs from abroad count. Over the past few years, Thai designers such as Duangrit Bunnag at The Naka, have brought a fresh look to these shores, Wan Issara's Sri Panwa resort has also drawn in hi-so clients from near and far.
Last, but not least in my flight with Thainess, is the upcoming buzz about another Thai design icon, Lek Bunnag. At the upcoming Biennale di Venezia – the 14th International Architecture Exhibition in Italy, Bunnag will curate the Thai Pavilion from June 7 to late November. Held in Venice, Italy, this event is a global bellwether among the design community.
Be it Phuket, Krabi or Venice, Thai ingenuity, ideas and entrepreneurship are growing in a very positive way, which for someone who has lived in the country more than a decade, is a welcome trend to watch.
Bill Barnett is Managing Director of C9Hotelworks. He can be contacted through: c9hotelworks.com
Keep checking the Phuket Gazette, join our Facebook fan page or follow us on Twitter @PhuketGazette for the latest news updates.
— Bill Barnett