Phuket Property: Condominium law since 2008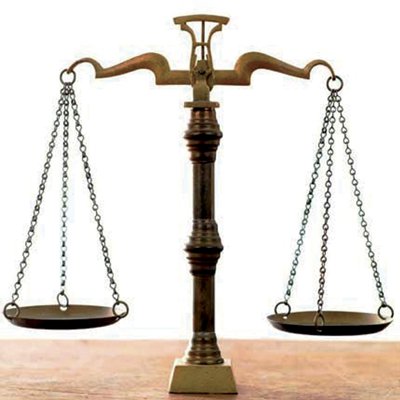 PHUKET: In a move to address numerous complaints from condominium buyers, the Thai government enacted the Condominium Act No 4 (2008), which significantly expanded the scope of consumer protection by amending several provisions of the original Condominium Act made thirty years previously.

The original Act has been amended three times in attempts to keep the law up to date with new private sector developments and practices; however, the 2008 amendment was one of the most comprehensive overhauls. It extended buyer protection, enacting additional requirements and duties for developers, and modified restrictions on foreign ownership.

Buyer Protection:

Previously there were few legal provisions to protect buyers. Potential buyers risked exposure to developer bankruptcies, unfair contracts, unfinished or substandard construction, disputes over maintenance fees, and various other problems. An aggrieved buyer's only options were to file a complaint with the Consumer Protection Board and hope that the Board would take action, or initiate a potentially lengthy and expensive legal case against the developer.

Amendment No 4 contained several provisions designed to protect condominium buyers. Standardized Form Contract: A key provision in the new armory is a requirement that purchase contracts between the developer and buyer conform to a standard format prescribed by the Ministry of the Interior.

This format promotes a degree of uniformity and certainty in purchase contracts. Furthermore, any clauses in a purchase contract that deviate from the standard format and are not in favor of the buyer will not be enforceable. The required clauses include basic information such as the developer's ownership in the land and the location, price and size of the condominium and development complex.

More importantly, one of the required clauses is a detailed objective of the usage of every area of the condominium including individual condominiums, common property and facilities. This provision addresses prior buyer complaints about developers who changed the common area for other uses or built additional units over common areas.

Accurate advertising: Developers must also take careful steps to ensure that their advertisements to the public, such as pictures, statements or brochures, truthfully and accurately represent the completed condominium. Since 2008, any advertisement for the sale of a condominium will be regarded as forming part of the purchase contract and any inconsistencies between the advertising and the actual purchase contract will be interpreted in favor of the buyer.

Additional duties and restrictions on developers:

Payment of monthly maintenance fees for unsold units: In the past, disputes often arose between developers and buyers over payment of maintenance fees for units which had not been sold, resulting in a shortfall of maintenance funds. Since 2008 the developer is responsible for paying taxes, common services expenses, and common maintenance expenses for units to which ownership has not yet been transferred.

Operation of businesses within a condominium: There are also new restrictions on the operation of businesses within the condominium. Specifically businesses are only allowed to operate in designated areas, and the developer must arrange for separate entrances and exits for these businesses in order to protect residents from noise and
disturbances.

Penalties for violations: The new amendment provided a comprehensive list of penalties for developers who violate any of the new provisions. The biggest penalties are for violations of the standard form contract or for violations of accurate advertising, with fines between 50,000 and 100,000 baht. A violation of the provisions regulating business use within the condominium carries a slightly lesser fine but with a small addition for each day the violation is not fixed.

Changes in restrictions of foreign ownership: Under the original Condominium Act foreigners were explicitly granted the right to purchase and own condominiums as long as foreign ownership of the total units within a development did not exceed 49 per cent. Condominium Act No 3 (1999) liberalized these restrictions and allowed foreigners or their holding companies to hold in aggregate over 49 per cent in certain developments, but since 2008, the 49 per cent ceiling was reinstated – except, as mentioned last month, for those who were fortunate enough to have purchased their condominium in excess of that percentage during the time it was allowed, in which case ownership is still protected.

Viewed as a whole, the Condominium Act No 4 (2008) is part of a larger consumer rights movement in Thailand. Along with the Escrow Act 2008, more of which will be explained later, the Thai government has been moving to address complaints of consumer fraud and abuse. In general, the new law created some minor burdens for developers, while extending significant protection to consumers.

This article has been written by the International Law Office Patong Beach Co Ltd, a Phuket-based law firm for international purposes only. In case of inquiry, please contact Timothy A Taylor, Consultant, by phone on 076-222191/5, or by mail to [email protected].
— International Law Office


Find more property for sale and rent across Thailand at Thaiger Property, powered by FazWaz. You can even list your property for free.
Bangkok luxury poised to push through the US$300 ceiling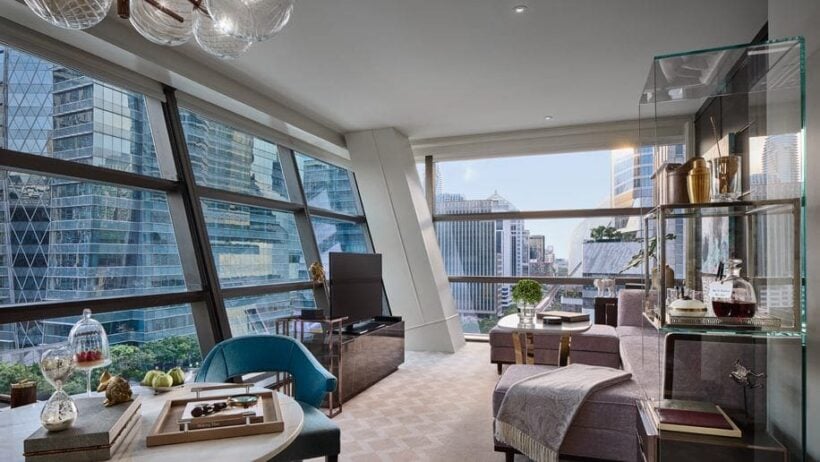 by Bill Barnett of c9hotelworks.com
PHOTOS: Rosewood Bangkok
For hotel owners and managers in South East Asia, one of the great mysteries of the past ten years has been the low rate profile of Bangkok's luxury hotel set. Despite soaring and sustained tourism growth, rising airlift and a strong economy, rates at Bangkok's top tier properties have remained fairly stagnant.
Have we reached the tipping point?
I had had the opportunity to visit the latest entry to the Bangkok luxury class a few days ago, the Rosewood. With 159 keys which includes a limited number of posh houses with private pools and terraces the property is seeing an exceptional response and already achieving high rates.
What's impressive about the entry is a take on the design approach that sees hotel developers apply a non-uniform approach with AvroKO coming in to focus on the restaurants and bars, while the rooms and public areas were led by Celia Chu Design and Associates.
While the speakeasy Lennon's has not be opened yet, the 6,000 record vinyl collection is impressive and the bar will clearly have a strong pull. Taking the approach to designing restaurants and not typical hotel outlets, the Chinese eatery Nan Bei is a breath of fresh air and limited seating provides a bespoke appeal.
Taking a step back, and looking at recent entries like the Waldorf Astoria, and upcoming 101 key Capella, what is clear is luxury properties are shifting in terms of key drivers of the segment of art, fashion, residential vibe, bar and restaurant offerings, wellness and events.
So, what about rates?
On a broad basis Bangkok's top tier hotels have averaged rates of US$200-240 for the past few years. This set has seen longer serving properties such as the St. Regis, Kempinski, and Okura effectively flatline on rates, though newer entries have come up including the Park Hyatt. On the broader horizon is the return of the Four Seasons and Capella by the river and the Orient Express at the MahaNakhon skyscraper.
With the entry of Rosewood driving rates, my expectation is that a few of the set will follow and at the end of 2019 we will set limited number of hotels crash through the US$300 average room rate barrier and effectively smash the legacy glass ceiling of Bangkok's luxury hotels.
As in any business there will be winners and losers. Smaller hotels with some rate leading premium key types will be able to push up average daily rates. Segmentation is another key and hotels on the river that lack substantial corporate numbers will remain challenged until transport links to the area improve.
Where in the world are Bangkok luxury hotels heading?
To sum up 2019, size and location matter, the shift on food and beverage and social events along with niches like wellness and  smaller meetings/weddings are the key to the future. As for the quantum leap in rates, it's about time Bangkok hoteliers be confident and push rates towards a more global norm.
Reservations now open for 'Twinpalms MontAzure' with enticing promotions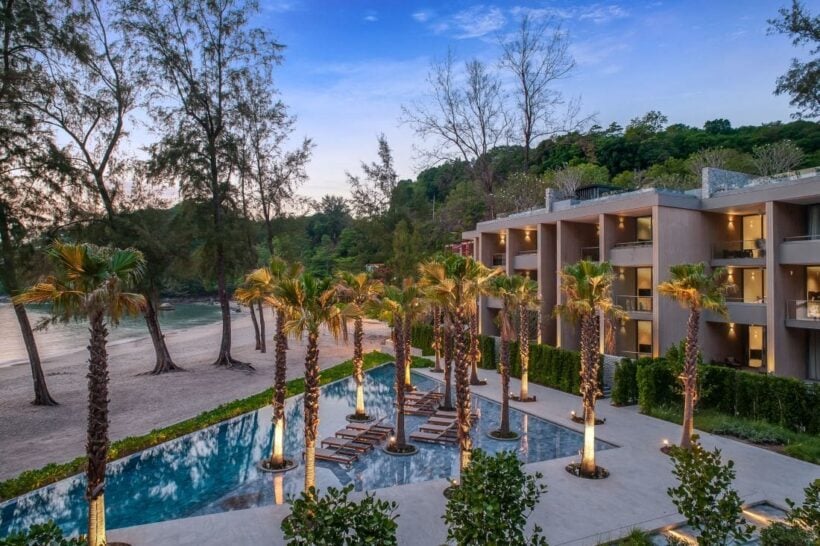 Celebrate the grand opening of Phuket's newest beachside hotel by booking now to snap up fantastic deals. Twinpalms MontAzure in Kamala is offering irresistible packages ideal for both short and long-haul getaways for those who book directly from their website.
Guests may choose to enjoy three nights and pay for just two and for those who are looking to book a longer holiday, stay for six nights and pay only three on all Penthouses and Suite types. Guests may book from now until November 30, 2019, for stays from July 1 to 19 December 2019.
The latest addition to the Twinpalms Hotels & Resorts portfolio is set directly on Kamala Beach, on Phuket's popular west coast and will welcome its first guests in July 2019. A member of Small Luxury Hotels of the World, the boutique beach hotel offers beautifully appointed Penthouses and Private Pool Suites and a collection of stunning Suites.
Suites range in size from 70m2 to splendid Penthouses with private pools and sea views boasting large living spaces of up to 300m2. Guests will also enjoy using a lap pool or an infinity pool offering views of the Andaman sea.
Adding to the collection of fantastic places to be on Phuket, Twinpalms MontAzure will launch its beachside restaurant and lounge, 'Shimmer', with uninterrupted sea views. Shimmer restaurant will serve vibrant and tasty food with an Asian focus, delicious and creative cocktails, and a great wine list, all served with the customary gusto and flair expected from the Twinpalms brand.
Designed by Martin Palleros, following the original Twinpalms concept and style, of utilising Phuket's beautiful landscape, Martin has allowed the design to maximise the sea views from most of the Suites and areas within the buildings, whilst also ensuring the preservation of the views of the mountainside from other perspectives.
Guests of Twinpalms MontAzure also have access by complimentary transport to the brand's other dining and entertainment destinations, taking full advantage of the three beautiful beaches Twinpalms has a presence on.
HQ Beach Lounge, a few steps away on Kamala Beach, Catch Beach Club, Catch Junior and Palm Seaside, located on Bang Tao Beach and of course, the flagship resort, Twinpalms Phuket is just a few steps from Surin Beach.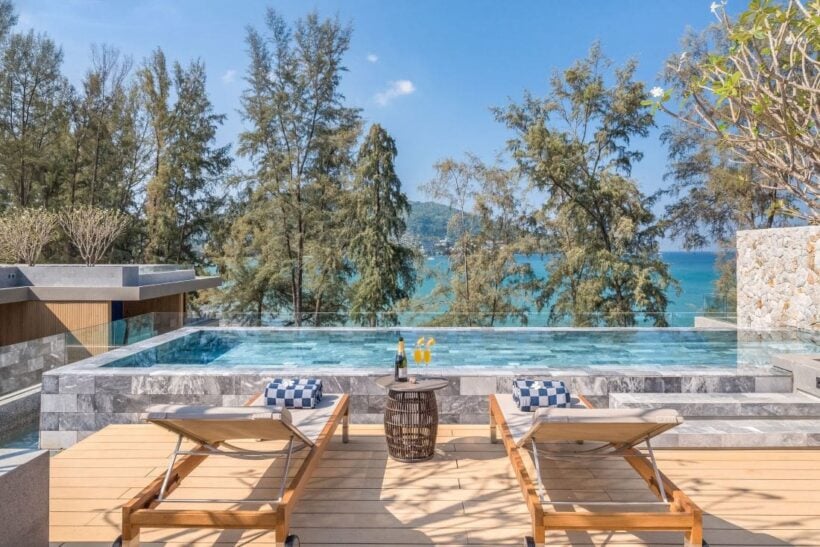 Phuket hotel watch – 3 months down, 9 to go in 2019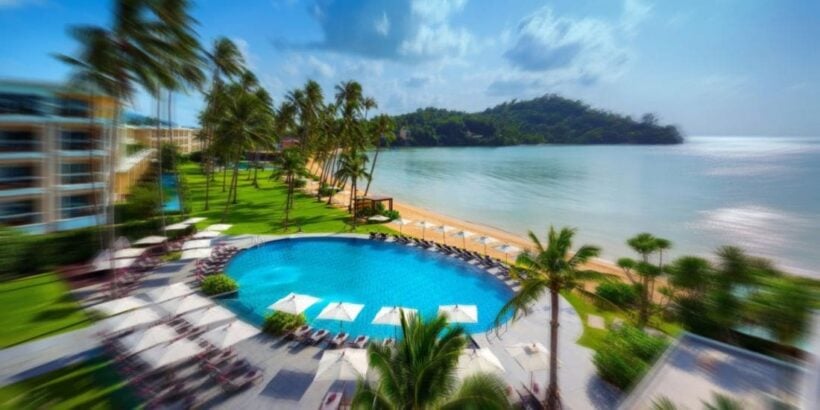 by Bill Barnett of C9Hotelworks.com
At the beginning of the year Phuket's tourism and hotel sector was cautiously optimistic after a strong first half of 2018 and humbling second half. Key terms that kept popping up were Mainland Chinese, Thai Baht Appreciation, Elections and Supply Concerns.
So today, with three months of performance under the belt in 2019 what are the key trends in hotel trading? These can best be compressed in the following points –
According to data from hotel benchmarking group STR, Thailand remains Southeast Asia's leading destination for Mainland Chinese, but the gloss is being diminished by Vietnam's meteoric rise, and strong numbers by the Philippines and Cambodia.
Market-wide RevPar shunk by 0.04% in 2018 and flat demand at the onset of the year is now shifting into negative territory moving into February and beyond. Turning back to last year, group demand is falling which is as key concern in a wholesale driven marketplace.
One stark positive is that RevPar is being propped up by rates and not occupancy. A key takeaway is that in peak and high season, Phuket hotels are able to drive rates up in key periods and continue to do so. This of course is a broad trend.  Good hotels tend to perform at higher levels, while poorly managed ones remain subpar.
Getting beyond the numbers, as I speak to hoteliers the expectation is that wholesalers remain a critical component of the island's hotel industry and despite the expected shift with technology to more direct bookings, the reality is that wholesale models are sensitive to demand volatility and the result of this feeding frenzy most often will be either flat rates for the year or in some cases a retraction.
We expect the remainder of 2019 to be challenging. Some hotels will look at this as an opportunity to reposition, renovate or cut costs. While others will look at new segments, niche offerings or emerging markets like India to regain momentum.
As for the top critical issues facing Phuket hotels, in my opinion these can be distilled in the following Top 3 Things Keep Me Awake at Night…
• Mainland Chinese – If tourism players or hotels believe the damage to Brand Phuket is over, think again. Talking to key tour operators there remains a hangover from last year's boat sinking incident and travellers remain keenly concerned over safety. Only time and more concentrated promotion will see a return of the numbers.
• Growing Supply and Demand Imbalance – The current pipeline is just over 8,000 keys in development on the island. What's more concerning is that projects in planning are not represented in this metric, and by our estimate there are approximately 5,000 more keys in planning. While both the pipeline and planning numbers will see some wash, the sum total exceeds current and forecasted demand.
Moreso, the rise of unlicensed condominiums, apartments, houses and villas is continuing unabated and is further exacerbating supply issues. Every time you see a group of tourists renting a 3 or 4 bedroom villa, that's three or four hotel rooms that lay empty. Government control of unlicensed properties is a key issue facing Phuket's tourism industry.
• Diminished Natural Resources and Strained Infrastructure – Water tops the list and there is little doubt we are reaching the tipping point with mounting shortages and soaring demand. Electricity is another concern. Lastly is a rising number of vehicles on the road, a urbanising trajectory and slow development of roads and public transport.
To these point's lets revisit the hotel development pipeline and reflect that a island long term master plan, zoning for new tourism expansion and requirements for developers to invest in public infrastructure to obtain operating licenses is sorely lacking. Something has to give on this front.
In conclusion am I pessimistic about Phuket's tourism and hotel future in 2019 and beyond? Absolutely not, direct airlinks are growing and the island has a well-structured capacity for handling tourism, but I firmly believe looking into our problems, discussing and finding ways to resolve these are critical to a sustainable growth pattern.