Phuket's Playground of comedy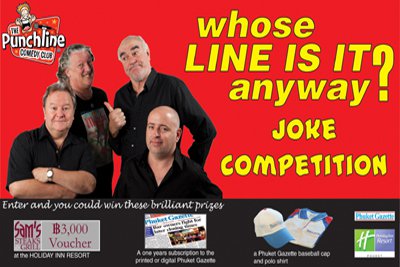 PHUKET: Utterly uproarious and mind-bendingly brilliant is the usual hilarious result when a group of talented comedians improvise a sketch based on a random scenario pieced together by a willing audience.
Phuket has its willing audience and this month the Punchline Comedy Club provides the comedic talent when they present their biggest show yet – the live stage show of the original British TV hit, Whose Line is it Anyway? starring four of the shows stars: Andy Smart, Stephen Frost, Steve Steen and Ian Coppinger.
Having already staged this show in Hong Kong to sell out crowds, John Moorhead, the Punchline Comedy Club creator, is certain fans of comedy in Phuket will roll up in the same fashion when the show arrives here in February.
The show Whose Line is it Anyway? was a massive hit in the UK for over a decade and now enjoys the same success in the USA after Channel 4 sold the show to NBC. For strangers to the program, five performers pit their wits against the audience by playing out scenarios in a style and setting of their choice. The whole show is totally improvised from the Shakespearean scenes to the Broadway musicals. The only difference is the audience decides what the performers say and sing about.
A selection of reviews range from, "They are all pure geniuses," by The South China Morning Post to "Pure talent, better than the TV show," said The Times. "Performed with a spectacular flair that can only be described as magical," opined The Daily Telegraph.
Each of the visiting personalities is an established star of comedy in a wide range of fields from acting to writing.
The following is a brief background to each, but from next week the Gazette will publish an exclusive interview with each of the performers in the lead up to next month's exciting event.
Stephen Frost is an English comedian and is well known for his work in the 1980s with Mark Arden as part of their double act, The Oblivion Boys as seen on Saturday Live. Veterans of the alternative comedy scene, he and Arden appeared in The Young Ones and later had their own TV series Lazarus and Dingwall on BBC2.
The duo also appeared in a series of British TV advertisements ending with the catchphrase "I bet he drinks Carling Black Label".
In addition to playing two small roles in the acclaimed Blackadder series, and a cameo in Mr Bean Rides Again, Frost has appeared on Radio 4's Just a Minute, and Whose Line Is It Anyway?. He has appeared on three episodes of Have I Got News for You and on Never Mind the Buzzcocks.
Andy Smart, born in Southsea, birthplace of Peter Sellers, spent his childhood overseeing the Pontoon and Poker Card School, at Farnborough Grammar, and running bets for his grandmother who had been a seven card stud dealer.
After working on several productions as a writer/actor, Andy's introduction to street entertainment found foothold in the Spanish town of Pamplona, where he has returned every year since to join the renowned spectacle the Running of the Bulls.
On retuning to England, Andy performed at Covent Garden. Then in 1983 he met Angelo Abela and together they formed the popular Vicious Boys a successful comedy duo that lasted 17 years. They apparently split up due to sophistic differences. A new career in comedy including stints at the Edinburgh Festival and a tour with the Iranian football ball team has led Andy on a path of many laughs and now has been performing as a guest with the Comedy Store Players for 13 years and has been a permanent member since 1995.
As a member of the "Steve Frost Impro All Stars", he has performed in 28 consecutive Edinburgh Festivals, as well as in Asia, Europe, the Middle East, Australia and USA.
Andy was also part of the all comedian version of "The Twelve Angry Men" which went on to tour in Australia and New Zealand. He has also performed in Edinburgh with "Paul Merton's Impro Chums". This year he will be organizing the First Annual Poker Tournament for comics at the Gilded Balloon.
Steve Steen began his career at the Oval House Theatre Club in 1972 with his lifelong friend and working partner Jim Sweeney, basically doing shows that sent up all the other shows they had seen that year, a cheap stunt that paid dividends later.
He performed as one of the Baron's minions in a show called A Feast of Fools, with such luminaries as Pierce Brosnan and John Ratzenberger, better known as Cliff the postman in the hit TV show Cheers. This transferred to the Roundhouse for a successful London run.
Steve continued his work at the Oval House theater, squeezing in a couple of Shakespeare productions with the likes of Tim Roth.
A spell in prison beckoned when in 1979 he was banged up in Porridge, the film spin-off from the TV series. Upon his release he went on to co-present the acclaimed children's show CBTV for Thames TV from 1981-1984.
Steve and Jim starred in Channel 4's first home-grown comedy series Little Armadillos, directed by Bob Spiers. Rory Bremner grabbed him for his debut series on BBC 2 and three years of mimicry followed.
Throw into that melting pot with The Kenny Everett Show, Carrott Confidential, Saturday Night Live, Wogan, Blackadder the Third, A Bit of Fry and Laurie, Red Dwarf, Spitting Image, and you get the idea – you name it he's done it.
Ian Coppinger returns to Phuket from his stand-up performance here in October. One of Ireland's busiest comedians, Ian has performed to packed houses on four continents, including yearly appearances at the famous Kilkenny "Cat Laughs" comedy festival in Ireland, the Edinburgh Festival, the Adelaide Festival and the Melbourne International Comedy Festival.
Ian has improvised with the popular Second City from Chicago, Whose Line Is It Anyway, The Comedy Store Players and Theatresports. He also shares two hit radio shows on RTE with The Comedy Improv Radio Show.
Among his plaudits are "a very funny man…the next Irish comedian to make it on the international circuit," by fellow comedian Rich Hall, "a sophisticated Billy Connolly," by The Irish Times and "pound for pound the funniest human being to have existed anywhere ever," by Hot Press Magazine.
Show Details
When: Wednesday Feb 29
Doors: 8pm
Show: 8:30pm
Where: Holiday Inn Resort, Patong Beach, Phuket
Tickets: 1,200 baht / Special Price – 960 baht until February 22.
Ticket Outlets:

Chalong: Woody's Sandwich Shoppe.
Koh Kaew: RPM Health Club.
Patong: Woody's Sandwich Shoppe.
Patong: Shakers Restaurant
Cherng Talay: Gitano restaurant.
Pa Khlok: Gitano restaurant.
Visit PhuketComedy.com for a full list of outlets, or call 089-646 9278.
— Neil Quail
Chinese, Taiwanese and Singaporeans dominate Asia's cruise market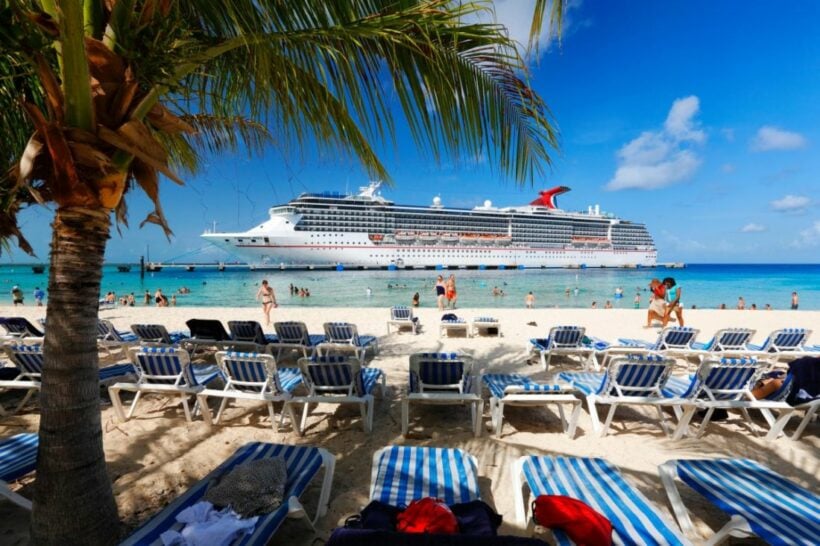 Chinese travellers continue to dominate Asia's passenger cruise market, but Taiwanese and Singaporeans aren't far behind. This according to the 2018 Asia Cruise Industry Ocean Source Market Report.
Commissioned by the Cruise Lines International Association, the report looks at the growth, demographics and trends of the top source markets in Asia.
While China continues to dominate the passenger share of Asia, cruise passengers from Taiwan and Singapore have been steadily growing in numbers. Multiple source markets, many of which registered double-digit growths in 2018, contributed to Asia's record-breaking 4.24 million ocean-going cruise passengers. Asia is the third largest cruise region after North America and Europe.
Asian cruise passengers have an estimated average age of 45.4 years, lower than the global average of 47 years. Only three markets show real divergence: India, a young 37-year average; Indonesia a 39-year average and Japan an older 57 years.
Asian cruise passengers predominantly sail in Asia with more than 50% (2,194,000) cruising in Mainland China, Hong Kong and Taiwan. Almost 40% (1,694,000) cruise in the rest of Asia.
Outside of Asia, the Mediterranean, Caribbean/South America, Baltics/Northern Europe, and Alaska were popular choices, in that order.
Shorter sailings remain the dominant choice of Asians, 89% of whom are sailing four to six nights with an average duration of 4.9 days.
SOURCE: TTR Weekly
Banyan Tree Samui goes 'retro' with the new Tuk-Tuk Bar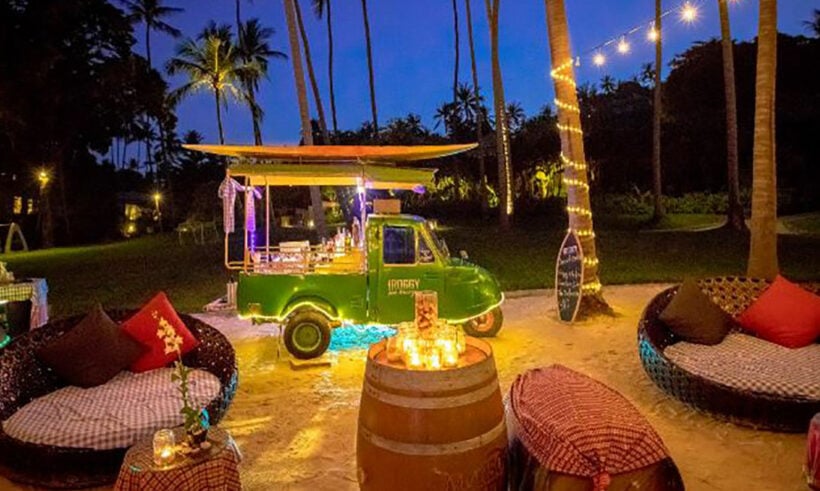 Banyan Tree Samui resort has opened what might be the quirkiest if not the cutest bar in Thailand,  a cocktail caravan remodelled from a classic 1960s tuk-tuk.
The MP4 Midget is virtually unseen on the streets of Thailand these days. But once upon a time, the "frogs", as they were commonly nicknamed, were everywhere. Thousands of these 12 HP 350cc three-wheelers were manufactured by Japan's Daihatsu company and exported to Thailand starting in 1959 to form a fleet of taxis nationwide.
This particular frog was discovered last year in the southern Thai port town of Trang by Banyan Tree Samui's head chef Rainer Roersch, who says he sensed immediately that a novelty tuk-tuk would make for an ideal art installation on the Koh Samui beachfront.
Revived from retirement, and now dubbed the Froggy Sea Breeze Beach Bar, the emerald-green van today serves up cocktails, beers and spirits to Banyan Tree guests and non-guests alike in a quiet cove in the southeast of the island between the popular beaches of Chaweng and Lamai.
The Froggy Sea Breeze Beach bar is open from 5pm till 11pm every evening. Highly recommended is the sweet n' sour Froggy Melon, garnished in mint leaves, or The Botanical, a gin and absinthe-infused cocktail guaranteed to kick-start any engine.
Tour Banyan Tree Samui HERE.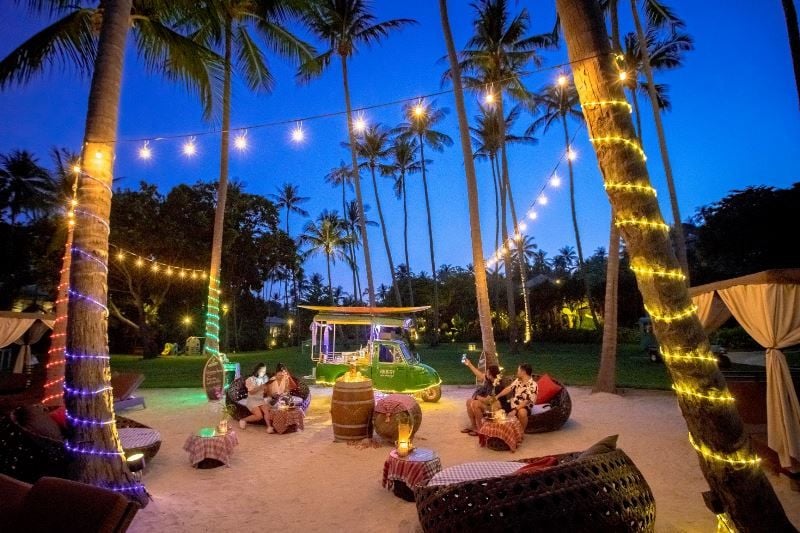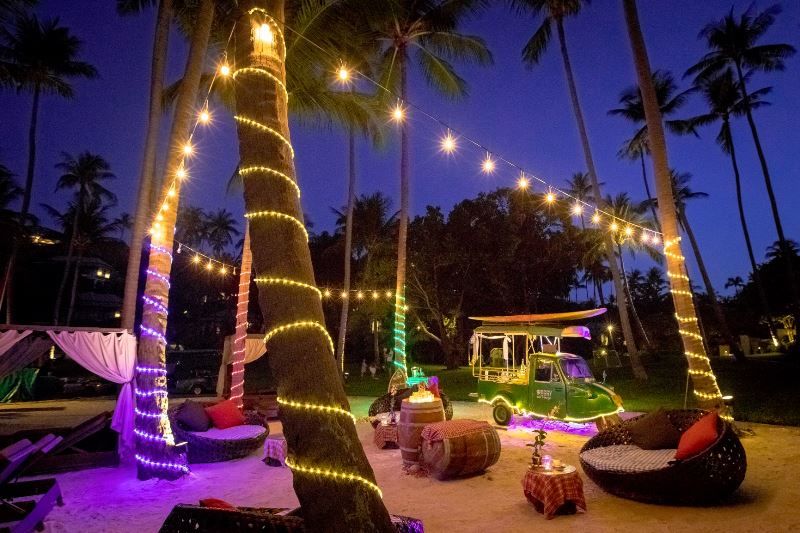 Thailand to see rise in tourists as fallout continues in the US-China trade spat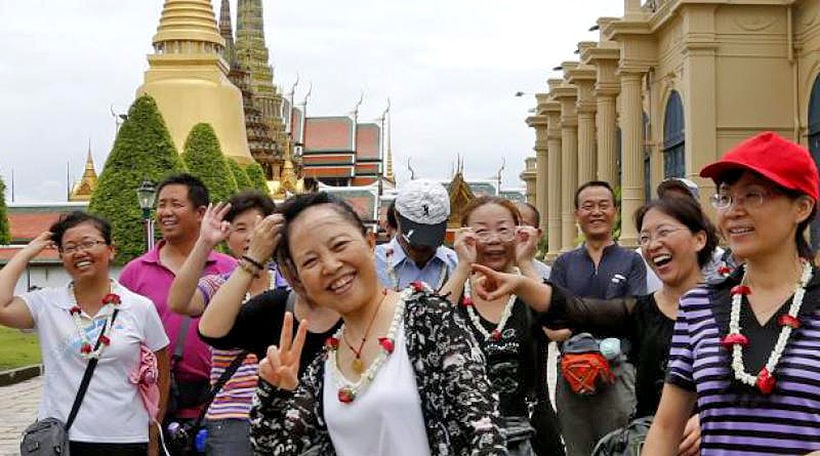 Thailand may end up being a beneficiary in the ongoing US-China trade spat as mainland Chinese tourists will decide to travel closer to home or could even find it difficult to gain entry into the US.
The Tourism Authority of Thailand is monitoring the situation to see if Beijing blocks Chinese tourists from making trips to the US. The restriction could even come from the US side as the trade wars escalate.
It is expected that TAT offices in Kunming, Guangzhou, Shanghai, Chengdu and Beijing will actively promote Thai tourism whilst Beijing and Washington keep rolling out new sanctions.
TAT Governor Yuthasak Supasorn commented about anecdotal evidence from TAT branches suggesting the trade disputes is keeping Chinese travellers from planning trips outside of Asia.
"These factors may slow down decision-making for overseas trips and tourism spending. The ultimate goal is to attract visitors from China to engage in tourism events in Thailand to boost the tourism sector as a whole," he was quoted saying in the Bangkok Post.
Despite potential competition from other Asian rivals, Thailand is still the most popular choice for many Chinese travellers. In 2018, around 10.5 million visited Thailand and industry analysts are expecting the numbers to balloon further this year, especially if the trade war keeps stumbling along.
At this stage, China is yet to announce if it will prohibit its residents to travel to the United States just like it did when it had tensions with Japan and South Korea.
SOURCE: Business Times