Phuket's Michael Venezuela is mad about fame, and bringing it here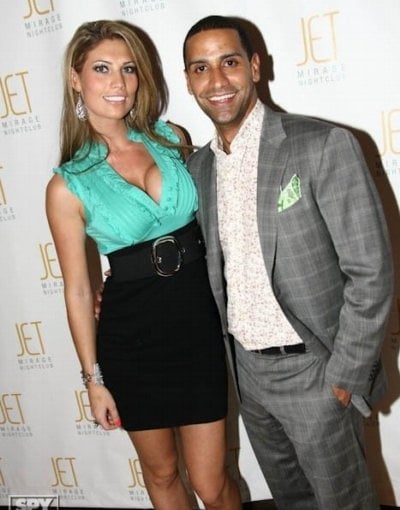 PHUKET: He has danced with Jennifer Lopez, toured with Destiny's Child, rubbed shoulders with OJ Simpson – in a Miami strip club – and talked his way into the Playboy Mansion. But why is Famous Nightclub's Michael Venezuela so obsessed with fame and bringing celebrities to Patong? And why on earth does he wear that white suit?
The former MTV presenter, break dancer and model rolled up his sleeves and turned off his three phones to duke it out with Phuket Gazette Features Editor Fraser Morton.
Fraser Morton: You're the Social Media and Special Events Marketing Director at Famous Nightclub in Patong. Why such a long title? I think you should change it to "The Fixer" or "Social Mike"; I think it's less of a mouthful.
Michael Venezuela: It describes what I do.
FM: So what does it mean?
MV: It means I entertain.
FM: And what does that entail?
MV: My job at Famous requires me to run all the social media – Facebook, Twitter – for the club, book celebrities and DJs to perform, and make these people accessible to our guests at Famous.

FM: You recently hosted three Playboy bunnies at the club for a photo-shoot party. Why do you think people in Phuket think that's entertainment?
MV: It was entertainment and the guests loved it. It was an experiment and it worked. The girls frolicked around the pool all day, while hundreds of people stood around watching.

FM: Sounds a bit perverse.
MV: We live in perverse times.
FM: And what about you, Mike? You were also a model. So you're comfortable taking your clothes off for money?
MV: At a younger age, sure. I charge more now though.
FM: How did you get into modeling?
MV: It was 1996. I was 19. I had the chance to take a football (American) scholarship at Florida State University, or take a US$50,000 modeling contract in New York for Bloomingdales. I went with the money.

FM: So it was purely for monetary reasons?
MV: No, I wanted to be on TV and modeling seemed like a good route to go. It was a tough choice.
FM: Why do you care about fame so much?
MV: Always been that way. It's a lifestyle that appeals to the youth of America.

FM: So I hear you've worked with some pretty well-known US celebrities. Care to share?
MV: Sure. I was a backing dancer in the late 90s [98, 99] for Jennifer Lopez. I was in the "If you have my love" and "Waiting for tonight" music videos. After that I went on a three-month tour with Destiny's Child across the US.
FM: So what's J-Lo like?
MV: Uh, she's basically a Puerto Rican (Michael's nationality) chick with a lot of "ass-itude".
FM: What does that mean?
MV: "Ass-itude", it means she has a lot of attitude and carries a big ass to back it up (Laughs) – sorry, Jennifer.
FM: It's okay, I don't think she reads the Phuket Gazette. You've been a TV entertainment reporter for MTV, E! and more. Who is the most interesting person you've interviewed?
MV: OJ Simpson in 2000 is one for sure. The funny thing was, I caught him at a strip club in South Beach, Miami. I was making a documentary about a porn star. I couldn't believe he was there. We went up to him with the cameras rolling and started asking him questions…. He's such a nice guy, but man, does he have a big head, literally. Such a big head.

FM: Anyone else?
MV: Michael Jackson in Beverly Hills. I collapsed. I don't usually get star struck, but he's always been a hero of mine. This was when I was a DJ for MTV. We were working with Black Eyed Peas and Michael Jackson came into the room when we were doing an interview. I was 21 at the time. When he walked into the room, my knees gave out. I was picked up by the security guards and Michael asked me if I was okay. It's the biggest interview I never got (laughs).
FM: So you've been inside the Playboy Mansion in Beverly Hills….
MV: (Laughs) – I've been there twice. The first time we snuck in. It was a Halloween party. I was 21 years old. I was with one of my friends who looks exactly like Brett Favre (one of the National Football League's most famous quarterbacks) and two other friends. My friend Todd (the Favre look-alike) dressed up like a straw man, and the rest of us were dressed as Umpa Lumpas (think Charlie and the Chocolate Factory). My buddy said he was Bret Favre, and the security guards let us in. We had the time of our lives.
FM: I don't believe you. Did this happen?
MV: (Laughs) – It's true, but I can't say any more. I have to draw a line in the sand. I don't want to be that guy that gets blacklisted for talking too much. Let's just say the Umpa Lumpas had fun that night.

FM: What about your family? Are they concerned with fame?
MV: No, not at all. They're conservative republicans. Both very organized and business-minded. (Mike's fiddling with his Blackberry when he answers this question).

FM: Hmmm, I notice you have three phones. Looks like the organizational skills passed over to you. Or is it the opposite? Why three?
MV: I have an iPhone, a Blackberry and a regular standard phone – I take in about 150 calls a day.

FM: Why so many? All work?
MV: Yup, to do with entertainment. Whether it's to do with Famous (Nightclub) or clubs in Singapore – just constantly networking.
FM: The former Vice President of NBC Network, Peter Andrews, once said you were "one of the future's leading eyes for nightlife entertainment". Sounds like you gave up a promising future in the US. So why the move here?
MV: Well, I've been in the business for 14 years, and to be honest, Asia seems like the place to be. I was working in Las Vegas last year at Wet Republic (nightclub at the MGM Grand). I've managed to gain a large database of contacts in the US entertainment industry and I thought I could use them here.
FM: Since opening in December, Famous Nightclub has hosted DJs Roger Sanchez, Bob Sinclar and more. Is this all your doing?
MV: No, those two were already in motion before I came on board. Nothing gets done without Chris (Cole, Owner) and Tal (Derhy, General Manager at Famous). Chris is not scared to spend the money to get big names to come here. We're in the entertainment business and Famous' goal is to provide a level of entertainment service for Phuket that everyone is happy with.
FM: So what's coming up next at Famous?
MV: There's plenty to look forward to. Dirty Vegas will be here on April 7. Also, on April 13 we have Seb Fontaine and Phil Drummond playing. On April 23 we have Anthony Nero from the US coming.
FM: I heard you were trying to get singer "Apple" from the Black Eyed Peas to come play a
— Fraser Morton
Thai Life

Join the conversation and have your say on Thailand news published on The Thaiger.
Thaiger Talk is our new Thaiger Community where you can join the discussion on everything happening in Thailand right now.
Please note that articles are not posted to the forum instantly and can take up to 20 min before being visible. Click for more information and the Thaiger Talk Guidelines.