Phuket wedding planners' conference draws global vendors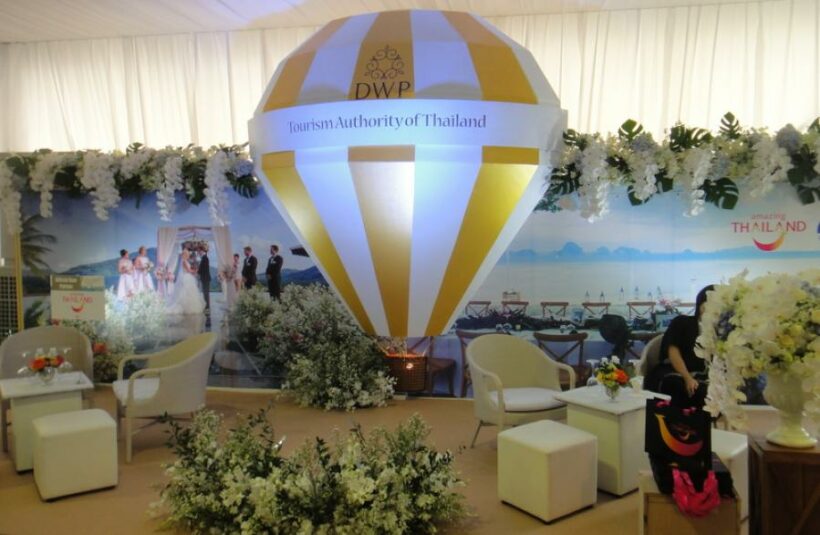 PHUKET: Phuket hosted the 4th Annual Destination Wedding Planners' Congress 2017 (DWP Congress 2017), a conference of global wedding planners that brought luxury destination wedding planners, leading suppliers and creative partners under one roof.
More than 450 global wedding planners from 65 countries participated in the event, which was held from May 2-4 and was the first of its kind to be held in Asia. It was organized by Dubai-based QnA International and hosted by the Tourism Authority of Thailand (TAT).
The three previous editions were held in Greece, Mauritius and Italy.
"The Thai Government has always recognized the importance of the wedding and honeymoon segment as one of the top generators of tourism revenue," said Minister of Tourism and Sports Kobkarn Wattanavrangkul.
"We aim to develop Thailand as the wedding hub of the Asean region," she added.
She added that the conference presented an opportunity to showcase what Thailand has to offer in terms of weddings and romance.
"Thai hospitality and services can make any dream wedding even more memorable, while the amazing Thai food is one of our strengths for a wedding reception. We can offer various styles of food, from international cuisine to authentic Thai dishes and from tasty Thai local food to Michelin-star food prepared by internationally renowned chefs," Ms Kobkarn said.
"Additionally, there are many honeymoon packages designed to match the once-in-a-lifetime experience that Thailand provides," she added.
Thailand has long been a hotspot for tourism, and has, in recent times, gained popularity as a venue for destination weddings and romance.
In a report generated by QnA International at the end of the 3rd DWP Congress in Florence last year, Thailand was frequently cited as a preferred or emerging destination of choice for couples from Europe, Africa, the Middle East and Australasia.
"We are delighted to welcome wedding planners and key influencers in the global wedding business to Phuket," said TAT Governor Yuthasak Supasorn.
"DWP Congress 2017 will be an opportunity for us to showcase our readiness and potential in promoting Thailand as an international romance destination, through our professionalism, hospitality, creativity, and of course, our well-known Thai touch," he said.
He added that other cities in Thailand would also make suitable wedding and honeymoon destinations, including Chiang Mai, Bangkok, Koh Samui and Krabi.
Akash Jain, Director of QnA International, said that there were many factors contributing to Thailand's rise in popularity as a destination wedding venue.
"As we know, Thailand is well-known for its luxurious beach and spa resorts, breathtaking views, pristine beaches, lively entertainment, amazing hospitality and mouth-watering cuisine – it's no surprise that it is one of the most popular locations picked for overseas weddings," said Mr Jain.
"Thailand is the first country in Asia to be chosen for this initiative, and these factors played a big role in selecting the destination and the experience it will provide to these high-profile buyers," he added.
Participation in the conference was by invitation only, making it highly-focused and exclusive to industry leaders.
— Sukawin Tanthavanich
Finance Ministry wants to give 1,500 baht to each domestic traveller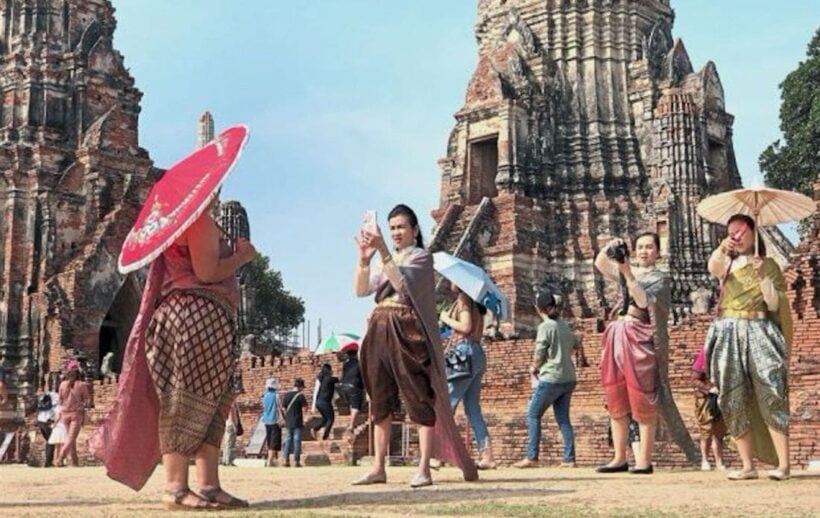 The Finance Ministry says they are launching a new stimulus package to boost the country's domestic tourism by giving Thais 1,500 baht each to spend when they travel to 55 provinces under the promotion campaign.
Under the campaign, Thais aged 18 and over can register for the program. The government will then deposit 1,500 baht into their accounts though the e-payment system. They can use the funds to make e-payments the shops that have joined the project.
"We are collaborating with the Tourism and Sport Ministry and Krung Thai Bank for the campaign and have set a budget of up to 15 billion baht. We will now propose the program to the deputy PM Somkid Jatusripitak and the cabinet to consider as soon as possible. We aim to launch the campaign before July this year," a source from the Finance Ministry said.
The ministry expects up to 10 million Thais to register for the program, he added.
SOURCE: The Nation
Bangkok named most popular city for Japanese tourists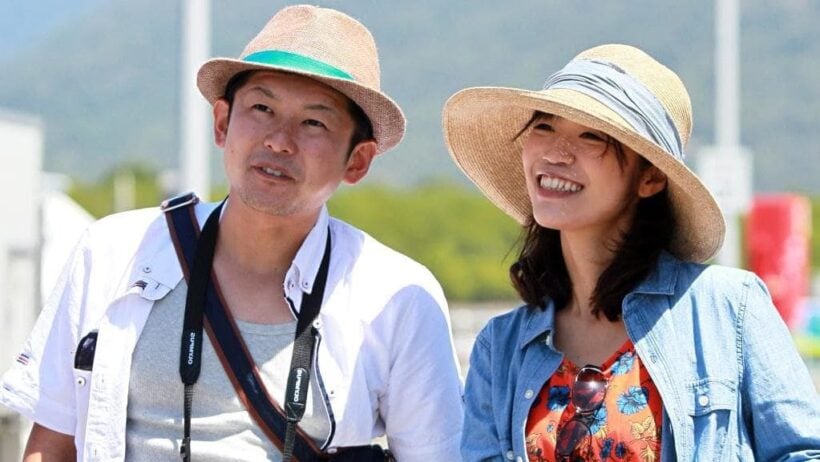 Thai PM Gen Prayut Chan-o-cha says he was happy after hearing that Bangkok was named the most popular destination for Japanese tourists during their Golden Week, a five-day long holiday which begins in late April.
The survey was conducted by Agoda, the online booking platform. Pattaya and Phuket were also ranked among the most popular destinations at #4 and #10 respectively.
"Japanese tourists are among the top 5 nationalities of foreign tourists visiting Thailand, particularly Bangkok where there are many beautiful attractions, delicious food, not-too-high cost of living, and friendly Thai people. The two countries's cultures are also quite similar. They can go along quite well," said a spokesperson for the PM.
Lt Gen Werachon Sukondhapatipak, the deputy spokesman of the Thai government, added that the PM loves to follow the updates on the tourism industry. Thai tourists love to escape the summer heat in Thailand, and visit Japan to experience the Japanese spring, visit popular tourist locations, sample authentic Japanese food and the Japanese people. The PM also invited the Thai people to be a good hosts, making all tourists feel welcome and helping keep them safe.
SOURCE: National News Bureau of Thailand
Bangkok luxury poised to push through the US$300 ceiling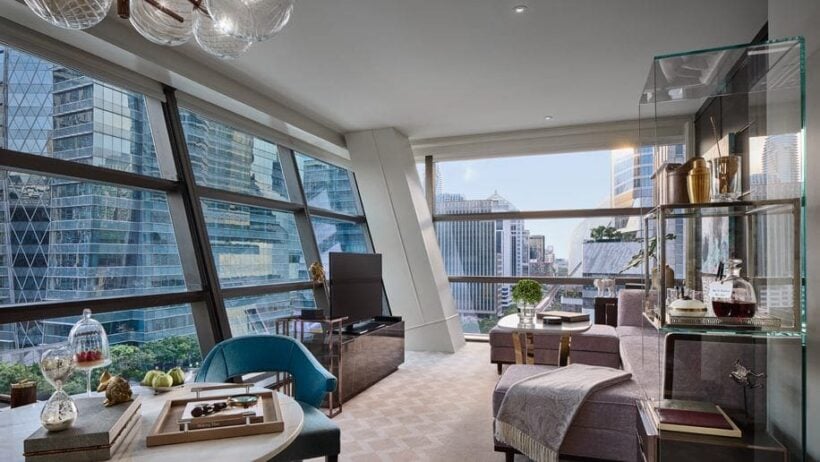 by Bill Barnett of c9hotelworks.com
PHOTOS: Rosewood Bangkok
For hotel owners and managers in South East Asia, one of the great mysteries of the past ten years has been the low rate profile of Bangkok's luxury hotel set. Despite soaring and sustained tourism growth, rising airlift and a strong economy, rates at Bangkok's top tier properties have remained fairly stagnant.
Have we reached the tipping point?
I had had the opportunity to visit the latest entry to the Bangkok luxury class a few days ago, the Rosewood. With 159 keys which includes a limited number of posh houses with private pools and terraces the property is seeing an exceptional response and already achieving high rates.
What's impressive about the entry is a take on the design approach that sees hotel developers apply a non-uniform approach with AvroKO coming in to focus on the restaurants and bars, while the rooms and public areas were led by Celia Chu Design and Associates.
While the speakeasy Lennon's has not be opened yet, the 6,000 record vinyl collection is impressive and the bar will clearly have a strong pull. Taking the approach to designing restaurants and not typical hotel outlets, the Chinese eatery Nan Bei is a breath of fresh air and limited seating provides a bespoke appeal.
Taking a step back, and looking at recent entries like the Waldorf Astoria, and upcoming 101 key Capella, what is clear is luxury properties are shifting in terms of key drivers of the segment of art, fashion, residential vibe, bar and restaurant offerings, wellness and events.
So, what about rates?
On a broad basis Bangkok's top tier hotels have averaged rates of US$200-240 for the past few years. This set has seen longer serving properties such as the St. Regis, Kempinski, and Okura effectively flatline on rates, though newer entries have come up including the Park Hyatt. On the broader horizon is the return of the Four Seasons and Capella by the river and the Orient Express at the MahaNakhon skyscraper.
With the entry of Rosewood driving rates, my expectation is that a few of the set will follow and at the end of 2019 we will set limited number of hotels crash through the US$300 average room rate barrier and effectively smash the legacy glass ceiling of Bangkok's luxury hotels.
As in any business there will be winners and losers. Smaller hotels with some rate leading premium key types will be able to push up average daily rates. Segmentation is another key and hotels on the river that lack substantial corporate numbers will remain challenged until transport links to the area improve.
Where in the world are Bangkok luxury hotels heading?
To sum up 2019, size and location matter, the shift on food and beverage and social events along with niches like wellness and  smaller meetings/weddings are the key to the future. As for the quantum leap in rates, it's about time Bangkok hoteliers be confident and push rates towards a more global norm.