Thai island vs Malaysian island – Phuket vs Penang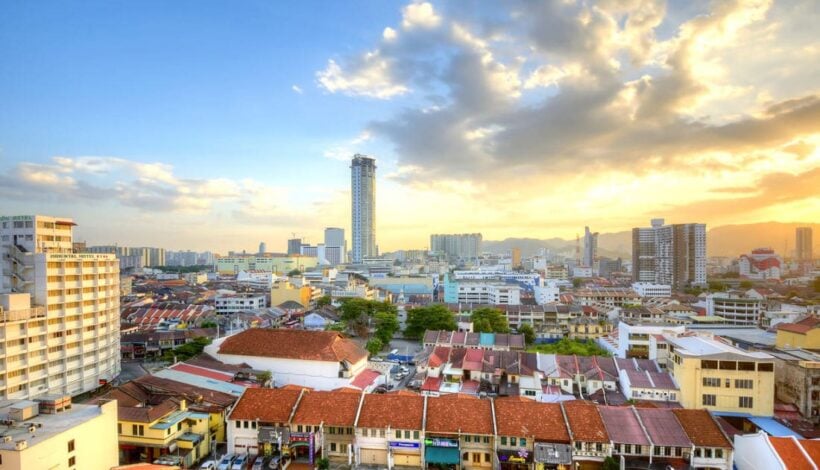 Two 'pearls' go head to head, including some reflections by guest writer TravellingMitch who's from the UK
Penang was once the 'Pearl of the Orient', for most western travellers the only 'orient' they would know outside of Singapore and maybe Hong Kong. At the time Phuket wasn't even known on the tourist map. It was the 1950s and 60s when jet travel had just started making the world smaller and the western middle class were in search of new and exotic locations.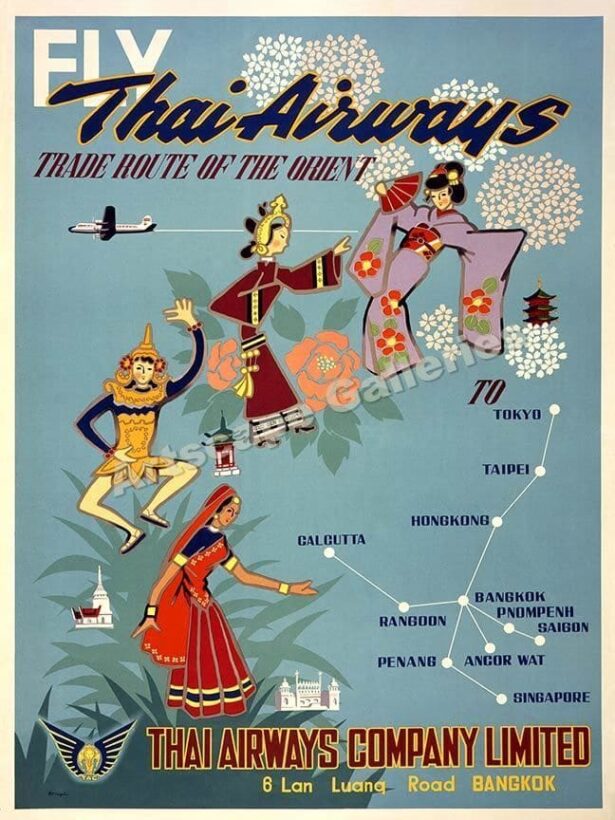 But Penang's popularity just fell off the map sometime in the 70s and 80s. In the mid 1970s people started to visit the little Thai island of Phuket and a new 'pearl' would go on to being a tourist favourite, and still is – Phuket, 'The Pearl of the Andaman'.
The two islands are, geographically, very close and share a similar history of both European and Chinese trading heritage. Walking around Phuket Town and Georgetown you'll see a lot of the same style of sino-porteuguese architecture although Penang has always had a lot more grand colonial buildings due to the British colonisation of Malaya.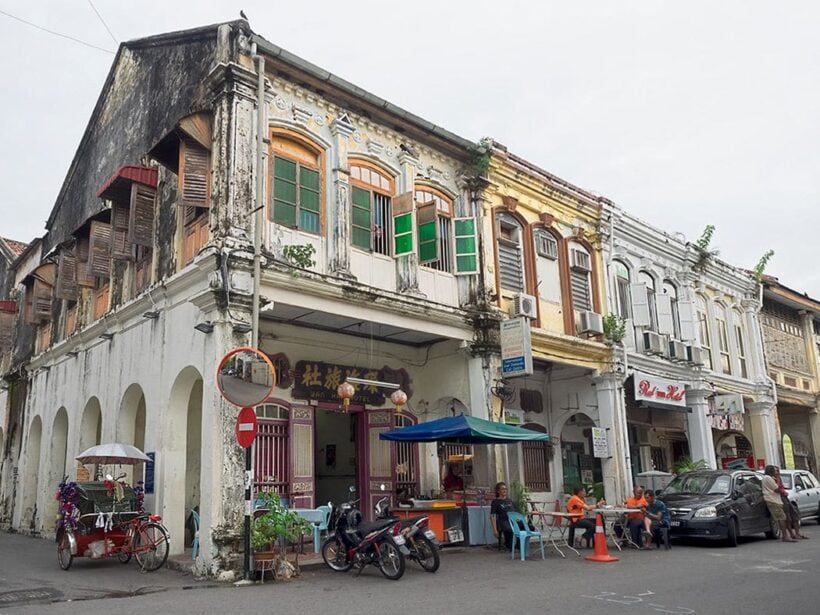 The most obvious difference is that Phuket has great beaches. Penang has few and the water isn't clear. Phuket has Patong and there's really no equivalent in Penang (many would argue that's a good thing).
Penang has much better roads and organised infrastructure, probably due to some early colonial planning and the large flat spaces for residential areas and towns.
And Phuket is Thai and Penang is Malaysian with all the cultural and religious differences that provide each island it's own distinct personality.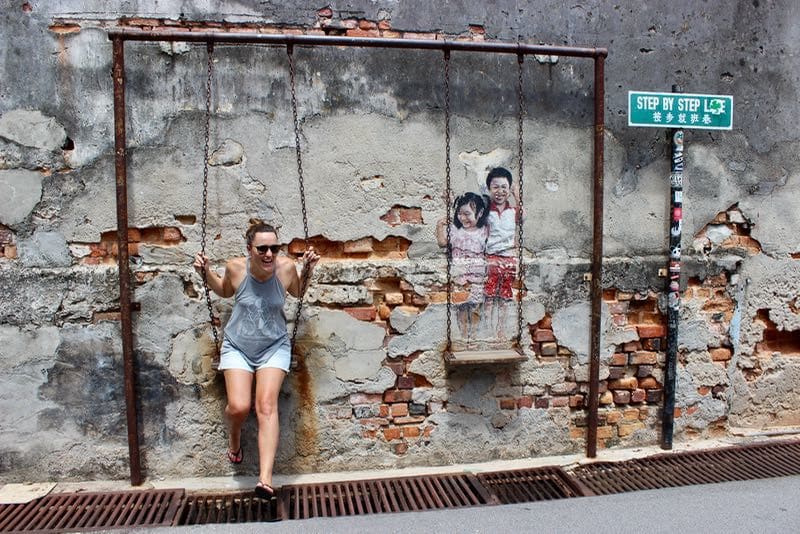 If you want to drive from one island to the other it will take about 9-10 hours and you'll cover 647 Km. There are now direct flights between the two islands with Firefly and Air Asia (it varies at different times of the year). As the crow flies, the islands are 357 kilometres apart. Firefly Airlines use a turbo prop aircraft and the flight is with Air Asia in an Airbus 320. In both cases the flight will take you around an hour, a bit faster in the jet. (Firefly is usually five days a week)
'TravellingMitch' travelled to the two islands back in 2010 and penned an article which, with permission, we've re-printed in bold.
Compared to Phuket, Penang is very low key. There is not the choice or variety of areas and scenery to stay in Penang as there are in Phuket. Penang is limited with its tourist areas, the town of Georgetown, and the beach resorts of Tanjung Bungah and Batu Ferringi, and the fact that the sea is not clear.
Having said that nothing is manic, like say Patong in Phuket, and Batu Ferringhi feels a bit like a small and quiet Karon or Kata. Tanjung Bungah is very quiet indeed. The hotels in the beach resorts in Penang are right on the beach.
Nothing much has changed since 2010, then…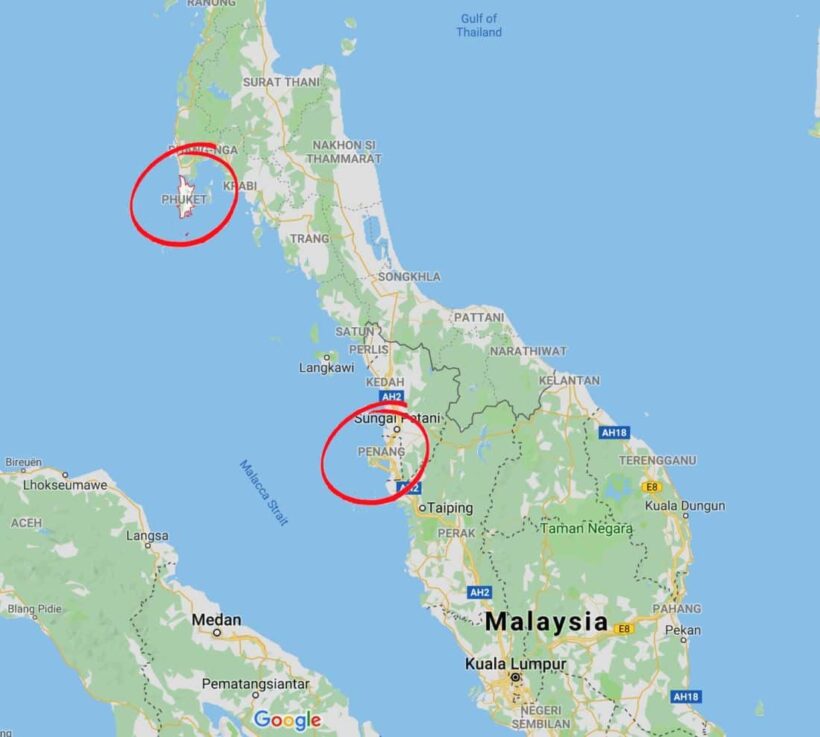 Phuket is a place where you can just about find it all. You want mega busy with bars, shops coming out of your ears, Phuket has it. You want to be partying all night, Phuket has it. You want remote 5* luxury, Phuket has it. You want something in between, Phuket has it.
I hate to say Phuket has it all, but will say that Phuket has a huge range and choice of hotels and locations when compared to Penang. Many of the more remote beaches have hotels right on the sand, and as they are only 20mins from places like Patong, are very popular.
Think that the 20 minute travelling time has blown out a bit since 2010…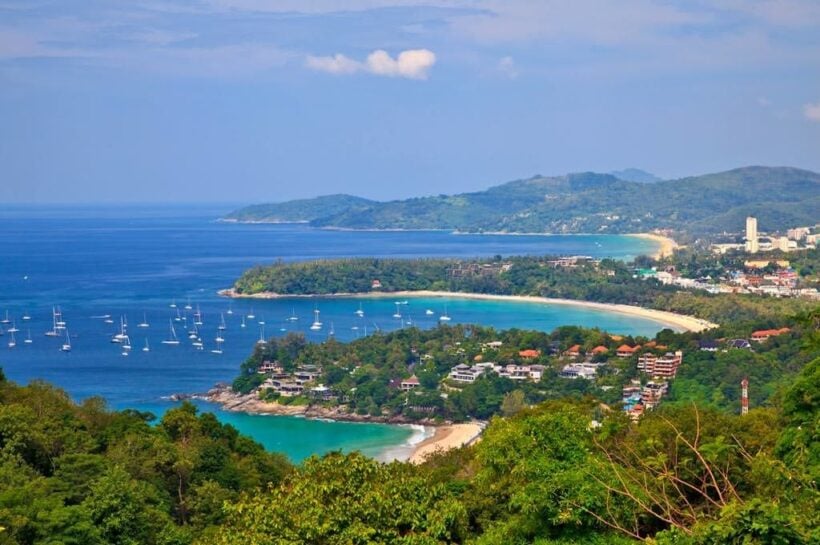 Penang is more sedate, and at the moment happy with being Penang. Only has 1, maybe 2 beach areas and the sea is a bit iffy but Penang is still a food heaven, has a much more laid back quality and does not have that really busy feel [even if it is] that you get in Phuket. Not much in the way of night life for those wanting to party until the early hours but there are a couple of night clubs in Georgetown. The only worry is if people try to turn Batu Ferringhi into Patong.
That hasn't happened, yet…
Phuket wins hands down on beaches. Penang does not compare. The water is clean and clear and snorkelling possible right off hotel beach even in the busiest resorts in Phuket whilst Penang is not so lucky.
And Penang doesn't have the assortment of islands off the main island that Phuket has…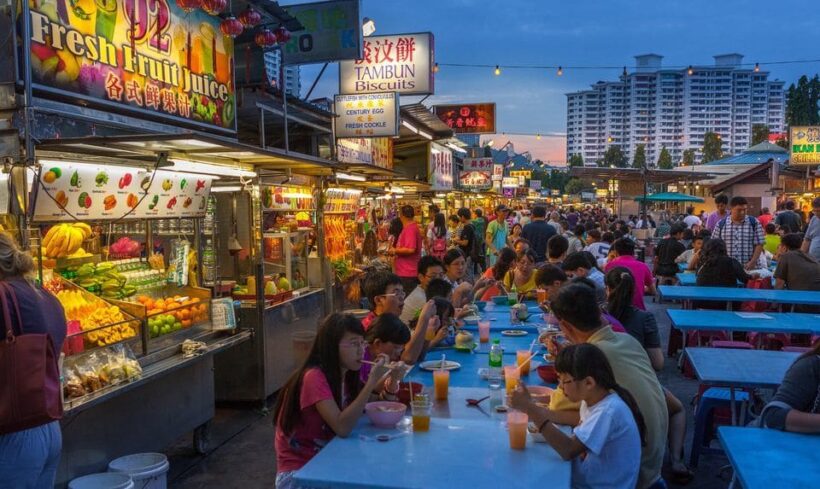 Both are equal contenders for food. There is a good choice of cheap local food around in both but in Penang you get a wonderful eclectic mix of Malaysia, Thai, South East Asian, Chinese and Indian. All are very, very tasty.
Penang's food scene is legendary and on-par with anywhere in the world offering excellent quality street and restaurant food. Phuket's street food tends to be more exclusively Thai.
Shopping, well, Phuket gets it, but only just, and that is because of there are more markets – a thing that Penang is limited in. Although the modern malls are the same the world round, and most modern malls you could be anywhere, Bluewater in the UK, or the Gurney Plaza / Queensbay in Penang or Central shopping malls or Jungceylon in Phuket. The brands and shops are pretty global and in the modern malls only the signs give the indication where you are.
Generally we found that the cost of clothes is about the same as the UK throughout both Malaysia and Thailand, be it the hi-end or mid range original items or replicas.
Bargaining is a necessity in SE Asia, and you will get a better deal the more you buy. There are some great replica products and some absolute rotters in both countries, shop wisely and expect to pay more for the better stuff, again prices are about the same.
Given the cheap price of clothes and other products in the UK and the weak pound when travelling, we often found we were actually paying more than we could at home.
That also hasn't changed but with the Thai baht surging it's making costs higher for international tourists than before. They both have great shopping options at both ends of the price spectrum.
There are some lovely souvenirs in both, and the usual household stuff like cushion covers and table runners, which are popular, throughout both Phuket and Penang. Although I would say that Phuket, with the larger number of markets does seem to have a larger choice.
But there's also a lot of copy-brand rubbish floating around Phuket markets. Turn your brain on before paying for your 150 baht Gucci T-shirt.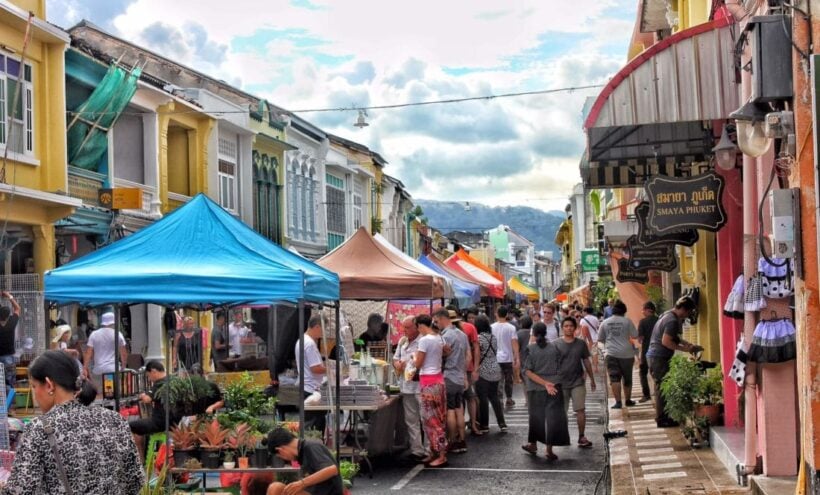 We always use local laundries to avoid the expensive hotel laundry fees. You will get a really good deal by the kilo for washing, and washing and ironing in both Penang and Phuket. Came back clean and fresh.
Hotels are pretty standard for both places, and not much to choose, a bad 3* and a wonderful 5* are pretty much the same the world round. There is a huge number of hotels in Phuket to pick from compared to the number in Penang. You do find many more really nice smaller boutique hotels in Phuket – and they are a real pleasure.
The 'boutique hotel' scene and the newer high rise 'residences' are a growing trend in Penang with superior planning and development controls than the haphazard condo boom in Phuket.
Both island have amazing sights both natural and man made. Both have the culture of their old towns, Georgetown and Phuket Town. There is a great choice of things to see and do, and as what to see and do is a very personal thing no one could get bored in either as long as they have done their homework.
Georgetown is a lot larger than Phuket Town and is a listed UNESCO World Heritage Site. This has dampened a lot of the renovation of the old shop houses in Georgetown compared to what we've seen around Phuket in the past decade. But you could wander around Georgetown for days whereas Old Phuket Town might take you an afternoon at best.
So, I guess there is no real comparison, they are both very different, and it will depend on what each person wants for their experience to which is the better option. Please don't go to one expecting the other. But if you do plenty of reading and research you will see which one is for you. Or you might be like us and love them both for what they are.
Couldn't agree more, thanks TravellingMitch.
AREA Phuket 576 Sq Km, Penang 1,048 Sq Km
POPULATION Phuket 480,000, Penang 1.7 million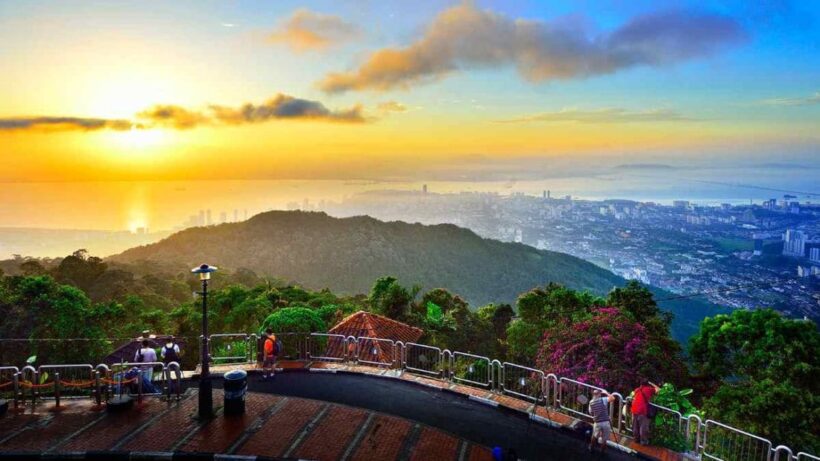 Looking to jettison some items before jetsetting away or chartering a yacht? Look no further than Thaiger Classifieds where you can find and post items, work, property and more for free. Be sure to check out YonderTours for things to do in Thailand and tours across the country.

Read more headlines, reports & breaking news in Phuket. Or catch up on your Thailand news.

Former BRN negotiator slams Thailand as being insincere at peace talks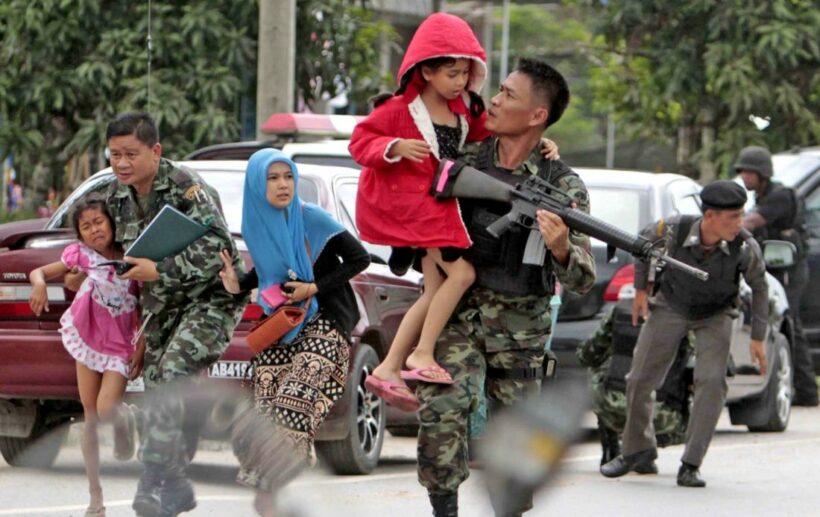 PHOTO: thailandchatter.com
A similar number of people have been killed in the Southern Insurgency in Thailand as in the conflicts at the Gaza Strip and West Bank in Palestine over the past 15 years. But the religious and realestate conflict at the southern Thai border with Malaysia has had a lot less international media coverage.
One of the Malay negotiators, who has been part of peace initiatives over the past four years, resigned in May. He has spoken to Benar News about his frustrations with Thai negotiators.
The lead negotiator, Sukree Hari, for Muslim rebels fighting for a separate state in southern Thailand, has slammed the Thai government as "insincere and indifferent" in peace talks.
He has headed a rebel delegation at peace talks with the Thai government for the past four years. He resigned in May this year citing health issues. He was part of a three-person delegation at talks representing the largest group fighting in Thailand's South, the Barisan Revolusi Nasional (BRN).
MARA Patani, the panel representing separatist groups and factions at the Malaysia-brokered talks, has not yet named a replacement for Sukree, according to its spokesman.
Sukree claimed the Thai government "is not sincere about resolving the conflict in Patani. The negotiations held thus far were a tactic for wasting Malay Patani people's time."
The talks involve to the three southernmost provinces of Thailand – Narathiwat, Pattani and Yala – and the ethnic Malay Muslims who live there.
"Whatever was agreed together at the negotiating table, the Thai side was not willing to sign, and that is clear proof that the Thai side was just pretending in the negotiations, playing for time," he said in a recent interview with BenarNews in northern Malaysia.
Talks launched in 2015 under the junta that ruled Thailand until earlier this month have been on hold, and their only outcome – a proposed ceasefire in one province or "safety zone" – never took place.
The negotiations were dogged by allegations that rebel leaders in touch with fighters on the ground were not participating in the talks and did not support the effort. But Sukree denied this.
When speaking to Benar News he declined to answer when asked if BRN was responsible for attacks in the south in recent years that are never claimed by any group but typically blamed on "militants" and "insurgent" by Thai security forces. The region has been under martial law almost continually since 2004.
In the latest attack yesterday (Wednesday), three soldiers patrolling a road in Bacho district of Narathiwat province were seriously injured when suspected insurgents detonated a bomb.
Read The Thaiger story HERE.
And on Monday, three marines were injured in a roadside bomb attack in the same district while traveling in a light armoured vehicle.
Thai officials meanwhile stress that talks were under way at various levels, although the last publicly announced formal meeting with MARA Patani was in 2017.
"At present, we still have peace talks in accordance with national strategy. The Thai government is always open for all dissident groups to talk, without forcing anyone to," retired Lt. Gen. Udomchai Thammasarorat, the chief Thai negotiator, told Benar News.
SOURCE: Benar News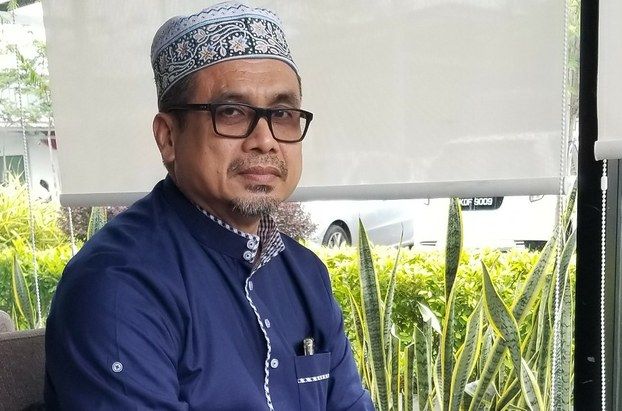 PHOTO: Sukree Hari – Nani Yusof/Benar News
Mystery 90 kilogram load was added to cargo flight list on MH370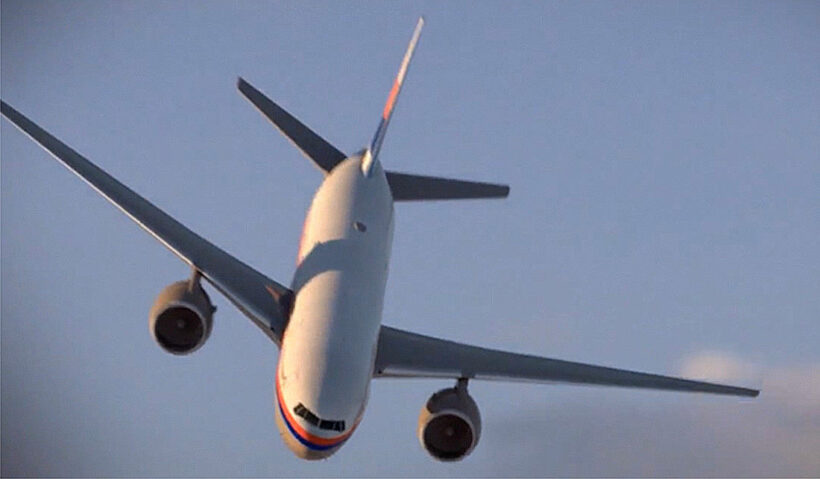 French investigators looking into the disappearance of the Malaysian Boeing 777, flight MH370, say they have discovered a previously undeclared 89 kilogram load that was only added to the cargo list after takeoff.
The sun.co.uk reports that French engineer Ghyslain Wattrelos, who lost his wife and two of his three children in the crash, detailed the claims to judges investigating the incident in Paris last week. France is the only country with an ongoing investigation into the mysterious incident. Four French citizens were lost when MH370 went missing.
He revealed that a container on the flight was also found to be overloaded, but no explanation was ever given.
"We learned that a mysterious load of 89 kilograms had been added to the flight list after takeoff," Ghyslain told French daily paper Le Parisien.
"A container was also overloaded, without anyone knowing why. It may be incompetence or manipulation. Everything is possible."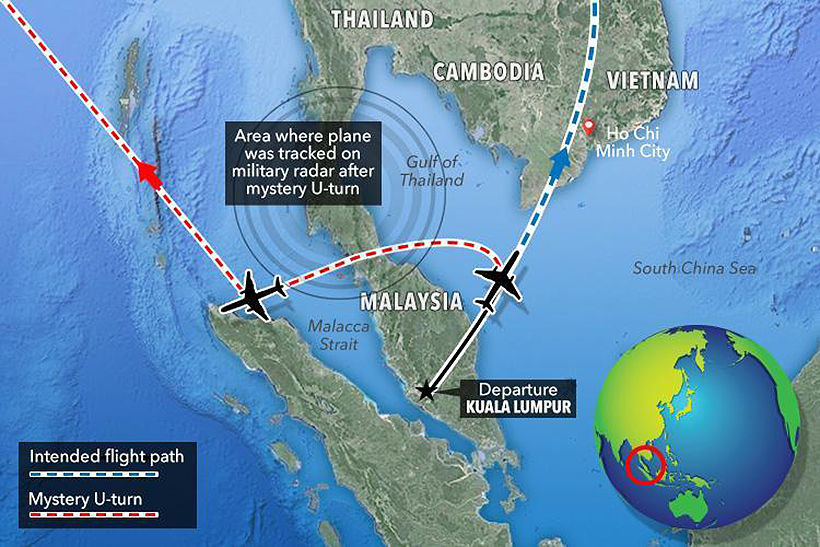 He also says investigations discovered versions of the flight's passenger list contradicted each other.
Theories about the crash have also focused on a shipment of lithium batteries that were on-board the plane. Two months after the disappearance, NNR Global revealed it had shipped 2,453 kilograms of items on the plane, of which 221 kilograms were lithium batteries.
Ghyslain posited the theory that the lithium batteries may have sparked a fire. But this theory has been investigated already in Malaysia and described as "highly improbable" by the Malaysian Government's final report into the crash last year.
Flight 370 disappeared on March 8, 2014 on a routine scheduled flight from KL, Malaysia, to Beijing in China with 239 people on-board. Just 38 minutes into the flight it lost contact with Malaysia Airlines.
Last week the same French investigation released a finding saying that someone "was in control of the plane" until the end.
Read that story from The Thaiger HERE.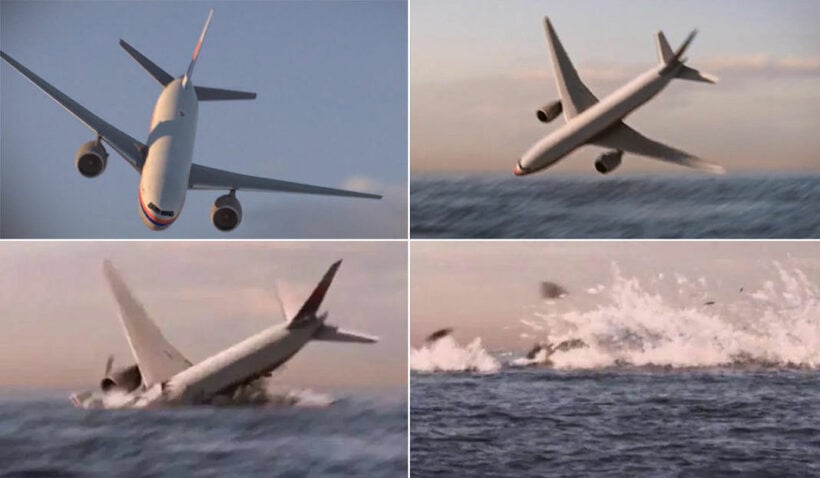 Artists impression of the final moments of MH370 and its 239 people onboard
Heading south at speed: The China–Laos railway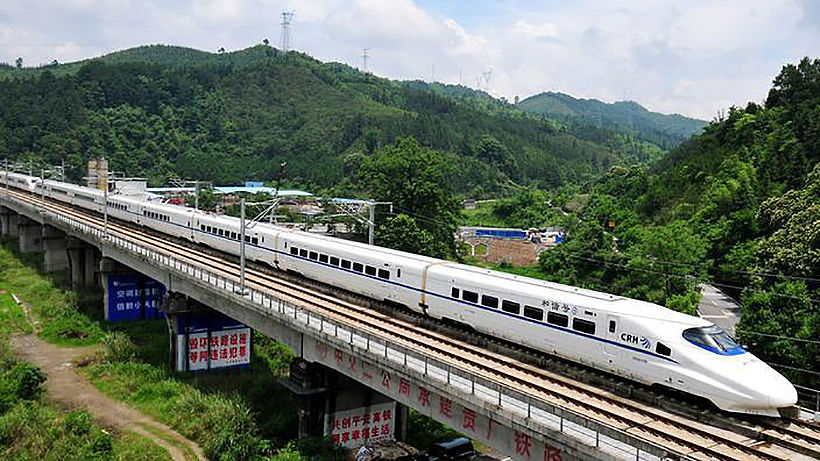 by Selina Ho, NUS
Laos is dependent on China to bankroll the US$7 billion project, raising concerns of being caught in a debt trap
The Kunming-Vientiane link will eventually connect with a railway line to Bangkok, and southward down the Malay peninsula to Singapore
The Laos section of the project is now half complete
Construction on the China–Laos railway began in December 2016 and involves six Chinese contractors from subsidiaries of the state-owned China Railway Group. Contractors now report that it's half-finished and is on schedule to be completed by December 2021.
The 414 kilometre railway line stretches from Boten, on Laos' northern border with China, to Vientiane, the Laos capital (map below). It will then connect with Thailand to Malaysia and Singapore as part of a pan-Asia railway that will eventually north-south from Kunming in Yunnan province all the way to Singapore.
The US$7 billion project is a showcase of Chinese President Xi Jinping's "Belt and Road Initiative" for rebuilding infrastructure along the ancient Silk Road from China to Africa and Europe.
The Laos government's role is to leverage its section of the railway to transform Laos from a 'landlocked' to a 'land-linked' country. Laos' one-party system has allowed the Lao People's Revolutionary Party, which has governed since 1975, to push ahead with the project. This is different from Thailand and Malaysia where opposition and countless 'reports' have slowed the progress southward.
The rapid progress in the China–Laos railway line has made it a poster child of the Belt and Road Initiative.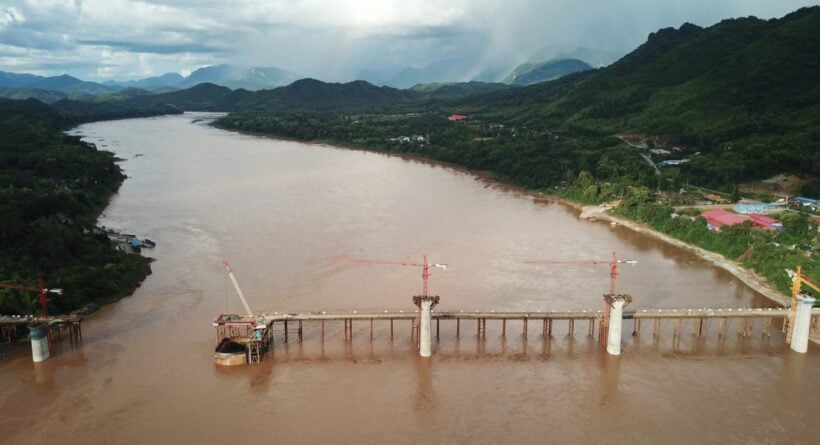 Construction of the railway has created more than 5000 jobs for the local people and 'changed the lives of local villagers whose dreams have now come true", according to Xinhua media in China.
But these upbeat reports from Chinese media gloss over the challenges in constructing the China–Laos section of the railway. Difficult terrain and geography mean that a total of 170 bridges and 72 tunnels have to be constructed through Laos' mountainous terrain.
Then there's the remnants of the Indochina War (Vietnam War) which left an enormous volume of unexploded ordnance. Construction companies have been forced to suspend construction temporarily to clear some of the unexploded ordnance.
Then there's been opposition from affected villagers. In October 2016 they were prevented from speaking at public meetings held to promote the project, to oppose the railway. In January 2018, the Lao government revealed that a compensation law had been drafted for compulsory acquisitions related to all Laos infrastructure projects.
The Laos government, based in Vientiane, has also been facing difficulties in coming up with its share of capital for the project. In March 2018, the Deputy Minister of Public Works and Transport had to urgently request approval of a budget of 510 billion kip (1.8 billion Thai baht or US$60 million) for Laos' 2018 contribution to the project.
In the long run, the line through Laos will have to connect with the Nong Khai–Bangkok high-speed railway in Thailand to make economic sense. But there are plenty more challenges ahead.
The planned extension of the railway line between Laos and Thailand at Thanaleng Station, 20 kilometres east of Vientiane was supposed to begin in late 2010 but was scrapped by the Lao authorities because they wanted to study in detail how the existing 1 metre gauge Laos–Thailand track could be joined to the 1.435 metre standard gauge China–Laos line. The extension only resumed in 2017, a delay of six years.
SOURCE: East Asia Forum | SCMP