More internal bickering for Democrats over split of cabinet seats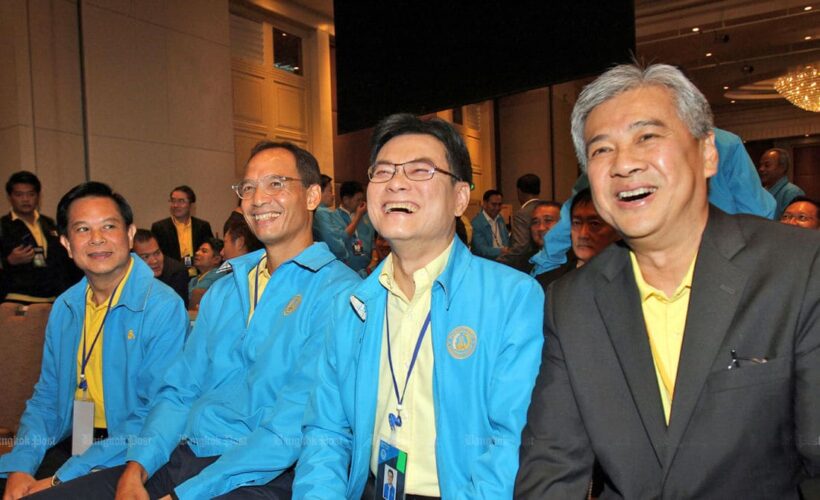 Democrat party MPs find themselves again torn over important decisions..
This time the party is split over the sharing of eight cabinet posts allocated to them by their leading coalition partner, Palang Pracharat. Last week the decided to side with the pro-Junta Palang Pracharat party to vote Prayut Chan-o-cha into the PM position. They'd campaigned on ensuring that Prayut wouldn't return as Thailand's PM. The party is currently riven with torn loyalties and differing opinions in the wake of a disastrous showing at the March 24 poll.
Democrats will meet today from 2pm to discuss who, among the party members, are qualified for the eight posts.
One deputy PM
Commerce minister
Agriculture minister
Social development and human security minister
Four deputy ministerial posts for transport, interior, public health and education
Former candidates are reported to have submitted a letter to the new party leader Jurin Laksanavisit proposing a new selection process for the would-be ministers. According to a source, part of the letter said, "…selection process must take into account the issue of seniority, fairness, priority for constituency MPs, competency and experience in the administration of the ministries concerned and gender equality."
Party secretary-general Chalermchai Sri-on, who played key role in negotiations with Palang Pracharat over cabinet seats, has been tipped to be the new agriculture minister in the Thai cabinet.
Keep in contact with The Thaiger by following our
Facebook page
.
Bad report card for PM Prayut after 6 months in office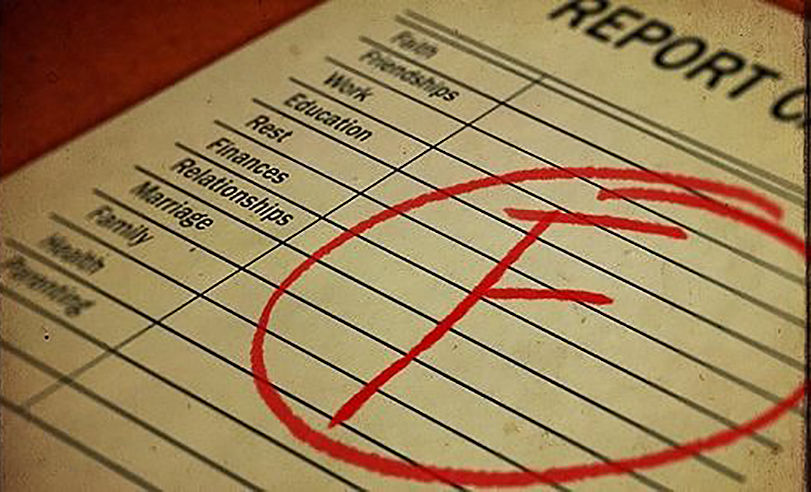 Thai PM Prayut Chan-o-cha has scored poorly in an opinion poll by the National Institute for Development Administration, or NIDA, after his first six months in office.
The poll ran from November 29-December 3 and included 1,278 adults from across Thailand with varying occupations and education levels. The purpose of the survey was to gauge satisfaction with the Thai PM's performance and members of his cabinet since the general election on March 24.
Asked about Prayut's overall performance, 34% said he has handled the economy badly, that justice has been ignored, and that public welfare has taken a back seat to the interests of his cronies. A further 26% called his performance "unsatisfactory" in other areas.
Only around 9% said Prayut has performed "very well," with 30% saying "fairly well."
Nearly 48% said he has a "strong determination to work for the country and the people'; an almost identical number said he has mainly worked to maintain power for himself and his cronies.
About 48% called the PM capable of making political and administrative decisions, while 46% disagreed, the Bangkok Post reports.
Roughly 62% called him a "military-style leader, 29% think he has "combined military and democratic" styles of leadership, and slightly less than 7% thought of him as a democratic leader.
About 61% thought the PM lacked the ability to solve the country's problems, and only 34% thought him competent. The remainder were uninterested or had no comment.
SOURCE: Bangkok Post
Keep in contact with The Thaiger by following our
Facebook page
.
Speaker demands to know how renegade MP could attend House vote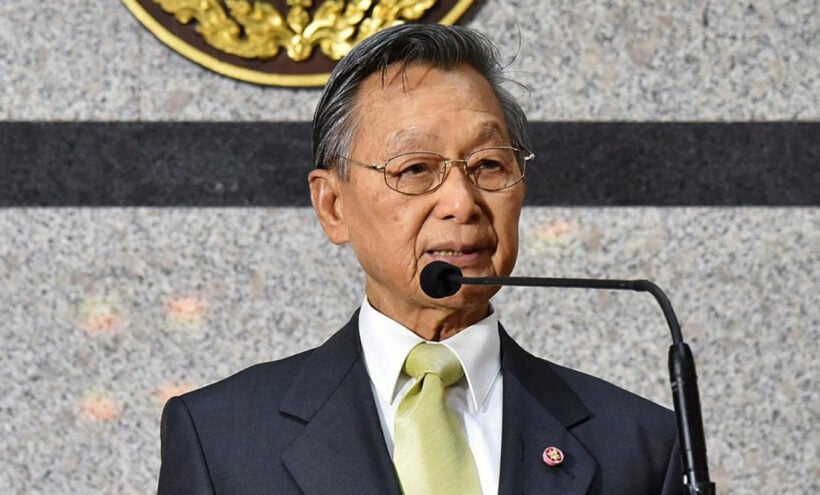 PHOTO: House Speaker Chuan Leekpai. "Please explain".
Parliamentary House Speaker Chuan Leekpai is demanding an investigation into why parliamentary security didn't arrest fugitive MP Waipote Arpornrat when he attended a House meeting on Wednesday.
Opposition MPs have voiced suspicion over the presence of Waipote, a member of the Palang Pracharat party, in the House chamber for a crucial vote over the creation of a panel to investigate orders issued under Section 44 of the 2017 interim constitution. Palang Pracharat is the most prominent party of the government's ruling coalition, and Waipote is wanted under an arrest warrant from the Supreme Court.
Palang Pracharat needs all members of the coalition to attend any vote as their house majority is now wafer-thin.
Chuan says he didn't chair the House session due to a doctor's appointment, and that he was unaware of Waipote's presence in the chamber.
Wednesday's House session was chaired by Suchart Tancharoen, the first Deputy House Speaker, who says he didn't order Waipote's arrest because the House of Representatives hadn't yet received a warrant from the Pattaya provincial court.
Suchart claimed that since his parliamentary status was still 'intact', Waipote could attend House meetings.
SOURCE: Thai PBS World
Keep in contact with The Thaiger by following our
Facebook page
.
Calls for Government to take shark fin soup off the menu at official functions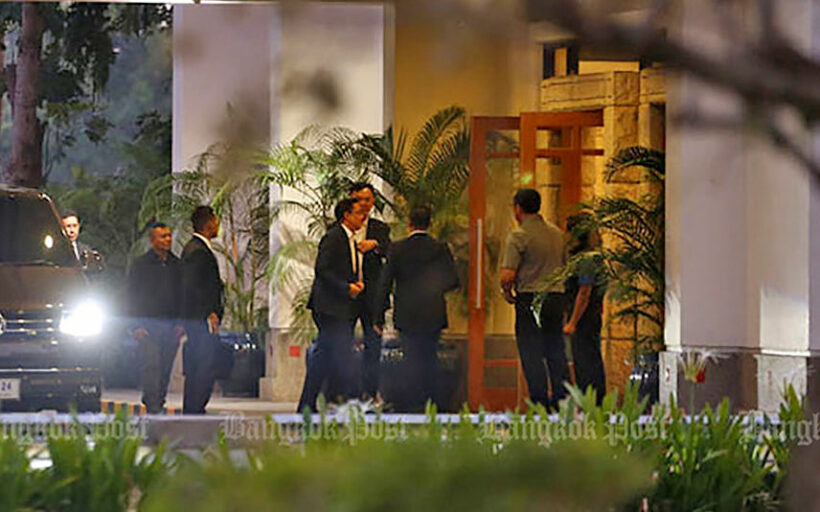 PHOTO: Government members arrive at the Rajpruek Club on Tuesday night for dinner including shark-fin soup – Pornprom Satrabhaya/Bangkok Post
Shark Fin-Gate has riled plenty of activists and opened up an environmental can of worms.
An environmental foundation is calling on the Government to stop serving shark fin soup at its functions, after it was revealed that the dish had been served at a government dinner earlier this week. See story HERE.
Thai PBS World reports that The Seub Nakhasathien Foundation is now asking the Government to review various projects they claim could have serious implications for the environment.
The organisation has sent a letter to the PM Prayut Chan-o-cha, saying the serving of shark fin soup at a government dinner was clear evidence of the indifference felt by officials about environmental issues, and proof of their insensitivity to protecting the country's natural resources. The infamous dinner on Tuesday night was held the day before Thai Environment Day.
Using data from a report published in the Marine Policy Scientific Journal, the foundation says about 100 million sharks are killed in a horrific manner each year for their fins. It calls on the government to issue an order to all state agencies to take shark fin soup off the menu at all official get-togethers and to lead by example for the rest of the country.
It's also asking for a review into some other projects it has serious concerns about. The group say that a project to divert water from one reservoir in western Thailand to another will seriously impact the Salak Phra wildlife sanctuary in Kanchanaburi, decimating its flora and fauna. They are calling on the government to change the route of the water diversion in order to protect the sanctuary.
In addition, they say a deep-sea port project in Pak Bara, southern Thailand, will have negative consequences for the Petra marine park, with the additional traffic and activity caused by the project affecting the park's marine ecosystem and the local tourism industry.
Also in the letter are calls for a delay to Bangkok's Chao Phraya riverside promenade project, saying the development will ruin the famous river's cultural and historical identity. They add that a sea walls project run by the government has been shown to be a futile attempt at stopping coastal erosion.
SOURCE: Thai PBS World
Keep in contact with The Thaiger by following our
Facebook page
.