Phuket Lifestyle: The Yankees are coming!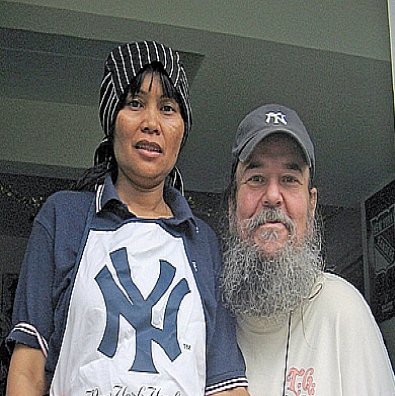 PHUKET: Patong's already wide selection of international cuisines just got a little larger, with the opening of its first New York-style delicatessen.
Big Bill's Deli, which officially opened for business in early December, is run by Dokmai "Flower" Khamkheukong, long-time companion of one of Phuket's one-of-a-kind expats: William Sawyer.
Better known as "Big Bill" or "Large William", Mr Sawyer has lived in Patong for twenty years. He is perhaps best known to Phuket people as the "Wizard of Rock and Roll" from his many years as resident DJ and chef at the Rock Hard a-go-go on Bangla Road.
Big Bill's passion for food goes back many years. A true survivor and "old hand", over 20 years ago he was running the kitchen at Derby King diner on Patpong Road in Bangkok. His love of filling deli fare had not come without cost. As his many friends know, Big Bill has battled weight problems over the years. Fortunately, he recently managed to shed 50 kilograms and although he is largely confined to a wheelchair these days, he is looking good and still getting lots of help from Flower, who tirelessly does all the cooking after years of apprenticeship.
Although Big Bill's Deli offers a wide range of classic deli fare, the layout of the single shophouse eatery is more like that of a small restaurant. At the front, where most delis would have a display case, is a small bar with a large television monitor where patrons can enjoy a beer with their sandwich. All of the cooking is done out back by Flower.
One of the most popular selections on the menu is not a New York specialty at all. It's the Philly cheese steak. Priced at 175 baht, this huge sandwich is made of thinly-sliced rib-eye steak grilled with American cheese (mercifully, not Cheese Whiz), all served with Bill's homemade New York style deli pickles, lettuce and tomato. A wide range of toppings are also available, including real jalapeño peppers, at a small extra cost.
For those who can't get enough of the pickles, these are available for takeaway purchase along with a number of other reasonably-priced deli classics like spicy brown mustard, Polish sauerkraut and homemade mushroom demi-glace sauce. The also carry a wide selection of frozen microwavable dinners, which can be found at Big Bill's or The Deli Supermarket in Patong.
Other bestsellers on the menu include the 250-baht Reuben, made with homemade corned beef, Swiss cheese and sauerkraut and served on caraway rye bread with real butter.
On my visit I tried the Italian-American sausage hero sandwich. Served on a baguette and smothered with tomato sauce, mozzarella and Parmesan cheese, this is one deliciously hearty sandwich — though it might be one to avoid if you have cholesterol problems.
For such a small venue, Big Bill's has it all: smoked salmon, bagels and lox, hot pastrami, shrimp PoBoy and the Turkado Delight: roast turkey, avocado and Swiss Emmentaler cheese, plus Russian dressing if you desire, all served on a baguette (225 baht).
For a Boston fan like this reviewer, the only hard thing to stomach at Big Bill's Deli is the profusion of New York sports team paraphernalia: Giants, Jets, Mets, Knicks and Rangers memorabilia, not to mention the dreaded New York Yankees insignia covering everything from kitchen plates to Flower's apron. The only nod to the mighty teams from Red Sox Nation to the north is a blasphemous reference to the most iconic structure in all of baseball: the Green Monster at Fenway Park in Boston.
Despite this, Big Bill's Deli is well worth a visit. Regular business hours are 11am to 10pm daily, except Mondays.

Big Bill's Deli is located at 162/11 Phang Muang Sai Kor Road, which runs behind the Jungceylon shopping complex. To get there from Jungceylon, travel south about one kilometer till you see the yellow sign on the left, then enter the residential estate where the deli is located. Parking is available and the restaurant is air-conditioned as needed.
— Stephen Fein
Keep in contact with The Thaiger by following our
Facebook page
.
Never miss out on future posts by
following The Thaiger
.
'Bread' krathongs are killing the fish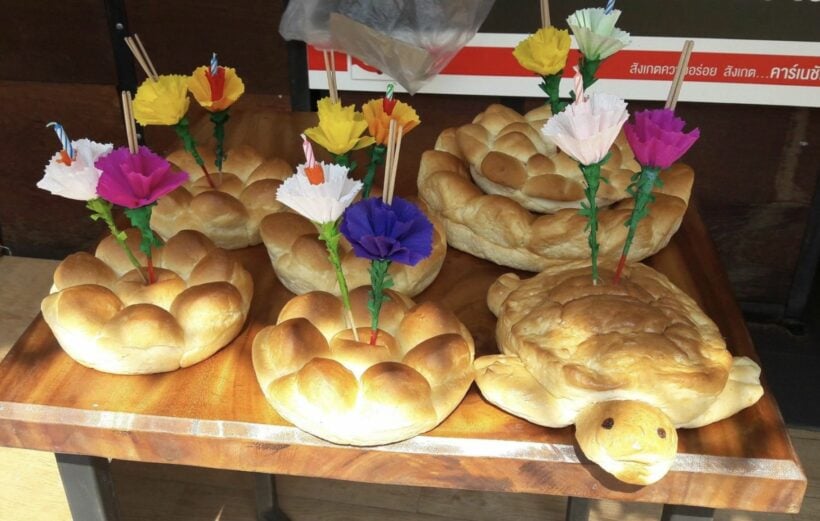 First it was no polystyrene or steel pins. The push was for natural, sustainable ratings as Thais floated away their woes in the annual celebration. Now there is a new warning that the "natural" kratongs, made from bread and edible ingredients, are causing river pollution.
Fish found in the river don't eat bread and the ingredients have broken down before cleaners remove the krathongs from the waters and along the shores.
Department of Fisheries' Wichan Ingsrisawang, is asking Krathong launchers, celebrating Loy Krathong Festival this evening, to be careful what they're pushing out onto Thailand's waterways. He noted that bread and ice cream cone krathongs have become increasingly popular over the past few years because people believed that fish would eat the au natural krathongs. After years of foam and polystyrene krathongs, held together with pins and plastic cable ties, became a clean up nightmare, authorities urged people to consider more environmentally-suitable components of their floating offerings.
Wichan says that the intention behind edible krathongs is good, "but the truth is that not all fish can eat these ingredients".
"Even if they can, there are too many krathongs for the fish to eat and they just end up stinking the river."
The situation is even worse in closed water catchments like temple and school ponds because the food ends up sinking and makes the water rotten over a long period time, killing the fish.
"The only fish that can eat these types of krathongs are herbivorous fish while thai rivers often have a lot of predatory fish including catfish and snakehead fish."
"If you intend to use edible krathongs because that is what you prefer or the kratongs have already been purchased then it is best to float them in open waters.
The best materials for a krathong are natural, plant-based products like banana tree trunk, spider lily plant, banana leaves, flowers, and wooden sticks to join all the materials. In the past krathongs were made from natural materials but the banana tree trunk later became replaced with polystyrene and foam and the krathongs decorated with plastic, sharp needles, and other materials that don't break down and cause pollution and a dangerous, unsightly mess.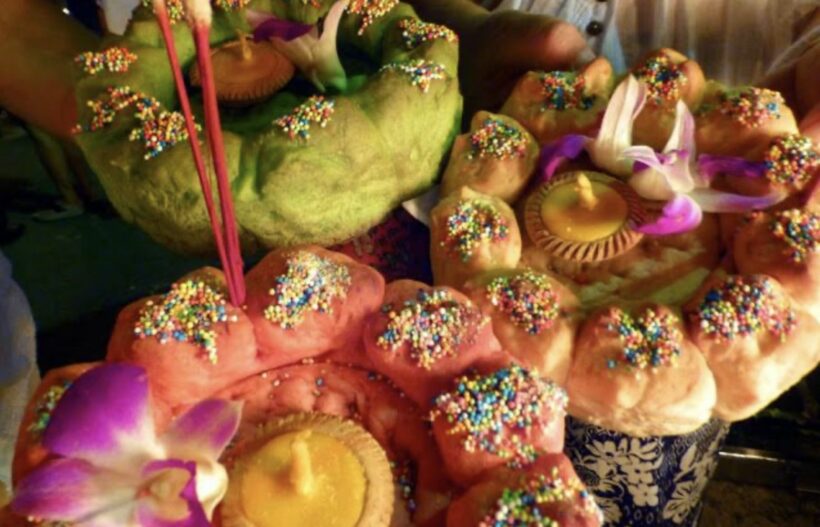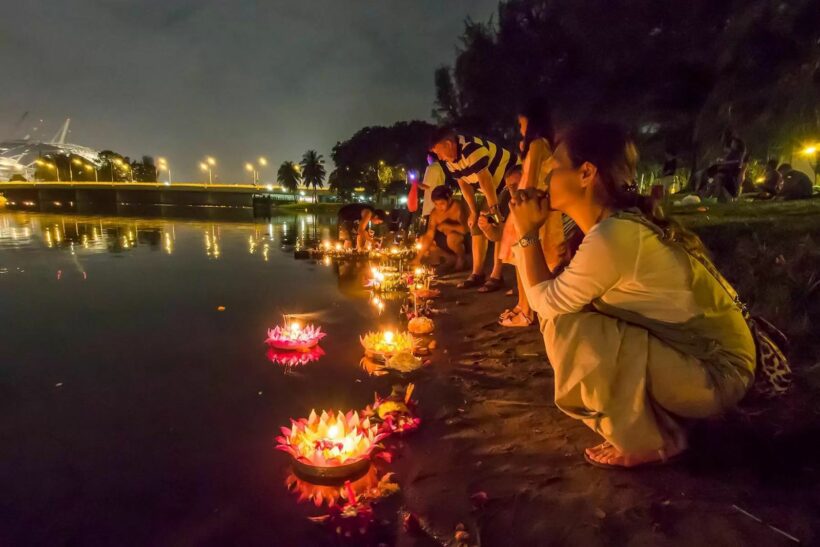 SOURCE: Thai Residents
Keep in contact with The Thaiger by following our
Facebook page
.
Never miss out on future posts by
following The Thaiger
.
The Isan Project honours a hero of Tham Luang cave rescue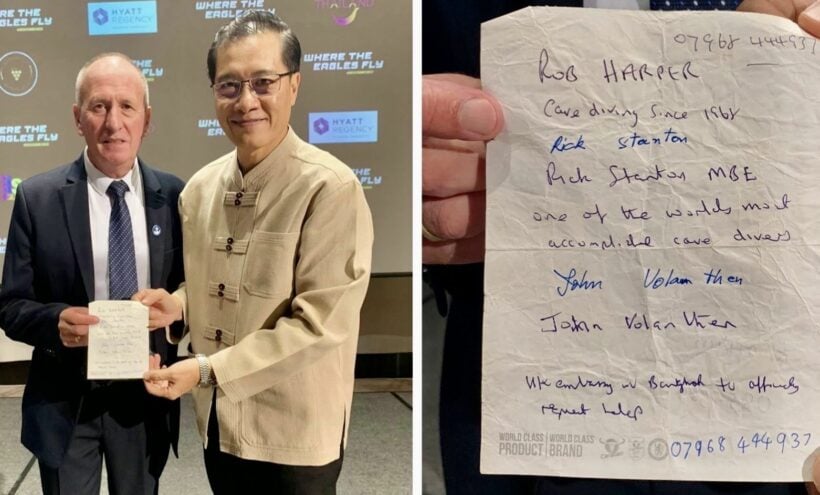 The Isan Project has collaborated with the TAT on new marketing campaign featuring music commemorating the Tham Luang cave rescue.
The story of how 13 young men, members of the Mu Pa (Wild Boar) football team, were saved in the caves of Chiang Rai continues to ignites interest in the miraculous internationally-followed rescue in July 2018 from the flooded Tham Luang cave
To honour the safe rescue music video company The Isan Projectrecently launched "Where the Eagles Fly", video to pay tribute to the British hero of the dramatic saga, Vern Unsworth MBE.
The release of a movie and Netflix mini series shortly will also boost interest globally in Thailand. The series includes the first individual interviews with the boys and they coach.
The launch, in collaboration with the Tourism Authority of Thailand, and supported by the Hyatt Regency Bangkok Sukhumvit and Serenity Wines, was attended by several key persons involved in the rescue mission two years ago, including former Tourism & Sports Minister, Weerasak Kowsurat, who played a major role in flying in special cave divers from the UK as requested by Vernon Unsworth, a recognised cave explorer, who knows virtually every inch of the Tham Luang cave.
"It is absolutely true that without Vernon's persistence in obtaining the help from the UK cave diving experts to initially spearhead the rescue mission, the boys and their coach would not be alive today."
"Needless to say, assistance from experienced and skilled cave divers from around the world, who later volunteered to join as well as our own Navy Seals, all contributed to the mission's ultimate success."
Vernon Unsworth MBE, his partner Woranan Ratrawiphakkun, and his caving buddy Kamon Kunngamkwamdee, all starred in the "Where the Eagles Fly" fantasy music video, which was set in deep jungle and caves in the mountain of Doi Nang Non in Chiang Rai, Thailand.
"I'm truly honoured to have this song written about me. It was very moving to relive parts of the rescue while making the music video, especially when I think back on how Kamon and I covered over 16 km. on the first day after we knew the boys were missing. We virtually lived in the cave for the first 4 days prior to the arrival of my cave diving colleagues from the UK".
The story of how the football team were saved in the caves is a heart warming one. For many attending the event it was a privilege and an honour to meet 63 year old Vernon Unsworth in person. An event filled with stories of bravery, emotion and moving music.
Vernon, who has mapped the cave system for 8 years, was the first professional cave diver at the site and realising the enormous danger the boys were in, played a significant rôle in the rescue and earned him the UK's high honour, an MBE medal.
As the rescue became a race against time ahead of impending monsoon rains, Vernon undertook reconnaissance dives upstream through flooded passages against strong currents.
Weerasak Kowsurat, the former Minister of Tourism and Sports, recalled how a message written on a piece of paper by Vernon and handed to his colleague for safe keeping with instructions that it was to be handed over in case Vernon, fearing the worst, didn't make it out on an exploratory dive. It was very dangerous work and one Thai diver died during the course of the rescue.
Although Vernon was safe, the message was handed to the Minister who was at the cave site. The message was to contact the British Dive Caving Association and gave names of expert divers and telephone numbers. Within 24 hours the Tourism Minister had managed to get the UK divers on a hastily arranged flight to Thailand to assist in the rescue effort.
The team of UK divers, working under appalling conditions and with time running out, in poor visibility located the team marooned on a ledge above the water about 4 kilometres inside the cave complex.
Writer and executive producer of The Isan Project, Will Robinson says… "Although I had penned and produced "Heroes of Thailand" honouring all those involved in the Tham Luang cave rescue, I felt it was time to pay a special tribute directly to the mastermind of the extremely complex mission."
"Vernon is such a humble man, I wanted to create a song not only to honour him, but also to establish Tham Luang and what is now known as the 'Wild Boar Cave', where the boys were found, as a new tourist attraction for those who love to explore caves."
At the beginning of the video it reads…
"On June 23, 2018, 12 boys from the Wild Boar football team went exploring the Tham Luang cave with their coach in Chiang Rai. They never returned home that night, next day locals contacted cave explorer Vern Unsworth in nearby Mae Fah Luang. Over the course of the next two weeks Vern put his life on the line for the young football team with a daring rescue engineered by Vern and Elite British cave divers. This song was written in honour of Vern Unsworth M.B.E. and inspired by the above events."
You can watch the video HERE.
Commenting on the Isan Project Tanes Petsuwan, TAT's Deputy Governor of Marketing Communications said, "TAT appreciates Will's love of Thailand, and we are delighted to be supporting this launch. We also believe that this song combined with the newly-published children's book, "All Thirteen" and the soon-to-be released Hollywood movie, "Thirteen Lives", will help to dramatically boost tourism in and around Chiang Rai even though we will need to rely mainly on domestic tourists until the end of the year while international travel is still restricted."
"Where the Eagles Fly", co-written by Will Robinson and Daniel Ryan, and performed by Daniel himself, is tipped to top the charts when the MGM blockbuster movie, "Thirteen Lives" and the Netflix mini-series about the epic story of the Tham Luang cave rescue are released. The song is now available from all digital music stores including iTunes, Spotify, Apple and Amazon.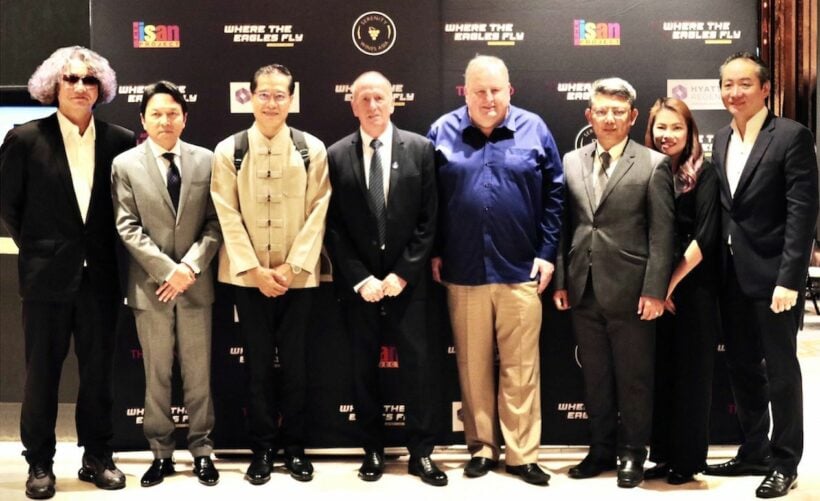 From left: Mr. Sobchai (Ford) Kraiyoonsen Singer/composer, Mr. Tanes Petsuwan TAT's Deputy Governor of Marketing Communications, Senator Weerasak Kowsurat former Minister of Tourism and Sports, Mr. Vern Unsworth British cave explorer, Mr. Will Robinson Writer and Executive Producer of The Isan Project, Mr. Nithee Seeprae TAT's Executive Director of Advertising & PR Department, Ms. Woranan Ratrawiphakkun Vern's partner, Mr. Sammy Carolus GM of the Hyatt Regency Bangkok Sukhumvit
Keep in contact with The Thaiger by following our
Facebook page
.
Never miss out on future posts by
following The Thaiger
.
The World's 50 Best Foods… Thai massaman curry tops the list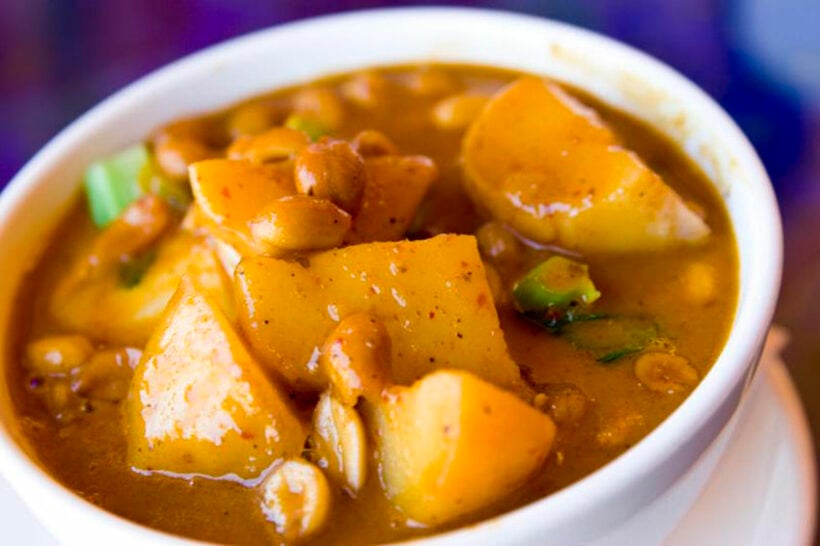 The humble Thai massaman curry has topped a list of the World's 50 Best Foods, compiled by the CNN Travel team. Thailand's smooth coconut milk and potato-based curry (add meat, tofu or vegetables of your choice) comes in at Number 1, with 2 other popular Thai dishes also making it into the World's Best food list.
The hot and spicy shrimp/prawn soup, Tom Yum Goong, comes in at Number 8, with papaya salad, aka somtam, in 46th place (mai phet please!) Tell us your favourite Thai dish, and why, in the comments section (below).
CNN Travel says its staff conducted extensive research on global cuisine to find the 50 best dishes ever created. Nice work if you can get it…
Italian pizza, Mexican chocolate, Japanese sushi, Chinese Peking duck, Penang Assam laksa, Malaysia and German Hamburger also top the delicious list.
Here's what the writers had to say about the 3 Thai dishes that made the top taste grade…
First Place, Massaman curryEmphatically the king of curries, and perhaps the king of all foods. Spicy, coconutty, sweet and savoury. Even the packet sauce you buy from the supermarket can make the most delinquent of cooks look like a Michelin potential. Thankfully, someone invented rice, with which diners can mop up the last drizzles of curry sauce. "The Land of Smiles" isn't just a marketing catch-line. It's a result of being born in a land where the world's most delicious food is sold on nearly every street corner.
Eighth Place, Tom Yum Kung
This best food Thai masterpiece teems with shrimp, mushrooms, tomatoes, lemongrass, galangal and kaffir lime leaves. Usually loaded with coconut milk and cream, the hearty soup unifies a host of favourite Thai tastes: sour, salty, spicy and sweet. Best of all is the price: cheap.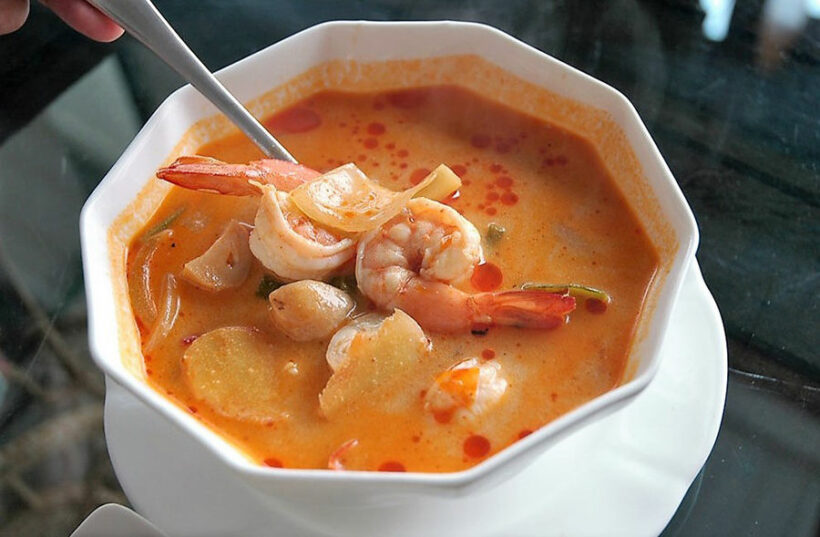 PHOTO: Richard Lee on Flickr
46th Place, Som Tam/Papaya salad
To prepare Thailand's most famous salad, pound garlic and chilies with a mortar and pestle. Toss in tamarind juice, fish sauce, peanuts, dried shrimp, tomatoes, lime juice, sugar cane paste, string beans and a handful of grated green papaya. Grab a side of sticky rice. Variations include those made with crab (som tam pu) and fermented fish sauce (som tam pla ra), but none matches the flavour and simple beauty of the original.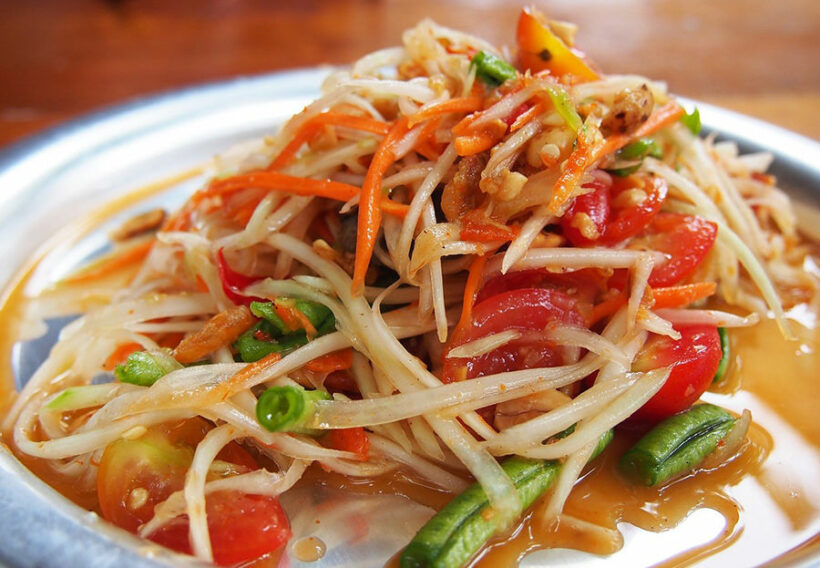 PHOTO: www.needpix.com
SOURCE: Thai Residents | CNN Travel
Keep in contact with The Thaiger by following our
Facebook page
.
Never miss out on future posts by
following The Thaiger
.