Phuket Lifestyle: Kata's hot spot to chill by the sea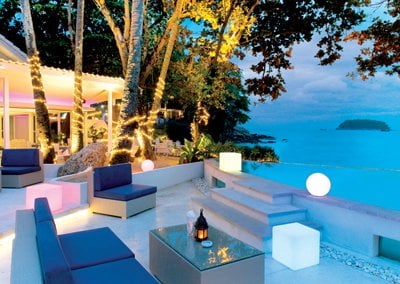 PHUKET: RE KÁ TA (doesn't that name shout out loud?) is the newest incarnation of the passed-away Oasis, next to Boathouse at Kata Beach. The base for the annual King's Cup Regatta, it's not hard to see how the place got its spiffy name.
Essentially, RE KÁ TA is a beach club: Simply lay your 1,000 baht down and you'll get full amenities, such as a swimming pool, a potentially amusing "walk-through" automatic shower that I'll lay heavy odds will be the demise of some cell-phone-toting, inebriated punter sooner rather than later (the gate-like structure lies directly on the way to the rest rooms), towels, sun deck and more. Oh, and the 1,000 buckaroos gives you exactly that much credit at the bar and restaurant. Clever, or what?
It's a trendy, "look at me" sort of place, designed by Fredo Taffin, the same artist who created Ku De Ta, Bali's famous club-restaurant-beach bar. It's also the stomping ground of South African Executive Chef Bryan Burger. Now, before the obvious jokes and puns are wheel-chaired out it has to be recounted that Le Meridien Resort and Spa, up the coast in Karon, was once managed by a certain Monsieur "Hotelier", demonstrating that fitting names in the hospitality industry aren't that rare. And, even though you can score a burger at RE KÁ TA, the emphasis is firmly on healthy dishes that, having been purposely cooked below 42 degrees centigrade, retain their life-preserving enzymes and vitamins.
Our first impression of RE KÁ TA is of the music tumbling out of the German-designed sound system serving the pool and bar area (the restaurant and beach terrace are more conducive to conversation). Here, we take in a few Italian and Brazilian ballads with groovy hip-hop and at one point Charles Aznavour, for goodness' sake. Still, it's all set at an acceptable volume level, but don't count on napping through Happy Hour.
The alfresco lounge section features faux water hyacinth sofas and tables with innovative lighting, pastel-colored parasols and vivid throw cushions along with that automatic shower trap. Further towards the beach, you'll find a medium-sized restaurant fitted out in a blue-and-white theme that leads onto a beach terrace crowned by tropical almond trees daily housing the noisiest dusk-chorus of sparrows imaginable.
As you can imagine, it's all very jolly, holiday-like and distinctive, especially when a passing waiter flips over what had appeared to be a randomly placed balloon, presses a button and magically turns it into a light. He does the same with a chair; never a dull moment here.
So what of the food? RE KÁ TA's "Living Cuisine" concept is not a unique culinary movement as organic food and restaurants have been around for quite a while, but dining beachside in chic, modern surroundings with healthily prepared ingredients certainly scores plus points. Grilled sea scallops with rum jelly on a bed of diced mango works well, as does an incredibly al dente salmon dish. For mains, snow fish in a pastry crust that provides just the right amount of saltiness to complement the fish is almost near damn perfect; but then I'm a fish lover. For the carnivores among us, seared wagyu beef on vanilla risotto with beef and mushroom jus is filling to the extreme.
Happy juice? An adequate 14-label list does the business with a spanking Languedoc complementing the evening's proceedings. And, being beachside, there is no shortage of mini-umbrella-adorned alcoholic concoctions. RE KÁ TA's certainly the real thing and ideal for party groups who are looking for a beach experience without the vendor-hassle ingredient.
RE KÁ TA is Open from 9am to Midnight daily, T: 076-330421, E: [email protected].
— Sam Wilko
Bangkok named most popular city for Japanese tourists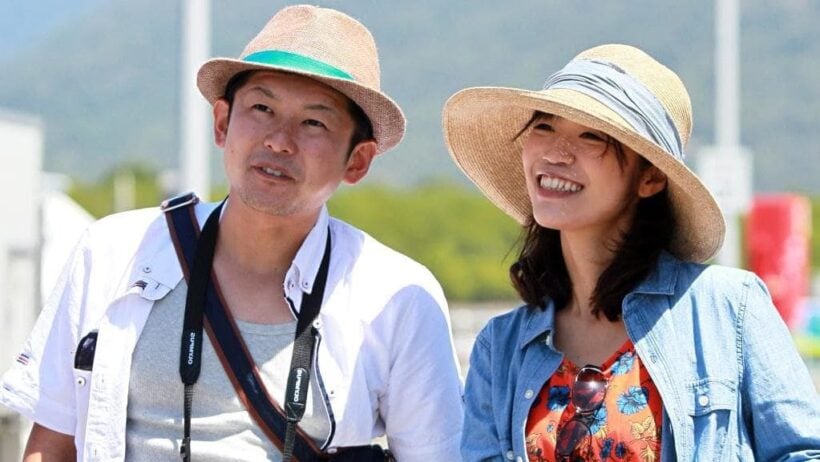 Thai PM Gen Prayut Chan-o-cha says he was happy after hearing that Bangkok was named the most popular destination for Japanese tourists during their Golden Week, a five-day long holiday which begins in late April.
The survey was conducted by Agoda, the online booking platform. Pattaya and Phuket were also ranked among the most popular destinations at #4 and #10 respectively.
"Japanese tourists are among the top 5 nationalities of foreign tourists visiting Thailand, particularly Bangkok where there are many beautiful attractions, delicious food, not-too-high cost of living, and friendly Thai people. The two countries's cultures are also quite similar. They can go along quite well," said a spokesperson for the PM.
Lt Gen Werachon Sukondhapatipak, the deputy spokesman of the Thai government, added that the PM loves to follow the updates on the tourism industry. Thai tourists love to escape the summer heat in Thailand, and visit Japan to experience the Japanese spring, visit popular tourist locations, sample authentic Japanese food and the Japanese people. The PM also invited the Thai people to be a good hosts, making all tourists feel welcome and helping keep them safe.
SOURCE: National News Bureau of Thailand
Bangkok luxury poised to push through the US$300 ceiling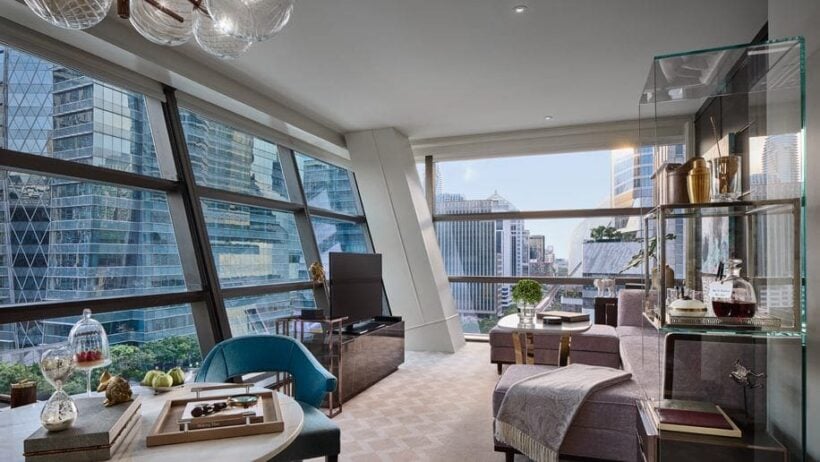 by Bill Barnett of c9hotelworks.com
PHOTOS: Rosewood Bangkok
For hotel owners and managers in South East Asia, one of the great mysteries of the past ten years has been the low rate profile of Bangkok's luxury hotel set. Despite soaring and sustained tourism growth, rising airlift and a strong economy, rates at Bangkok's top tier properties have remained fairly stagnant.
Have we reached the tipping point?
I had had the opportunity to visit the latest entry to the Bangkok luxury class a few days ago, the Rosewood. With 159 keys which includes a limited number of posh houses with private pools and terraces the property is seeing an exceptional response and already achieving high rates.
What's impressive about the entry is a take on the design approach that sees hotel developers apply a non-uniform approach with AvroKO coming in to focus on the restaurants and bars, while the rooms and public areas were led by Celia Chu Design and Associates.
While the speakeasy Lennon's has not be opened yet, the 6,000 record vinyl collection is impressive and the bar will clearly have a strong pull. Taking the approach to designing restaurants and not typical hotel outlets, the Chinese eatery Nan Bei is a breath of fresh air and limited seating provides a bespoke appeal.
Taking a step back, and looking at recent entries like the Waldorf Astoria, and upcoming 101 key Capella, what is clear is luxury properties are shifting in terms of key drivers of the segment of art, fashion, residential vibe, bar and restaurant offerings, wellness and events.
So, what about rates?
On a broad basis Bangkok's top tier hotels have averaged rates of US$200-240 for the past few years. This set has seen longer serving properties such as the St. Regis, Kempinski, and Okura effectively flatline on rates, though newer entries have come up including the Park Hyatt. On the broader horizon is the return of the Four Seasons and Capella by the river and the Orient Express at the MahaNakhon skyscraper.
With the entry of Rosewood driving rates, my expectation is that a few of the set will follow and at the end of 2019 we will set limited number of hotels crash through the US$300 average room rate barrier and effectively smash the legacy glass ceiling of Bangkok's luxury hotels.
As in any business there will be winners and losers. Smaller hotels with some rate leading premium key types will be able to push up average daily rates. Segmentation is another key and hotels on the river that lack substantial corporate numbers will remain challenged until transport links to the area improve.
Where in the world are Bangkok luxury hotels heading?
To sum up 2019, size and location matter, the shift on food and beverage and social events along with niches like wellness and  smaller meetings/weddings are the key to the future. As for the quantum leap in rates, it's about time Bangkok hoteliers be confident and push rates towards a more global norm.
Third runway for BKK Suvarnabhumi Airport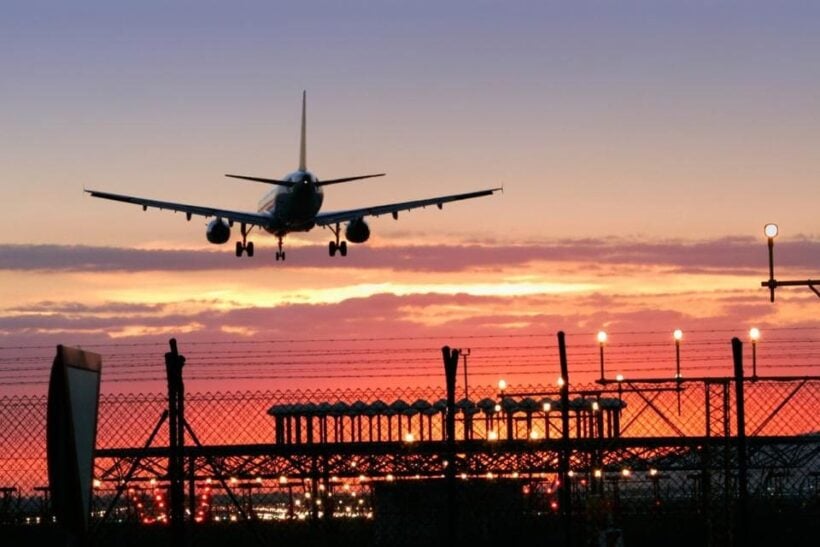 The Thai cabinet yesterday approved the construction of a third runway at Suvarnabhumi International Airport as part of the country's ambition to become the aviation hub of ASEAN.
The 21.7 billion baht project will increase the combined capacity of Suvarnabhumi international airport's runways to 94 arrivals and departures per hour from the current 64, said Lt-Gen Weerachon Sukonthapatipak, deputy government spokesman.
Suvarnabhumi Airport (aka. BKK) was opened in 2006 as Bangkok's second airport. Initially it replaced the tired Don Mueang Airport but Don Mueang was later revamped as a low-coast airport to service the growing traffic demands.
Meanwhile Suvarnabhumi Airport was, and still is, operating above its designed capacity. An earlier bid to build a third terminal has been mired in controversy and is currently shelved pending a new brief from Airports of Thailand with a new round of design bids called for in the future.