Phuket Lifestyle: Kata's hot spot to chill by the sea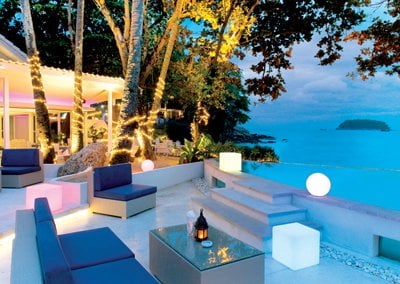 PHUKET: RE KÁ TA (doesn't that name shout out loud?) is the newest incarnation of the passed-away Oasis, next to Boathouse at Kata Beach. The base for the annual King's Cup Regatta, it's not hard to see how the place got its spiffy name.
Essentially, RE KÁ TA is a beach club: Simply lay your 1,000 baht down and you'll get full amenities, such as a swimming pool, a potentially amusing "walk-through" automatic shower that I'll lay heavy odds will be the demise of some cell-phone-toting, inebriated punter sooner rather than later (the gate-like structure lies directly on the way to the rest rooms), towels, sun deck and more. Oh, and the 1,000 buckaroos gives you exactly that much credit at the bar and restaurant. Clever, or what?
It's a trendy, "look at me" sort of place, designed by Fredo Taffin, the same artist who created Ku De Ta, Bali's famous club-restaurant-beach bar. It's also the stomping ground of South African Executive Chef Bryan Burger. Now, before the obvious jokes and puns are wheel-chaired out it has to be recounted that Le Meridien Resort and Spa, up the coast in Karon, was once managed by a certain Monsieur "Hotelier", demonstrating that fitting names in the hospitality industry aren't that rare. And, even though you can score a burger at RE KÁ TA, the emphasis is firmly on healthy dishes that, having been purposely cooked below 42 degrees centigrade, retain their life-preserving enzymes and vitamins.
Our first impression of RE KÁ TA is of the music tumbling out of the German-designed sound system serving the pool and bar area (the restaurant and beach terrace are more conducive to conversation). Here, we take in a few Italian and Brazilian ballads with groovy hip-hop and at one point Charles Aznavour, for goodness' sake. Still, it's all set at an acceptable volume level, but don't count on napping through Happy Hour.
The alfresco lounge section features faux water hyacinth sofas and tables with innovative lighting, pastel-colored parasols and vivid throw cushions along with that automatic shower trap. Further towards the beach, you'll find a medium-sized restaurant fitted out in a blue-and-white theme that leads onto a beach terrace crowned by tropical almond trees daily housing the noisiest dusk-chorus of sparrows imaginable.
As you can imagine, it's all very jolly, holiday-like and distinctive, especially when a passing waiter flips over what had appeared to be a randomly placed balloon, presses a button and magically turns it into a light. He does the same with a chair; never a dull moment here.
So what of the food? RE KÁ TA's "Living Cuisine" concept is not a unique culinary movement as organic food and restaurants have been around for quite a while, but dining beachside in chic, modern surroundings with healthily prepared ingredients certainly scores plus points. Grilled sea scallops with rum jelly on a bed of diced mango works well, as does an incredibly al dente salmon dish. For mains, snow fish in a pastry crust that provides just the right amount of saltiness to complement the fish is almost near damn perfect; but then I'm a fish lover. For the carnivores among us, seared wagyu beef on vanilla risotto with beef and mushroom jus is filling to the extreme.
Happy juice? An adequate 14-label list does the business with a spanking Languedoc complementing the evening's proceedings. And, being beachside, there is no shortage of mini-umbrella-adorned alcoholic concoctions. RE KÁ TA's certainly the real thing and ideal for party groups who are looking for a beach experience without the vendor-hassle ingredient.
RE KÁ TA is Open from 9am to Midnight daily, T: 076-330421, E: [email protected].
— Sam Wilko
Keep in contact with The Thaiger by following our
Facebook page
.
Never miss out on future posts by
following The Thaiger
.
The Isan Project honours a hero of Tham Luang cave rescue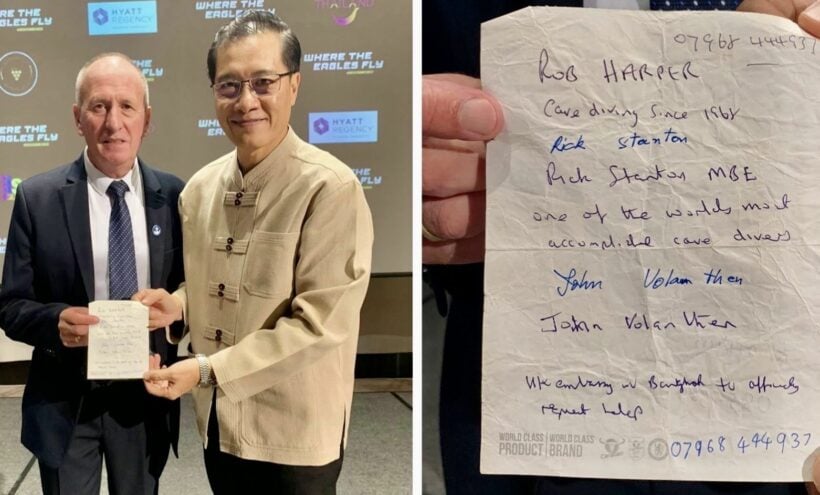 The Isan Project has collaborated with the TAT on new marketing campaign featuring music commemorating the Tham Luang cave rescue.
The story of how 13 young men, members of the Mu Pa (Wild Boar) football team, were saved in the caves of Chiang Rai continues to ignites interest in the miraculous internationally-followed rescue in July 2018 from the flooded Tham Luang cave
To honour the safe rescue music video company The Isan Projectrecently launched "Where the Eagles Fly", video to pay tribute to the British hero of the dramatic saga, Vern Unsworth MBE.
The release of a movie and Netflix mini series shortly will also boost interest globally in Thailand. The series includes the first individual interviews with the boys and they coach.
The launch, in collaboration with the Tourism Authority of Thailand, and supported by the Hyatt Regency Bangkok Sukhumvit and Serenity Wines, was attended by several key persons involved in the rescue mission two years ago, including former Tourism & Sports Minister, Weerasak Kowsurat, who played a major role in flying in special cave divers from the UK as requested by Vernon Unsworth, a recognised cave explorer, who knows virtually every inch of the Tham Luang cave.
"It is absolutely true that without Vernon's persistence in obtaining the help from the UK cave diving experts to initially spearhead the rescue mission, the boys and their coach would not be alive today."
"Needless to say, assistance from experienced and skilled cave divers from around the world, who later volunteered to join as well as our own Navy Seals, all contributed to the mission's ultimate success."
Vernon Unsworth MBE, his partner Woranan Ratrawiphakkun, and his caving buddy Kamon Kunngamkwamdee, all starred in the "Where the Eagles Fly" fantasy music video, which was set in deep jungle and caves in the mountain of Doi Nang Non in Chiang Rai, Thailand.
"I'm truly honoured to have this song written about me. It was very moving to relive parts of the rescue while making the music video, especially when I think back on how Kamon and I covered over 16 km. on the first day after we knew the boys were missing. We virtually lived in the cave for the first 4 days prior to the arrival of my cave diving colleagues from the UK".
The story of how the football team were saved in the caves is a heart warming one. For many attending the event it was a privilege and an honour to meet 63 year old Vernon Unsworth in person. An event filled with stories of bravery, emotion and moving music.
Vernon, who has mapped the cave system for 8 years, was the first professional cave diver at the site and realising the enormous danger the boys were in, played a significant rôle in the rescue and earned him the UK's high honour, an MBE medal.
As the rescue became a race against time ahead of impending monsoon rains, Vernon undertook reconnaissance dives upstream through flooded passages against strong currents.
Weerasak Kowsurat, the former Minister of Tourism and Sports, recalled how a message written on a piece of paper by Vernon and handed to his colleague for safe keeping with instructions that it was to be handed over in case Vernon, fearing the worst, didn't make it out on an exploratory dive. It was very dangerous work and one Thai diver died during the course of the rescue.
Although Vernon was safe, the message was handed to the Minister who was at the cave site. The message was to contact the British Dive Caving Association and gave names of expert divers and telephone numbers. Within 24 hours the Tourism Minister had managed to get the UK divers on a hastily arranged flight to Thailand to assist in the rescue effort.
The team of UK divers, working under appalling conditions and with time running out, in poor visibility located the team marooned on a ledge above the water about 4 kilometres inside the cave complex.
Writer and executive producer of The Isan Project, Will Robinson says… "Although I had penned and produced "Heroes of Thailand" honouring all those involved in the Tham Luang cave rescue, I felt it was time to pay a special tribute directly to the mastermind of the extremely complex mission."
"Vernon is such a humble man, I wanted to create a song not only to honour him, but also to establish Tham Luang and what is now known as the 'Wild Boar Cave', where the boys were found, as a new tourist attraction for those who love to explore caves."
At the beginning of the video it reads…
"On June 23, 2018, 12 boys from the Wild Boar football team went exploring the Tham Luang cave with their coach in Chiang Rai. They never returned home that night, next day locals contacted cave explorer Vern Unsworth in nearby Mae Fah Luang. Over the course of the next two weeks Vern put his life on the line for the young football team with a daring rescue engineered by Vern and Elite British cave divers. This song was written in honour of Vern Unsworth M.B.E. and inspired by the above events."
You can watch the video HERE.
Commenting on the Isan Project Tanes Petsuwan, TAT's Deputy Governor of Marketing Communications said, "TAT appreciates Will's love of Thailand, and we are delighted to be supporting this launch. We also believe that this song combined with the newly-published children's book, "All Thirteen" and the soon-to-be released Hollywood movie, "Thirteen Lives", will help to dramatically boost tourism in and around Chiang Rai even though we will need to rely mainly on domestic tourists until the end of the year while international travel is still restricted."
"Where the Eagles Fly", co-written by Will Robinson and Daniel Ryan, and performed by Daniel himself, is tipped to top the charts when the MGM blockbuster movie, "Thirteen Lives" and the Netflix mini-series about the epic story of the Tham Luang cave rescue are released. The song is now available from all digital music stores including iTunes, Spotify, Apple and Amazon.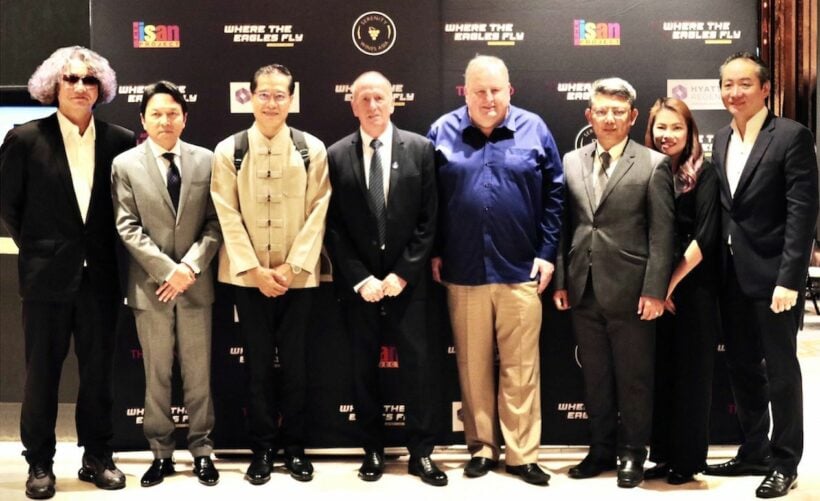 From left: Mr. Sobchai (Ford) Kraiyoonsen Singer/composer, Mr. Tanes Petsuwan TAT's Deputy Governor of Marketing Communications, Senator Weerasak Kowsurat former Minister of Tourism and Sports, Mr. Vern Unsworth British cave explorer, Mr. Will Robinson Writer and Executive Producer of The Isan Project, Mr. Nithee Seeprae TAT's Executive Director of Advertising & PR Department, Ms. Woranan Ratrawiphakkun Vern's partner, Mr. Sammy Carolus GM of the Hyatt Regency Bangkok Sukhumvit
Keep in contact with The Thaiger by following our
Facebook page
.
Never miss out on future posts by
following The Thaiger
.
The World's 50 Best Foods… Thai massaman curry tops the list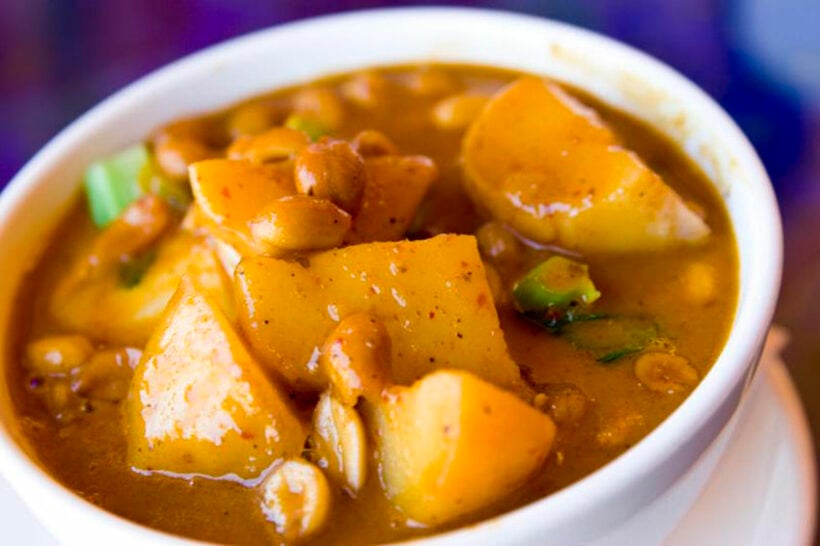 The humble Thai massaman curry has topped a list of the World's 50 Best Foods, compiled by the CNN Travel team. Thailand's smooth coconut milk and potato-based curry (add meat, tofu or vegetables of your choice) comes in at Number 1, with 2 other popular Thai dishes also making it into the World's Best food list.
The hot and spicy shrimp/prawn soup, Tom Yum Goong, comes in at Number 8, with papaya salad, aka somtam, in 46th place (mai phet please!) Tell us your favourite Thai dish, and why, in the comments section (below).
CNN Travel says its staff conducted extensive research on global cuisine to find the 50 best dishes ever created. Nice work if you can get it…
Italian pizza, Mexican chocolate, Japanese sushi, Chinese Peking duck, Penang Assam laksa, Malaysia and German Hamburger also top the delicious list.
Here's what the writers had to say about the 3 Thai dishes that made the top taste grade…
First Place, Massaman curryEmphatically the king of curries, and perhaps the king of all foods. Spicy, coconutty, sweet and savoury. Even the packet sauce you buy from the supermarket can make the most delinquent of cooks look like a Michelin potential. Thankfully, someone invented rice, with which diners can mop up the last drizzles of curry sauce. "The Land of Smiles" isn't just a marketing catch-line. It's a result of being born in a land where the world's most delicious food is sold on nearly every street corner.
Eighth Place, Tom Yum Kung
This best food Thai masterpiece teems with shrimp, mushrooms, tomatoes, lemongrass, galangal and kaffir lime leaves. Usually loaded with coconut milk and cream, the hearty soup unifies a host of favourite Thai tastes: sour, salty, spicy and sweet. Best of all is the price: cheap.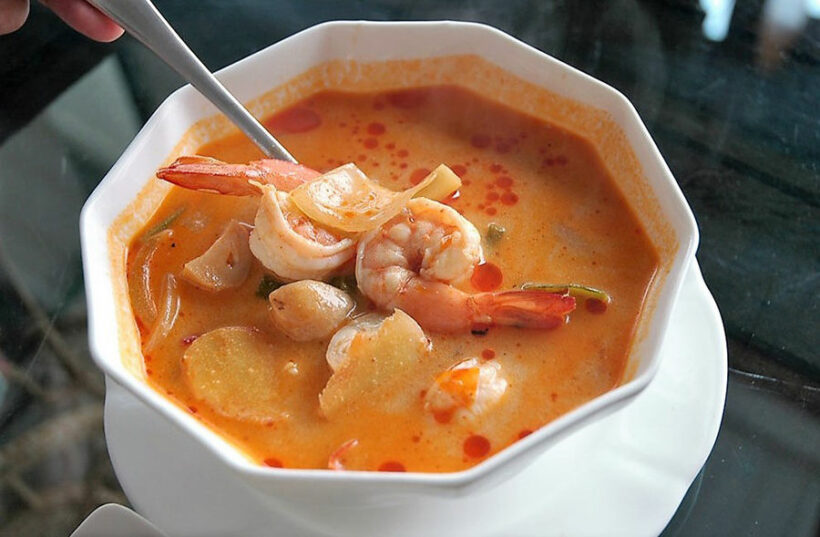 PHOTO: Richard Lee on Flickr
46th Place, Som Tam/Papaya salad
To prepare Thailand's most famous salad, pound garlic and chilies with a mortar and pestle. Toss in tamarind juice, fish sauce, peanuts, dried shrimp, tomatoes, lime juice, sugar cane paste, string beans and a handful of grated green papaya. Grab a side of sticky rice. Variations include those made with crab (som tam pu) and fermented fish sauce (som tam pla ra), but none matches the flavour and simple beauty of the original.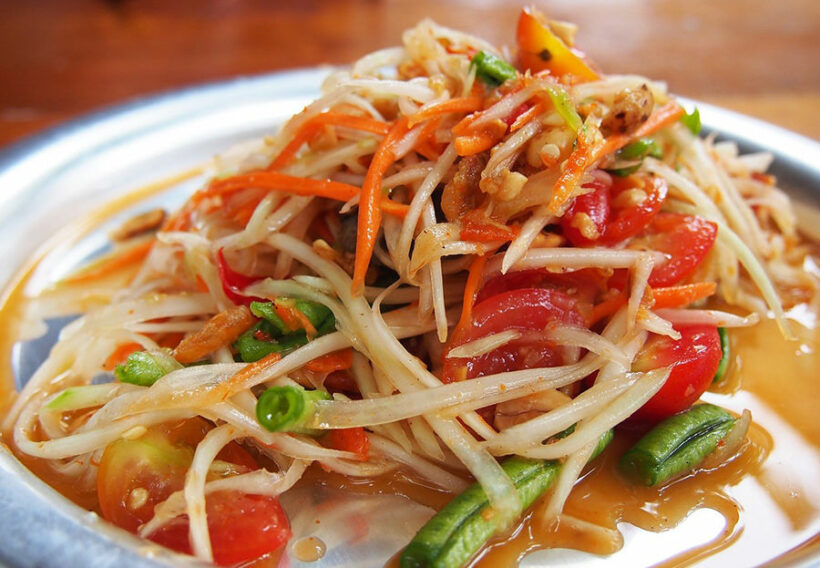 PHOTO: www.needpix.com
SOURCE: Thai Residents | CNN Travel
Keep in contact with The Thaiger by following our
Facebook page
.
Never miss out on future posts by
following The Thaiger
.
K-Pop fans show their support for the young Thai protesters, donate 3 million+ baht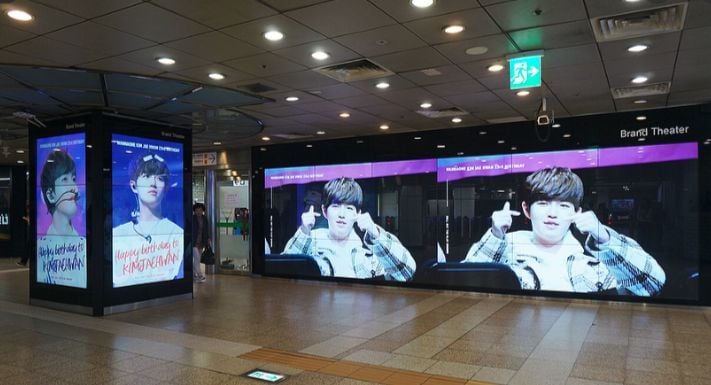 Art meets politics again, this time with hundreds of thousands of K-Pop fans raising funds in support of the growing student protest movement in Thailand. So far they've raised more than 3 million baht (as of 10am this morning) but the amount is rising quickly as Thai and overseas K-Pop fans respond. The most popular band in Thailand at the moment is BTS, the South Korean septet which is currently the most popular band in the world (as of today BTS commands the Number 1 and Number 2 positions on the US Billboard singles chart).
BTS fans have so far been the largest contributors donating funds to the protest cause.
The BTS Thailand page, not to be confused with the BTS Skytrain, is urging K-pop fans to stop the practice of paying for billboards in support of their favourite idols and to celebrate the birthdays of the 7 members. RM, Jin, Suga, J-Hope, Jimin, V and Jungkook issued a statement on their fanpage asking fans to stop funding the BTS and MRT "inconvenienced protesters and normal citizens from getting home and putting them in danger".
Bangkok's two main rail systems were closed down over the weekend as police and protesters played a cat and mouse game. The protesters were withholding the announcement of protest locations to the last minute whilst police second-guessed their moves, ending up in mass inconvenience for the wider public in shutting down the entire network, including the Airport link.
"We're calling Armys and other fans to stop buying ad projects with the BTS and MRT." ("Army" is the name of BTS fans.
Fans of K-pop groups as well as other "idol" groups often pool their resources to purchase display ads in the MRT and BTS stations wishing their stars happy birthday or on other significant anniversaries.
It's thought that many more millions of baht will be raised by the K-Pop fans in the next few days.
The young Thai protesters are tapping into a strong social media network, and have "weaponised" the social media and messaging platforms. The main App they are now using, to communicate their intentions, is "Telegram", developed by a young Russian couple but now operating out of Germany. The App features encypted messages, impossible to track, and has 400 million monthly active users.
Telegram is a cloud-based instant messaging, video telephony and voice over IP service with end-to-end encryption for secret chat only, whereas Cloud chat uses client-server/server-client encryption and its messages are stored encrypted in the Telegram Cloud – Wikipedia
Meanwhile, other K-Pop acts that have mobilised their fans win support include Girls' Generation, GOT7, NCT, WannaOne, Nu'est, X1, Day 6, Red Velvet, MonstaC, Woodz, Shinee, Super Junior and R1se. We're sure the fans of Black Pink are also contributing but didn't have their figures available at the time of publishing. Fans of popular Thai actors and celebrities are also donating to the pool.
Keep in contact with The Thaiger by following our
Facebook page
.
Never miss out on future posts by
following The Thaiger
.