Phuket Gardening: Going back to your roots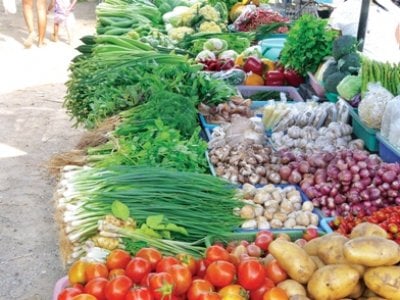 PHUKET: Recently I went in search of spice seeds to photograph. I needed them for pictures that could accompany my scribblings about herbs and spices, and, in addition, to try out in the garden.
I found more than I had bargained for, including such exotic stuff as dried butterfly pea flowers (clitoria ternata), liquorice root, star anise and fenugreek. Not the everyday flavorings I am writing about today, but it reinforces the point I have made before: there is no end to the cornucopia of flavors we are lucky enough to savor in Thailand.
Today, however, I'm rooting for roots. The most powerfully pungent bulbs in Southeast Asia, as in most corners of the globe, belong to the lily (liliaceae) family and of all these – onions, shallots, chives and garlic – the latter (allium sativum) is the most commonly used.
A daily task, as any Thai 'restaurateur' will confirm, is to peel all those pesky 'kratiem' bulbs. More than one type of garlic grows here. The small purple-skinned cloves are considered superior to the white ones on account of their greater intensity of flavor. Packed with oil, they will surely let your taste buds know if you are bold enough to chomp them up raw as so many Thais do.
More commonly, the cloves are macerated into a spicy paste along with other seasonings, or chopped and added to stir-fry dishes, soups and stews, or sliced and fried to a brown crisp with fish.
I went through an entire childhood without ever tasting garlic. Hard to imagine, especially in this day and age when garlic has become one of those 'magical' natural ingredients, supposedly capable of thinning the blood, of reducing 'bad' cholesterol and of lowering vascular pressure.
And if you do try putting some bulbs in the garden, they do have an inhibiting effect on many pests. They won't come within a mile. That much I know from growing garlic in Andalucia.
I hope we can pass quickly over the onion (allium) 'per se'. It is one of the oldest vegetables known to man, and while I love them as much as Chaucer's Summoner, whose fourteenth century breath was permanently be-fouled by onions, they are so cheap here – eight baht a kilo at the last count for the white variety – and their appearance and flavor so well known, that they don't need me to expatiate upon their merits.
The spring onion (allium fistulosum or ton tom) is a very important garnish in the Kingdom. It is not only found in those green platters of winged beans, Chinese kale and cashew leaves that grace the lunch tables of the cheapest Thai eateries, but is often added, along with garlic, to the clear soups that accompany the main course.
Although shallots (allium ascolonicum or hom daeng) grow wild in parts of Thailand, they are a less visible presence because they are not used for decorative effect. But they are common ingredients in hot pastes, and are sometimes preferred to onions on account of their sweeter and less harsh flavor. They also have a lower water content that allows for easier frying.
If you try growing them, remember that they don't grow singly like onions, but in small bunches. They are best cultivated in rich soil from 'sets' of small bulbs, rather than from seed. Remember to pare away the earth from the tops of the bulbs once they are well established.
The last member of the allium clan to warrant a mention is the chive (allium tuberosum), normally referred to in the plural form. Bunches of the local variety, flat or Chinese chives, are readily available in local markets.
They grow in long-leaved clusters and, because of their strong aroma, are sometimes known as 'garlic chives'. Often sold with the flowering tips (or culm) still attached, they are considered a delicacy in Chinese cuisine. Equally, ask any Thai about 'dok kuichai' and they will soon be singing its praises.
So what about spicy roots? Two, ginger and galangal, cannot be ignored, despite recent official attempts to curtail their use as pesticides, and while both have both been briefly defended in these columns before, they deserve a proper mention.
Ginger (zingiber officin-ale) is, of course, better known abroad, since the mature, beige-colored root travels well and is available from any European greengrocer. Known as 'khing' in Thailand, where it grows wild – what doesn't? – it is normally sold in markets as a freshly dug young root. In this form, it has thin, creamy skin and pink shoots which terminate in green stalks You can easily pop a couple in some moist soil to start your own crop.
Popular as a marinade with Chinese chefs or as an accompaniment to fried fish, the tender young roots can be grated or crushed to release the intense flavor before cooking.
Ginger has a reputation in Asia as a medicinal herb, useful for counteracting indigestion and even nausea. It also makes a delectable hot drink which I often buy – in a plastic bag of course – at the local market. Good for hangovers.
Galangal (alipinia gala-nga) comes from the same family and the rhizome looks quite similar, if less knobbly.
But the flavor is distinctively different and, sliced into thin chunks, the tough fibrous root graces many Thai and Malay soups and stews. The sour, slightly citrus flavor of tom yam soup owes everything to its infusion of galangal.
Like ginger, it is an attractive addition to the kitchen garden. Plant a rhizome and it will sprout sword-like leaves and, whisper it softly, some Thais believe galangal has aphrodisiacal powers.
Phuket Gardening is Phuket Gazette columnist Patrick Campbell's feature of all things flora.
If you have a garden that you would like featured on this page, please email Patrick by clicking here.
Keep checking our online Phuket Lifestyle pages for regular gardening features and tips.
— Patrick Campbell
5,000 Buriram citizens register for medical marijuana possession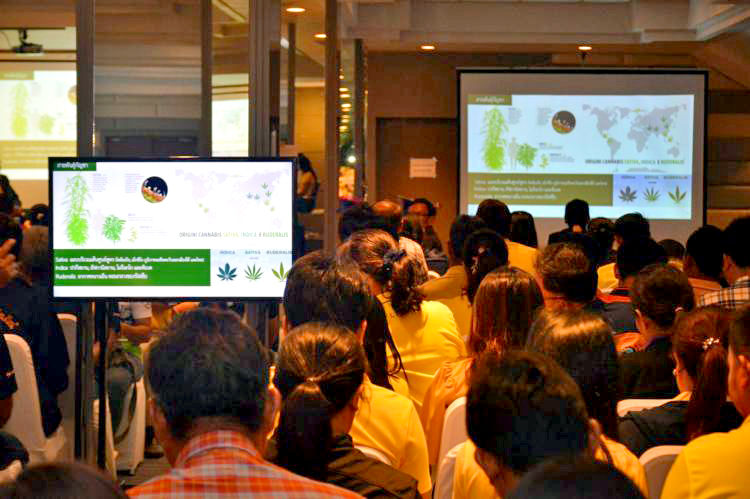 by Tanakorn Sangiam
The 90 day registration period for persons in possession of marijuana, without facing prosecution, end this Tuesday, May 21. 5,000+ persons in Buriram, north-east Thailand, have already registered their possession during this period. A community seminar on marijuana planting and management also took place yesterday to prepare Buriram province as a key manufacturer of medical marijuana.
About 250 people comprising of public health officials, agricultural officials, and community enterprises today joined a seminar on marijuana planting and management for medical usage. The seminar was aimed for participants to further distribute the knowledge on systematic medical marijuana planting and manufacturing management to help promote income distribution in local communities, specifically some 3,000 community enterprises in 23 districts in Buriram province.
These community enterprises will then be evaluated for their preparedness, and will be determined by the Food and Drugs Administration whether Buriram province is ready to become a key medical marijuana manufacturer of the country.
Talking about the end of the moratorium for persons in possession of marijuana, Buriram Provincial Public Health Official Withit Saruesadeechaikul said some 5,000 persons had so far registered as possessors – 2,000 villagers in the Buriram province and 20% of registered possessors being cancer patients.
SOURCE: National News Bureau of Thailand
Twitter and Facebook work to block anti-vax misinformation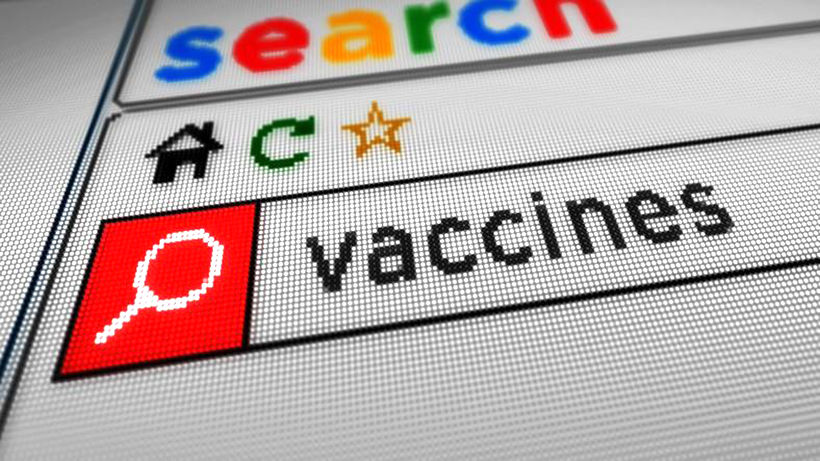 If you search for the word 'vaccines' in Twitter, the first thing you see from today is a post from the US Department of Health and Human Services pointing you to reliable health information instead of misinformation from the anti-vax adherents.
Twitter says it now has a new tool in 'search' prompting users to head to vaccines.org, which is run by informed officials and health professionals. Social media companies like Facebook and Twitter are facing intense pressure from lawmakers to remove anti-vaccination propaganda from their platforms. The push-back is coming from officials and netizens.
The tool shows up on Android, iOS, Twitter's mobile site, and on the newly designed desktop site in the US, Canada, the United Kingdom, Brazil, and Korea – more countries soon.
Twitter has used a similar tool that prompts users who search for terms related to suicide to contact a hotline for help. According to the blog post, Twitter intends to extend this tool to other health-related search terms in the future.
Last week, it was announced that Instagram would hide search results for anti-vax hashtags on its platform, effectively blocking any associated content. Two months ago Facebook announced it would also work to curb vaccine misinformation.
Thai Airways' profits dive 83% year-on-year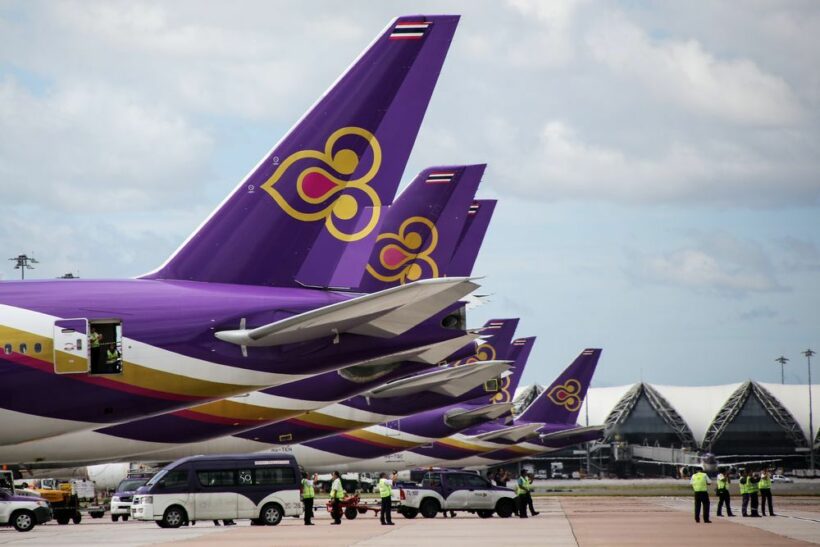 Thai Airways has had an 83% dive in profits for the first quarter of 2019. The Q1 balance sheet came out yesterday.
The airline's management is blaming the high baht, the ongoing US-China trade wars and the closure of Pakastani airspace (forcing rerouting of its Eurpean flights), for the drop.
• Net profit of 456 million baht, down from a 2.7 billion baht profit in the first three months of last year
• Revenue of 49.7 billion baht, down 6.9% on the same period last year
The Thai Airways President Sumeth Damrongchaitham is laying the blame at the strong appreciation of the baht against major currencies saying it makes it impossible for the airline to raise air ticket prices.
Quoted in the Bangkok Post, he said… "Although the baht's appreciation helped lower some expenses, including loan payments and lease payments for aircraft and engines, this benefit remains minimal."
He also cited the ongoing trade spat between the US and China taking a toll on the airline's cargo business, which saw earnings drop 12.9%.
In February, following Pakistani border stoushes with India, Thai Airways aircraft needed to make detours for their European traffic, which pushed up fuel costs, according to Mr Sumeth.
The airline plans to sell products on its website and mobile app in September to increase revenue.