Phuket Gardening: Egging you on… eggplants and aubergines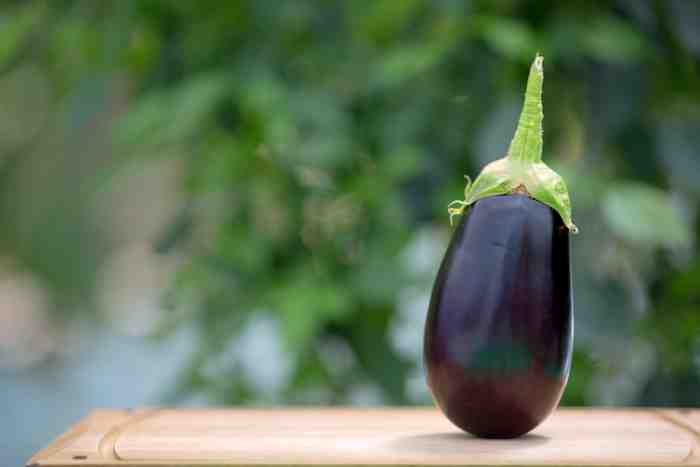 PHUKET: We expats think we are familiar with aubergines. You know, the large glossy purple ones which look for all the world as though they have been coated with varnish.
But Thailand has so many more varieties, collectively called brinjal, all of them edible and all capable of being cultivated in your kitchen garden.
But let's start with what we know. The purple aubergine (Solalum melongena) is a herbaceous, perennial bush which produces dense, hard fruits, each of which contain a number of round, flat seeds.
The bush grows, as do all eggplants, almost anywhere, and crops up in unexpected places. To grow your own, simply sow the seeds in pots and within a few days you will have plants ready for transfer to open ground. Another advantage: the purple eggplant is productive all year round.
The only real downside is the plant's susceptibility to attack from a range of beetles and aphids, and a fungal disease called verticillium. For this reason, it should be planted in ground not previously occupied by other solanaceous species such as tomatoes, peppers or other aubergines.
Although the raw fruit is somewhat bitter, the cooked version is bland in flavor, and is better employed as an addition to other ingredients – in Greek moussaka for example or French ratatouille. Here in Thailand, it is fried with fermented soybean or egg yolk, sometimes hollowed out and stuffed, or added to a soup called ma kheua.
Unlike the pumpkin (click here) and roselle (click here) of recent note, it is not especially rich in nutrients, though it is a useful source of phosphorus and magnesium, and does contain some vitamin B.
If you have already used it in culinary dishes, you will know that the flesh has peculiar properties: one, fried, it can absorb huge amounts of fat or oil: two, it needs to cooked quickly once it is cut open since the flesh oxidizes and quickly turns brown. Moreover, it is one of the very few plants to contain nicotine, though in such small quantities as to be harmless.
If you asked a Thai for his favorite aubergine, he would probably opt for brinjal, another bushy variety which produces smallish (3-4cm) round fruits. As with the purple eggplant, it has pointed sepals at the top of each one. The fruits, normally eaten when unripe and often raw, are green with streaks of white. When mature, they turn yellow.
Although exaggerated claims are sometimes made for it as a health food, it does contain very high levels of anti-oxidants and is rich in vitamin B. Personally, I enjoy it in Thai green curry: without these brinjals, green curry does not taste as it should.
Equally easy to grow is a variety known in Thailand as ma khuea phuang. A small prickly, perennial bush with gray bark, the fruits of solanum torvum grow in clusters and are tiny, almost pea-like, with a very hard exterior.
Propagated, like its larger relatives, by distribution of the brown seeds, it is also eaten as a fresh vegetable, ground up in prik (Thai fiery pepper), or added to various curries. Endowed with massive amounts of vitamin A, ma khuea phuang has been used in folk medicine for eons, and is reputed to assist in the control of diabetes and to reduce high blood pressure.
Known elsewhere as turkey berry or Devil's fig, the plant is very vigorous; its fruits easily and may reach three meters in height. A perennial, it normally lives for two years and is distributed in the wild by frugivorous (fruit-eating birds).
Here in Phuket, I have seen it thriving, self-sown, on recently disturbed land. The same can be said for ma eok, a species of sour-tasting aubergine with yellow fruit and hairy skin.
So you should have no trouble at all in cultivating these in your garden – and crunching a few turkey berries to keep that blood pressure under control.
— Patrick Campbell
Keep in contact with The Thaiger by following our
Facebook page
.
Thais go bananas over freak plants in pursuit of lottery numbers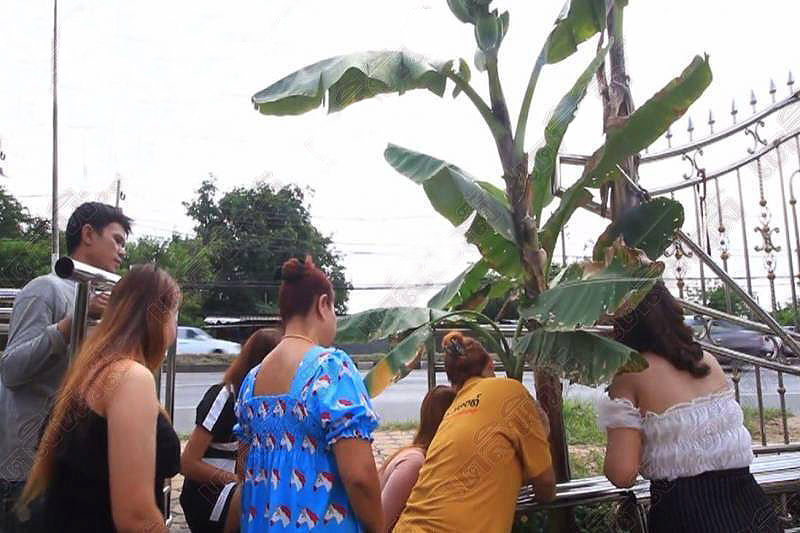 PHOTOS: Daily News
The answers are in the banana leaves.
Thai people LOVE playing the lottery (and gambling generally). In fact they're BANANAS about the twice-monthly lottery (it was drawn again today). Daily News has reported about two unusual banana trees growing in front of a shop in Klong 4 Pathum Thani, just north of Bangkok. The trees did not have blossom and on one plant two bananas were pointing skywards. On another there was a whole bunch pointing up into the sky.
There was a steady stream of the faithful lighting incense, praying and rubbing powder on the trees to get lottery numbers. One group thought '542' was the magic numbers and a path to riches (we're not sure how they came to this conclusion). 53 year old Surachai says the trees had been growing for a few months and that he'd never seen anything like it before.
An unnamed agricultural expert suggested that there was probably something wrong with the banana plants. Trees and malformed animals are a favourite source of inspiration to select numbers for the lottery, as are numbers of houses and vehicles involved in events where people experience "miracle" escapes from danger, or even bizarre accidents.
SOURCE: Daily News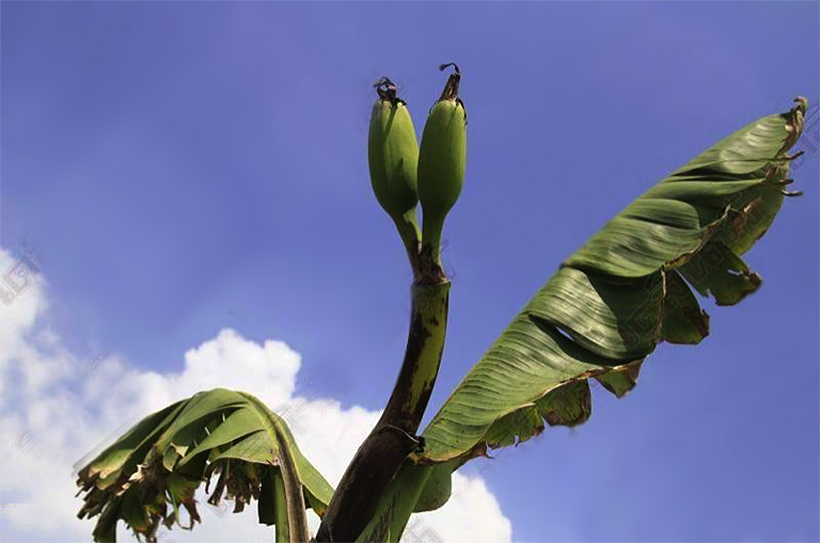 Keep in contact with The Thaiger by following our
Facebook page
.
The K-pop Olympics: performers battle in the K-pop festival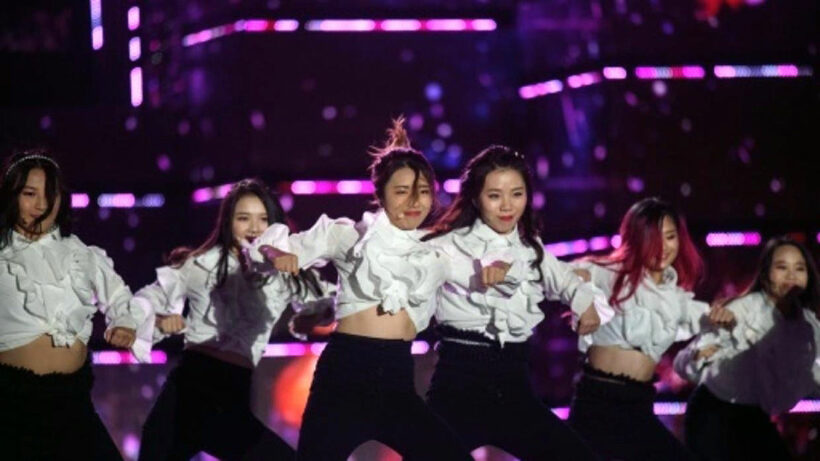 On the streets, in parks and garages, seven Cuban youngsters spent seven months practising K-pop moves to secure a spot on their dream stage: an appearance in South Korea to imitate their idols. 13 final teams from 80 countries are competing in the 2019 event.
At the grandly titled and government-funded Changwon K-pop World Festival contestants from around the globe perform imitation dances or sing cover versions of the genre's biggest hits, with thousands of fans cheering them on.
In terms of global heft, South Korea is overshadowed by its much larger neighbours China and Japan, but the event is a way for Seoul to derive soft power from one of the country's biggest cultural exports. In terms of pop-power, South Korea's K-Pop is now a recognised world-wide music phenomenon with bands like BTS and Blackpink figuring amongst the other big-hitters on the Billboard charts and outselling their western counterparts with millions of albums and downloads.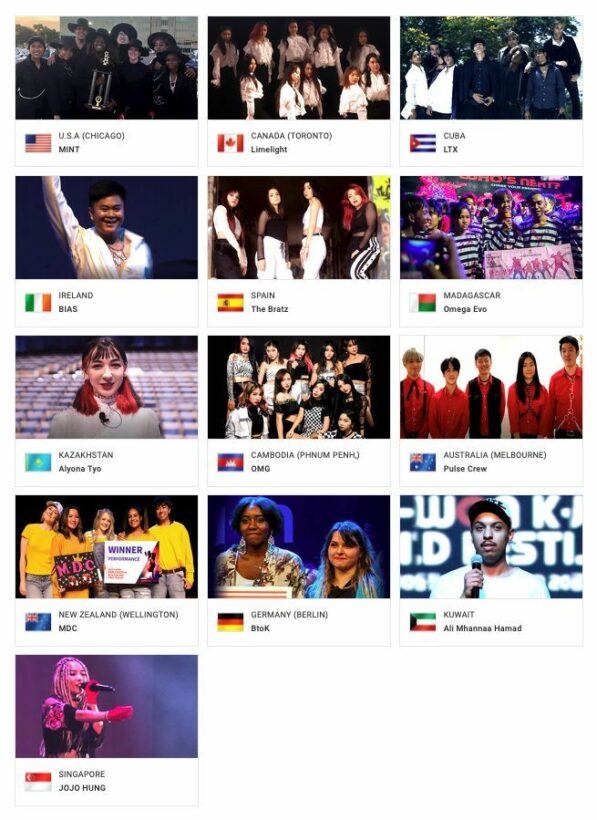 Finalists for this year
Cuba's Communist government is one of North Korea's few remaining allies: when President Miguel Diaz-Canel, successor to the Castro brothers Fidel and Raul, visited Pyongyang last November he was only the third foreign head of state to do so since leader Kim Jong Un inherited power in 2011.
But rather than geopolitics, Havana performer Karel Rodriguez Diaz – whose mannerisms and sleek hairstyle could easily be mistaken for those of a K-pop star – is more motivated by high-tempo beats and superslick dance moves.
"We never had a place with a mirror or a choreographer who could teach us the steps" but they kept on practising, he said.
His team-mate Elio Gonzalez added: "We are so excited to represent not just Cuba but also the whole of Latin America."
Some 6,400 teams from more than 80 countries entered the competition, according to organisers, with 13 groups from places as diverse as Kuwait and Madagascar winning through to the final in Changwon, where they appeared on stage waving their national flags.
"This is like watching the Olympics, a K-pop Olympics," said the event's host Lia, a member of K-pop group ITZY.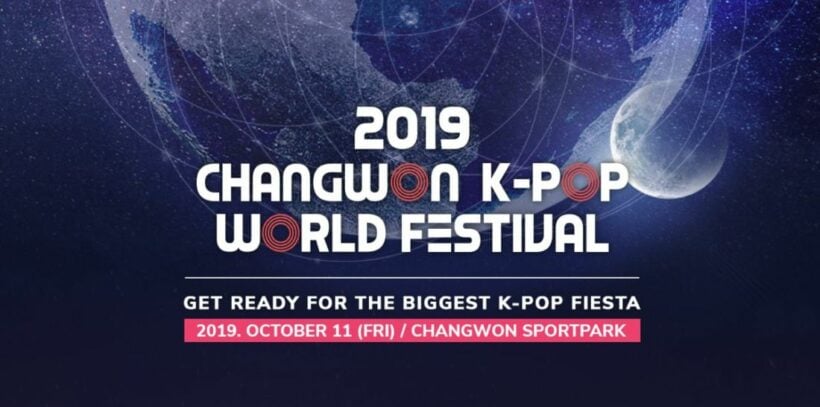 The Korean Wave
K-pop – along with K-drama soap operas – has been one of South Korea's most successful cultural exports to date. A key part of the "Korean Wave" which has swept Asia and beyond in the last 20 years, the K-pop industry is now estimated to be worth $5 billion, with boyband BTS its latest high-profile exponent, becoming the world's most successful band in the past 12 months, selling out stadium concerts within minutes, around the world.
The South Korean government has financed a variety of K-pop themed events in what CedarBough Saeji, a visiting professor at Indiana University Bloomington in the US, said was a form of long-term "soft power diplomacy".
"When you are covering you get to 'become' those idols for the three and a half minutes of the song," she said, adding that performers will go so far as matching their clothing, accessories and hairstyle to their heroes and heroines.
"The cover dancers of today will be diplomats, news reporters, and business leaders in forty years," she went on.
"And hopefully they'll still have a soft spot in their heart for Korea. Korea can't win the world through hard power – armies, economic bullying – but with soft power even a small country like Korea has a chance."
The music also provides an artistic alternative for overseas fans, especially those in developing countries, Saeji added.
"The West, especially the United States, has been so dominant culturally for so long, and having a different cultural pole to look to provides hope that one's own country can experience similar success in the future."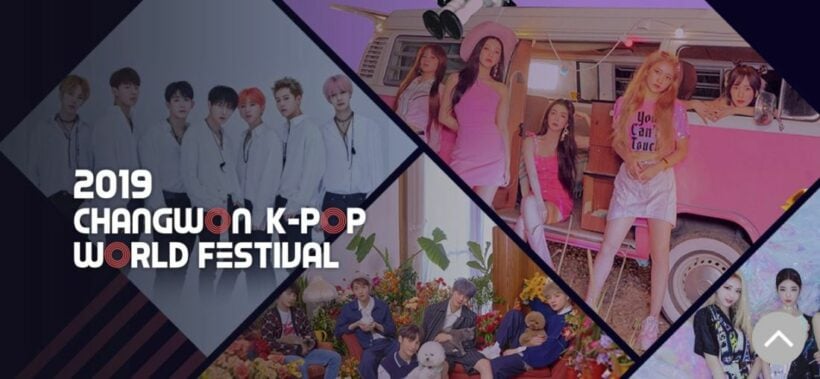 Be who you want
Beneath its glitz and glamour, the K-pop industry is also known for its cutthroat competition, a lack of privacy, online bullying and relentless public pressure to maintain a wholesome image at all times and at any cost.
Sulli, a popular K-pop star and former child actress who had long been the target of abusive online comments was found dead on Monday, with her death sending shockwaves through fans around the world.
"I think a day where (people) would be ashamed of the K-show business will surely come," a South Korean online user wrote in the wake of the star's death.
"I think an industry that makes money by (making people) sing, dance, undergo plastic surgeries and go on a diet to please the gaze of others since they are teenagers should really go bankcrupt."
But for Kenny Pham, a finalist from the US at last week's contest, K-pop's diversity – with some tunes having dark themes, while others were "cute" or sensual – is what gives him a sense of liberation.
"I like how expressive you could be," the 19 year old told AFP last week.
"I feel like it's a place where you could show the passion you have for music, dance or fashion. No one is bashing you for what your likes are."
SOURCE: Agence France-Presse
Keep in contact with The Thaiger by following our
Facebook page
.
Singha grabs a 90% stake in Thailand's Santa Fe restaurant chain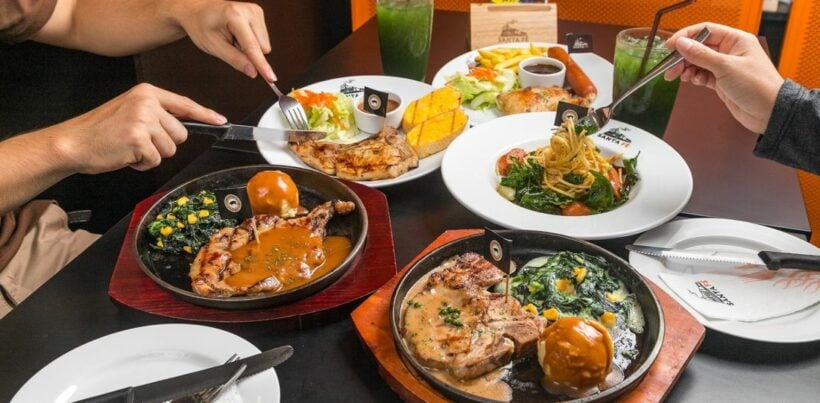 (…or is that a 90% 'steak'?)
PHOTOS: Wongnai
DealStreetAsia, an investor news site reporting on Asian business, confirms that Singha Corporation has purchased a majority stake in the Thai restaurant chain, Santa Fe. It's understood that Singha purchased the shares held by Lakeshore Capital for approximately US$50 million or 1.53 billion baht, giving it a 90% stake in the chain seen in most Thai shopping centres.
The Nation reports that Singha will now oversee over 110 restaurants across Thailand in one of the country's biggest food industry deals of the year. The company first turned its attention to the food industry two years ago, launching Food Factors Company under the Boon Rawd Brewery group.
WongnaiFood Factors aims to make 5 billion baht over 3 years under the stewardship of Piti Bhirombhakdi. The company has an ambitious long-term target of 10 billion baht a year, along with plans to be listed on the stock exchange.
The Santa Fe chain was established in 2003 by Surachai Charn-Anudet's KT Restaurant Company, with the aim of becoming a major competitor to Sizzler, the American chain brought to Thailand by Minor Food.
SOURCE: The Nation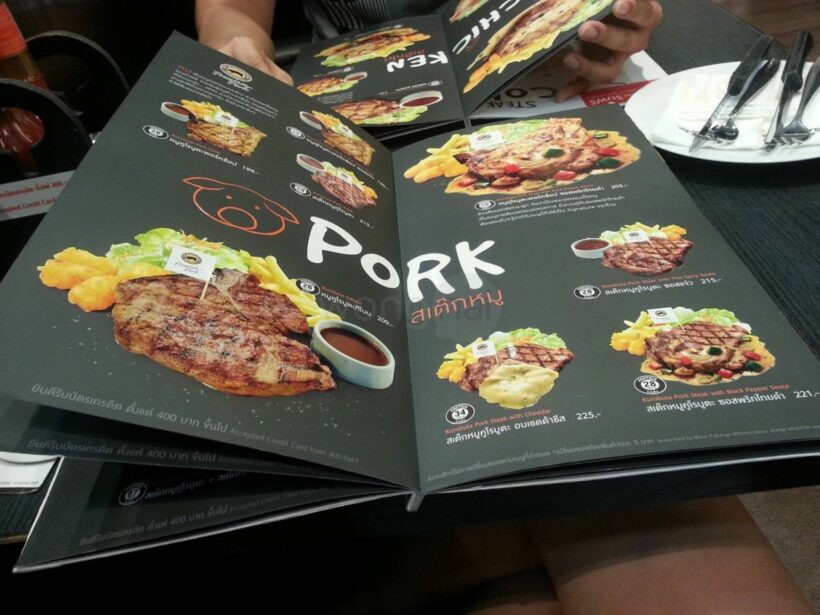 Keep in contact with The Thaiger by following our
Facebook page
.