Phuket Gardening: Dangers in the Garden of Eden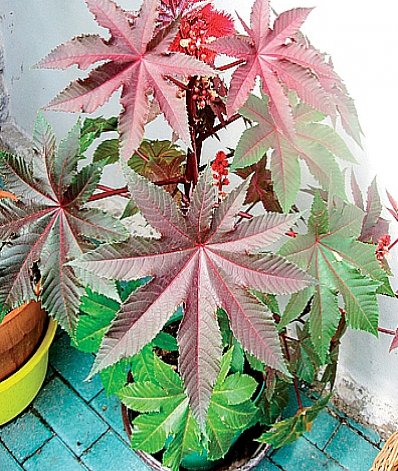 PHUKET: Everyone knows that some plants are poisonous, and we gardeners in Phuket know that Thailand has more than its fair share. In truth, the Kingdom also has more than its fair share of edible species – as this column has frequently documented.
Although you are hardly likely to attempt to eat any part of the following toxic plants, do wash your hands after handling any of them.
The list includes some of the most beautiful shrubs around: most of the apocynaceae family such as oleander and thevetia, allamandas and euphorbias (including the crown of thorns), the shade plants diffenbachia (dumbcane) and caladium (elephant ear), the adenium or desert rose, the angel's trumpet (brugmansia) and, deadliest of all, the castor-oil plant (ricinus).
Most of these plants have toxic sap which is whitish, sticky and latex-like, but in the case of the castor-oil plant, it is the seeds that are deadly. At least only the castor-oil plant has tempting-looking berries to attract the attention of curious children.
Other dangers in your personal Garden of Eden have more to do with its fast moving inhabitants. We all know about mosquitoes. What makes them so irritating (in more senses than one) is the fact that the female anopheles tends to be most active in the early morning, or before the sun starts to go down. And these, of course, are the coolest times for watering your garden, or for undertaking more strenuous tasks, such as an evening stroll.
Moreover, since mosquitoes tend to hide behind vegetation, any disturbance tends to arouse their blood-sucking desires. And they are, so recent research reveals, especially attracted by the odors emanating from feet!
Any water plant pots should also provide a home for fish such as swordtails: they will ensure that none of the mosquito eggs dropped into the water develop into larvae. Stagnant water without fish will rapidly become a breeding ground.
At the expense of a few fish, you might even encourage dragonflies. Their larva are vicious aquatic predators with a retractable claw, but if you have a few brilliant-hued adults quartering your swimming pool, you can be sure that they will mop up most mosquitoes in the vicinity.
Ants are maybe worse than mosquitoes. They seem to patrol any number of plants, often protecting the aphids, which suck sap from plant stems and produce a sweet substance called honeydew, much beloved of their guardians.
If you happen to disturb other species, (some red ants nest in trees and large shrubs), they are liable to attack without warning. I once attempted to knock one of their football-sized nests from a tree. The result? I was dive-bombed by hundreds of angry ants and got at least twenty stings for my pains. And some people, myself included, are allergic to the formic acid in ant stings. Bring on the anti-histamine tablets.
Finally a warning about leaf litter. If you need to collect the dead leaves which are now steadily accumulating in the current dry season, make sure you either use a rake, or wear gloves if you intend to pick them up by hand. Why? There may be all sorts of nasties lurking underneath the foliage.
Centipedes can deliver a very unpleasant bite – millipedes will not, but they are full of cyanide, and should not be handled. Nor should you pick off hairy caterpillars, which can bring you out in an unpleasant rash.
One furry larval creature, bright green in color, blends with the underside of a leaf so as to be almost invisible. What it turns into, I have yet to discover, but one touch and the resulting rash will last a long time.
And remember, there are scorpions and serpents in Eden.
Phuket Gardening is Phuket Gazette columnist Patrick Campbell's feature of all things flora.
If you have a question or a garden that you would like featured, you can email Patrick Campbell here.
Keep checking our online Phuket Lifestyle pages for regular gardening features and tips.
— Patrick Campbell
New date for Coronation Day holiday announced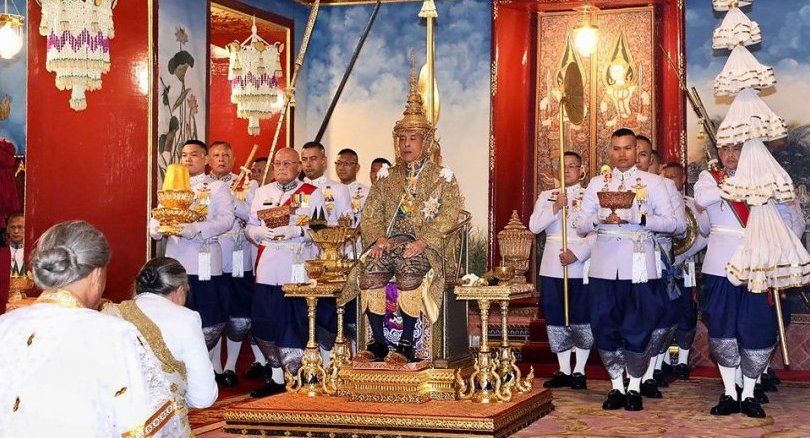 Thailand, the land of a thousand temples. And, it seems, the land of a thousand public holidays.
Now, the Cabinet has announced May 4 as the official new Coronation Day official holiday. So it's not actually a new holiday, but it replaces the date of the previous Coronation Day in Thailand.
The new holiday date marks the day that His Majesty King Maha Vajiralongkorn was coronated in the Grand Palace throne room. The previous Coronation Day was May 5, when the late King Rama IX was enthroned in 1950.
Assistant government spokesman Athisit Chaiyanuwat said the change would give Thailand a total of 19 official holidays.
This includes the newly announced holiday on June 3 – the birthday of Her Majesty Queen Suthida.
SOURCE: The Nation
Top 10 restaurants in Phuket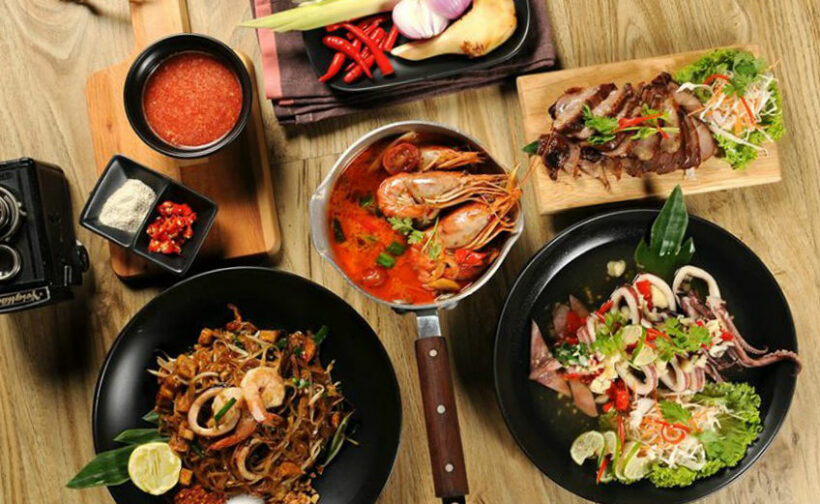 There are many excellent dining experiences in Phuket. Here, in no particular order, are some tried and proven examples of great dining on the island you just have to visit when on the island. From Thai to European to Italian…
The 9th Floor
Patong. The 9th Floor Restaurant & Bar, located in The Sky Inn Condo in Patong is a rare hidden gem offering award-winning Mediterranean cuisine. The 9th Floor has created a unique dining experience with spectacular sunset, and a dramatic night view of Patong with a refreshing sea breeze. The well-trained "Angels" are there to guide you through the exclusive menu and the 300-label+ wine list.
If you're looking for an unforgettable night while you're at dreamy Phuket, the 9th Floor Restaurant promises an experience that will send you to cloud nine. Perched on the, well, ninth floor of the Sky Inn Condotel, you'll be able to take in sensational views of the city or the spectacular sunset through the cascading floor-to-ceiling glass windows. You're also served by 'Angels', a team of elegant women who are renowned for their stellar service. All this plus elegant yet unpretentious Mediterranean fare that has sated the appetites of hungry diners for the past 10 years, what's not to like?
While the restaurant remains loyal to its Swiss roots with four types of fondue offered as the cornerstone of the menu, the selection here's impressive and expansive. If you're a true aficionado of classic cuisine, be sure to look out for the 9th Floor's monthly degustation evenings for a finely curated experience. To complete the night, take your pick from their newly expanded selection of premium wines and spirits. Think gin and whisky from Scotland, rum from Nicaragua, and many many more. If you need any recommendations, just ask any one of your friendly 'Angels'! Now, who can resist a great meal, spectacular views, and exceptional service?
Website | Facebook | Bookings  081 079 2699

White Box
Kalim. The White Box Restaurant of Phuket, is the quintessentially elegant, white-washed beach restaurant in Phuket, attracting both tourists and locals alike. This Phuket restaurant offers an experience which blends the best fine French and Thai Cuisine on the island.
Once a famous Kalim beach-front house, this stunning venue was redesigned as an elegant Phuket restaurant, decorated in white and blue, boasting a mediterranean ambiance, while keeping a minimalist style.
This Phuket restaurant boasts a location which is nothing short of breathtaking. With unobstructed views of Patong Bay, and waves almost crashing at your feet, this restaurant in Phuket is paradise.
An impressive three-storey complex by Kalim Beach, this is a one-stop experience for dinner, drinks, and an after party. Built on huge granite rocks, White Box is like the beach house you've always wished you had: tastefully decorated in white with an expansive view of the surrounding sea and coasts, serviced by a superb kitchen and wait staff.
Food here is 'Mediterranean Asian' shot through with refined French sensibilities, revolving around seafood-heavy plates. Hokkaido scallops are served as a light carpaccio atop a bed of wilted spinach and pickled artichoke hearts, then dressed with little more than olive oil and a touch of lime.
Website | Facebook | Bookings 076 346 271

Infuse Restaurant
Located 5 min from Boat Avenue, Infuse Restaurant by Diamond Resort is a sophisticated yet undemanding venue serving up European and Thai dishes under the expert and creative direction of Executive Chef Rieno Huyghebaert. Offering his elegant take on rustic home style meals, options include juicy burgers, delicious pizzas, authentic Thai and real European tastes. 'Gusto Francese Pizza' and 'Smoked Salmon Salad' are highly recommended.
The restaurant is inspired by a contemporary loft design for a more casual business lunch, or for an exciting family dinner, or set menu events, Infuse caters to your need. Guests can choose to sit inside, or in an outside space with a pool view.
Website | Facebook | Instagram|Bookings 076 609 542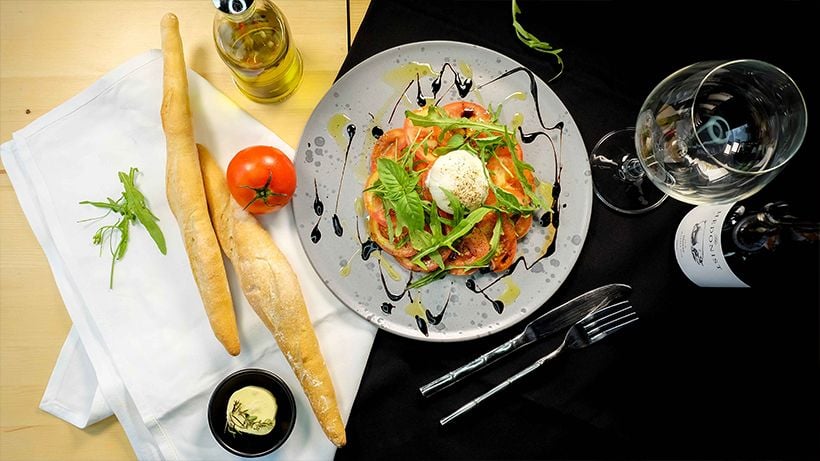 PRU
Nai thon. PRU takes its name from Phuket's indigenous lore: a place where the wild forest meets the sea. At this confluence of land and water, the earth is verdant and nourishing, enlivening the local cuisine and stirring epicurean ambitions with newfound creativity.
Inspired by Phuket's legacy as a culinary crossroad and the island's unique terroir, PRU at Trisara is pursuing our own culinary ambition – to elevate farm-to-table cooking to a new level. We use nature's gifts from our own farm and do our part to give back, ensuring that life's cycle continues to blossom and ripen.
Our meals tell a story, drawing out subtle and bold flavours from the herbs, flowers, plants and roots that grow wild in our garden, producing dishes that are both poetic and honest. Our culinary style is founded on Western tradition and influenced by the exotic, regional cuisine at our locale.
Bookings 076 310 100

Thong Dee – The Kathu Brasserie
Kathu. Not quite 'fine dining' but a very popular restaurant of excellent integrity in Phuket which was the Trip Advisor Most Popular Restaurant in Phuket for 2017. You will treated like a fine-dining guest and the food is reliably excellent.
"We invite You for a great dining experience,
Where You come as You Are and leave like a Star
Located on a quiet street, just 10 min drive from Patong,
You will find a fine choice of European Classics, Thai Cuisine & House Specialties
with something to suit every occasion and pocket
On Sundays We serve our famous Sunday Roasts – All day from 12pm-22pm
Come and make a Memory with us in a modern, warm and friendly ambiance
with chillax tunes playing and free pool table on 2nd floor."
Bookings 076 319 323

Black Ginger
Nai Yang. This fusion Thai fine dining restaurant sits within the scenic surroundings of The Slate five-star hotel. The distinct indoor and outdoor dining space incorporates traditional Thai architectural style with contemporary design and luxurious touches, set on a platform over the hotel's lagoon. The restaurant's chef Anongrat Meklai cooks up classic and modern Thai dishes using fresh, locally sourced ingredients, and is particularly well known for her flavorful som tam, tom yum and Panang curry.
Bookings 076 327 006

Acqua
Kalim. This award-winning restaurant in Kalim Beach showcases the modern Italian cuisine of the accomplished Sardinian chef Alessandro Frau, with a particularly extensive range of Italian wines and modern interiors exhibiting chic black and white décor. The exceptionally appealing menu comprises dishes such as yellowfin tuna carpaccio marinated in extra virgin olive oil and lemon, topped with fresh artichokes and bottarga, Sicilian red prawns with jus, poached Maine lobster, and wood fired roasted suckling pig with saffron.
Bookings 076 618127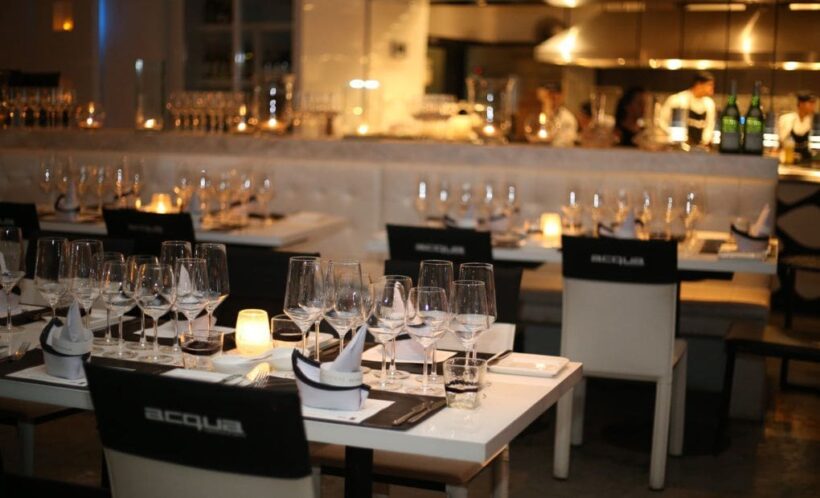 Royal Namtok
Unique, bespoke, boutique. After 20 years running their own award-winning, high-class restaurant "De Tafeljoncker" in Antwerp/Belgium, Marc and Corry shipped all their decorations and equipment to Phuket where they build in 2007 a private villa which at five o'clock it turns into a French, fine dining restaurant.
Chef Marc De Schrijver (owner) creates French classic dishes with a personal touch of healthy/detox, Thai Plants, herbs and local, natural products and flavors.
Your host, Corry Ringoet (owner) takes care of the guests with a personalized service with eye for details, also table cooking in front of the guest,  that many suspected had long ago, died out.
Only six tables,  richly decorated with golden plates and silver cutlery, crystal glassware and napkins in engraved silver napkin holders to pamper you and your table friends, celebrating special moments.
Their motto:  "Dining out must be a precious moment, fine gastronomy served with an eye for details".
Bookings 087 263 7327

Siam Supper Club
This chic bar and grill is considered one of Phuket's most sophisticated drinking and dining spots, combining elegant interiors with West Coast cuisine and an ambience created by jazz and lounge music. Expect to see aged grilled tenderloin steaks, fresh seafood and an array of pasta and pizza dishes on the menu. Perhaps start with the Wagyu beef carpaccio or pan-seared foie gras, followed by lobster ravioli, pizza Napoletana or classic tom yum goong, with one of the restaurant's indulgent desserts to finish.
Bookings 076 270 936

Blue Elephant
Phuket Town. Be transported away from the hustle and bustle of Phuket Town as you step into the lush rounds of the Blue Elephant. Located in the 105 year old Phra Pitak Chinpracha Mansion, which was built in the Sino-Portugese style and combining elements of traditional Feng Shui in its architecture, Blue Elephant is Thai cuisine at its finest.
At Blue Elephant, award-winning Chef Nooror Somany Steppe takes diners on a culinary adventure commencing with traditional Thai heritage dishes through to her vision of the "Thai Kitchen of Tomorrow". Specialty dishes drawn from the royal courts and literature of the Kings of Thailand give diners a most delicious history lesson.
Drawing inspiration from Chef Nooror's myriad of travels and overseas experiences as a Star Chef, and accurately reflecting the present-day cosmopolitan nature of Thailand, diners can also expect to see Western classics with a decidedly Thai twist – Croquettes Koong Kiew Wan is a fusion dish inspired by the strong relationship between Thailand and Belgium, while Thai red curry paste and sweet chill sauce give the Crispy Crab Soufflé an extra zest.
Bookings 076 354 355

Da Maurizio, Kalim Bay
Location, location, location. Da Maurizio Bar Ristorante offers the finest in contemporary Italian cuisine RIGHT on the beach at the far north end of Patong.
Da Maurizio's has always distinguished itself from other Italian restaurants and the new menu lives up to its already firmly established long term reputation amongst the island's expats. From among the assorted items on the menu is live fish and lobster, imported meats, homemade pastas and the chef's special tasting menu.
Delicious food, a gorgeous sunset and the serenade of the surf make this open air restaurant at Kalim Bay a must for any visit to Phuket.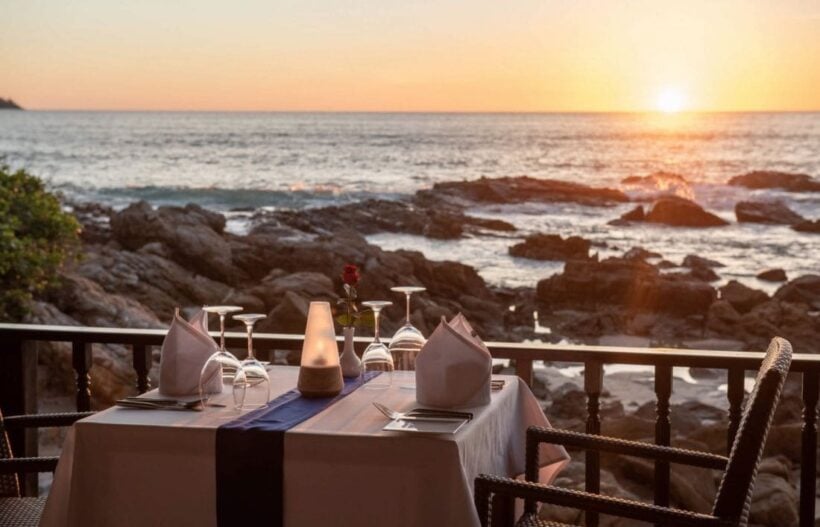 Bookings 063 078 5567
Game of Thrones: Thirsty actors leave water bottle in shot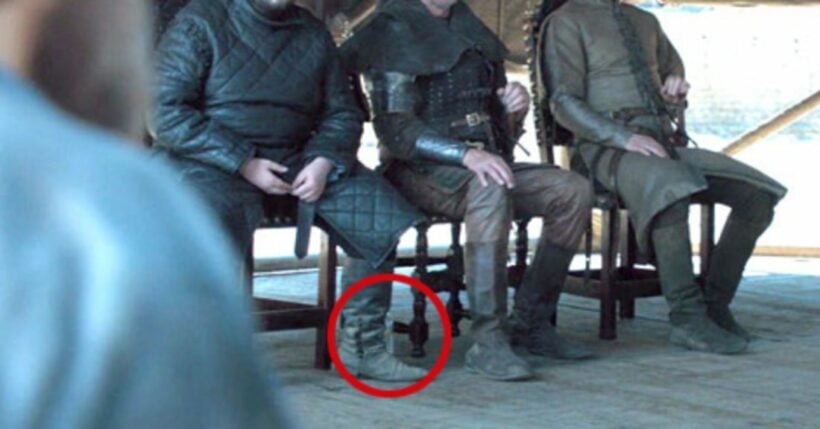 Oh my GOT. They've done it again.
For the second time this season Game of Thrones fans, with eagle-eyes and a trigger finger on the pause button, have spotted another out-of-place-and-time item on screen.
This time, a plastic water bottle tucked in behind the leg of 'Samwell Tarly' has been spotted on the series, now concluded. Actually you've got to be looking pretty hard and it takes a bit of Photoshop and zooming in to see what it really is glinting in the lights. But, there it is!
Two weeks ago it was the Starbucks coffee cup. Now the thirsty actors have left a water bottle, not quite hidden away, in the full view of the cameras.
Continuity? Props? Editors? Directors? Hello?!?!
Following the Starbucks coffee cup incident you would have thought there would be some extra care given to the actors, sesames and props before they rolled the cameras.
Last week, fans thought they spotted another blooper in a photo released of Jaime and Cersei Lannister where the Kingslayer's amputated hand had appeared to have grown back, but the image did not appear in the episode that was broadcast. And then there was the battery pack and cable that appeared on screen during Stannis Baratheon's death scene.
Game of Thrones took its final bow on Sunday night, US time, after eight seasons and 73 episodes, wrapping up a series that became one of the most popular shows around the world.