Phuket events / What's on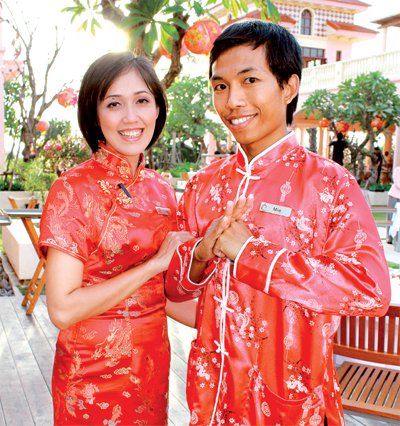 A weekly digest of important events to be enjoyed in Phuket over the coming days, plus many more can be view here.
New Year on January 23. The Cove Restaurant
Take part in the festive celebration for prosperity, happiness and fortune. Enjoy our special Chinese buffet dinner with a great variety of delicacies such as whole suckling pig, Peking duck, fish maw soup, dim sums and many more surprises.
Don't miss our traditional Dragon show, Chinese dance shows, firecrackers and live Chinese cymbalo player.
THB 1,288 ++ per adult. THB 688++ per child.
Reservation at 076-201234 or chr.co.th.
Onwards to March 31, 2012. International Buffet Dinner
International Buffet Dinner: Free-flow of house wine, Thai whisky, draft beer & soft drinks. Everyday from 6:30 to 9:30pm at The Imperial Adamas Beach Resort, Nai Yang Beach, Phuket.
Price: 950 baht net for adult and children (4 to12 years old) per one paying adult only 450 baht.
Reservation at 076-316000, [email protected] or imperialadamas.com.
January 21 to 24. Ashtanga Yoga Retreat
Join us for four days of yoga and meditation practice with Kimberly Roberts in the serene setting of Khao Sok National Park from 7am to 6pm at Thanyamundra Organic Resort. Morning will be an invigorating yoga sessions, while evening practice consists of restorative poses and sitting meditation. No prior experience is necessary; everyone is welcome.
Single Occupancy: 30,950 THB*. Double Occupancy: 36,750 THB*. Package includes: Accommodation for 3 nights in the Superior suite at Thanyamundra Daily brunch and dinnerRound trip airport transfer from Phuket International Airport Twice daily yoga sessions Organic farm tour* Rates are subject to 10 per cent service charge and seven per cent government tax.
Contact Kimberly Roberts at 076-336000, [email protected] or thanyamundra.com.

January 21. Jazz Night
Royal Phuket Marina and Simpson Marine are delighted to invite you to our jazz evening at Les Anges. Live Band Performance on the Boardwalk.
Dress code: Colorful. Free admission. Upon request a Snack Buffet is also available.
Contact Mario (Simpson Marine) at 086-2734149 or Murat at 081-7973364,
[email protected] marina.com or simpson marine.com.
January 22. Phuket Classic Car Trophy 2012
The Phuket Classic Car New Year Trophy will be our first event for 2012. From 11am to 5pm at Thalang Road, a road rally around the northeastern part of the island. We will drive along an exciting route, take some relaxing breaks to eat and chat, and conclude with an ultimate championship.
We will test your knowledge about classic cars and your driving skills with funny games. We welcome anyone who owns an original classic car, a youngtimer car or an new exotic car.
Just send us an email to register. Contact Narindet Changdee (Tar) at 084-7342711, ClassicCar [email protected] or ClassicCarClubPhuket.com.
January 25. Skippers Pub Quiz Nights Monthly
Join our Wednesday Quiz Nights here at skippers in Royal Phuket Marina. This event will be followed on February 29, March 28, April 25, May 30 and June 20. The events run from 7:30 to 10pm. Happy Hour prices and prizes!
Reservation at 076-271583, pahay @netvigator.com.
January 27. Thank God It's Friday
Thank God it's Friday at Skippers in Royal Phuket Marina – live music every week – starting with Neill T's easy-listening Friday tunes. Happy Hour from 5 to 9pm. Great specials on Thai and Western dishes. Kids room with 51 inch TV. Aircon or al fresco by the marina. Skippers is the place to be on a Friday.
Contact Nungning, at 081-5353205, nungningskippers @hotmail.com.
January 27. Special Promotion for Indian Feast
Royal Phuket Marina is pleased to introduce you to our new Special Friday Indian Feast. We are delighted to offer a 25 per cent discount on the Indian Buffet and 10 per cent off the listed menu on Friday nights. This Authentic Homemade Indian Buffet will be prepared and served by our very own in-house Indian Chef, Padum Kahtri.
Only 495++ baht per person. From 7 to 10pm at Les Anges restaurant, Royal Phuket Marina.
Contact Murat at 081-7973364, [email protected] or royalphuketmarina.com.
January 27 and February 3. Navrang Mahal Curry Fridays
We present Curry Fridays at Navrang Mahal India Restaurant from 7 to 11pm in Karon Sea Sands Resort & Spa. Here is your chance to enjoy an authentic and lavish Indian Curry Buffet on Friday only 449 baht nett!
Draught Beer by the glass: just 50 baht nett. Special discount on beverages. Reservations at 076-286464 ext 4, [email protected] or karonseasand.com.
January 28. Salsa Night
After the overwhelming success of our Salsa Evening and by popular demand, we are delighted to invite you to our Salsa Event at Royal Phuket Marina. Dance the Cha-cha, Bachata, Samba & Rumba with the sound of Dj Maskaro & Oy Live on the Boardwalk outside Les Anges restaurant. Upon request, a Snack Buffet is also available. Free Admission. Dress : Colorful.
Contact Anna at 084-0517455 or contact Dider at 084-3062016 or contact Murat at 081-7973364, [email protected] or phuket-dance.com.
January 28, February 11 and 25. Saturday Brunch
Saturday brunch from noon to 3pm at Two Chefs Kata Center! Every Saturday we are setting up our brunch buffet, filled to the limits with home made delights. In our smoke house, we smoke all of our fish and meats by ourselves, and in the bakery we we bake all our bread. With very well trained chefs and a Swedish head chef, we can promise you that you won't leave hungry or thirsty.
All this for only 395 baht, and if you add an extra 300 baht you can choose to drink what you want from our free flow alternatives.
Reservation at 076-330065, katacenter @twochefs-phuket.com or

Finance Ministry wants to give 1,500 baht to each domestic traveller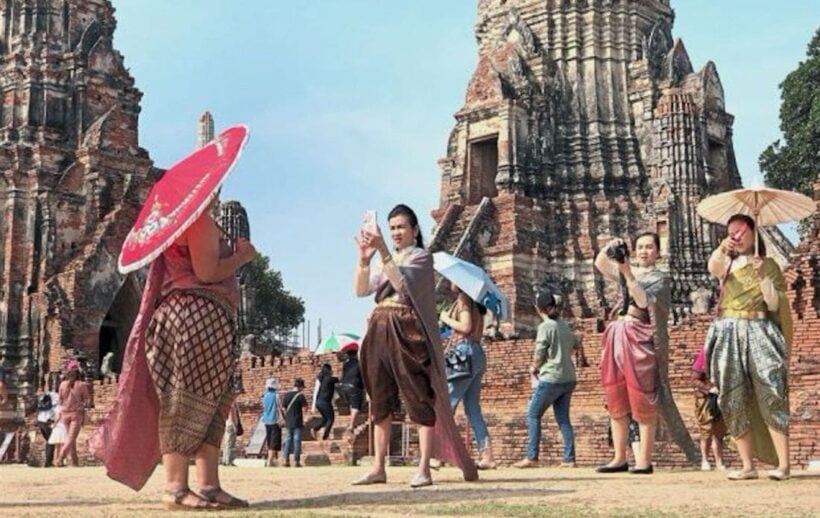 The Finance Ministry says they are launching a new stimulus package to boost the country's domestic tourism by giving Thais 1,500 baht each to spend when they travel to 55 provinces under the promotion campaign.
Under the campaign, Thais aged 18 and over can register for the program. The government will then deposit 1,500 baht into their accounts though the e-payment system. They can use the funds to make e-payments the shops that have joined the project.
"We are collaborating with the Tourism and Sport Ministry and Krung Thai Bank for the campaign and have set a budget of up to 15 billion baht. We will now propose the program to the deputy PM Somkid Jatusripitak and the cabinet to consider as soon as possible. We aim to launch the campaign before July this year," a source from the Finance Ministry said.
The ministry expects up to 10 million Thais to register for the program, he added.
SOURCE: The Nation
Bangkok named most popular city for Japanese tourists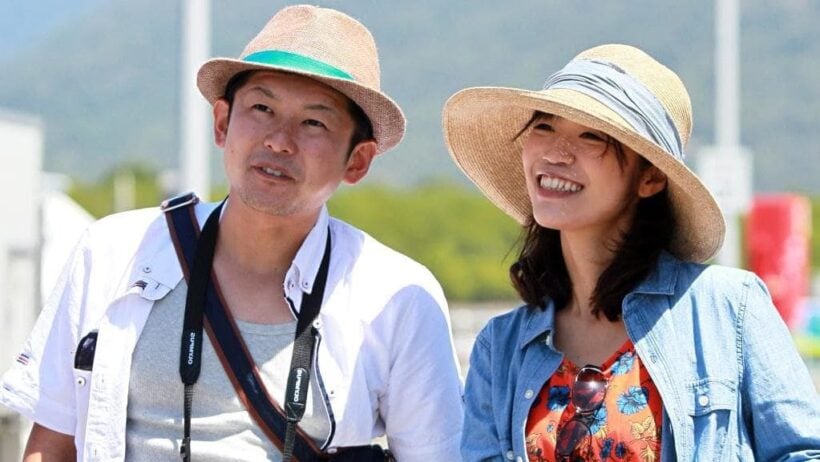 Thai PM Gen Prayut Chan-o-cha says he was happy after hearing that Bangkok was named the most popular destination for Japanese tourists during their Golden Week, a five-day long holiday which begins in late April.
The survey was conducted by Agoda, the online booking platform. Pattaya and Phuket were also ranked among the most popular destinations at #4 and #10 respectively.
"Japanese tourists are among the top 5 nationalities of foreign tourists visiting Thailand, particularly Bangkok where there are many beautiful attractions, delicious food, not-too-high cost of living, and friendly Thai people. The two countries's cultures are also quite similar. They can go along quite well," said a spokesperson for the PM.
Lt Gen Werachon Sukondhapatipak, the deputy spokesman of the Thai government, added that the PM loves to follow the updates on the tourism industry. Thai tourists love to escape the summer heat in Thailand, and visit Japan to experience the Japanese spring, visit popular tourist locations, sample authentic Japanese food and the Japanese people. The PM also invited the Thai people to be a good hosts, making all tourists feel welcome and helping keep them safe.
SOURCE: National News Bureau of Thailand
Bangkok luxury poised to push through the US$300 ceiling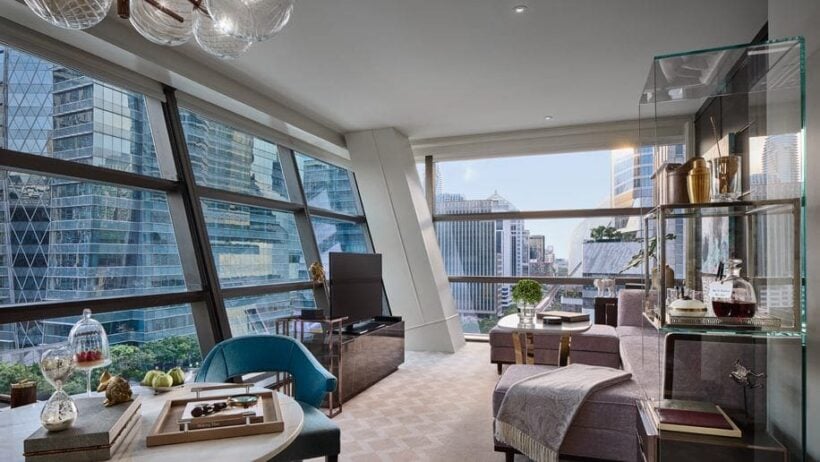 by Bill Barnett of c9hotelworks.com
PHOTOS: Rosewood Bangkok
For hotel owners and managers in South East Asia, one of the great mysteries of the past ten years has been the low rate profile of Bangkok's luxury hotel set. Despite soaring and sustained tourism growth, rising airlift and a strong economy, rates at Bangkok's top tier properties have remained fairly stagnant.
Have we reached the tipping point?
I had had the opportunity to visit the latest entry to the Bangkok luxury class a few days ago, the Rosewood. With 159 keys which includes a limited number of posh houses with private pools and terraces the property is seeing an exceptional response and already achieving high rates.
What's impressive about the entry is a take on the design approach that sees hotel developers apply a non-uniform approach with AvroKO coming in to focus on the restaurants and bars, while the rooms and public areas were led by Celia Chu Design and Associates.
While the speakeasy Lennon's has not be opened yet, the 6,000 record vinyl collection is impressive and the bar will clearly have a strong pull. Taking the approach to designing restaurants and not typical hotel outlets, the Chinese eatery Nan Bei is a breath of fresh air and limited seating provides a bespoke appeal.
Taking a step back, and looking at recent entries like the Waldorf Astoria, and upcoming 101 key Capella, what is clear is luxury properties are shifting in terms of key drivers of the segment of art, fashion, residential vibe, bar and restaurant offerings, wellness and events.
So, what about rates?
On a broad basis Bangkok's top tier hotels have averaged rates of US$200-240 for the past few years. This set has seen longer serving properties such as the St. Regis, Kempinski, and Okura effectively flatline on rates, though newer entries have come up including the Park Hyatt. On the broader horizon is the return of the Four Seasons and Capella by the river and the Orient Express at the MahaNakhon skyscraper.
With the entry of Rosewood driving rates, my expectation is that a few of the set will follow and at the end of 2019 we will set limited number of hotels crash through the US$300 average room rate barrier and effectively smash the legacy glass ceiling of Bangkok's luxury hotels.
As in any business there will be winners and losers. Smaller hotels with some rate leading premium key types will be able to push up average daily rates. Segmentation is another key and hotels on the river that lack substantial corporate numbers will remain challenged until transport links to the area improve.
Where in the world are Bangkok luxury hotels heading?
To sum up 2019, size and location matter, the shift on food and beverage and social events along with niches like wellness and  smaller meetings/weddings are the key to the future. As for the quantum leap in rates, it's about time Bangkok hoteliers be confident and push rates towards a more global norm.