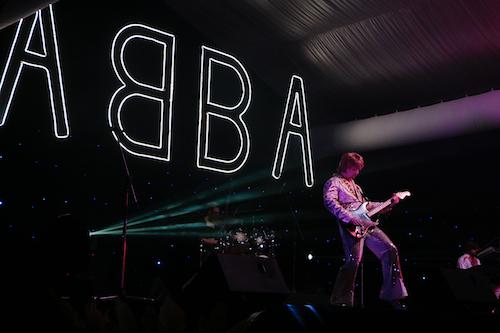 PHUKET: With no time machine available, it seems that only magic can take us back in time. But this past weekend at Laguna Phuket what took us for an amazing journey was music – and it certainly was magical!

"The gates open at 6:30pm" the tickets clearly stated. But that didn't stop a line forming in front of Laguna Latitude Marquee as early as 5pm. And what a mixed crowd it was! Judging from the looks – concerts goers aged from 5 to 95 showed up at the venue, though some put a lot of effort into disguising their appearance. Sequins, brocade, funky wigs, and lots and lots of make up – all to help recreate the thrilling atmosphere of the 70s.

All in all, almost 900 people showed up for the concerts to dance and sing along to the ever-green hits of Abba delivered by a Manchester-based tribute group – Abba Forever. And what a spectacular delivery it was!

It took the band just three songs to have most of the audience on their feet, clapping, waving their hands and singing at the top of their voices. Soon, none of the guests in the room remained in their seats with most of the fans gathered right under the stage where nothing obstructed their carefree dancing moves.

Some might say it's all thanks to Abba tunes – after all who can resist the urge to at least hum once they hear classics such as "Money, Money, Money" or "Waterloo"? But Abba Forever's skill at recreating the atmosphere of the 70s is more than just the catchy tunes – numerous outfits (band members disappear backstage every second song to change), synchronized dancing moves of the two lead vocalists, humorous chitchat or the makeup of the guitarist and keyboard player – all made for a truly irresistible show.

And in the end, nobody could resist. Why would they? The island is hungry for entertainment, culture and arts. So for now – thank you for the music Abba and thank you Abba Forever for giving us such a fun night. But the truth is – we want more!

The first in a series of six Gazette HEADLINE Events, ABBA FOREVER was produced by Events International in partnership with Laguna Phuket, Central Festival, the Phuket Gazette and the nationally televised 'Phuket Today' show (daily on True Visions channels 85 and 59).

— Maciek Klimowicz