Thai Life
PHUKET CHARITY: Blazing saddles, bangers and cash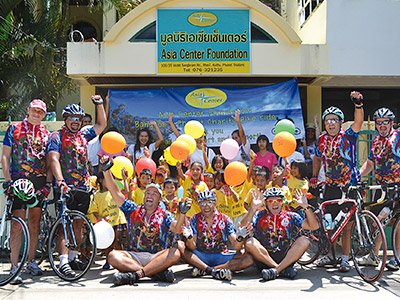 PHUKET: Members of the Old Bangkok Bangers Rugby Club were in Phuket late last month after a mammoth cycle challenge in aid of a Phuket children's charity.
The eight fearless men set out from Bangkok on Valentines Day, and for five energy-sapping days labored on bicycles to reach Phuket in one piece – all in aid of raising 500,000 baht for the Asia Center Foundation (ACF).
The ACF is a charity organization working for disadvantaged children in Phuket since 2002.
Presently, the ACF has to rent facilities for all its projects, but they're hoping to raise enough money to construct a permanent youth center in Kathu.
The Old Bangkok Bangers were only too happy to help out, with all funds raised through their epic, 957-kilometer bike ride going directly to the ACF building fund.
After winding down in Patong on the evening of their arrival, the lads donned their colorful cycling attire and paid a visit to the rented childcare center in Kathu to meet the children.
This was the second time that three of the lads saddled up and pedaled from Bangkok to Phuket for charity. Bob Pearson, Peter Burgess and Jeff Klentzi raised 350,000 baht for the ACF last year.
"To be honest, the trip was tough going, but also a lot of fun. It's a great charity and all the guys are happy to help," Bob said.
"The routine over the five-day ride was to wake up at 5:30am, have breakfast and hit the road. We were usually on the road for eight or nine hours. It worked out roughly to about 180km per day," he added.
According to Jeff, there were also some tasty perks along the way.
"The last day was the longest ride. We did 192km, but it was broken up with a wonderful bacon and egg sandwich in Khao Lak. The day started off with a gentle climb but turned into a sprint on the approach to Khao Lak…. It's amazing what a bacon butty will do to people.
"We rode over Sarasin Bridge into Phuket at 2pm and then the serious stuff started.
"The three hills after Surin Beach were hard work. The Kamala hill was the toughest I've ever experienced, but we all conquered it with plenty of gasping," he said.
When an aching Peter was asked whether he would be interested in making the return trip to Bangkok by bike, he replied in the negative, saying, "Honestly, I'd be prepared to pay double whatever the airfare is going to be."
Kuzhali Cogan, financial manager at ACF, was delighted to show the Bangkok Bangers around their facility and thanked them for helping make a real difference in the lives of Phuket's disadvantaged kids.
"Every last drop of financial support is needed and is very welcome. We rely solely on donations so we can pay for simple things like stationary and uniforms for the kids.
"The donations we get from the Old Bangkok Bangers are fantastic and much appreciated by everyone at ACF," she added.
— Andrew Jennings