Phuket books – Lost in Shangri-La by Mitchell Zuckoff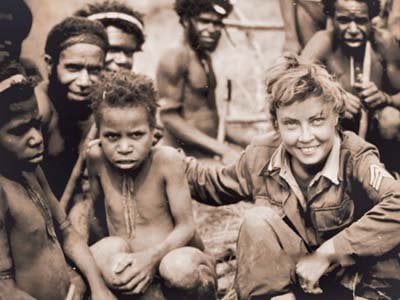 PHUKET: Mitchell Zuckoff is a hack journalist and a very good one. His specialty is dredging up old forgotten stories and making them new again.
His latest effort is Lost in Shangri-La (Harper Press, New York, 2011, 384pp). "Escape from a Hidden World – A True Story" is the subtitle of this tale of a plane wreck and rescue in New Guinea during the latter days of World War II.
At the time, the story made headline news and the three survivors were feted from one end of the United States to another. They are long since forgotten but Zuckoff brings them back to life again.
Lieutenant John McCollord, Sergeant Kenneth Decker and Corporal Margaret Hastings, a petite, beautiful, spunky corporal in the Women's Army Corps, were the only survivors of a sightseeing C-47 transport plane that went down in New Guinea's Balien Valley amid Stone Age tribes with no knowledge of the outside world.
The outside world wasn't aware of them until 1938 when playboy American explorer Richard Archbold flew over a valley inhabited by over 60,000 tribal people who grew sweet potatoes, raised pigs and killed each other.
"They did not fight for land, wealth or power. Neither side sought to repel or conquer a foreign people, to protect a way of life, or to change their enemies' beliefs, which both sides already shared. Neither side considered war a necessary evil, a failure of diplomacy, or an interruption of a desired peace. Peace was not waiting on the far side of war. There was no far side. War moved through different phases in the valley. It ebbed and flowed. But it never ended."
The 22 military passengers on the C-47 were on a sightseeing mission over the valley when pilot error caused the plane crash into a mountain. After two days of recuperation, the three survivors fought their way through jungle and streams into a clearing. Here they set out yellow tarpaulin covers from life rafts to signal rescue planes and, sure enough, were spotted by a B-17 bomber. They had been lost for three days.
Gradually, the survivors came to the realization that the clearing was not an accident. They were in a garden of sweet potatoes and rhubarb. Then they heard voices.
"The jungle rustled and shook. As the survivors stared helplessly in that direction, their fears took human form: dozens of nearly naked black men, their eyes shining, their bodies glistening with soot and pig grease, their hands filled with adzes made from wood and sharpened stone, emerged from behind the curtain of leaves."
Would they be killed? There were some votes in that direction but the final decision was to help them. Essentially, a quarter of the way into the book, the story is over. The rest is the mechanics of rescue.
Nine elite troopers are parachuted into another part of the valley, a clearing that turns out to be a designated battlefield or no man's land that separated the territories of the warring Logo-Mhael and Kurelu clans. The troopers are quickly surrounded by 200 armed warriors.
"Although some natives thought the visitors were spirits, others believed they were warriors like themselves who had escaped a massacre… They felt certain of one thing: the strangers were not their Kurelu enemies, so they had no immediate need to kill them."
The three survivors were eventually rescued in a daring glider mission and returned to a heroes' welcome in the United States. Then they faded back into obscurity. Margaret married, divorced and raised two children while working at a clerical job in Rome, New York.
During a reunion of three survivors and glider pilots in 1974, she remarked: "Fear is something I don't think you experience unless you have a choice. If you have a choice, then you're liable to be afraid. But without a choice, what is there to be afraid of? You just go along doing what has to be done."
Asked if she'd like to return to New Guinea, she replied: "You bet!" She died of cancer four years later.
— James Eckardt
Chinese move their purchase power away from Bangkok condo market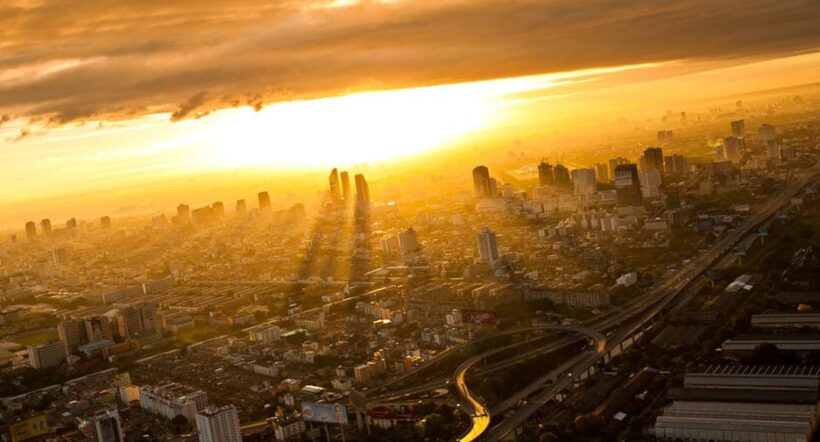 Chinese condo buyers are veering their purchase power away from the Bangkok property market citing the strong Thai currency, overpricing and a supply glut.
2015 – 5.8 Yuan to the Thai Baht
2019 – 4.4 Yuan to the Thai Baht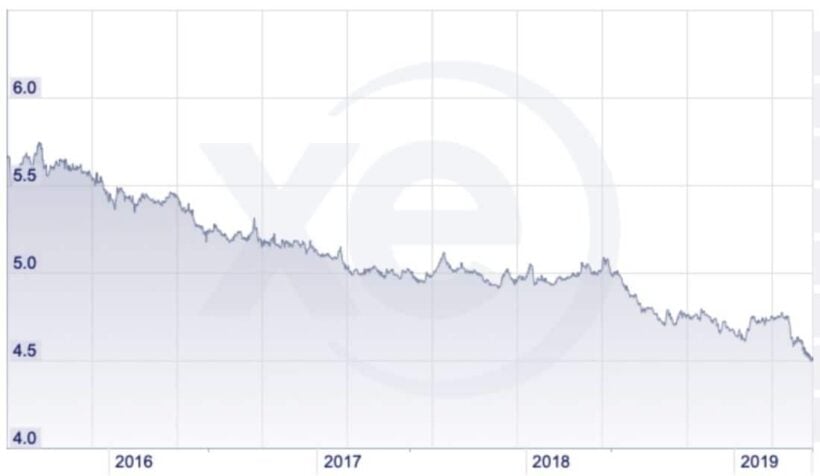 The rise of the baht and the weakening of the Chinese Yuan over the past four years, have culminated in a 25% softening in Chinese investment power in the Thai property market (chart from xe.com)
Property consultants say that Chinese buyers are now containing their investment risk by buying into the lower-end 2-6 million baht condo market instead of the 5-10 million baht condos they were previously purchasing.
At the same time the annual returns for Bangkok condominiums is reported to have dropped from 6-7% five years ago to only 3-4% in some locations in the current market.
Speaking to the Bangkok Post, Simon Lee, President of property brokerage Angel Real Estate Consultancy, says overall sales volume of Bangkok condos bought by Chinese buyers will shrink by half in 2019.
He also notes that the current Thai government crackdown on investors renting out condos on daily or weekly leases, has scared a lot of new investment into the sector away  as the 'law' appears to be applied in a haphazard manner.
The Chinese investors are also expressing disappointment when they buy into a development at one cost, only to find that locals pick up the balance of the stock at a lower price as the developers clears the stock.
Bangkok's soaring land prices, which should see the value of condos rise, is being balanced out with the sheer glut of stock available, pushing down values. Rental returns are also being pushed down by the volume of stock available to the rental market.
SOURCE: Bangkok Post
Here's another report about signs of weakness emerging in the Bangkok condo market from The Thaiger.
'Fast and Furious 9' to be partly filmed in southern Thailand, including Phuket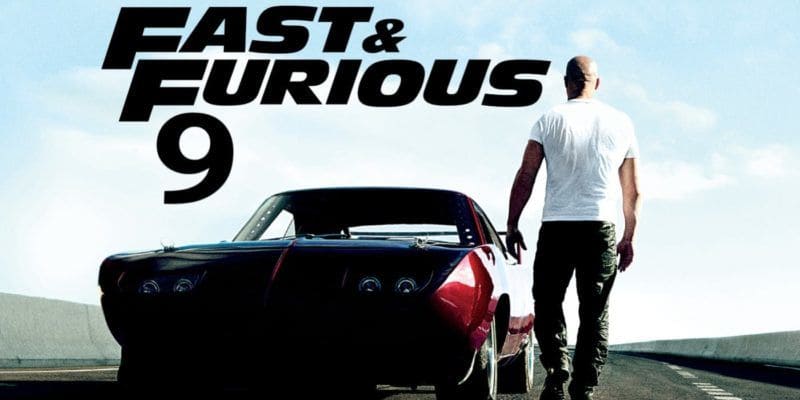 The latest sequel of the 'Fast and Furious' movie franchise will partly be filmed in Phuket, Phang Nga, Krabi and Surat Thani next month.
Yesterday Piya Petonji, the film's production manager, met with Krabi Governor M.L. Kitibadee Prawit at the Krabi City Hall before the cast arrives and filming begins.
The filming will be from July 1-27 in locations around Phuket, Phang Nga, Krabi and Surat Thani. It is estimated the production will bring a 340 million baht benefit to Thailand and the local film industry.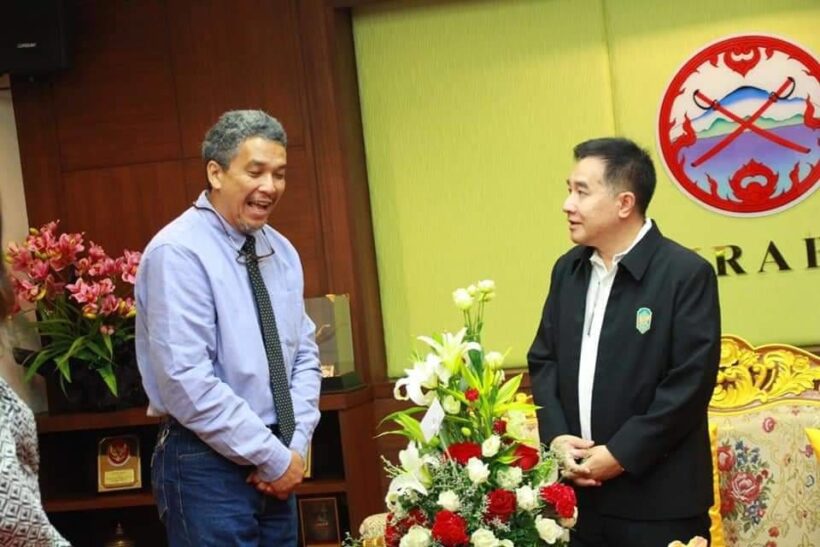 The Krabi Governor says this is a good opportunity for Thailand to present its beautiful nature, culture and history to the world through the film. There has been no announcement of when filming may be taking place around Phuket's roads.
The Thaiger recommends the plot of the film as a race between a visa-run passenger van and a Chinese Tour Bus to the Malaysian border, with a feature muay thai face-off on Maya Bay beach between Vin Diesel and Leonardo DiCaprio (though the 45 year old might have to get some training in before returning to 'The Beach').
Here's our Top Ten movies made around Phuket and Thailand.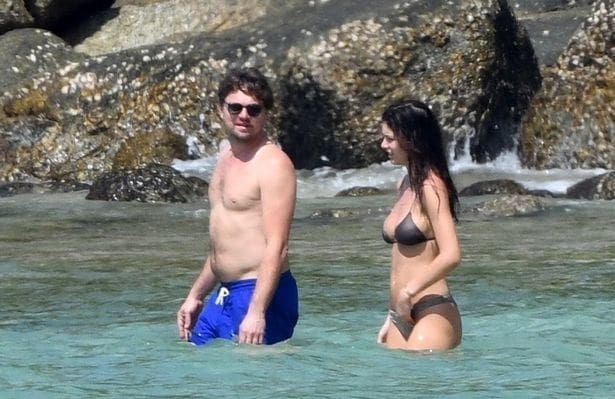 Leonardo in Phuket last year during a quick break
From 'Sawadee' to 'Pad Thai'. Who was Phibun?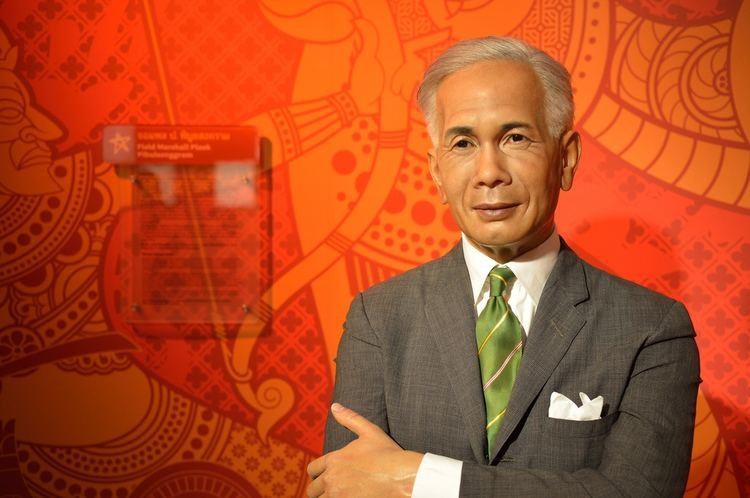 by Dan Brook
Thai culture is ancient and one can even see evidence of its beautiful bronze-age civilisation in Ban Chiang, near Udon Thani in Isaan, Thailand's lesser-visited north-east region.
But not everything in Thai culture is quite so old. In fact, some major things closely associated with Thailand are relatively recent — and all of them are related to Field Marshal Plaek Phibunsongkhram.
Phibun – as he is often called in the West, though he is better known as Chomphon Por in Thailand — was one of the leaders of the coup that overthrew the absolute monarchy in 1932, creating the constitutional monarchy that Thailand has had since. He also exerted more state control over the economy through nationalisation.
Culturally, however, Phibun may have had even more influence. As Thailand's longest serving prime minister, he supported fascism (though he later de-emphasised this and embraced a form of democracy), extreme nationalism, and a cult of personality focused on himself. His photos were ubiquitous and his quotes were regularly in the newspapers. He mandated that Thais salute the flag, know the national anthem, and speak Thai.
Phibun changed the country's name from Siam to Thailand in 1939, changed the new year from the traditional Thai one on April 13 to the European Gregorian one on January 1, and codified, promoted, and possibly created Thailand's signature eponymous dish, pad thai, by adapting a Chinese noodle dish. His law requiring Thais to wear hats in public, however, clearly did not endure.
Shortly after he simplified the Thai script, Phibun adopted the word sawadee (from svasti, the Sanskrit word for blessing or wellbeing) from a Chulalongkorn University professor and made it the "official" Thai greeting, starting in 1943, still commonly used.
Any one of these changes is huge. Combined, Phibun helped create modern Thai culture as we know it!
Dan Brook, Ph.D. teaches sociology at San Jose State University, from where he organises the annual Hands on Thailand (HoT) program. Dan has free ebooks on Smashwords.