Phuket Live Wire: Choosing the right internet landline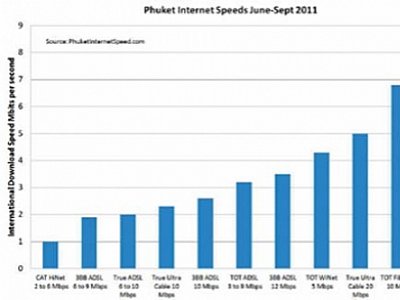 PHUKET: In my last Live Wire column I talked about the three general types of internet connections available in Phuket: landlines, wireless and satellite. This week I'll explain how to find the right landline. Next week I'll tackle wireless.
The most important point to understand about landlines is that they're changing all the time. Two years ago, 3BB had the best landlines, almost without exception. Since then, 3BB has fallen way down the list.
One year ago, TOT announced its Fiber Optic service – with an extravagant party seemingly emphasizing their breathtaking prices.
At the outset, the TOT Fiber Optic service was terrible, with constant blackouts and a snail's pace throughput, even on good days. Since then, though, the prices have gone way down and the service has vastly improved.
Two points to keep in mind. First, as I've mentioned several times in the past month, the amount you pay for an internet line has almost no correlation with how fast the line runs internationally.
Second, the very best service today may be moribund next month, and absolute rubbish a year from now.
It isn't just a question of one company offering a whiz-bang new product, or another installing lightning fast servers. It's also a question of deteriorating service. Internet Service Providers that don't pay the money for bandwidth to keep up with demand get worse and worse. Both innovation and stagnation come into play.
So, realizing that any advice I give today may be suspect in two months, and demonstrably wrong next year, what can you do?
The answer – as you've probably guessed – is to look at what other people are getting, and how much they're complaining, on PhuketInternetSpeed.com. It's crowd-sourcing at its finest. Go to the Search page and look for your location, or look for the Internet packages that interest you. If you're good at Excel, download the file and check for yourself.
Looking at the reported speeds for the past four months, it's apparent that the TOT Fiber 2U service is out ahead of almost every alternative, with international download speeds in the seven to 13 Mbps range.
3BB, CAT and the Cable companies are quite slow, averaging 2 Mbps or less, although the 3BB 10 Mbps and 12 Mbps lines are delivering 3 to 4 Mbps. True's and TOT's ADSL lines are around 3 to 6 Mbps, with True's DOCSIS 20 Mbps Cable around 6 Mbps and TOT's AirMax WiNet at 3 to 4 Mbps.
Email me if you'd like a copy of the spreadsheet with all of the details (larger graphic here).
Right now, if I were shopping for a landline, I'd head over to TOT and see if they have Fiber Optic 2U 10 Mbps (1,400 baht per month) in my area.
If not, or if I wanted to save some baht, I'd see if they have the AirMax WiNet 5 Mbps package, or the standard ADSL 6 Mbps package (both of which cost 600 baht per month).
If I couldn't get any of those, I'd go to True and see if they have DOCSIS in my area (1,300 baht for nominal 20 Mbps, 700 baht for 10 Mbps).
As a last resort, I'd spend the extra money for 3BB 10 Mbps service (1,490 baht per month).
That's what I would do this week. Next week may be an entirely different story.
When you go, make sure you know the exact location of your house (Streets of Phuket directory or Google Map will help). If you have a work permit, or a Thai ID card, take it.
If you aren't Thai, and don't have a work permit, it's best to take a Thai national with you to act as guarantor for the line: if you skip town, your guarantor is on the hook to pay for it.
Not everyone in Phuket has a landline and many people need internet on the move, so next week I'll look at the different wireless connections and show you how to pick the best one for your situation.
Then, the following week, I'll give you a few tips about signing up for service.
If you aren't yet reporting your speeds on PhuketInternetSpeed.com, please drop by and sign up! It's free, only takes a few seconds, and the results help everybody figure out what's working and what's not worth the effort.
Remember that all of the data – more than 22,000 reported sightings at this point – is immediately available to anybody who wants to download, look at or fiddle with the results.
Also remember that the Internet Service Providers are watching the reports.
Live Wire is Phuket Gazette columnist Woody Leonhard's weekly snapshot of all things internet in Phuket. Follow him on Twitter: @PhuketPC or visit his free computer clinics at Woody's Sandwich Shoppes.
To see what Woody's up to in the international press, and to keep on top of the latest patches and problems with Windows and Office, drop by AskWoody.com.
— Woody Leonhard
Keep in contact with The Thaiger by following our
Facebook page
.
Thalang Police arrest local Phuket drug dealer with amphetamine pills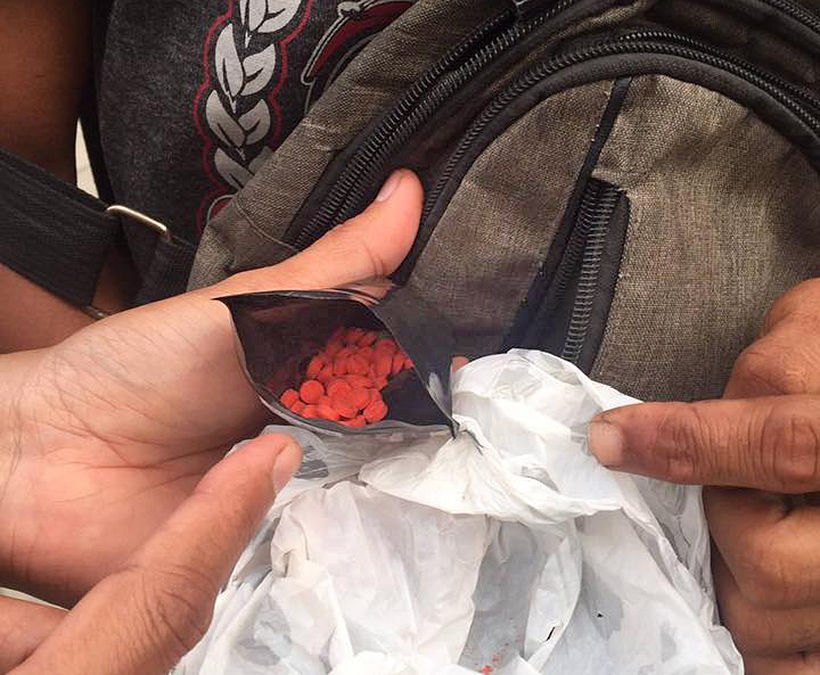 PHOTOS: เหยี่ยวข่าว ภูเก็ต Newshawk Phuket
Thalang Police have arrested a local drug dealer with more than 192 amphetamine pills. Thalang police in Phuket arrested 29 year old Wimon Songkong from Nakhon Si Thammarat with 192 amphetamine pills that he was carrying when they nabbed him in front of a 7-Eleven store inside a PTT gas station on Thepkasattri Road, in Thalang District.
The amphetamine pills were packed in a black zip-lock plastic bag, which was hidden in his grey shoulder bag. Two of the pills were green and 190 of them were orange, while each pill had the letters 'wy' printed on them.
Wimon was charged for possessing and trading illicit drugs and was sent to Thalang police station for further investigation and processing.
STORY: Newshawk Phuket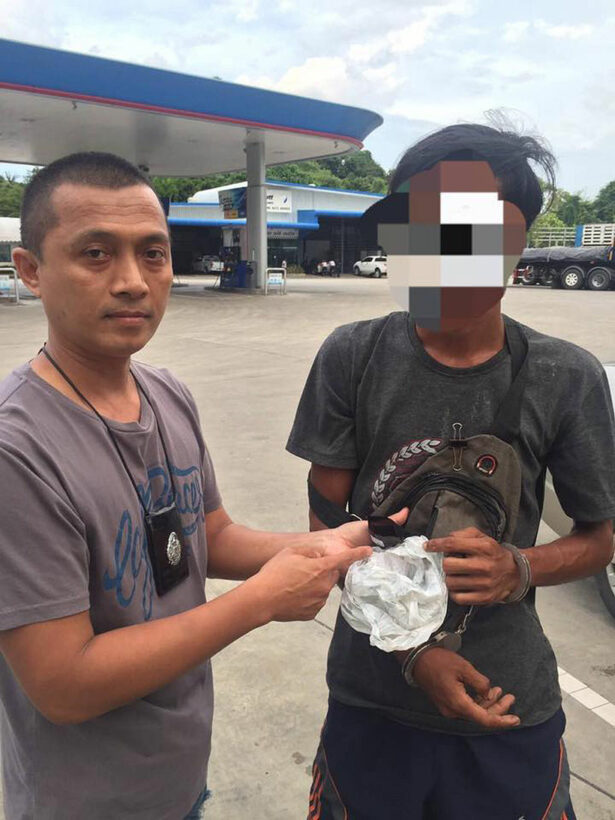 Keep in contact with The Thaiger by following our
Facebook page
.
Southern Thailand braces for rough weather and rain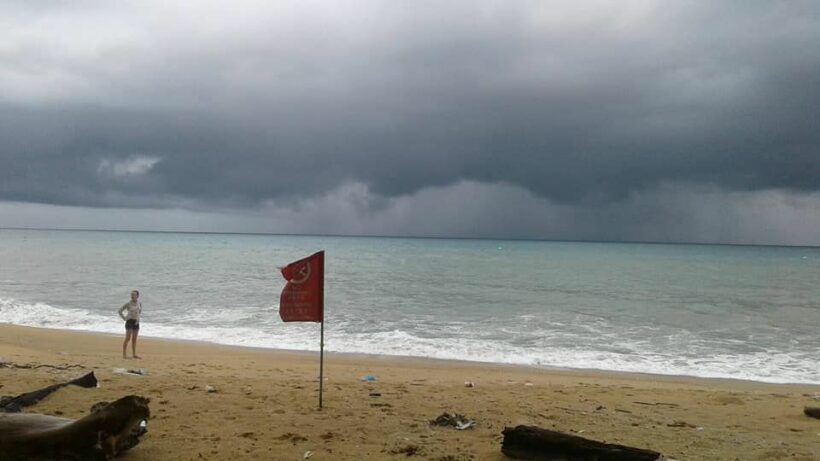 The Thailand Meteorological Department issued a weather warning for southern Thailand with torrential rain forecast to hit the region throughout the weekend. The heavy monsoon over the Gulf of Thailand and south of the country is being blamed for the rough weather, with the TMD predicting flash flooding in many areas.
(Phuket, Hat Yai and Hua Hin's forecast below)
"Waves are expected to reach 2 metres in height in the lower Gulf of Thailand and possibly higher at the height of the storm. Ships are advised to proceed with caution."
For the north and northeast of Thailand, the TMD forecasts strong winds and cooler mornings as the arrival of the "winter" season, coupled with a moderate high-pressure system, causes temperatures to dip.
Hua Hin's five day forecast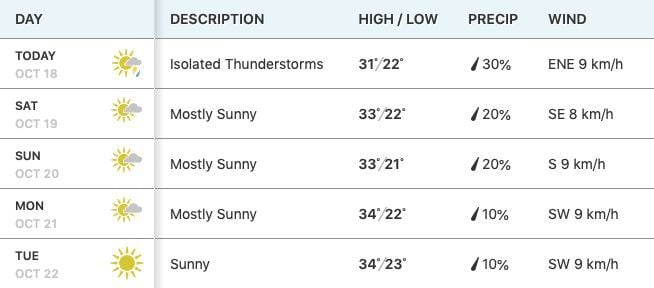 Phuket's five day forecast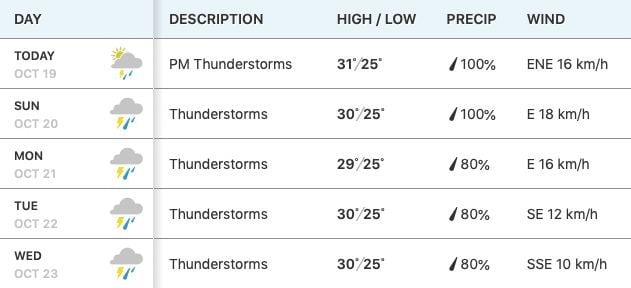 Hat Yai's five day forecast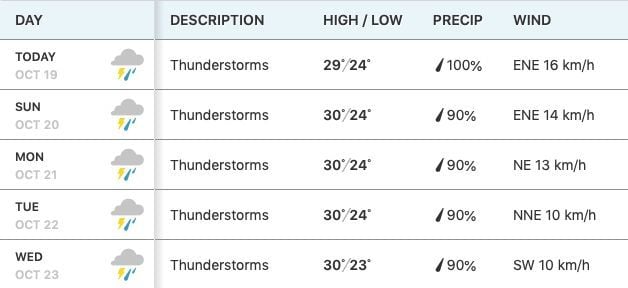 SOURCE: The Nation | weather.com
Keep in contact with The Thaiger by following our
Facebook page
.
Now you see him, now you don't… Patong Police hunt foreigner over $30k theft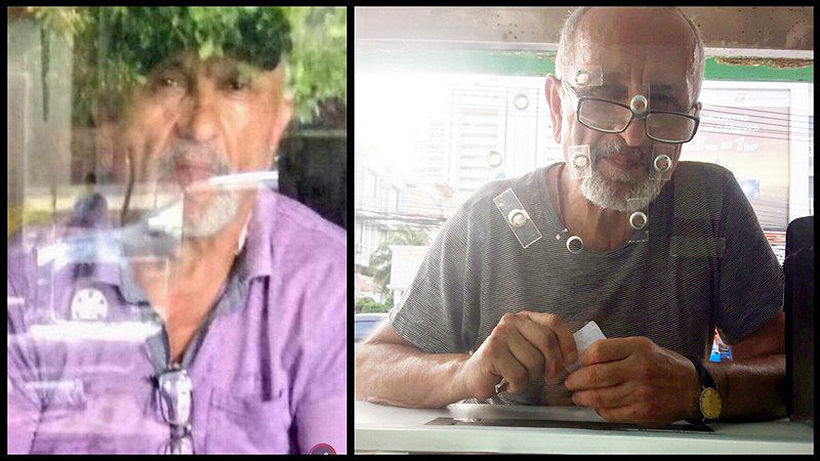 PHOTO: Patong Police
Patong Police have yet to develop any tangible leads tracking down a foreigner who made off with US$30,000 in cash from a currency exchange booth in Kalim, north of Patong in Phuket, last Tuesday.
The man is about 168 centimetres tall with grey hair and around 60 years old, Patong police told The Phuket News.
"We have no clue what nationality he is."
He was last seen at the currency exchange booth wearing a purple polo shirt, blue jeans and black cap. Police have checked hotels in the area, police stations across the island and Phuket Immigration, but have yet to join the dots and come up with firm leads.
"Investigators have checked CCTV in the area and collected what evidence we have but we still do not know the man's name or where he was staying."
The man had visited the booth several times before Tuesday, when he disappeared with the $30,000 in US banknotes, according to police.
"It was always small amounts", he added, noting that the amounts didn't warrant staff at the exchange booth to check the man's passport before making the exchange.
The man arrived at the booth again at about 1pm on Tuesday, saying that he had 900,000 baht cash to exchange.
SOURCE: The Phuket News
Keep in contact with The Thaiger by following our
Facebook page
.