Phuket Books: Fact, fiction and historical novels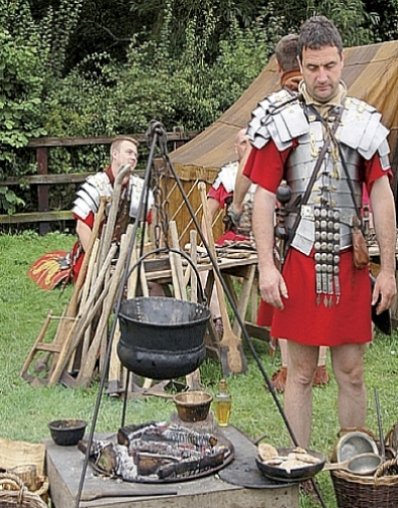 PHUKET: If you describe anything as "the worst thing that can happen," it probably isn't. But one of the worst things that can happen to an historical novelist is to have someone creep up with a smirk on his face, and say that you got a fact wrong. For me, it's worse than being told the novel is useless.
I've always been sheltered from general criticism behind an impenetrable wall of vanity. I'm a genius. Anyone who says otherwise can only be intellectually or morally defective. Tell me I've got my facts wrong, and I may run screaming from the room.
It would be my own fault. The rules are clear. You can write as secretary to the Emperor Tiberius, and explain that he always swam alone on Capri – that he was a fine man and ruler, libeled after his death for his Thatcheresque way with taxpayers' money. With a few obvious exceptions, you can blacken or whiten historical characters just as takes your fancy.
What you can't do here is have someone uncork a bottle of wine and pour two glasses. You see, corked glass bottles only came into use in the 17th Century, and glass drinking vessels, though used for thousands of years, only beat metal to the tables of the rich in the same century. Overlook this, and you'll be written off as incompetent.
And so, when writing historical fiction, you need to get your facts right. This means more than looking up on Wikipedia when forks, hair clips or suntan cream first came into use. You must think yourself into the past age you've chosen and not make it look as if your characters could have been pulled out of the Underground and sent off into something halfway between a historical theme park and the Big Brother house.
You cannot assume that the physical things and habits of thought that you take for granted were the same in the past.
Let me give an example. I've been shuffling round National Trust properties since childhood, vaguely noting how short beds were in the past. If asked why, I might have said that people were shorter then. Last year, when looking through an old book of prints, I realized that persons of quality, before about the early 19th century, slept in a sitting position – they didn't need such long beds.
Now, I'd always taken my own habit of sleeping in a ball, with the blankets pulled over my head, as a slight deviation from the norm, but never thought of this norm as other than universal.
This worried me for professional reasons, but shouldn't have surprised me. The followers of Karl Marx – and I think here less of Marx himself than of his more unorthodox followers like Karl Polanyi and Moses Finley and Michel Foucault – go too far in claiming that there are no universal norms. They hated bourgeois civilization, and spent their lives trying to prove that all its norms were part of an order of things that had come recently into existence, and could be hurried back out of existence.
In fact, the essentials of human nature don't change. But, if this includes basic motivations, it doesn't include how these are expressed. It can be difficult to work out the difference between motivations and their particular expressions. And there's no doubt that, by our own lights, people in other ages often thought and behaved very oddly by our own standards.
I won't boast that I've always got it right in my novels. David Friedman (son of Milton) once got me close to a walking out moment, when he insisted that a glass table I'd put in one of my novels couldn't have been cast before the late middle ages. But I do try to get it right.
I'm currently writing a novel set in 7th Century Byzantium. This involves a plague epidemic. And so I've become an expert on medical history. Though the germ theory of disease is very modern, there was, from the late middle ages, some popular insistence on quarantine. But this wasn't endorsed by the doctors. Until the arrival of syphilis forced them to think again, the doctors had no regular idea of contagion.
They were mostly committed to the miasma theory of epidemic diseases – invisible clouds of poison that might be evidenced by foul smells. I still haven't decided what significance plague has in my new novel. Even so, do be assured that it won't just be the look and smell of the sores that I get right.
On the other hand, sweat all you like over those facts – it doesn't mean you'll write a bestseller. You see, the example I gave of uncorking wine bottles is a real one. I once got a long way into Taylor Caldwell's Dear and Glorious Physician, which is about St Luke the Evangelist. I put up with everything I didn't like about it until someone in Antioch uncorked a bottle. I threw the book aside with a snarl of contempt.
Sadly, no one else has. Taylor Caldwell didn't know how the ancients stored and sold their wine. But her novels remain in print nearly 30 years after her death, and sell in numbers I can only envy – and her name will probably be remembered when mine has been forgotten.
Of course, you still do need to get it right. But it goes to show there's no justice!
— Richard Blake
Keep in contact with The Thaiger by following our
Facebook page
.
Professor: Military government too interested in tourism – not people's welfare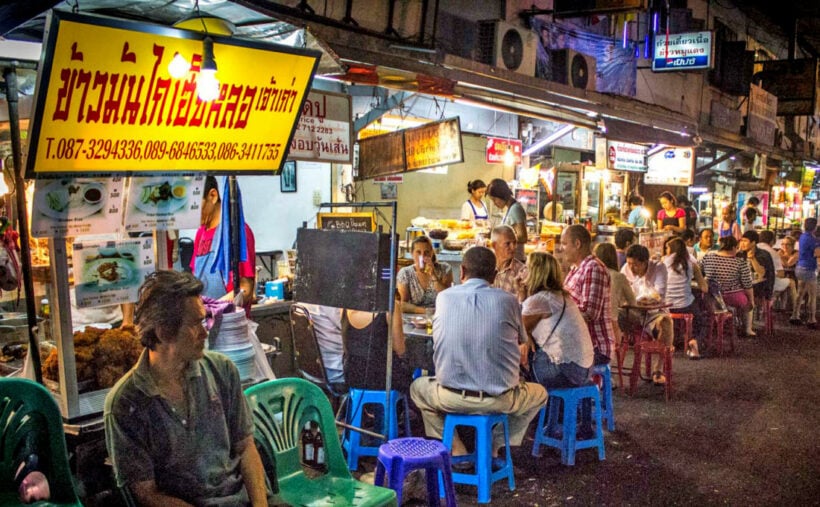 A professor of Rangsit University has criticised the previous military government for focusing too much on tourism and not enough on the welfare of the Thai people. The professor was speaking at Chulalongkorn University at a seminar discussing street stalls and urban development.
She questioned the National Council for Peace and Order's policy of clearing street vendors in all but a few areas such as Yaowarat and Khao San Road that mainly cater to tourists.
She claimed that the NCPO – in power since the coup of 2014 until this year's election – was more interested in economic development through tourism than in the welfare of the public.
Having affordable street food options was not just about tourism, she said, it was vital for poor workers who have migrated from the countryside, adding that it was part of an informal rather than a formal economy.
"For years people had earned their living from selling goods and services, including food, on the streets."
This in turn provided an affordable option to eat for workers who came to Bangkok on for large investment projects. The issue, she said, was not just about tourism but the wider economy that might benefit.
The professor noted that CNN had once called Bangkok the best place in the world for street food but this had changed with the sanitized food trucks that have appeared since stalls and vendors were banned from most areas.
The Thaiger notes that banning street vendors has divided the capital. Many are happy that the sidewalks are easier to navigate, but others – including tourists – have said that the lifeblood and character of the city has suffered.
SOURCE: Naew Na | ThaiVisa Forum
Keep in contact with The Thaiger by following our
Facebook page
.
Journey back to Tham Luang in 'The Cave' – VIDEO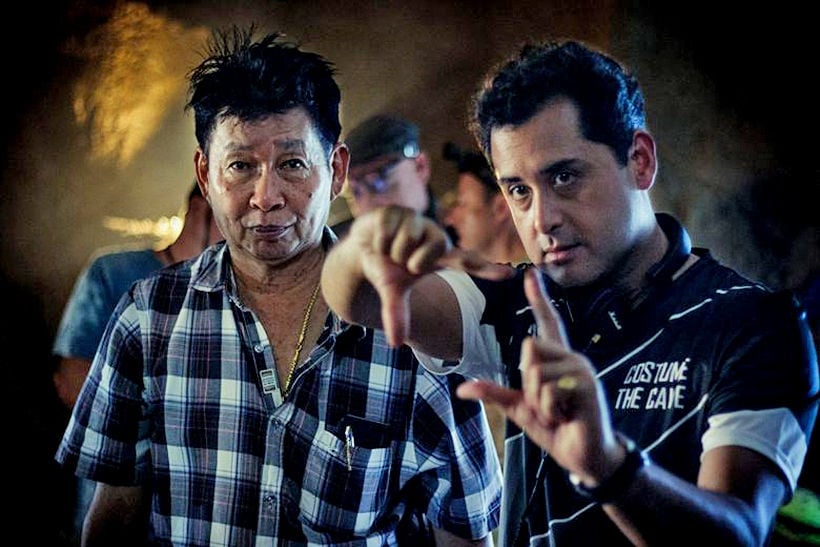 PHOTO: Tom Waller on site during the filming of The Cave – AFP
Determined divers racing against time. Rising waters threatening lives. 12 teenagers and their soccer coach trapped inside for two weeks. A remote cave that most had never heard of.
The stuff of a Hollywood drama, except that it's all true and happened in Chiang Rai last year. Now the first of several re-tellings of the story comes to the big screen in The Cave.
The ordeal in late June and early July last year had barely ended when filmmakers began their own race to get the nail-biting drama onto cinema screens. The first of those projects premiered at the start of October, when director Tom Waller's The Cave showed at the Busan Film Festival in South Korea.
The film was shot over three months earlier this year and has been in post-production since then. The 45 year old Thai-British filmmaker says the epic tale of the Wild Boars (Mu Pa) football team was a story he simply had to tell.
"I took the view that this was going to be a story about the people we didn't know about, about the cave divers who came all the way from across the planet."
The 13 young men entered the Tham Luang cave complex after soccer practice and were quickly trapped inside by rising floodwater. The boys were forced to spend nine nights lost in the cave, whilst Navy Seal and other diver searched frantically, before they were spotted by a British diver.
It would take another eight days before they were all safe, against all odds, in a risky mission.
Waller was visiting his father in Ireland when he saw television news accounts of the drama.
"I thought this would be an amazing story to tell on screen."
But putting the parts together after their dramatic rescue proved to be a challenge. Thailand's government, led by the military NCPO, became very protective of the story, barring unauthorised access to the Mu Pa team or their parents. Waller often feared his production might be shut down.
His good fortune was that the events at the Tham Luang cave in Chiang Rai province had multiple angles and interesting characters. Especially compelling were the stories of the rescuers, particularly the expert divers who rallied from around the world. He decided to make a film "about the volunteer spirit of the rescue."
Other people proposed telling the story from the point of view of the boys, and Netflix nailed down those rights in a deal brokered by the Thai government.
"I took the view that this was going to be a story about the people we didn't know about, about the cave divers who came all the way from across the planet. They literally dropped everything to go and help, and I just felt that that was more of an exciting story to tell, to find out how these boys were brought out and what they did to get them out."
Waller even had more than a dozen key rescue personnel play themselves.
Waller said they were natural actors, blending in almost seamlessly with the professionals around them, and helped by the accuracy of the settings and the production's close attention to detail.
"What you are really doing is asking them to remember what they did and to show us what they were doing and what they were feeling like at the time. That was really very emotional for some of them because it was absolutely real."
Waller says his film is likely to have a visceral effect on some viewers, evoking a measure of claustrophobia.
"It's a sort of immersive experience with the sound of the environment, you know, the fact that is very dark and murky, that the water is not clear."
"In Hollywood films, when they do underwater scenes, everything is crystal clear. But in this film it's murky and I think that's the big difference. This film lends itself to being more of a realistic portrayal of what happened."
Some scenes were filmed on location at the entrance to the actual Tham Luang cave, but most of the action was shot elsewhere.
"We filmed in real water caves that were flooded, all year-round. It is very authentic in terms of real caves, real flooded tunnels, real divers and real creepy-crawlies in there. So it was no mean feat trying to get a crew to go and film in these caves."
The Cave goes on general release in Thailand on November 28.
ORIGINAL ARTICE: Associated Press | Time.com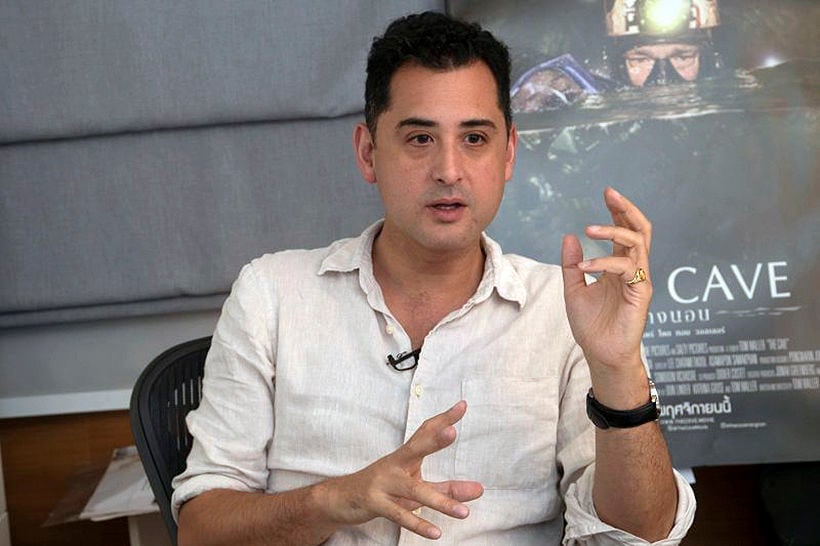 PHOTO: Tom Waller – Associated Press/Sakchai Lalit
Keep in contact with The Thaiger by following our
Facebook page
.
Tale of two cities – Hua Hin vs Pattaya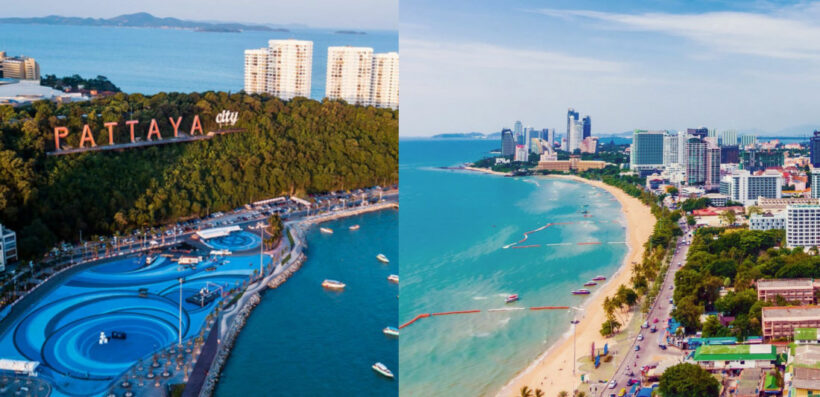 by Kornrawee Panyasuppakun
Property buyers looking to buy a seaside villa or condo in a coastal town in Thailand, relatively close to Bangkok, confront one question – should I buy a property in Hua Hin or Pattaya?
And rightly so, because these two choices have similar aspects. Both have kilometres of coastline, good beaches, and are just a couple of hours away from Bangkok – 3 hours for Hua Hin and 2 hours for Pattaya. They also have good year-round weather, large expat populations, and are some of the best places in Asia for water-sports and playing golf.
Yet, each place suits buyers with different lifestyles and goals.
Town or City?
If you want a laid-back beach town feel, Hua Hin is the right choice. If you like to live in the middle of action, with a greater range of things to do, Pattaya is the winner. It is simply more established and has a longer development history in terms of western-style villas and condominiums.
Hua Hin has a population of around 100,000 plus a growing tourist reputation. The lazy town offers long, sandy beaches that run 5 kilometers along the coast and are not fully obstructed by high-story condos on the beach, due to building regulations.
Hua Hin may not be the best place to swim in Thailand, as the sea-bed is a bit rocky, but it makes up for it with clean beaches, dedicated beach cleanup groups consisting of locals and expats, and regulations which, among others, restrict commercial tourism on the beaches on Wednesdays, and town planning which controls high-rise along the coast.
Hua Hin also suits those in search of a peaceful getaway because the town does not have a seedy reputation and is far from any industrial enterprises. This is thanks to a strong tradition of royal patronage and residence in the district, such as Mrigadayavan Palace and Klai Kangwon Palace, the latter is owned by the late King Bhumibol Adulyadej (Rama IX).
Nevertheless, the town has a growing reputation for restaurants and new attractions for tourists; it is a favourite resort town for Thai upper-class and Bangkokians who like to go to Hua Hin on weekends.
Check out the largest selection of properties in both towns HERE.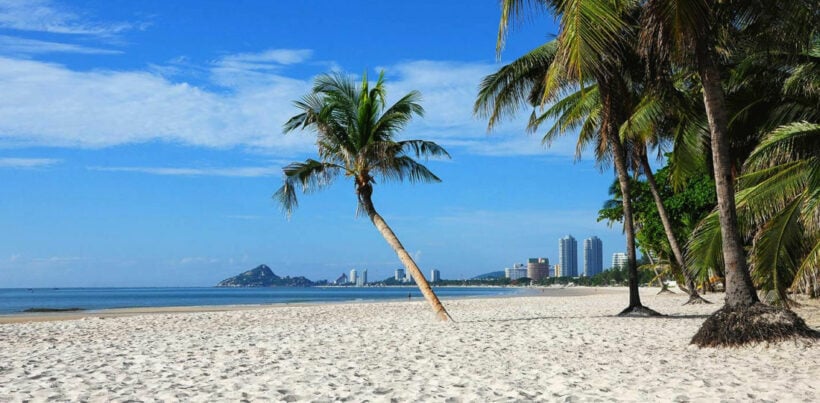 Pristine beaches of Hua Hin, larger and longer than Pattaya
Pattaya, on the other hand, is home to almost 400,000 people, plus plenty of international tourists. The city is highly developed and has a higher density of high-rise buildings along the coastline and many great sea-view villas on the hillside, both of which are harder to find in Hua Hin due to the tighter building regulations.
During the day, the beaches in Pattaya attract sun worshippers and all different types of water sports, from kitesurfing to waterskiing. At night, Pattaya's Walking Street is an international adult entertainment playground. But that doesn't mean you can't find a quiet place in Pattaya. There are less-popular beaches like Jomtien Beach and nearby islands like Koh Larn and Koh Samet.
Pattaya is part of Thailand's eastern seaboard, the Eastern Economic Corridor, meaning the city is situated close to Thailand's main industrial facilities and sea ports, as well as airports like Suvarnabhumi Airport, which is around an hour and a half away by car. It also has its own airport about 40 minutes from town called U-tapao International Airport.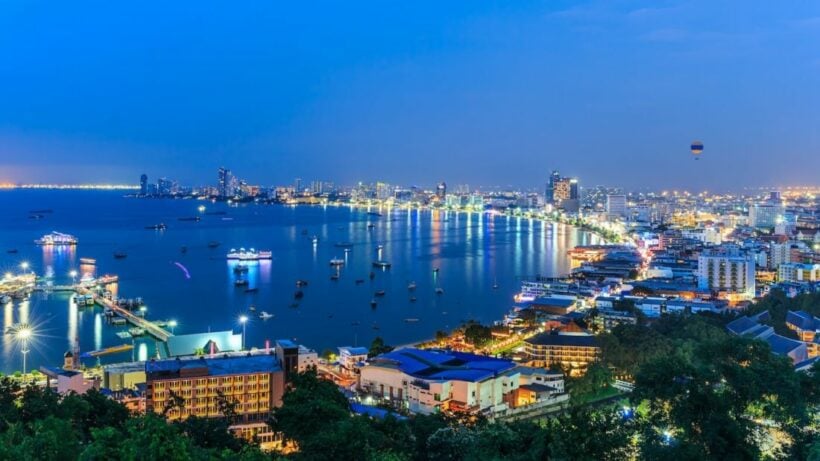 The famous sweeping coastline of Pattaya, a haven for nightlife and entertainment options
Holiday home, Retirement, or Investment?
Hua Hin and Pattaya are both highly qualified for holiday home buyers with an impressive choice of villas and condominiums. But Hua Hin is better known for retirement and Pattaya for investment.
Hua Hin has been named as one of the best retirement locations in Asia by countless surveys. It offers a high standard of living, great golf courses, first-class restaurants, quality medical care, close proximity to Bangkok, as well as "the big foreign community that connects through reading clubs, festivals, cycling clubs, soccer leagues, wine tastings and darts tournaments," wrote the US News and World Report in 2019.
Foreign property buyers are those who buy a holiday home or a retirement residence. Most are from western countries, especially those from Scandinavia, Germany and England. Many buy in Hua Hin to spend the winter with their families, rent out when they are away, and eventually live there when they retire. Also, a hi-speed railway will soon be built to link Hua Hin with Bangkok, which will make travelling to Bangkok airports even more convenient. It already has a multi-lane highway, train and bus services.
Pattaya is a popular choice for investment. It has a large and growing tourism industry, with over 12 million tourists last year, as well as a healthy mix of nationalities, including Israeli, Russian, European, Indian, and Chinese, making its tourism less susceptible to change from a single demographic.
Additionally, Pattaya is part of the Eastern Economic Corridor, the Eastern seaboard that targets high-tech industries and attracts foreign direct investments, especially from Japan. It is also linked to Bangkok airports, sea ports, and main industrial facilities in Chon Buri and Rayong by the upcoming hi-speed rail. Plus, the city itself is positioned as an international medical hub.
Overall, a stream of foreign tourists and business travellers means a steady source of income for investors. Those who buy the property to rent out short-term and long-term can enjoy a realistic Return On Investment of about 7 – 8% year. In Pattaya you can already see investors from Western countries as well as Asian countries, from China to India and the Middle East.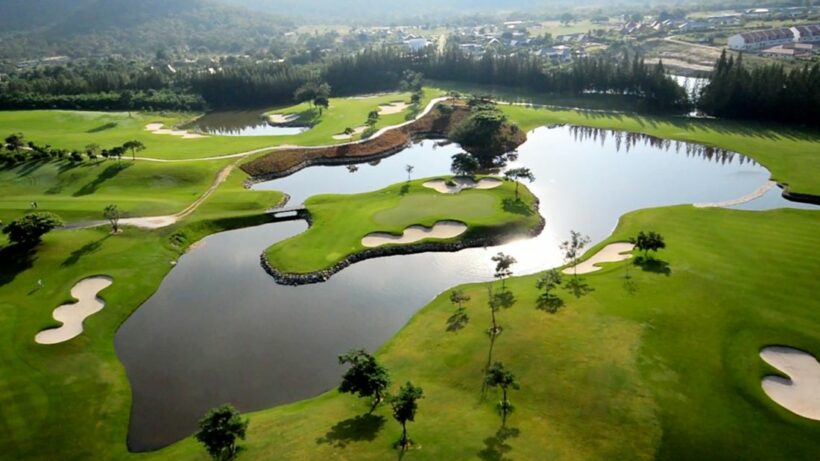 There is an excellent selection of international-standard golf courses in Hua Hin
Lifestyle
Both offer a cool selection of eateries, shopping malls, and activities, but if compared by the variety of choices, Pattaya is the hands down winner.
That isn't to say that Hua Hin doesn't have plenty of options. Most buyers in Hua Hin like to play golf and enjoy the outdoor spaces – town is one of the best golfing destinations in Asia. There are also first-class Thai and international restaurants, a huge eco-friendly water park, and several night markets that sell fresh seafood and local crafts, like Hua Hin Night Market and Cicada Market.
Furthermore, Hua Hin has stylish shopping malls like Blueport and Market Village, the latter of which offers so-called "you hunt, we cook" options. You can also try the new Latitude Wines at a vineyard in Hua Hin or head to a cool bar that offers familiar labels.
Pattaya may be infamous for its red light areas and nightlife – go-go bars, beer bars and nightclubs – but that is not the only side of Pattaya. In Pattaya you can find quality lifestyle with a burgeoning choice of family options and entertainments.
It offers a range of Thai and international cuisines, from award-winning restaurants with amazing views, sky bars, and Italian wine bars, to family-run restaurants, 100% vegan places, and local seafood. It also has a range of options to entertain people with different budgets.
Pattaya also offers lots of chic shopping centees like Terminal 21 Pattaya, Central Festival Pattaya Beach and Central Marina. There are also lots of family-friendly choices like water parks and museums, in addition to a wide range of extreme sports, such as Muay Thai, kitesurfing, waterskiing, and skydiving. You can also go snorkeling or plan a day trip to nearby islands like Koh Larn and Koh Samet.
In both cities, you can expect to find theatres with international blockbusters and supermarkets that sell western products. And there is a daily ferry between Hua Hin and Pattaya (during high season).
International Education
Expat families can find an excellent international school in both cities.
Hua Hin has a couple of options for expat families. With quality education and great sporting activities, Hua Hin International School, for instance, is one of the choices that follows the national British curriculum and the IB program, and recruits teachers from the UK. There are also several bilingual programs available.
Expats in Pattaya have more choice when it comes to international education. There are several internationally-recognised international schools with excellent facilities like hi-tech campus, drama studios, and a big theatre. Some of the best schools are St Andrews International School, Regents International School, and Tara Pattana International School.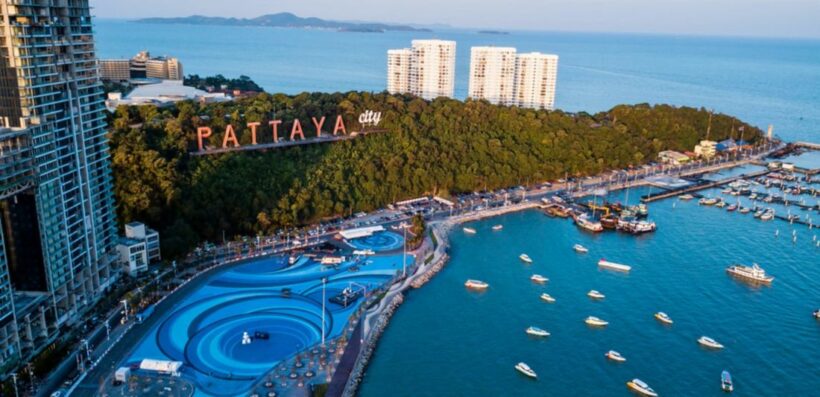 Health Care
Hua Hin and Pattaya offer high-quality hospitals that cover basic and advanced medical care and cater to patients with different budgets.
Top private hospitals in Hua Hin are, for instance, Sao Paulo Hospital which caters to lower budgets, and Bangkok Hospital Hua Hin which is part of the renowned BDMS group. These hospitals both offer quality specialist care including cardiology, urology, and orthopaedics, to name a few, and English is widely spoken.
For Pattaya, top hospitals are Bangkok Hospital Pattaya, Pattaya International Hospital, and Pattaya Memorial Hospital, with Bangkok Hospital Pattaya charging the highest fees. Also, as Pattaya is recognised as one of the best medical tourism centres in Thailand, and the region, there are tons of tourists flying to the city for medical care, and hospitals employ staff who are fluent in various languages.
Bangkok Hospital Pattaya, for instance, has interpreters in more than 20 languages, including Arabic, Chinese, French, German, Russian, Spanish, and Swedish.
The bottom line … It depends on your goals and lifestyle. If you want a peaceful hideaway with grand royal history, or are a golf enthusiast, you may choose a property in Hua Hin. If you want to a city that is always switched on, close to investment areas and airports, and has lots of leading international schools and shopping malls, you may like Pattaya more.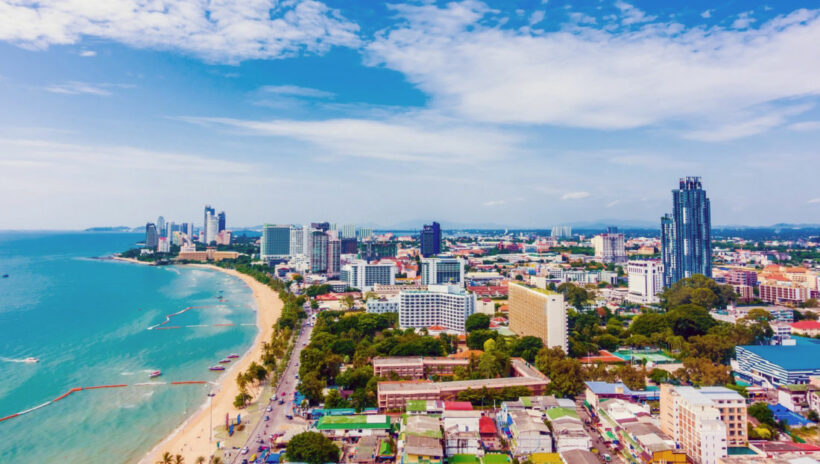 Keep in contact with The Thaiger by following our
Facebook page
.