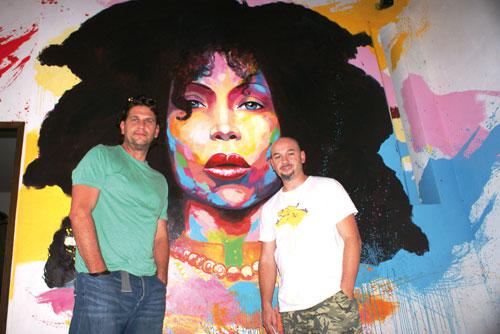 PHUKET: Renowned French street artist Noe Two is a regular visitor to Phuket, having visited the island several times in the past to paint murals in his signature style of psychedelic colors and graffiti lettering. Perhaps his best known piece here is the portrait of a young Thai girl, painted on a wall in the historic Soi Romanee in old Phuket Town, which has become somewhat of a landmark since.
He returned recently to complete a work commissioned by local resident Frank Couture, at his house in Chalong, as well as to bring some color to the lives of the kids at Phuket at the Sunshine Village Orphanage. Frank, who is also the President of the Phuket Sunshine Village Foundation, asked Noe if he would paint a mural at the orphanage while he was here and received an instant yes.
Frank kindly invited the Gazette team to visit his house to interview Noe Two and watch him in action; and I asked him how it all came about.
"Noe came to Phuket over a year ago on holiday and a painting trip. He found an old wall in Phuket Town, got authorization from the Governor to create art on it, and it was featured in the newspaper. I saw it and I thought… wow, this speaks to me. So I looked up his website to find out who he was, dropped him a message asking 'When are you back in town?' and he said in a year he would be back in Bangkok. So now a year later, he's here!" says Frank.
While he was taking a break from his work – painting a mural of singer Erykah Badu – I had a chat with Noe about his evolution as an artist and how his art had helped him connect with people from across the globe. I soon found out that, despite having been inspired to take his name from the biblical story of Noah's Ark, Noe's own story has been one of constant evolution.
"Noe is Noah, from Noah's Arc. I was very young and loved animals I wanted to choose the name of an animal; a lion, snake or tiger… but for me it was very cheap to do that. So after thinking I said, why not Noe? Because it's related to animals and has three letters, so it is simple," he said.
From his earlier days, spray-painting "tags" and illegal murals in the alleys and lanes of Paris as member of the groundbreaking graffiti crew RAW (Real Authentik Writa), his style and technique has expanded to include works of computer generated design, photo montage, video and acrylic on canvas.
"When I started graffiti, I tried to imitate New York style, but after you have more experience and become older you develop your own style. My letters have a lot of influence from New York, I would look at that graffiti art and try to do the same. But with time, I started working towards finding new ideas, new forms, new calligraphy.
As Noe grew older and moved away from the hectic lifestyle of illegal graffiti painting, Noe begun to look at other ways to express himself artistically.
"When you're young, you're all about speed, adrenaline, being crazy… but later in life you're more chilled, quiet and mature… you think about things," he told me.
"I used to do a lot of realistic characters when I was mostly working on walls, but then I stopped using walls and moved into photography and 3D art – so then I used the computer to design art. I moved away from graffiti because I want my paintings to last through time and on the computer, the art is not very 'real', you can't touch it."
His desire to leave the thrilling but sometimes fleeting world of illegal graffiti – where a mural that might have taken many hours and dozens of spray cans could be painted over the next day by unsympathetic authorities – took him towards other forms, such as paint on canvas.
"So I started with canvas and I tried to do graffiti on canvas, but it's too small of a size. So I experimented with new ways, different forms and colors and tried to do a more abstract style, I began to put abstract colors in the faces, I did more and more, which led to this colorful portrait style."
Many of Noe's most iconic images are close-up female portraits. Initially he painted images of celebrities whose music or art have inspired him, but increasingly he prefers to do portraits of interesting people he meets as he works and travels around the world.
"Before I did famous people because I needed a model, so I looked for my models on websites. With Erykah Badu, I painted her because I like her look, her style – a very original style with the afro and so on. Sometimes I do famous models, like Natalia Vodianova, Adriana Lima.
"But now, when it's possible, I try to meet people and if I like someone's look, I'll talk to the guy or the girl and see if it's possible to take a photo and use that to paint from. But sometimes it's complicated, they can get suspicious and question why I want a photo of them."
Noe has now been painting for over 25 years and his art has taken him all over the world. He has collaborated with many artists to paint murals from the favelas of Brazil to New York, LA, Hong Kong, Beijing and even Mongolia. He said he is often inspired by local artistic styles, iconic cultural images, and the many people he meets on his travels and tries to incorporate this into his work. Judging from his enthusiasm for Thailand, Noe will no doubt be back again, so keep an eye out on in your area, you never know which wall might be his next.
To see more of Noe Two's amazing portfolio click here.
Keep checking our Lifestyle pages for the latest happenings across Phuket. Alternatively, join our Facebook fan page or follow us on Twitter.
— Mark Knowles


Join the conversation and have your say on Thailand news published on The Thaiger.
Thaiger Talk is our new Thaiger Community where you can join the discussion on everything happening in Thailand right now.
Please note that articles are not posted to the forum instantly and can take up to 20 min before being visible. Click for more information and the Thaiger Talk Guidelines.