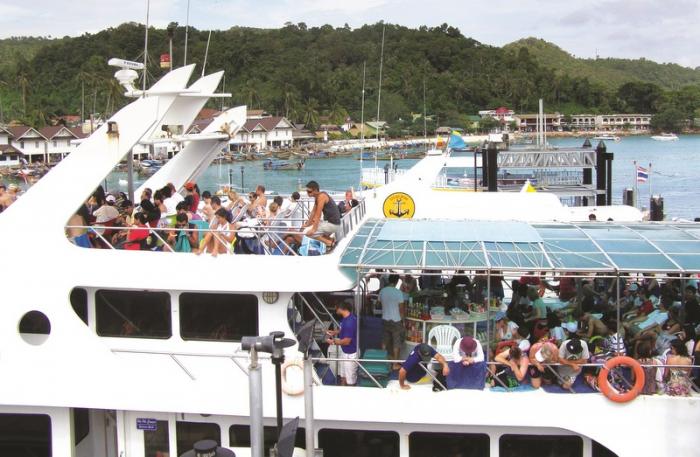 PHUKET: Phuket's low season, in my opinion, is the best time to be on the island. Sure there's rain – and lots of it – but it's warm, and in between the rainstorms there are some glorious days only the tropics can deliver.
It's also a great time to go sailing. The odd shower won't put off any serious sailor and the upside is the beauty and relative peace and quiet at even the most popular anchorages.
During the high season, nearby islands are at over-capacity. If anyone actually undertook a study of each island's carrying capacity, it would surely show that they are flat-lining. Come low season, the story is different.
While there has been much talk by marine and tourism bodies in Phuket of the need to protect the natural sea resources, much of it has been just that – talk.
But a round of applause is due for the recent marking off of areas fronting the beaches of some of Phuket's most pressured islands, to stop boats getting too close and damaging the coral and ecology.
In the never-ending desire for money, money, money, that Phuket's offshore islands are environmentally plundered and ecologically raped during the high season.
Having pulled together sources of boat departure information last high season, my estimates are that on any given day there are up to 50,000 day trip tourists out in Phang Nga Bay and the surrounding area.
These are predominantly day-trip speedboat tours, shifting up to 50 people at a time to nearby hot spots. Add to that other on-water activities – sea canoes, diving, charter boats, private boat use – and the number only goes up. But it's these day trip tourists who inflict the most pressure in popular spots.
Recent government efforts are welcomed, but more is needed.
Relevant government departments could learn from other mass tourism destinations around the world. Look toward Europe and the Greek Islands such as Crete. With it's Patongesque party spots, Crete is also blessed with stunning natural assets – beaches, coves, coral and nearby islands. Having been a hot tourist destination for European holiday makers since the 1970s, Crete welcomes about three million tourists per year – approximately half of Phuket's international arrivals – and yet retains it's natural charm.
On the whole, it manages to delicately balance caring for the environment while catering to the needs and pressures of tourism.
Phuket should, ideally, not be looking to a model of preservation. To close off and protect all marine sensitive and tourist-popular sites is not realistic. What is needed is a long-term conservation plan, whereby access to sites is rotated in an ecologically sound way, while accepting the need for the tourism business to continue. A balancing act where both sides are of equal importance.
As far as the future of the tourism business is concerned, it cannot continue in its current form. For conservation efforts to work, the private and public sectors have to work together, and corruption must be stamped out. Recent action by Dr Thon Thamrongnawasawat highlighted the massive corruption at Hat Noppharat Thara – Mu Ko Phi Phi National Park, and subsequent clamp-downs need to extend to other highly pressured areas and become the norm.
While enjoying the stunning natural wonders Phuket has to offer, we should all focus on leaving the environment in a better place than how we found it so that future generations can enjoy it as much as we have.
As an Inuit saying goes, "We do not inherit the earth from our fathers, we borrow it from our children".

Duncan Worthington is a long time Phuket resident and through Infinity Communications (infinity-comms.com) consults to leading consumer brands, hospitality and marine clients in Thailand. In his 'spare time' he runs the marine portal MarineScene.asia. #OnDeckPhuket
— Duncan Worthington