On Deck: Ready for a wet 'n' wild year end?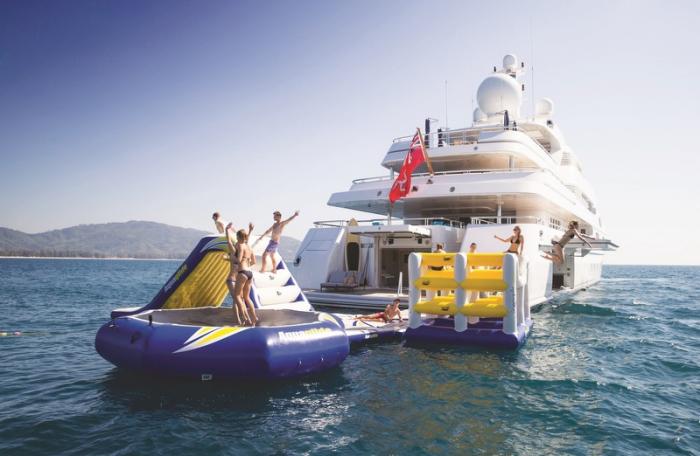 PHUKET: Are you ready for the busiest time of the year? Not Christmas and New Year, but the six or so weeks of marine industry madness that is upon us.
Kicking things off is the Ocean Marina Pattaya Boat Show. From 24th to 27th November, eyes are on the Gulf of Thailand as boat brands from around the world join the show to celebrate all things boating. Organizers expect about 30 boats – the largest boat line-up ever – as well as a busy onshore collection of luxury properties, marine products and accessories, water sports and more.
In my last column I mentioned that Pattaya and the Gulf of Thailand are growing exponentially as the Customs Department lays down the red carpet for visiting foreign yachts, allowing them to stay longer. The boat show is set to be the ideal boost for that.
For those needing to dash back to Phuket after the show and start preparations for the next event on the marine madness calendar, there are daily flights direct to Phuket from U-Tapao International Airport (just 15 minutes from Ocean Marina). Don't panic.
Back in Phuket, the next happening is the Phuket King's Cup Regatta. Held December 3-10, this is the 30th anniversary and in the current circumstances, some of the social side will be appropriately toned down. Check the official website for the latest updates on the social program. I've heard there will not be a social function or candle-light ceremony on December 5 this year, while the traditional sail-past will take place on December 9 in honor of the late Rama IX.
This year, the affable Frank Pong and his multi-national Jelik crew will not be competing. However, this won't detract from the on-water competition, which is expected to be as fierce as ever.
As the Phuket King's Cup comes to a close there is barely time to catch your breath as Infinite Luxury ups the luxe with their inaugural Kata Rocks Superyacht Rendezvous from 10 to 12 December. With strong industry support, expect to be wow'd.
The second Thailand Yacht Show will take place December 15-18 at Ao Po Grand Marina.
Following an impressive inaugural edition earlier this year, expectations are high, and based on the in-water line-up of boats of all sizes – including some of the region's most impressive superyachts – and some exciting onshore exhibitors, there will be plenty for visitors to see and do.
There's one more event before the year end. The Asia Superyacht Rendezvous, December 16-18, is celebrating its 16th year with a new venue: SALA Phuket Resort & Spa. The organizers are adding some new twists this year, including a 'Superyacht Winner's Cup', and are expecting a strong turnout.
Now, there is time to squeeze in a quick Christmas and New Year, and as you look for another Bloody Mary the 14th Phuket International Boat Show will be here January 5-8 2017. The first boat show in Thailand is again hosted at Royal Phuket Marina and will bring to a close the six-and-a-bit weeks of marine madness.
After all that, you'll be ready for a holiday. However, it's high season. Enjoy!
Duncan Worthington is a long time Phuket resident and through Infinity Communications www.infinity-comms.com consults leading consumer brands, hospitality and marine clients in Thailand. In his spare time he runs the marine portal www.MarineScene.asia #OnDeckPhuket
— Duncan Worthington
Keep in contact with The Thaiger by following our
Facebook page
.
The body of an unidentified foreigner found floating south of Pattaya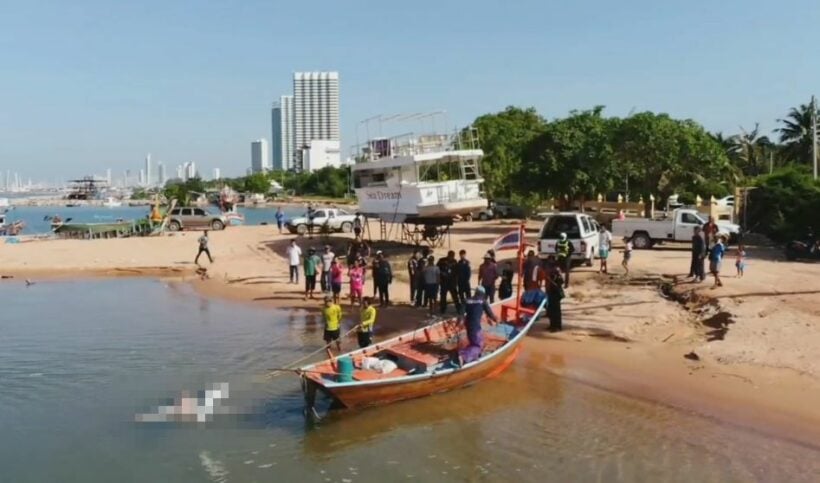 A fisherman has recovered a body, thought to be a foreigner, from the Gulf of Thailand off Sattahip.
Na Jomtien Police were notified of the body by 24 year old Teerapong Boonwat, a fishing boat captain plying the waters around Sattahip, south of Pattaya.
Mr. Boonwat had recovered the body found floating near Koh Ped (Duck Island), about three nautical miles from the Sattahip shore. Police and emergency responders rushed to the scene near Amparam Temple.
Police report that the male body appears to be a foreigner aged around 40 years old with a beard and little head hair. He was wearing a white T-shirt, long jeans and black sneakers.
No identification was found on the man. It is believed that he had died at least 7 days before his body was found floating in the water. The police didn't state if there was any signs of foul play or the condition of the body.
Police are investigating the incident and reviewing missing person reports to establish identification.
SOURCE: The Pattaya News
Keep in contact with The Thaiger by following our
Facebook page
.
Pattaya City's Police Chief dies from sudden heart attack on way to Bangkok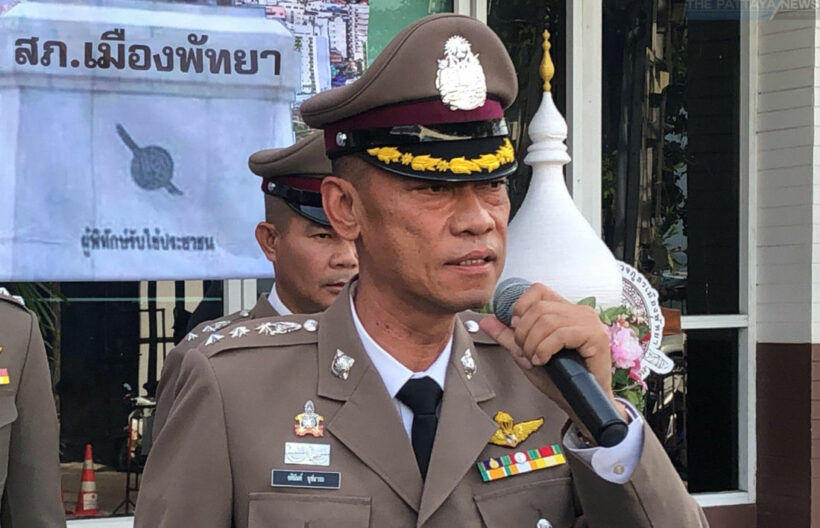 PHOTOS: The Pattaya News
The Pattaya City Police Chief Col. Atinan Nuchanart has died from a heart attack yesterday morning (Friday) while he was on the way to a meeting. 59 year old Col Atinan was the Pattaya City Police Acting Chief, new in the position, and died at the Chonburi Hospital from a heart attack.
Yesterday morning he and his team were heading to Bangkok from Chonburi for a meeting when he started complaining of chest pains before falling unconscious in the car. The Chief was rushed to the Chonburi Hospital by other officers in the vehicle. He was pronounced dead by doctors at 2pm.
Col Atinan was born in Lopburi and was the previous Police Chief of Mueang Chonburi Police Station. He was later transferred as the Pattaya City Police Acting Chief on September 2. He had only been in the top job for little over a month.
The previous Pattaya police Chief was removed from the position pending an investigation into large drug raids at local discos open after legal closing hours during this year.
A full funeral for the well respected veteran officer will take place in the near future but has not been announced at this time.
SOURCE: The Pattaya News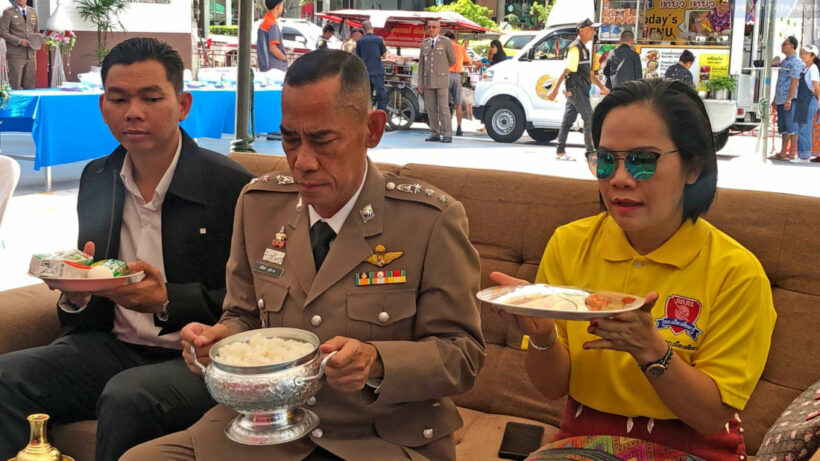 Keep in contact with The Thaiger by following our
Facebook page
.
Local residents and vendors demand action on Pattaya Beach erosion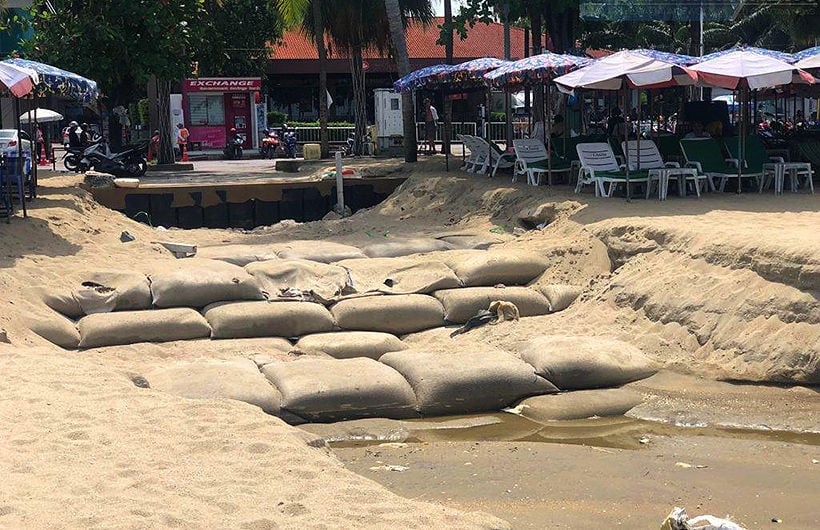 PHOTOS: The Pattaya News
Recent heavy rains over the past week in Pattaya have caused significant deep erosion and gaping holes on Pattaya Beach that have now been sitting in plain view for nearly a week. The situation is an unsightly embarrassment and a potential hazard for tourists, according to local residents and beach vendors.
The Pattaya News reports that, earlier this week, storm waters were flowing onto Pattaya beach into the Gulf after torrential rains, notably at the beach area near Central Festival Pattaya, and have been washed away.
The erosion is at least a metre deep in places, exposing some of the underpinning sand-bag foundations that were placed there doing the re-instatement works last year. Local vendors are complaining that tourists were avoiding the beach.
Beach vendors say this erosion has happened nearly a week ago and is very dangerous especially at night time. They are asking for city officials to speed up repair work and fix the problem.
Earlier this week residents were complaining about an unknown white sediment floating around some of the areas where the erosion had occurred. Last year some 400 million baht was spent re-building some of Pattaya's beaches which end up damaged and washed out to sea any time there are heavy rains.
SOURCE: The Pattaya News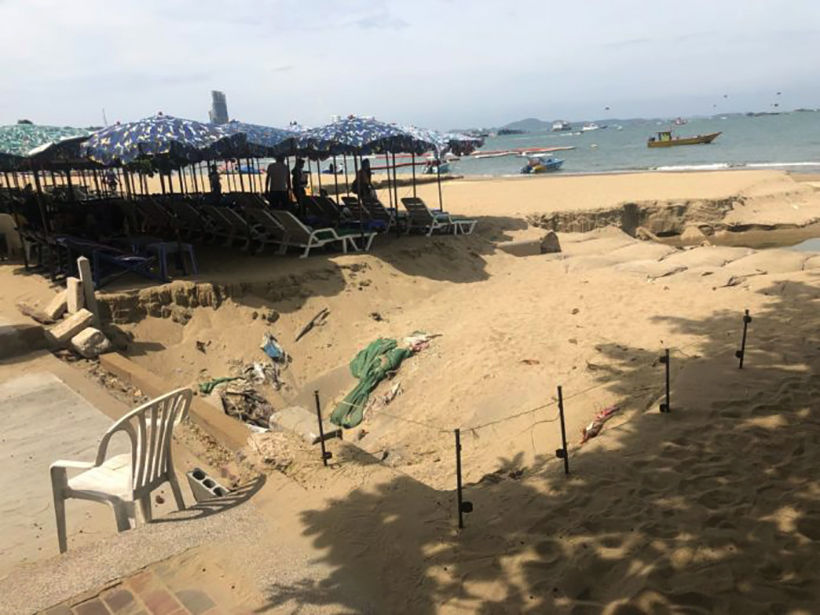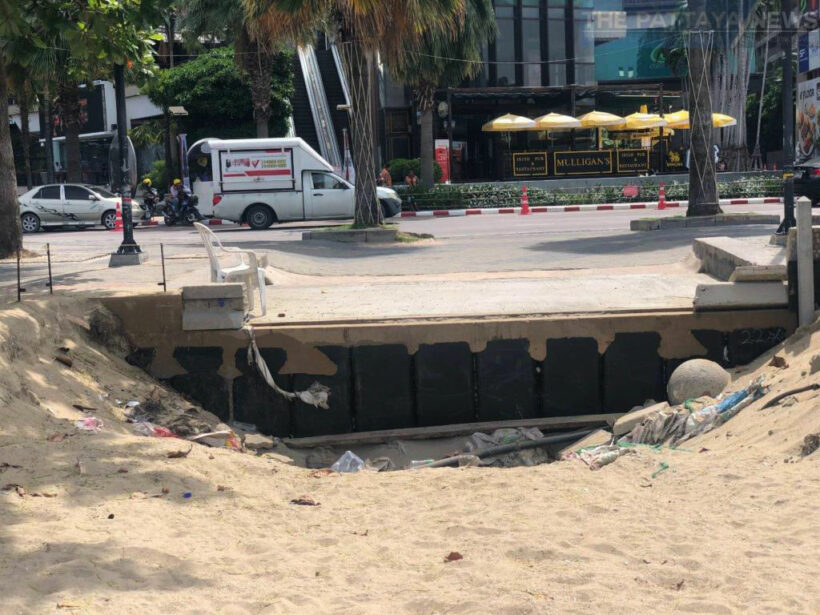 Keep in contact with The Thaiger by following our
Facebook page
.