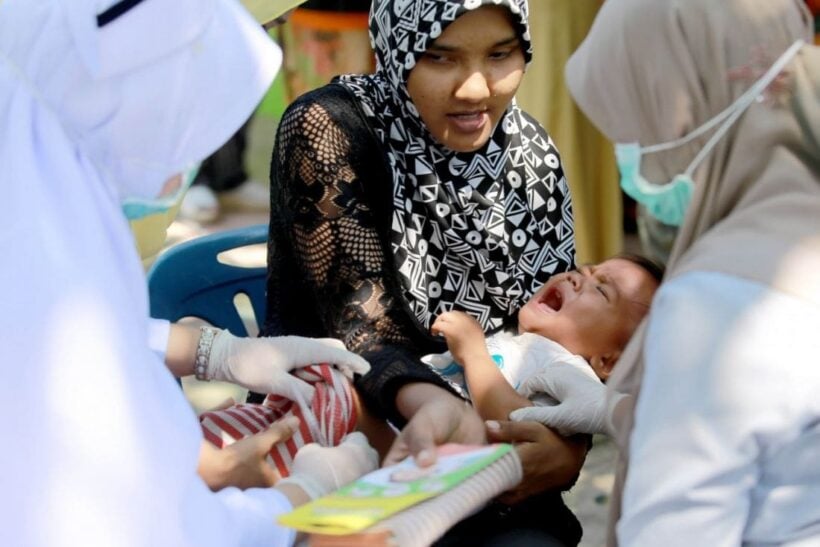 PHOTO: A mother holds her child as nurses at the Tambon Yala Health Promotion Hospital in Yala's Muang district vaccinate him against measles yesterday. – Nakharin Chinnawornkomol
Another child has died as a result of complications from measles in Yala province yesterday morning.
This latest preventable fatality brings the number of deaths from the disease in the southernmost province to nine since June. The Yala Provincial Public Health Office head Dr Songkran Maichum announced the sad news to the media yesterday.
The Nation reports that three other children remain critically ill with measles at Yala Hospital. Admitting the disease outbreak in the province was "worrying", he said his office aimed to have 7,000 at-risk children – especially those aged between five months and five years old – in Yala vaccinated by November 4.
He said the main reasons for the fatalities were that the patients had not been brought to hospital early enough, dying from subsequent health complications, and not been vaccinated at an early age. He also said the 8,000 doses of vaccines available were sufficient, though the office has requested for another batch of 3,000 doses.
Songkran noted that the most-affected districts were Yaha, Bannang Sata and Kabang in Yala province.
Health officials continued vaccinating young children against measles yesterday. Acting director of Tambon Yala Health Promotion Hospital, Nurse Thelma Doyor, led a team to vaccinate 15 children in Ban Pajo (Moo 3) in Muang district.
Aiming to cover the area's 108 toddlers, the hospital will ask for additional doses to cover the rest by November 4, she said.
The hospital had previously vaccinated 35 children. Abdul-Roning Abdulloh, the imam of Ban Pajo Mosque, said he was inviting residents to have their children vaccinated, as he was able to confirm that it is acceptable for Muslims to receive the vaccine. He cited his previous consultation with many Muslim doctors about the vaccine, as some people were afraid that the vaccinations were not in accordance with halal principles.
The Imam added that he will tell people during the Friday prayer assembly that vaccines were necessary to protect young children. Songkran said officials giving the vaccines have been told to download a video clip featuring statements from the Sheikhul Islam Office and Provincial Islamic Committees saying this treatment is acceptable.
STORY: The Nation
Read The Thaiger's editorial about the issue HERE.