Soi Dog Foundation responds to rabies and dog registration stories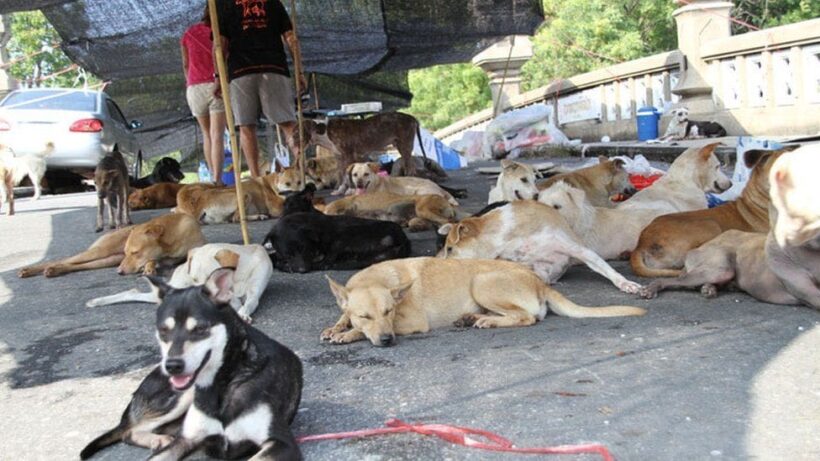 PHOTO: Bangkok Thailand Soi Dog
Phuket's Soi Dog Foundation has sent The Thaiger a response to an article published on October 16. The story was sourced from our Bangkok partners 'The Nation' and, according to Soi Dog, contains some glaring inaccuracies. You can read the original article HERE.
We reprint the response from the Soi Dog Foundation below…
"The Department of Livestock Development (DLD) carries out a survey, twice a year, in an attempt to count the number of dogs and cats in the country, both owned and stray. In 2016, it counted 7.3 million dogs and 3 million cats in Thailand, excluding Bangkok. This year the number of dogs was recorded by the DLD as 7,770,969, excluding Bangkok.
We at the Soi Dog Foundation carried out a census of free roaming dogs in Greater Bangkok two years ago and came up with a figure of 640,000, so a realistic number for dogs nationwide is somewhere around 8.4 million, not – as your story states – 820,000.
Another figure given in your story is that 40 per cent of stray dogs in Thailand could carry the rabies virus. If this were true, there would be hundreds of human deaths a year, if not thousands, and the carcasses of dead dogs would be scattered all over the place.
A story published by The Nation on September 28 ("Expert says rabies still not under control and official statistics may be misleading") gave a DLD figure of 15.3 per cent for the first nine months of this year.
But even that is highly suspect. It was based on a very small sample – just 8,472 dogs. And those were 8,472 dogs that had been caught by the DLD, and their brains examined post mortem for the virus because they were believed to be rabid.
Plainly, to base a percentage infection rate on a sample made up entirely of dogs that are already suspected to have rabies is utterly misleading. It would be like saying, "We checked a bunch of people thought to have diabetes and found that 15 per cent of them did indeed have diabetes."
The real figure must be much lower. We believe it is between 1 and 4 per cent.
At the root of all the problems being discussed is, in fact, Thailand's ineffective garbage disposal problem system, which allows a high number of dogs to survive and even get fat by scavenging from trash bins.
Trying to remove 8 million-plus dogs to "shelters" is futile, and carrying out culls (which would probably be illegal under the Cruelty Prevention and Welfare of Animals Act of 2014) would be equally ineffective. Here's why:
The cost of building shelters to hold 8.4 million dogs would be astronomical and the annual budgets for running them would equally expensive. It would be a huge drain on the national treasury.
Dumping dogs in government pounds would probably lead to large scale suffering and death, as was seen earlier this year when, as a result of the rabies panic, 3,000 dogs were crammed into the government animal quarantine facility in Nakhon Phanom. In just weeks, around 2,300 died from disease, starvation and wounds from fighting.
Dogs that were not caught in this proposed nationwide roundup, or which avoided being killed in a nationwide cull, would swiftly move into the territories of the dogs that had been removed, breeding rapidly and replacing them.
A female dog can have up to three litters of pups a year, each litter averaging seven pups. This means that one female and her offspring – and their offspring and so on – can become 67,000 dogs in six years. This is why an extended campaign of "catch, neuter, vaccinate and release" is so effective.
Even if all the dogs could be removed, the garbage problem remains, Other species would take over, notably cats, who breed even more rapidly than dogs, and monkeys. If they, too, were impounded – and cats and monkeys are far harder to catch than dogs – then the country would see an explosion in rat and mice populations. Outbreaks of bubonic plague transmitted by rats and their fleas would be far more frightening than rabies.
As we have seen in Phuket, large scale sterilisation, coupled with vaccination, works, not only in reducing numbers but also in eliminating rabies. It does require large scale investment, though far less than sheltering would, and spread over several years.
As to the issue of compulsory licensing of pets, whether there is a fee or not, we believe this is not a viable solution. It has been tried by other countries and then abandoned because the majority of dog owners – numbering in millions – simply decided not to comply.
Does Thailand have the resources to find, arrest and bring to court millions of dog owners, in order to extract small fines from them, always assuming that the authorities can prove in the first place that the dogs actually have "owners"?
We doubt very much that the government will find this is an effective measure for controlling Thailand's population of strays, reducing abandonments or reducing the spread of disease. Indeed, it is likely to have the opposite effect.
SDF Founder John Dalley, Soi Dog Foundation, Phuket
Keep in contact with The Thaiger by following our
Facebook page
.
Never miss out on future posts by
following The Thaiger
.
18 Bangkok motorbike taxi drivers get prison for 2019 mass brawl killing a bystander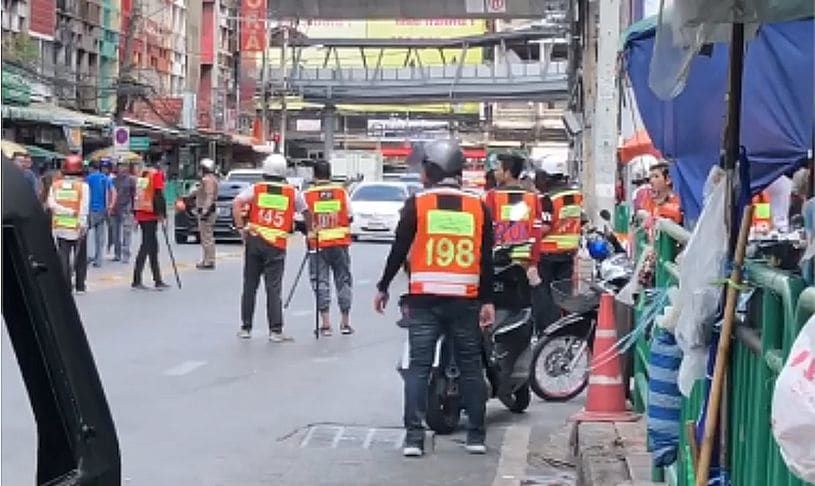 18 motorbike taxi drivers are sentenced to prison for their involvement in a mass street fight in June 2019 where a bystander was killed by a stray bullet. Bangkok's Prakhonong Court handed down prison sentences ranging from 5 years to more than 27 years, according to Thai media.
The fight broke out between two gangs of win drivers, named by Thai media as Soi 1 and Soi 2, on Soi Udomsuk 1 in Bangkok's Bang Na district. Around 50 to 60 drivers from Soi 1 attacked 20 to 30 drivers from Soi 2 with knives and other weapons, apparently because Soi 2 drivers, who were unregistered and operated without the proper orange identification vests, took customers away from the Soi 1 group.
A 20 year old Kerry Express courier, Weerawat Pheungkrut, was shot and killed when a stray bullet struck him in the left eyebrow. The drivers who were directly involved with the murder were sentenced to the longest prison terms, including leader of Soi 1 known as Pramuk. He was sentenced to 27 years and 10 months in prison and ordered to pay a 5,000 baht fine as well as 280,000 baht in compensation with a 7.5% yearly interest.
Other drivers with high prison sentences and also ordered to pay 280,000 baht in compensation with a 7.5% yearly interest:
Best was sentenced to 27 years in prison and ordered to pay a 5,000 baht.
Am was sentenced to 25 years in prison and ordered to pay a 5,000 baht fine.
X was sentenced to 24 years and 6 months in prison and ordered to pay a 2,500 baht fine.
Drivers with lower prison sentences:
Beer was sentenced to 6 years and 8 months in prison and ordered to pay a 6,666 baht fine.
Too, Nui, Bank, Fluke, Mai, Tam and Moo and Jack were sentenced to 5 years in prison and ordered to pay a 5,000 baht fine.
Oo, Nott, Bank and Ae were sentenced to 4 years and 6 months in prison and ordered to pay a 5,000 baht fine.
SOURCE: Thai Visa
Catch up with the latest daily "Thailand News Today" here on The Thaiger.
Keep in contact with The Thaiger by following our
Facebook page
.
Never miss out on future posts by
following The Thaiger
.
Suvarnabhumi expansion being reviewed in line with "new normal" expectations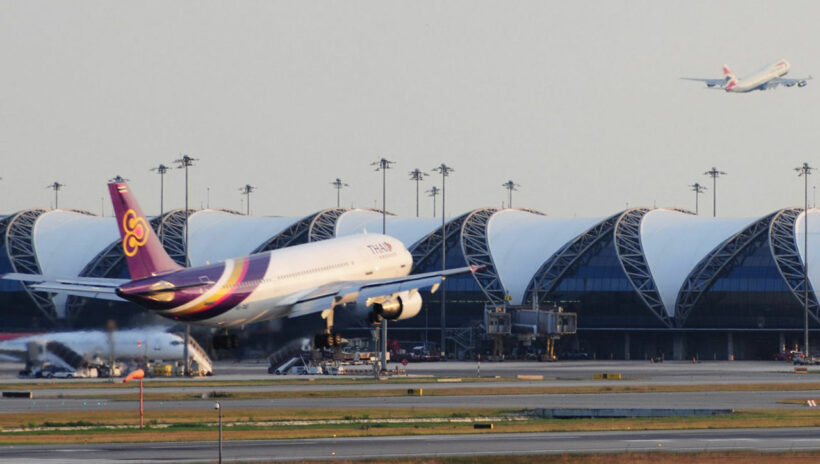 The 44 billion baht northern expansion of Bangkok's Suvarnabhumi airport is being revised, to meet "new normal" requirements, according to Airports of Thailand. AOT president, Nitinai Sirismatthakarn, says the process will take 1 or 2 months to complete.
Nation Thailand reports that the airport's new northern terminal will have the capacity to handle 30 million passengers a year, with Nitinai remaining optimistic about a return to normal figures next year. He says the availability of effective Covid-19 vaccines should fuel a return to normality, with passenger traffic at Suvarnabhumi eventually reaching pre-Covid numbers of 65 million in 2023.
He adds that the Satellite Terminal 1 should be completed in 2022, with plans also being drawn up to extend the airport's existing terminal east and west. The Satellite Terminal 1 is expected to increase the airport's capacity by an additional 15 million passengers a year.
SOURCE: Nation Thailand
Keep in contact with The Thaiger by following our
Facebook page
.
Never miss out on future posts by
following The Thaiger
.
Protest planned for courthouse tomorrow as verdict on PM's residence expected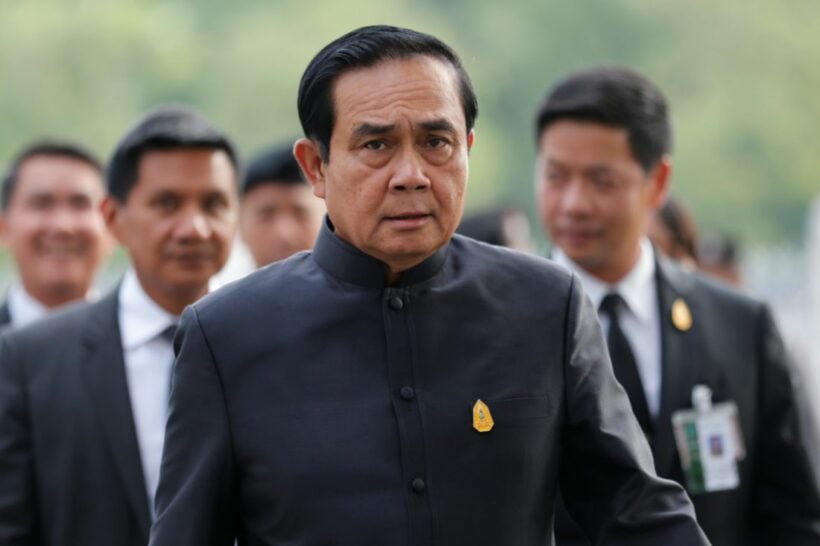 The Ratsadon (People's Party) movement is planning a protest outside the Constitutional Court tomorrow as a verdict is handed down in relation to PM Prayut Chan-o-cha's occupancy of a military residence, despite his retirement from the army. The ruling is expected at 3.00pm tomorrow and comes as a result of a petition lodged by opposition MPs in March, in which the PM was accused of a conflict of interest as a result of his residence.
Members of the Pheu Thai Party are leading the charge, claiming the PM should have moved out of the accommodation at the time of his retirement in 2014. For his part, the PM says he'll move out if the court rules against him, insisting his occupancy of the military residence is not an abuse of power. According to a report in the Bangkok Post today, the military says the property has been re-classified as a "visitor's house" and says it was provided to the PM for security reasons.
Wirat Ratana­sate from the ruling Palang Pracharath Party says members have not yet discussed a list of potential replacement candidates, should the court's ruling go against the PM. Were that to happen, it would mean the end of his term as leader and the end of his current cabinet. Wirat remains optimistic however, that the court will find in the PM's favour.
"We may have to discuss the matter with coalition parties. Still, let's wait for the court's ruling. Don't jump to any conclusion that there will be a political accident. The outcome may turn out to be good."
Meanwhile, authorities in Bangkok say they're ready to handle tomorrow's planned protest outside the courthouse. Pakkapong Pongpetra from the Metropolitan Police Bureau says officers have devised a number of security measures to maintain order during the rally and ensure events inside the courtroom can proceed as normal.
His statement comes as Ramate Rattanachaweng from the Democrat Party issues a warning to anti-government protesters that pressurising the court could lead to charges of contempt of court. He is calling on them to cancel tomorrow's gathering.
Meanwhile, members of the opposition say they're confident the court will rule against the PM, with the legal chief of the Pheu Thai Party, Chusak Sirinil, saying the designation of "visitor's house" does not indicate a permanent residence.
"A visitor's house is for temporary stays of 7 to 10 days, not forever."
Prasert Chantararuangthong, also from Pheu Thai, dismisses the army's explanation that the PM needs to live in a military residence for security reasons, pointing out that the army is not responsible for prime ministerial security. Meanwhile, fellow Pheu Thai MP, Arunee Kasayanont, suggests the PM should pay attention to what the people are demanding and resign immediately, regardless of the verdict.
"General Prayut can make a graceful exit by resigning before December 2 and thus respond to the demand of demonstrators."
SOURCE: Bangkok Post
Keep in contact with The Thaiger by following our
Facebook page
.
Never miss out on future posts by
following The Thaiger
.