Religious tolerance is OK until it starts interfering with community health

Last week it was revealed that six children have died in the southern provinces of Thailand since June this year. Sadly, children die all the time through misadventure and incurable disease.
But these six children died from Measles, one of the many diseases that have been brought under control in most communities over the past half century. Vaccination has also brought under control scores of other, in the past, deadly or disabling diseases. Here are just a few…
There is no mystery about all this. The untold misery that's been prevented by the science of vaccines has been one of the greatest inventions in medical history. So why are we reading this news?
Yala province alone has registered nearly 500 measles infections since the disease began spreading in June, according to the Yala Provincial Public Health Office. So far there have been six deaths in the province, and the infection rate has rapidly risen since September.
The recent completely baseless fear-mongering about vaccines and their connections with autism, has now been completely debunked and disproven. There is no peer-reviewed evidence that supports these claims, originally made by a now-discredited Dr. Andrew Wakefield in 1993, now struck off the UK medical register for unethical behaviour, misconduct and fraud.
When added to religious conviction, this mis-information can become life-threatening for the unvaccinated and uneducated.
"The main cause of the mass outbreak of measles in the far South is the large number of Muslims who are refusing to take the vaccine," said Vaccine Preventable Diseases Division director Dr Pornsak Yoocharoen.
For a Muslim mother, she is torn between a number of clashing influences – the Thai medical system which rolls out the World Health Organisation standard for vaccination of children, misinformation on the internet, some Dato (Islamic teachers) who advise against vaccines and their Islamic texts which, in a round-a-bout manner, says Muslims shouldn't be vaccinated (depending on your interpretation).
Dr Abdul Majid Katme, head of the Islamic Medical Association, is telling Muslims that almost all vaccines contain products derived from animal and human tissue, which make them "haram", or unlawful for Muslims to take. Islam permits only the consumption of halal products, where the animal has had its throat cut and bled to death while God's name is invoked.
But, put simply, the facts must win out if Thailand is to avoid a dangerous outbreak of measles, and potentially, other completely preventable diseases
Not vaccinating children is a form of child abuse. If not vaccinating your own child isn't bad enough, the situation can get completely out of control, quickly, as measles (in particular) is very infectious and can spread to unvaccinated populations quickly. So it's not just about you and your children, it's about the whole community.
"We have been trying to promote childhood immunisation in the three Southernmost provinces for many years, but these efforts are not very fruitful. This is because since the southern insurgency was ignited a decade ago, officers have found it harder to work with local communities due to the lack of trust among local Muslims and the insecure situation for the officers," said Dr Pornsak.
Whilst the battle against passionately-held beliefs, misinformation and non-sensical religious-based resistance to vaccines seems unsurmountable, it is one area where 'tolerance' is not an option when there are wider public health implications. Big implications.
Sheikhul Islam Office secretary Sutham Boonmalert directly addressed the issue last week, saying that though some vaccines contain ingredients derived from pigs, which are forbidden for Muslims, it was more important for a good Muslim to remain in good physical health at all times.
A book written some 1,400 years ago, long before anything was known about the causes of disease and famine, let alone vaccines, is not a reliable text for the modern control of public health. People are well entitled to their religious beliefs and should be able to conduct their lives in a way that brings them comfort, peace and happiness. But when those beliefs step into the realm of public health and community safety the push-back from authorities must be swift and firm.
Believe what you will but leave you faith at the front door of the hospital or medical clinic before you enter.
The three southern Thailand provinces are now facing a serious outbreak of measles – this is a major public health concern for anyone traveling to these communities or the possibilities of infected people travelling beyond their daily borders.
Having any children diagnosed with Measles in 2018 is a preventable scandal that deserves urgent attention from medical authorities before it spreads further. The virus cares not about borders, or your religion, and will spread to unvaccinated populations.
No amount of prayer will stop that nor will your prayer bring any comfort to your infected child.

PHOTO: Jakarta Post


Read more headlines, reports & breaking news in South Thailand. Or catch up on your Thailand news.

December 4 – Thailand's national day of shame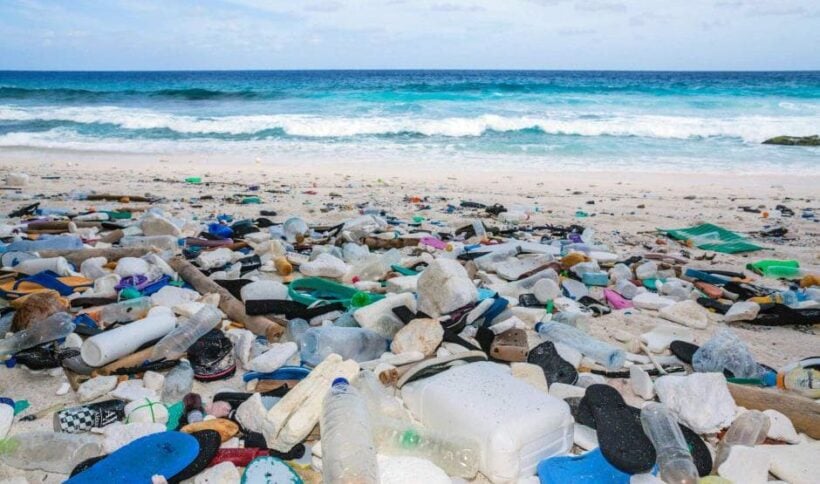 Today is Thai Environment Day. Today convenience stores, trade stores and shopping malls will refrain from providing single-use plastic bags to shoppers and at the same time will campaign for donation of cloth bags to be distributed to hospitals for containing medicines.
Whether any of this actually happens, we will see.
The proposed plastic bag-free day is the outcome of a memorandum of understanding signed by the Ministry of Natural Resources and Environment and operators of convenience stores, trade stores and shopping malls to reduce the use of single-use plastic bags.
The cynical campaign is another chance for the Thai government to indicate its 'commitment' to the Thai environment and the reduction of single-use plastic bags whilst doing next to nothing to actually solve the problem.
Encouraging Thais to reduce their use of single-use plastic bags for one day out of 365 should be seen as national day of shame.
Thailand is one of the region's main contributors to plastic waste floating around the seas with daily photos of dead sea-life making their way onto social media. Dead sea animals are routinely retrieved and, upon examination, are found to have ingested plastic bags or suffocated with plastic lodged in their mouths or around their necks.
The problem of single-use plastic bags, the removal of these items out of the retail chain and the proper disposal of plastics remains unmanaged and unplanned in Thailand.
Back in October the Central Pattana Group in Phuket, the operators of Central Festival and Central Floresta, who also own the TOPS supermarket chain and Family Mart convenience stores, loudly lauded their 'no plastic bag' campaign which meant they would ask customers if they really needed a plastic bag and offered a 200 baht cloth replacement… ONE DAY A MONTH.
Another cynical PR stunt without substance or any real commitment to reduce the amount of single-use plastic bags marching out the doors of their retail stores and shopping centres.
The Ministry of Natural Resources and Environment is saying that after the "plastic bag-free day" today, all the stores and malls will work out their own measures to reduce the use of the plastic bags, such as designating a day or a few days of a week that no plastic bags will be provided to shoppers.
In other words next-to-nothing. No commitments, no targets, just vague words without any concrete action from the Thai Government.
According to unofficial estimates, each Thai generates 1.4 kilograms of garbage a day or 74,000 tonnes of garbage a day for the entire population which means that a total of 2,960 10-wheel trucks with the capacity of hauling 25 tonnes of garbage each will be needed to carry the trash to dump sites or land fills for disposal.
There is enough evidence from multiple studies and surveys (or just walk along any Thai beach) to show that single-use plastics are a major environmental threat and need urgent political attention and action instead or meaningless words and PR stunts.
And watch today as thousands and thousands of Thais will, like every other day, stop on the roadside to purchase their delicious Thai iced coffee in a plastic cup, with a plastic cup-cover, in a plastic bag with a plastic straw.

How will 'Chindia' change Phuket's tourism future?'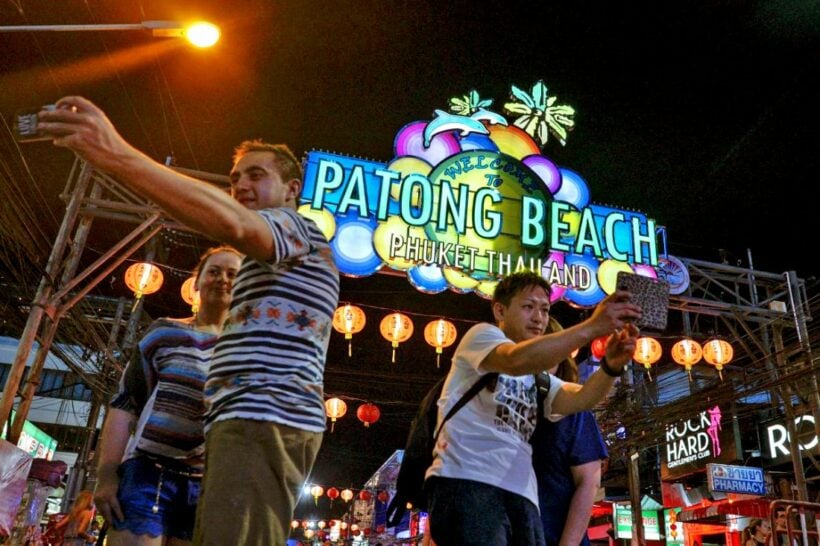 What exactly is this Chindia?  In a nutshell it's a flash drive marketplace with 1/3 of the world's population – China and India.
For a great number of Phuket hoteliers, the first half of 2018 saw marketplace velocity, where RevPAR's rose on surging demand, and the most often heard comment was the ignominious 'same same'. Though room rate growth was not there, volume ruled the day.
Next came, what is referred to on the Mainland as the 'boat sinking' and suddenly the monsoon gloom thrust the blazing sun into a dark room, way out back. Chinese numbers sunk, airlift declined and online chatter in China denounced not only Phuket but cast a broader shadow on Brand Thailand.
The traditional concept that the mojo of Thai teflon would result in only a slight momentary blip turned out to be erroneous. While the fallout from the incident has lessened, there remains a strongly demonstrated downward shift in Mainland Chinese tourists to both Phuket and Thailand.
What is clear is that there can be no separation in negative sentiment between Phuket and the larger Thai brand. Essentially both get a collective emoji award with an 'un-smiley' face.
Another negative has been the depreciation of the Mainland Chinese currency, the yuan. While most of the damage has been done over the past 4 years, this year has seen further erosion, as the Thai baht has remained strong.
Hoteliers staring into the looking glass of the fast approaching 2019 are increasingly being fixated by the magnetic attraction of Chindia. What exactly is this Chindia?  In a nutshell it's a flash drive marketplace with 1/3 of the world's population – China and India.
What's most attractive is door-to-door average flying time to major gateways in both countries of 4 to 5 and a half hours. Over the years I have been asked the question "what is the secret of Phuket's success?" A great deal of it actually has to do with geography.
Geography has a lot to do with accidental tourism. One can look back to 1967 and the ensuring decade when Thai Airways was instrumental in opening up broad access to Bali which was a connector from Bangkok, and fitting into the Sydney to London route as key access points. In those days, the constraints of long-haul flights made the refueling stop necessary but fast forward to the present and the emergence of single body dominated low-cost airlines fits like a glove into the Phuket Chindia equation. Yes history buffs, Thailand's flag carrier was a key enabler of early stage Bali hotel growth.
There is little doubt that Indian tourism holds great promise for Phuket. Geography helps, as does the depth of the islands tourism sector to cater to marque events like Indian weddings. Looking into the numbers is enlightening, as there are two significant events on the island which are both valued in excess of US$10 million in spend.
Leading the change has been India's GoAir who launched direct flights between Phuket and New Delhi as well as Mumbai in October. Next month Bengaluru will be added. Will other Indian carriers such a IndiGo or Jet Airways follow, or will AirAsia join the fray? It's clearly only a matter of time.
Just last week, I was talking about STR hotel performance data on Phuket in October, and the fact is year-on-year performance remains 'constrained' or in straight talk -broad business is down. Inside the numbers some hotels have held traction but in the big picture, the loss  is evident event to the blindsided types out there.
The China situation has been hurtful. And though it's comforting to see Russian travelers at Phuket International Airport lugging pink and blue plastic buckets of mangos around, the reality is the island's tourism market is a year-round proposition and relying on snowbirds alone won't cut it.
We live in an industry that flirts with the thin line between love and hate. The Chinese came, they were loved, then hated and now truly missed. With India, the play is cautious optimism, but the mounting importance of a solid Chindia strategy is the most prolific question facing island hotels now and in the coming year.
Koh Samui balancing on tourism razor's edge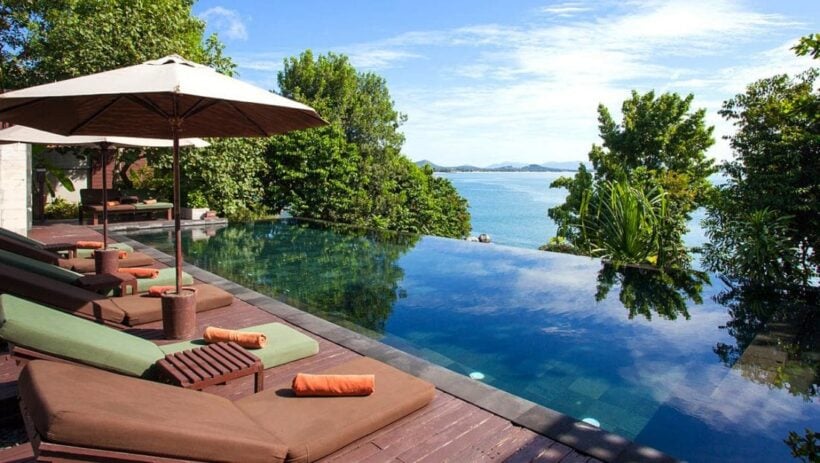 PHOTO: www.thekalasamui.com
"…shrinking Chinese demand due to the economic slowdown and depreciation for the yuan versus the baht"
The time has come to open the discussion about the troubling drop in one of Thailand's leading resort destinations, Koh Samui.
Looking into the island's performance numbers, according to data from international  hospitality benchmarking  group STR, at the end of August room night demand was down year-to-date by 4.4%.
Viewing a broader market metric C9 Hotelworks research has shown through September that hotel occupancy for the first nine months of the year declined by over 7% compared to the same period in 2017.
One cannot simply account for the dismal numbers as an effect of the China 'boat sinking' crisis which was triggered in the middle of the year. Airlift is the elephant in the room of island tourism destinations. During the first six months of this year, domestic arrivals at Koh Samui Airport dropped by 19%, with each month reflecting a negative variance compared to the same month in 2017.
Many industry watchers have pointed to the termination of Thai Airways International flights between Bangkok and Koh Samui in September as a trigger. The reality of the airlift in fact is TG retired an aging 737-400 jet that was used to service the route. It lacks an appropriate replacement given the island's short runway and negotiated a codeshare agreement with Bangkok Airways to ensure travelers transit seamlessly.
One telling indicator of the market malaise is Surat Thani Airport on the mainland. Over the past few years a rising number of Chinese travelers had used the gateway and were ferried on to Koh Samui. Diving into the latest available data, international arrivals at Surat Thani for the period of January through September dropped 36%, while domestic arrivals only slightly moved downward by 1%.
Armed with the numbers I started a dialogue with island hoteliers to better understand the situation. For the most part, there were similar stories about shrinking Chinese demand due to the economic slowdown and depreciation for the yuan versus the baht.
Arguably the legacy European markets were slower based on the impact of a World Cup year. Lastly is the rise of Vietnam's beach destination's including Da Nang, Nha Trang and Phu Quoc.
Ultimately there is little doubt though that the sheer cost of airfares to Koh Samui remain a vital barrier to entry. Phuket continues to see more low-cost airline carriers which has contributed to growth in price sensitive markets. Samui's environmental restrictions on the number of daily flights and lack of airline carrier diversity in the LCC space has created a glass ceiling.
For hotels, frankly there is no easy answer. The island has somewhat avoided the massive development crush of other resort locations in Thailand and Southeast Asia, but the nature of the island's economic dependence on tourism has caged the golden goose. Damned if they do or damned if they don't, the path to tourism maturity comes with a price tag with either staying small or going big. The hotel and tourism sector will likely remain stressed going forward, though certain niches such as luxury properties and wellness offerings tend to buck the trend.
To sum up the future, something has to happen with the airport issue to balance mounting infrastructure drains. The continued influx of Full Moon travellers transiting to nearby Koh Phangan and early stage development of Koh Tao are just another part of the equation.
In short, Koh Samui either needs to find a way to grow the existing airport or else find a new location and long-term solution to the airport conundrum.