The new Smart Visa and digital nomads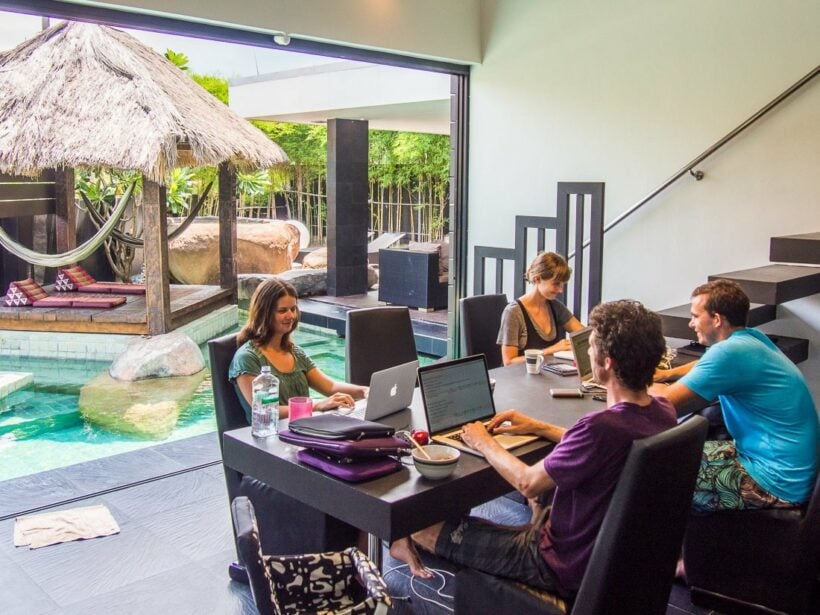 PHOTO: neverendingvoyage.com
The new Smart Visa might be a visa solution for some, but not all, of the 'digital nomads' that have been become ubiquitous in Thailand, from all over the world. Whereas the young professionals might have taken off around the world on a break between their schooling and the start of their professional careers, now they're taking their professional careers along with them and logging in to their job remotely from some far flung cafe overlooking rice paddies in Chiang Mai for a beach in Phuket.
Digital nomads come in all shapes and sizes, professions and ages. In common will be their laptop and all their accessories and spare batteries spread over a table in a cafe offering free wi-fi. They can be backpackers-with-a-laptop or high-end executives making squillions by playing the stock and financial markets.
Cafes don't particularly like the digital nomads because they buy one coffee and sit, taking up a table, for hours whilst they log in and do whatever they do. The new trend of co-working spaces are also a popular temporary office for the digital nomad.
Here's the story of one young Australian digital nomad, Chris, with his top six destinations in Thailand for the digital nomad life.
Here are the most popular professions for the digital nomad.
Website or App Development
eCommerce Entrepreneurship
Online marketing
Infopreneurship, blogging & affiliate marketing
Copywriting / Content writing and production
Web, UI and graphic design
Coaching & consulting
Software entrepreneurship
There are also professional bloggers and travel writers who gain a social media following and create enough audience to attract advertisers and product endorsements.
Up to now, they've usually just played the Tourist Visa game and do the visa runs and border crossings to stay in the Kingdom.
But, will the new Smart Visa be of any assistance to them?
According to the scant information on the new Smart Visa, it will apply to a fairly narrow band of skill sets Thai authorities want to attract – IT, 'tech' industries, health. The visa has also been designed to allow investors to be able to work and live in the Kingdom. The precise list and aunts of investment required have not been made clear at this stage. According to the information we do have, applicants for the new Smart Visa will need to prove a monthly income of 200,000 baht per month, probably more than most digital nomads make.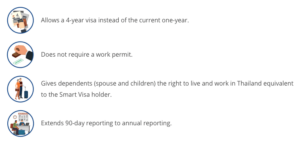 Bottomline: Consult your Thai Embassy or Thai immigration office before applying. And we'll keep you up to date with the requirements of the new Smart Visa when they become avialable.
Here's some more information and resources for digital nomads from the neverendingvoyage.com HERE.
Keep in contact with The Thaiger by following our
Facebook page
.
Never miss out on future posts by
following The Thaiger
.
Thai woman tests positive for Covid in Chiang Mai, 72 people found to be in close contact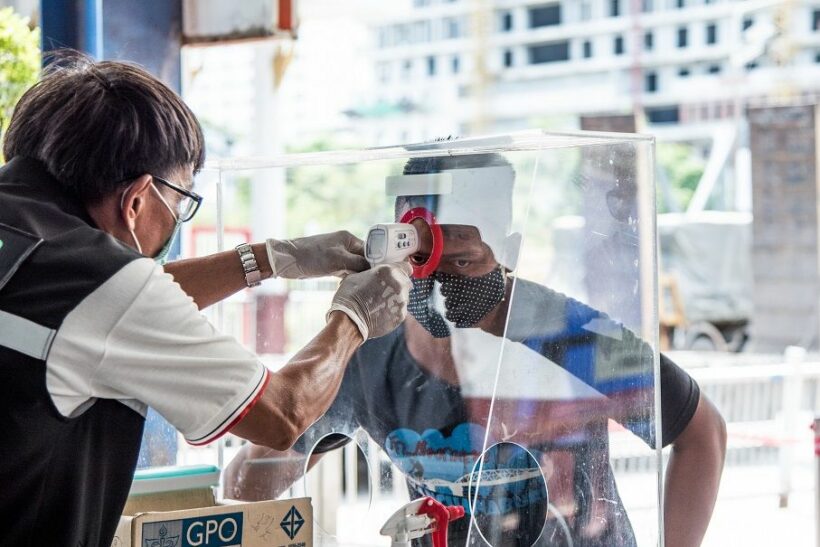 A 29 year old female Thai returnee from Myanmar has tested positive for Covid in Chiang Mai, after visiting the hospital with flu-like symptoms. She was the only local case reported, out of 5 other positive tests, with officials saying she is believed to have contracted the virus in Myanmar. The positive test on November 27, came after she was out and about, with authorities saying 326 people are suspected of coming in contact with the woman. The woman reportedly visited a mall to eat Japanese shabu, watched a movie, visited a karaoke bar, and used public transportation before her positive diagnosis.
Of those suspected 326 people who came in contact with the woman, 105 were deemed at high risk of infection with 149 deemed at low risk. Officials said 72 people were in close contact with her. The mall operator says those who were found to be in contact with the woman will proceed to a 14 day quarantine period.
The woman reportedly came down with symptoms on November 23 and went to the Nakornping Hospital the next day to be checked out. Now, the Chiang Mai governor has ordered all affected venues to be disinfected, including the Central Festival Chiangmai mall, which closed at 4 pm for a "big cleaning" yesterday.
Officials from the Disease Control Department have provided the woman's whereabouts at a briefing on Saturday as part of the contact-tracing exercise. Sopon Liamsirithavorn, director of the Communicable Diseases Division, has presented a timeline of her movements:
From October 24 to November 23, the woman was in Myanmar. On November 23, she developed a fever, watery diarrhea, and lost her sense of smell.
On November 24, she still had a fever and developed a cough and a headache. Around 5 am on that day, she travelled from Myanmar to the Mae Sai district of Chiang Rai by public van.
Around 11 am on November 24, she left Chiang Rai for Chiang Mai by bus.
At 2.51 pm the same day, the woman arrived at her condominium in a Grab car. That night, she used another Grab car to visit a karaoke bar in the Santitham area with two friends. They smoked a cigarette and shared it.
On November 25, she stayed overnight at a condominium with one of the friends who had returned from the entertainment venue around 2 am. Two other friends who lived in the room opposite came to the room to drink alcohol.
About noon on November 25, the woman left the condominium in another Grab car. She arrived at her condo building at around 1 pm.
Between 3.30 pm and 8.30 pm, she used another Grab car to visit a shopping mall and watched a movie there, had meals, and went shopping. She wore a face mask most of the time. She later used another Grab car to return to her condominium.
On November 26, the woman took a Grab car to a private hospital in Chiang Mai for a medical check-up around 3.30 pm after she lost her sense of smell, had watery diarrhea, and a body temperature of 36.9 celsius. She underwent a Covid-19 test.
Around 10pm, she was sent to Nakornping Hospital for another Covid-19 test. On November 27, the tests turned out positive.
A full announcement is set to be made by the Chiang Mai governor and Thai public health authorities when more information has been confirmed.
SOURCE: Bangkok Post | Reuters
Keep in contact with The Thaiger by following our
Facebook page
.
Never miss out on future posts by
following The Thaiger
.
Tourists flock to Chiang Mai Royal Park Rajapruek over the long weekend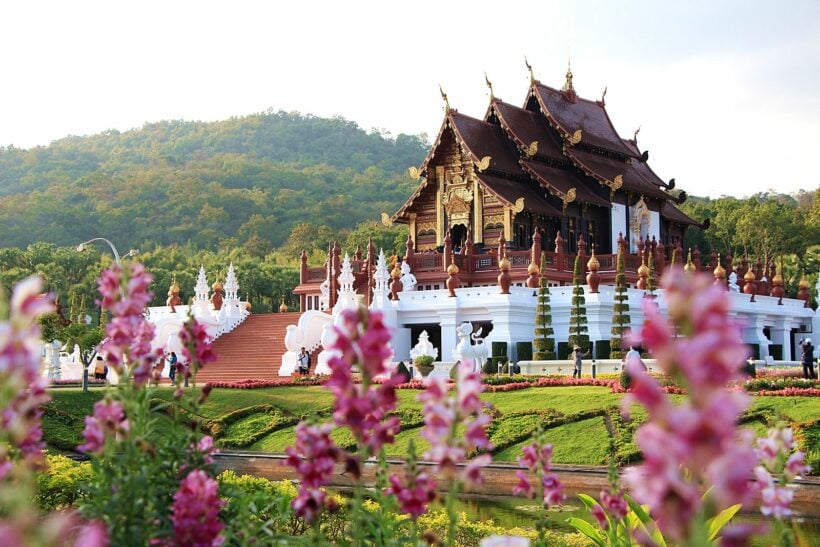 Over the long holiday weekend, more than 1,500 tourists a day flocked to the Royal Park Rajapruek in Chiang Mai. Most of the visitors were Thais from other provinces to enjoy the beautiful display of seasonal flowers adorning the park grounds. The Ratchaphruek Flower Gardens are considered a "must-see" when visiting the northern capital. The expansive gardens are incredibly picturesque. Bike rentals are available and, for less active travellers, a tram is available to take you around.
One unique place to visit during the tour was the orchid greenhouse, where a variety of orchids are currently in full bloom. TripAdvisor recommends about 2 hours to get around the park.
Another attraction to the park was its dedication to featuring toxin-absorbing and air-purifying plants that draw in tourists to relax in the fresh air and natural beauty of the park. However, all visitors are asked to wear face masks and to observe the normal Covid-19 protocols of washing hands and socially distancing to protect themselves and others from any possible infections.
Other northern National Parks and mountains also had a high level of visits over the 4 day long weekend.
Thailand yesterday recorded 11 new cases of Covid with 1 case being locally-transmitted at a refugee camp in Tak province. The Burmese refugee reportedly snuck out of the camp and crossed the Thai-Myanmar border for a visit, and then returned to the camp. The refugee was displaying symptoms and later tested positive for Covid. Such an illegal crossing has seen Thailand impose stricter controls over its border with Myanmar after the latter nation saw a spike in virus cases.
SOURCE: The Pattaya Mail
Keep in contact with The Thaiger by following our
Facebook page
.
Never miss out on future posts by
following The Thaiger
.
5 injured in Chiang Mai collision after driver falls asleep at the wheel – VIDEO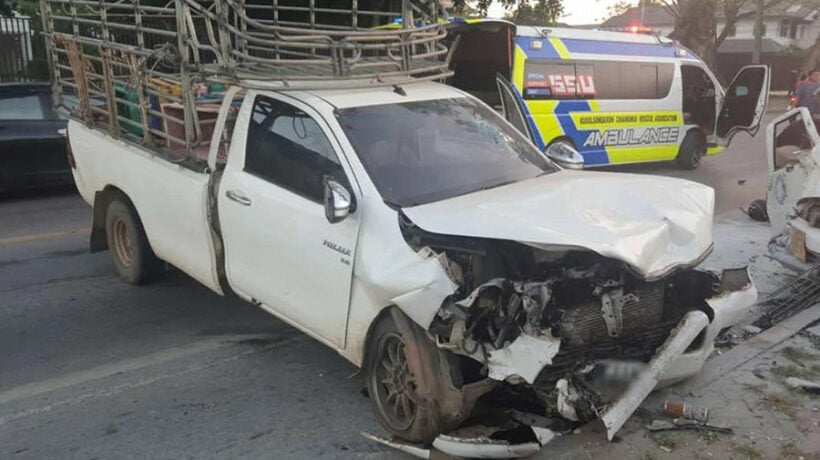 5 passengers in a public transport vehicle have been injured after a pickup driver fell asleep at the wheel and slammed into them. Nation Thailand reports that the collision occurred on San Kampaeng Road in the northern province of Chiang Mai.
Rescue workers had to use specialist equipment to free the passengers, who were trapped in the bus. They managed to get them out just before the vehicle burst into flames, with another group of rescuers extinguishing the fire. The injured passengers have all been taken to hospital.
Police have launched an investigation into the collision, with the 29 year old pickup driver, Jetsada Norakaipan, admitting he fell asleep at the wheel.
SOURCE: Nation Thailand
Keep in contact with The Thaiger by following our
Facebook page
.
Never miss out on future posts by
following The Thaiger
.