The new Smart Visa and digital nomads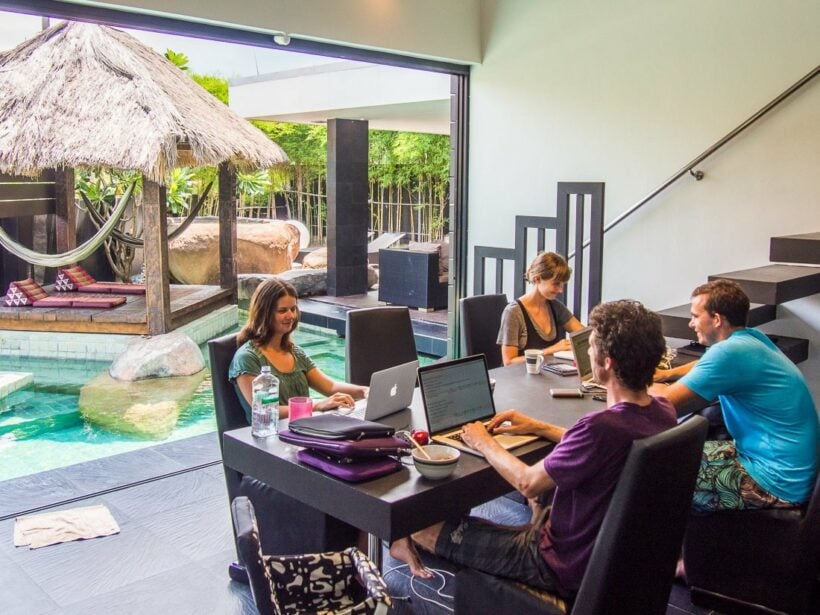 PHOTO: neverendingvoyage.com
The new Smart Visa might be a visa solution for some, but not all, of the 'digital nomads' that have been become ubiquitous in Thailand, from all over the world. Whereas the young professionals might have taken off around the world on a break between their schooling and the start of their professional careers, now they're taking their professional careers along with them and logging in to their job remotely from some far flung cafe overlooking rice paddies in Chiang Mai for a beach in Phuket.
Digital nomads come in all shapes and sizes, professions and ages. In common will be their laptop and all their accessories and spare batteries spread over a table in a cafe offering free wi-fi. They can be backpackers-with-a-laptop or high-end executives making squillions by playing the stock and financial markets.
Cafes don't particularly like the digital nomads because they buy one coffee and sit, taking up a table, for hours whilst they log in and do whatever they do. The new trend of co-working spaces are also a popular temporary office for the digital nomad.
Here's the story of one young Australian digital nomad, Chris, with his top six destinations in Thailand for the digital nomad life.
Here are the most popular professions for the digital nomad.
Website or App Development
eCommerce Entrepreneurship
Online marketing
Infopreneurship, blogging & affiliate marketing
Copywriting / Content writing and production
Web, UI and graphic design
Coaching & consulting
Software entrepreneurship
There are also professional bloggers and travel writers who gain a social media following and create enough audience to attract advertisers and product endorsements.
Up to now, they've usually just played the Tourist Visa game and do the visa runs and border crossings to stay in the Kingdom.
But, will the new Smart Visa be of any assistance to them?
According to the scant information on the new Smart Visa, it will apply to a fairly narrow band of skill sets Thai authorities want to attract – IT, 'tech' industries, health. The visa has also been designed to allow investors to be able to work and live in the Kingdom. The precise list and aunts of investment required have not been made clear at this stage. According to the information we do have, applicants for the new Smart Visa will need to prove a monthly income of 200,000 baht per month, probably more than most digital nomads make.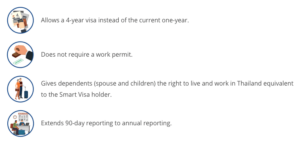 Bottomline: Consult your Thai Embassy or Thai immigration office before applying. And we'll keep you up to date with the requirements of the new Smart Visa when they become avialable.
Here's some more information and resources for digital nomads from the neverendingvoyage.com HERE.


Looking to jettison some items before jetsetting away or chartering a yacht? Look no further than Thaiger Classifieds where you can find and post items, work, property and more for free. Be sure to check out YonderTours for things to do in Thailand and tours across the country.

Read more headlines, reports & breaking news in Chiang Mai. Or catch up on your Thailand news.
Chiang Mai Song Thaew drivers see red over Grab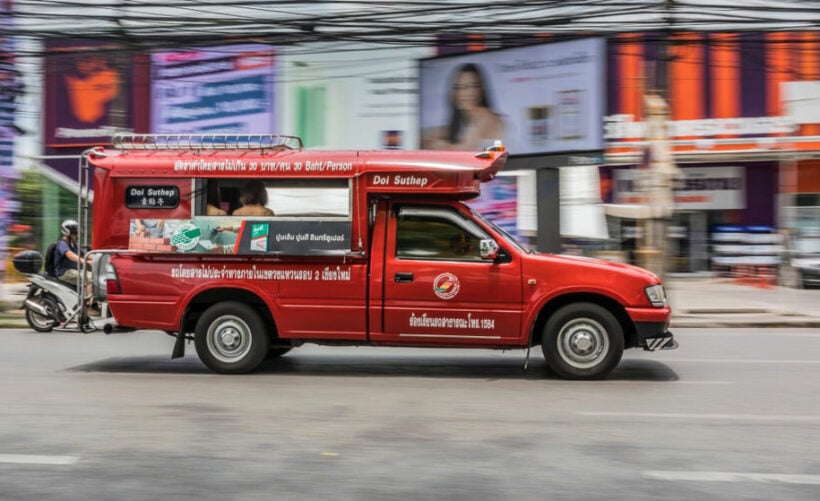 Chiang Mai's Grab vs traditional public transport continues. The issue has simmered for two years with occasional outbreaks of violence and an ongoing war of words on social media.
Thai PBS reports that the spat has become a major problem again between the public Red Song Thaews  and Grab Cars in the northern city.
On the one hand members of the public are finding Grab more convenient, personal and better service. While the Red Bus drivers are complaining that their income is dropping, by more than 50% in some cases.
The Department of Land Transport and airport authorities reported 344 Grab drivers had been fined for picking up passengers at Chiang Mai airport since January 1.
Speaking to Thai PBS, students said Grab was much better and provided a personal service often at only a small increased cost.
"It goes to exactly where we want and is quicker than waiting for a Red Bus."
One student even claimed they had been dumped so that the Red Bus driver could pick up tourists – a more lucrative kind of passenger.
The deputy of the local Red Bus association Bunreuang Wangmee said his organisation represented 2,465 members. While he admitted that some overcharged most kept to the 20 baht to 30 baht charges. He claimed that meant they were better value than Grab Car.
He said that some of his members had seen their daily income plummet from 1,200 baht to 400-500 baht per day.
SOURCE: ThaiPBS
Police and drug courier injured in shootout at Chiang Mai checkpoint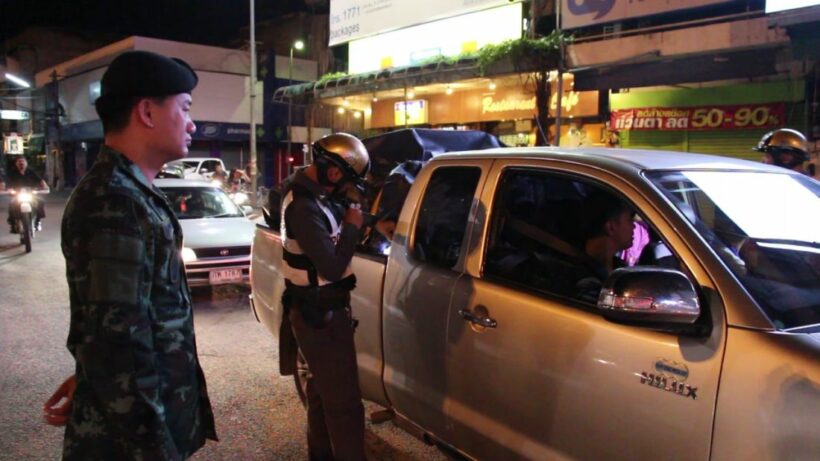 FIL PHOTO: A police checkpoint set-up in the Chiang Mai city area – Chiang Mai Citylife
Three alleged drug couriers have been arrested this morning following a gunfight that injured a suspect and a police officer.
The incident happened in the Mae Rim district of Chiang Mai. Police say they monitored road checkpoints last night until officers at a traffic booth in Tambon Rimtai noticed a motorcycle leading the way for a pick-up truck at 1.20am, according to The Nation.
Police flagged them down at the checkpoint but the motorcycle mounted the footpath to avoid the checkpoint and sped away. When the pickup was stopped, a man on the back jumped down and ran into the forest, with police not far behind.
The suspect opened fire on the policeman chasing him with his homemade sawn-off shotgun. The shot hit the officer's left arm. The officer returned fire and hit the suspect in the abdomen before police were able to seize his gun. The injured suspect was identified as 21 year old Wongsakorn Jala.
Both the injured policeman and suspect were rushed to the district hospital.
The two other suspects were identified as a 22 and 30 year old. Police found 200,000 methamphetamine pills in the back of the pickup. Police are still trying to find the motorcycle 'scout' who was leading the way.
The suspects told police they were hired by a Lahu man in Chiang Mai's Chai Prakan district to take the drug from Fang district and deliver it to a recipient in the city.
SOURCE: The Nation
Young British man found dead in Chiang Mai condo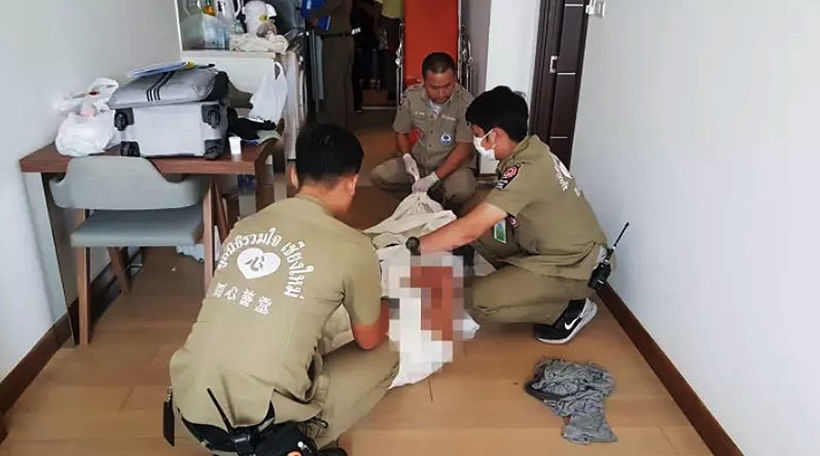 PHOTO: Thai Rath
A maid discovered a British man dead in the bedroom of a room on the eighth floor of a luxury condo in the Chang Khlan district of Chiang Mai over the weekend.
39 year old Kapadia Sarfaraaz was found face down on the bedroom floor. Police found no signs of a struggle or wounds on the body. But they say there were lots of different medications in the room. They speculate that the man had probably died from some ongoing illness.
The man had checked into the condominium last Tuesday and thought to have been dead about one day. In the Thai Rath report, the man was described as a "big man". An autopsy is currently being held and relatives and the Consulate are being contacted.
SOURCE: Thai Rath