King's Cup holds course as marquee sailing event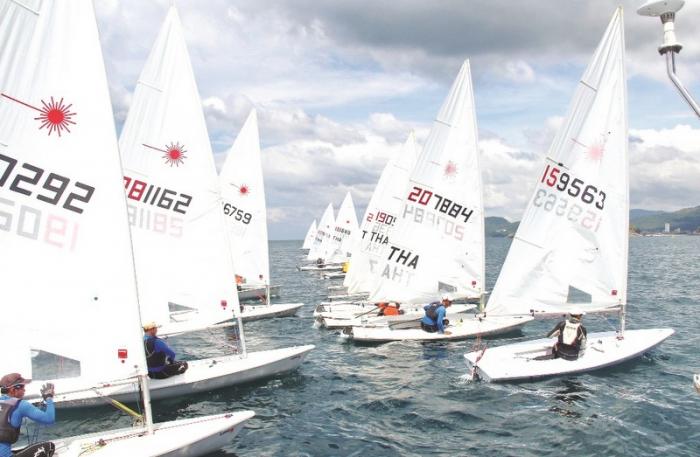 PHUKET: The prestigious Phuket King's Cup was first held in 1987 to mark the auspicious 60th birthday of His Majesty King Bhumibol Adulyadej, the world's longest-reigning living monarch.
His Majesty the King was a passionate sailor and created yachting history in 1967 when he and his daughter Princess Ubolratana Rajakanya won a gold medal in the OK dinghy class at the 4th Southeast Asian Peninsula Games. Each year, a personal representative of His Majesty presents the trophies to all the winners of the annual King's Cup here in Phuket.
The regatta brings together the best of the region's sailing community: the organizing committee led by Kevin Whitcraft; race officer Simon James and competitors from around the world.
"This year is the 30th Anniversary of the Phuket King's Cup Regatta, and it's been amazing for us to see it grow from a small seed back in the late eighties to bloom into the best regional regatta. We're delighted to be able to enhance sailing and marine tourism in Thailand," said Mr Whitcraft.
The regatta was jointly founded in 1987 by then-incumbent Flag Commodore of the Royal Varuna Yacht Club (RVYC) Chris King, Dr Rachot Kanjanavanit, Al Chandler, Adolph Knees and Mom Tri Devakul.
The Phuket King's Cup has always sailed under the direction of the RVYC, with extensive logistical help from the Royal Thai Navy and support from the Yacht Racing Association of Thailand (YRAT) along with provincial authorities.
The five-day race program starts with a sail past in honor of the birthday of His Majesty the King. A procession of boats passes the Royal Thai Navy vessel HTMS Klaeng, stationed off Koh Pu, each saluting an image of His Majesty.
A variety of downwind and round-the-buoys races and a popular scenic island passage race provide suitable challenges for the many competing divisions, including racing, cruising, performance cruising, multihulls and classics. The regatta also has a very strong youth dinghy fleet that it supports with a year-round racing series to help foster the long-term appreciation of sailing in the Kingdom.
The regatta now ranks along with the Caribbean's Antigua Race week and Australia's Hamilton Island Regatta.
Phuket has become a Mecca for sailing enthusiasts and emerged as Asia's premier marine leisure destination.
The 29th King's Cup saw 89 racing yachts divided into 14 classes, 60+ dinghies and over 1,500 sailors competing from 18 countries. Sarab Jeet Singh, skipper of Windsikher II, won the premier racing division (IRC Zero) and is eager to defend his title this December.
The Kata Group of Resorts has been host to the event for many years, and will continue to do so again this year, December 3-10.
The Phuket Gazette and its television arm, PGTV, will likewise continue as media sponsor for this prestigious regatta in 2016.
Keep in contact with The Thaiger by following our Facebook page.
Never miss out on future posts by following The Thaiger.
Is this the next big change in pop music? The winners of the IFPI Global Recording Artist of the Year Award, BTS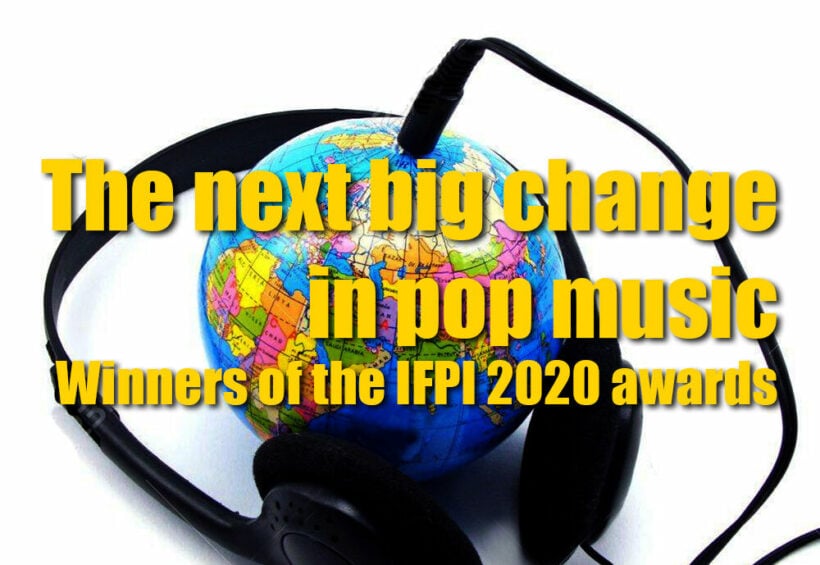 2020 IFPI Global Recording Artist of the Year Award. In the past 8 years the IFPI Global Recording Artist of the Year Award has been given to Ed Sheeran, Adele, One Direction, and Taylor Swift and Drake. BTS are backed up by ARMY, their huge fanbase.
The power of ARMY. The IFPI represents the recorded music industry worldwide. It's not a Grammy or a popularity vote. The award is calculated according to an artist's or group's worldwide performance across digital and physical music formats during the past year. Everything from streams to vinyl, CDs and downloads…. and covers their entire body of work. The award was announced last week at the culmination of the IFPI Global Artist Chart, which counted down the top 10 best-selling artists of the past year.
And it's certainly been a great year for music… not so much for going to live concerts but we've certainly had a lot more time to listen to our favourite artists and stream their clips on YouTube.
The group that won this year, based on their pure sales, actually came second in 2018 and 7th in 2019, so it isn't some statistical blip on the music radar.
The win also represents somewhat of a quantum shift in world music… the sort of thing that only happens once in a generation. Rather than the popular cross-over style shift represented by the George Gershwin's Rhapsody in Blue in 1924, the brith of rock with Bill Haley in 1955 or the rise of British pop in the 1960s, personified by The Beatles, this year's IFPI signals another generational milestone in tastes, method, world reach and engagement with fans.
In all the right-hand turns of the popular music genre, there has usually been a technological breakthrough that has accompanied them, or at least been a key aspect of their success.
In the case of the the Great American Songbook, the foundations of the pop music genre, it was the recorded record and the start of radio-as-entertainment in the 1920s that provided a method to reach a huge audience with the new sounds and tunes for the first time.
Then it was the 7" single that made music cheaper and easier to play, that revolutionised the radio music formats of the 1960s and provided the perfect vehicle of the British pop revolution to spread around the world.
Keep in contact with The Thaiger by following our Facebook page.
Never miss out on future posts by following The Thaiger.
Americans tend to misuse the Buddha image, but a Florida nightclub takes it too far – OPINION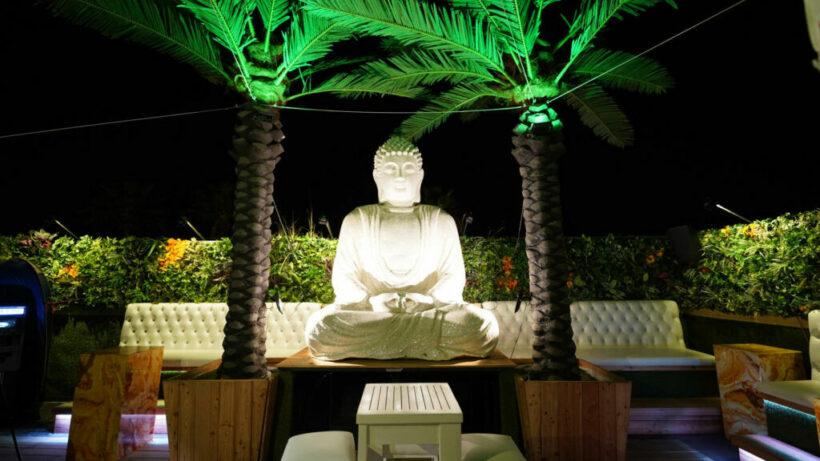 Americans tend to misuse the Buddha image, but a nightclub in Tampa, Florida has taken it too far by placing a giant Buddha statue at its rooftop bar, allowing drunk people to sit and pose for photos, and even jump off on the statue. Businesses play an important role in society, and when they misuse a religious figure or image that is highly respected in other countries, it can lead to widespread ignorance and misconception.
If you've been in Bangkok, you've likely seen some of the billboards by the Knowing Buddha Organisation put up to educate foreign tourists that Buddha is not for decoration and tattoos of the Buddha are extremely inappropriate. Some tourists in other Southeast Asian countries have faced arrest and deportation for having a Buddha tattoo, unaware it is illegal and extremely inappropriate to have the Buddha image on their body. Knowing Buddha says "the world has gone too far in using Buddha images wrongly, with lack of consideration."
The Tampa nightclub is just adding to the misconception and leading to more cultural unawareness. Go go dancers posed in front of the Buddha in a photo posted on the club's Instragram page. One woman at the club sat on the Buddha as she chugged a bottle of what appears to be champagne. Another woman posted a photo of her basically in her underwear sitting on the Buddha statue and wrote the caption "Pray to your goddess."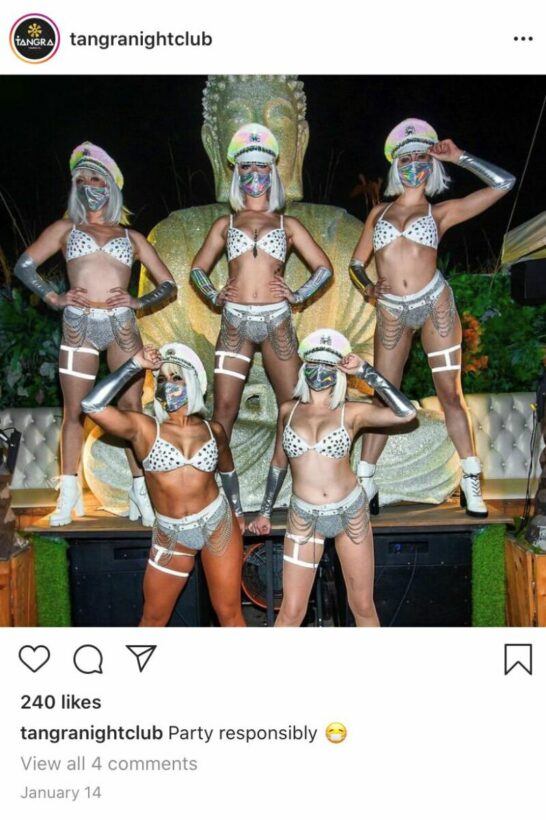 Tangra Club is in Ybor City, a historic Cuban district in Tampa known for its wild and eclectic nightlife. It's got just about everything for everyone – numerous drag shows, both male and female go go dancers, dive bars, raves, craft beer bars, Cuban cigar lounges, a Coyote Ugly bar, night clubs with music of all the popular genres, even a fetish club.
Right in the beating heart of all the madness is Tangra Club with a giant, sparkling statue of Buddha sitting in the meditation pose at the club's "Paradise Rooftop Bar." If you want to talk about misuse, well that's it.
The "Super Bowl streaker" even hit up the club the other week and jumped off the Buddha before taking off his shirt, revealing the same pink one-piece he wore when he ran nearly-naked across the football field, interrupting the Super Bowl game between the Tampa Bay Buccaneers and the Kansas City Chiefs.
The #SuperBowlStreaker back it again at the Bucs private celebration party 🤦🏻‍♂️😂

Posted by Tangra Nightclub on Wednesday, February 10, 2021
The Buddha looks like it's become a logo for the club. They even put an eye patch and Mardi Gras beads on a graphic of the Buddha with pirate ships in the background on a promotional post for its after party for Gasparilla Pirate Festival, an annual parade and reenactment of the pirate invasion by local legend Jose Gaspar. Basically a pirate-themed Mardi Gras. The caption said "Our Buddha is Gaspy ready…Are you?" One commenter even asked "Do you have a name for your Buddha?"
On the club's website, it says the Tangra's "multi million dollar renovation will feature pieces & furnishings made #EXCLUSIVELY for Tangra Nightclub by European artists, architects and craftsmen."
If the Buddha statue was done by a highly paid artist, you would think at least one person would have done a little research… like a quick Google search. Instead they're just cashing in on a trend they don't seem to understand. And in America, Buddha is in fashion.
For the American "millennial hippie" (that's what I'm calling them), Buddhism seems to be based on meditation and opening the "third eye." And a lot of Americans don't even get into Buddhism until they've tripped on acid a dozen times and decided to start on some psychedelic path to what they think is "enlightenment." There's even Buddha ecstasy pills and Buddha LSD blotter sheets. (Google it.) Take what you want from other religions when exploring your spirituality, but don't put Buddha on a blotter sheet.
Americans who are into "Buddhism" often say they're "spiritual, but not religious" and that Buddhism is actually a "philosophy, not a religion." (I guess that's why no one cares about breaking the no drugs and alcohol rule.) An associate professor for religious studies heard the same thing and wrote an article about it for the website The Conversation called "Why so many Americans think Buddhism is just a philosophy."
Other Beat poets, hippies and, later, New Age DIY self-helpers have also paradoxically mistaken Buddhism for a kind of self-indulgent narcissism, despite its teachings of selflessness and compassion. Still others have commercially exploited its exotic appeal to sell everything from "Zen tea" to "Lucky Buddha Beer," which is particularly ironic given Buddhism's traditional proscription against alcohol and other intoxicants.
With the lack of travel over the past year due to the pandemic, it's likely that the cultural divide will only grow. Based on the Tangra Club's Instagram, it looks like they're only adding to cultural ignorance among Americans.
Want to know what's considered respectful? Visit knowingbuddha.org.
Caitlin Ashworth is a writer and editor at The Thaiger. Her opinions are her own and do not reflect the views of The Thaiger staff.
Got a Thailand-related topic you feel strongly about? Submit a story to editor@thethaiger.com. In the subject of the email, please write "OPINION: (suggested headline)."
Keep in contact with The Thaiger by following our Facebook page.
Never miss out on future posts by following The Thaiger.
Bring on the heat… here's our list of the spiciest Thai food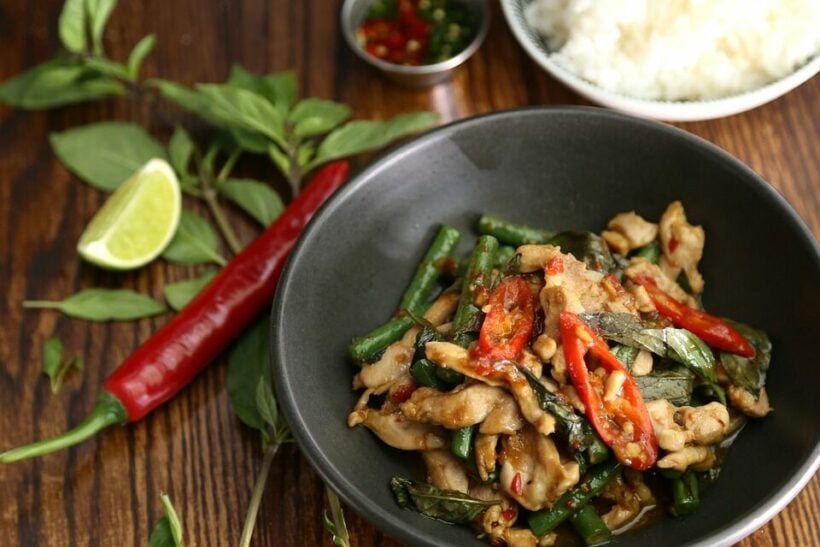 Thai food is raved about as one the best cuisines in the world… and the spiciest. The small red and green Thai chillies are typically what gives the dishes that extra kick, while dried chilli flakes and chilli paste, known as nam prik pao, are often served on the side to make the dishes even spicier.
While some foreigners come to Thailand with a palate prepared for spicy food, others can't handle the heat and Thais will typically lessen the spice level for visitors, calling it "phet farang," a more mild spice level for foreigners. Some restaurants and street food vendors may ask "Gin phet dai mai?" meaning "Can you eat spicy food?" For yes, say "dai," and for no, say "mai dai."
The spice level for many dishes can vary depending on the number of chilli peppers. Many spicy Thai dishes come with a side of cucumbers and other herbs and fresh vegetables to help bring down the heat.
1.Kaeng tai pla – Thai southern-style curry with fish entrails
Even some Thais don't try this dish, so be warned. Kaeng Tai Pla is one of the most well-known local dishes in the south of Thailand and one of the spiciest Thai meals.
Kaeng Tai Pla is known for its combination of salty, hot and spicy flavors. The main ingredient is the fish entrails that are fermented with salt for around a month before it's cooked. A special chilli paste is made specifically for the dish from garlic, shallots, white peppers, black peppers, dried chillies, kaffir lime vest, lemongrass and turmeric. The curry is typically served with a side of rice or rice noodles as well as a large plate of fresh vegetables to help with the heat.
2. Kaeng pa – Thai curry with vegetables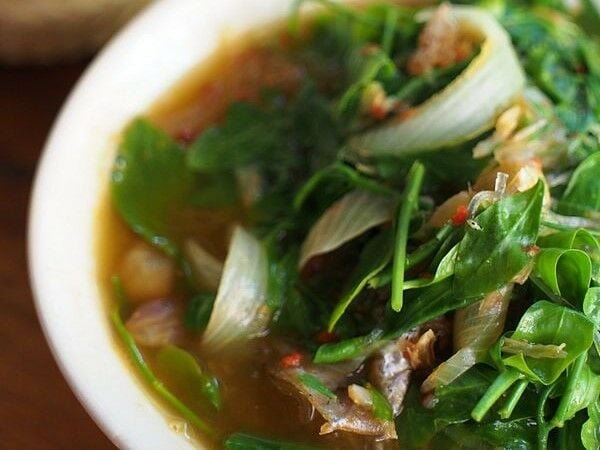 Kaeng pa, which means "jungle curry," is a watery, hot and flavourful curry. There's no coconut milk added to cool it down, so be warned. It's one of Thailand's spiciest curries. It's made with kaffir lime peel and leaves, lemongrass, green peppercorns, galangal, garlic and chilli. Traditional Kaeng pa was made with wild boar, but today, the curry is typically made with pork, chicken or fish.
3. Tom yum – Classic hot and sour soup
Tom Yum is one of the most well known Thai foods. The spicy soup, known for its herbal flavors, is made from lemongrass, kaffir lime leaves, galangal, tamarind, chillis, mushrooms and coriander. It's typically made with shrimp or a large prawn (tom yum goong), but can also be made with chicken (tom yum gai.) Coconut milk is often added to the soup, which lowers the level of spiciness and sweetens the flavour. To make it extra spicy, ask for the clear tom yum without coconut milk called tom yum nam sai.
4. Leng sab – Sour and Spicy Pork Neck Bone Soup
Leng Sab is a simple, but spicy dish and is very popular among Thais. It has a similar taste to Tom Yum, but has a sharper tanginess and a unique aroma from the green chillis. The dish is usually served hot with a large piece of well-boiled, soft pork neck in a flavorful broth. Lime juice and green chillies are added in to give a tanginess and heat. It's garnished with coriander and spring onions. It's typically served with a side of rice.
5. Kua kling – Stir-fried meat with curry paste
Kua Kling is a famous stir-fried dish from Southern Thailand. Typically made with minced pork, Kua Kling has salty and spicy flavours as well as aromatic notes of various herbs and spices. It's less spicy than Kaeng Tai Pla, but still extremely spicy. The dish can be served with rice and fresh vegetables like cucumber, Thai eggplant and other greens to help with the heat.
6. Kaeng som – Spicy and sour yellow curry soup
Kaeng Som, which translates to "orange curry," is a southern-style curry known for its salty, sour and spicy tastes. It's made from a combination of herbs and spices, and seasoned with shrimp paste, salt and lime juice. People usually add fish as well as bamboo and coconut shoots to the curry. Sides of a Thai-style omelet and a deep fried fish go well with the curry.
7. Som tum – Green papaya salad
Som tum is one of the most famous Thai foods and is a "must try" dish when visiting Thailand. Som tum is made from shredded unripe papaya, tomatoes, asparagus beans, lime, dried shrimp, chilli peppers, palm sugar and fish sauce.
Typically, a som tum vendor will ask how many chillies you'd like. "Mai sai prik" means "no chilli," but let's be honest, som tum without chilli is not real som tum. Around 3 or 4 chillies is normal, but very spicy. Some add 10 or more chillies. The salad goes well with sticky rice and grilled chicken, known in Thai as "gai yang."
There's also other variations of som tum, such as som tum pon la mai which is a fruit verison of the recipe with apple, tomato and corn in the same spicy seasoning as the original. There's also som tum pu pla ra which has raw crab and fermented fish sauce.
8. Phad kaphrao – Stir-fried meat with chilli and holy basil
Phad kaphrao is one of the most popular dishes in Thailand. The simple stir-fried dish is made with meat, typically chicken or pork, with chilli, garlic and holy basil. Some pad kaphrao dishes are made with shrimp, squid or crispy pork. It's served with a side of steamed rice, which helps to minimize the heat. It also pairs well with a fried egg, or "khai dao" in Thai.
9. Phad chaa talay – Stir-fried spicy seafood
Phad chaa talay is packed with a variety of herbs and spices, giving it a unique flavour combination, and of course, heat. This spicy dish is made with a variety of seafood like squid and prawns cooked with chilli, kaffir lime leaves, green peppercorn and fingerroot. The dish is sometimes made with pork, chicken or fish. It's usually eaten with a side of rice.
10. Khai phad khamin – Stir-fried spicy chicken with turmeric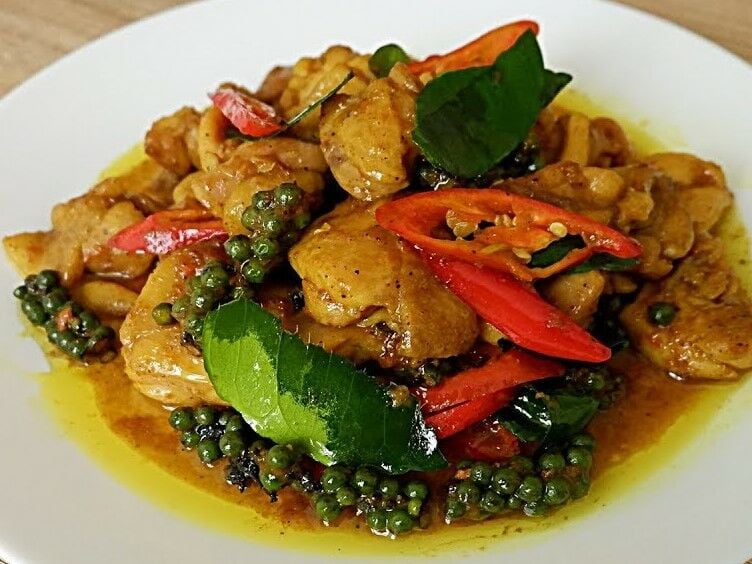 Khai phad khamin is a spicy dish with rich flavours of Thai herbs and spices. Turmeric is the dish a bold yellow. A paste for the dish is made with turmeric, garlic and black pepper. It's garnished with chillies and kaffir lime leaves. While it's not as spicy as some Thai dishes, the turmeric and black pepper are sure to make you sweat.
11. Tom sab kradook on – Spicy and sour soup with pork cartilage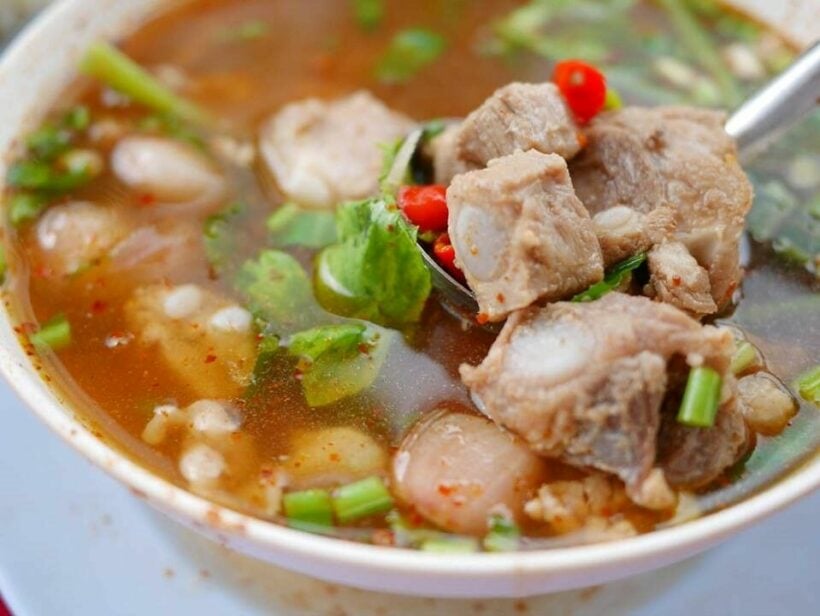 Tom sab kradook is based with the same ingredients as tom yum (lemongrass, kaffir lime leaves, galangal, chilli and coriander) but is added with deep-fried dry chilli. It has the spicy and sour taste of tom yum with a smokiness from the deep-fried chillies. Pork cartilage is a popular meat for the dish. The soup is normally accompanied with rice.
12. Gung kua phrik klua – Stir-fried spicy shrimp with chillies and salt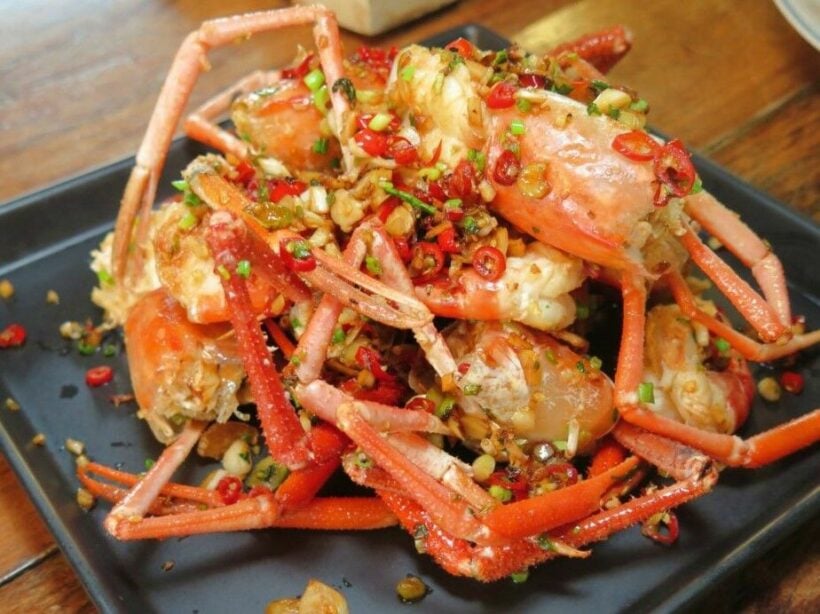 Gung kau phrik klua is a simple dish often offered at Thai restaurants. It's stir-fried shrimp with 2 main seasonings: chilli and salt. A pinch of pepper and some fish sauce are also added to enhance the natural sweetness of the shrimp. It goes nicely with a bowl of rice.
13. Nua phad phet bai yee ra – Stir-fried beef with red curry and tree basil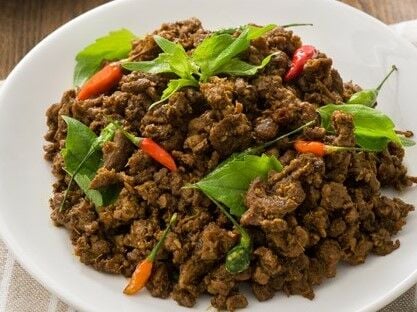 Nua phad phet bai yee ra is stir-fried beef cooked in a thick paste, which is made with the same ingredients as red curry: shallot, galanga, lemongrass, kaffir lime zest, dried chilli, white pepper, coriander seeds, cumin and garlic. It's topped with tree basil and pair nicely with rice.
14. Nam phrik kapi – Shrimp paste chilli dip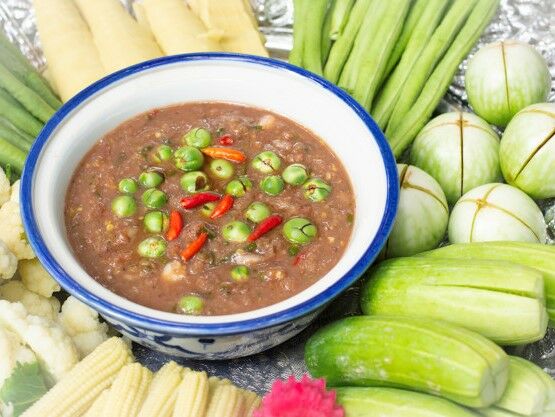 Nam phrik kapi is the staple chilli dip of Central Thailand. The dip is a savoury combination of salty, tangy and spicy. Shrimp paste gives the dominant salty favour. Chillies, garlic, shallot, lime juice and palm sugar are mixed in. The dip is typically served with deep-fried mackerel, steamed vegetables and rice.
15. Pad phrik khing – Stir-fried dry curry with long green beans and meat
Pad phrik khing is a more mild spice level than some of Thailand's spiciest dishes. The stir-fried dish can be made with different kinds of meat, like seafood, pork or chicken as well as green beans. Red curry paste, ginger and kaffir lime leaves make up a unique flavour. A salted egg goes well with the dish.
16. Mu phad phrik phao – Stir-fried pork with roasted chilli paste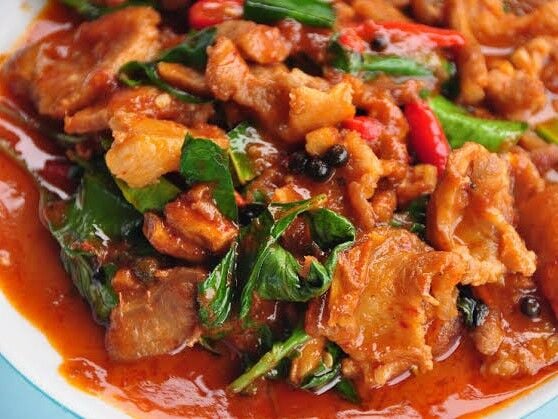 Mu phad phrik phao is stir-fried pork with roasted chilli paste, which gives the dish a hint of sweetness and sourness. Sweet basil is often added. Some use other types of meat like chicken, crispy pork or fish. It's best with a bowl of rice.
Keep in contact with The Thaiger by following our Facebook page.
Never miss out on future posts by following The Thaiger.