Thai Life
Keep It Green: Opening the floodgates to a watery embrace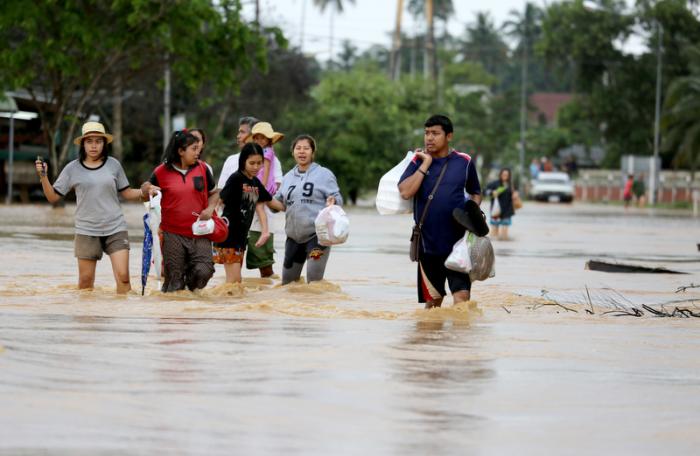 PHUKET: Southern Thailand has recently been in the watery embrace of floods that are unprecedented in their severity.
A few statistics to clarify the situation: the inundation has affected 13 provinces in Southern Thailand, with Songkhla being the worst hit – 14 out of 16 districts have been declared disaster areas. There have been more than 40 recorded fatalities, while more than 1.4 million people have been affected.
Floodwaters reaching the roofs of houses have been commonplace. In Trang, my partner's daughter and her young family have twice been forced to leave their house. Everything gone except the pick-up. Many holidays in Koh Samui and Koh Pha Ngan have been cancelled.
Why? The reasons are both global and local. On a global level, the main culprit is global warming. Rain and snow – or precipitation – basically come from two sources: 60 per cent from the world's oceans and 40 per cent as moisture 'recycled' over land masses. But the amount of moisture in the heavens is largely determined by the warmth of the atmosphere. And it is getting warmer up there – consider the melting of polar icecaps, and the rising temperature of the world's seas.
The amount of water in suspension, at least in certain conditions, is greater – hence more and heavier rain. Cyclones have increased measurably in intensity since 1981. Torrential rain, as we gardeners in Phuket know from recent experience, is not beneficial: it has a leaching effect on the soil's nutrients and, by saturating plant roots, lessens their capacity to absorb and then exhale all that excess moisture – a process known as evapotranspiration.
Closer to home, an example of the impact of warm air is provided by the continuing presence of the Northeastern monsoon over the Gulf of Thailand. It should have dissipated by now, bringing drier weather, but the rain persisted, much to the chagrin of tourists wandering around in plastic waterproofs.
Why is the planet experiencing climate change? There are many reasons, including increased levels of carbon dioxide, mostly from fossil fuels spewed out by coal-burning factories, and vehicles running on gasoline. Methane and nitrous oxide emissions from agricultural practices and decaying waste are hastening the process of ozone depletion. The plankton explosion due to warming seas has contributed to oxygen loss.
So is Thailand, and particularly Phuket, more or less culpable? Yes and no. Thailand is an inevitable victim of all these global factors. But one stands out – deforestation. The loss of tropical rainforest is both cause and effect. Cause because trees are one of the crucial suppliers of oxygen and absorbers of carbon dioxide, pivotal players in the battle against global warming. Effect because once heavy precipitation does arrive, they act as giant sponges. Rain on the leaves evaporates into the air, while the roots both retain surplus moisture and hold the soil in place.
I am prepared to wager that if Thailand still possessed all those ancient rain forests, this epidemic of flash flooding would have been avoided.
— Patrick Campbell


Join the conversation and have your say on Thailand news published on The Thaiger.
Thaiger Talk is our new Thaiger Community where you can join the discussion on everything happening in Thailand right now.
Please note that articles are not posted to the forum instantly and can take up to 20 min before being visible. Click for more information and the Thaiger Talk Guidelines.