It's all in the game – Phuket TECH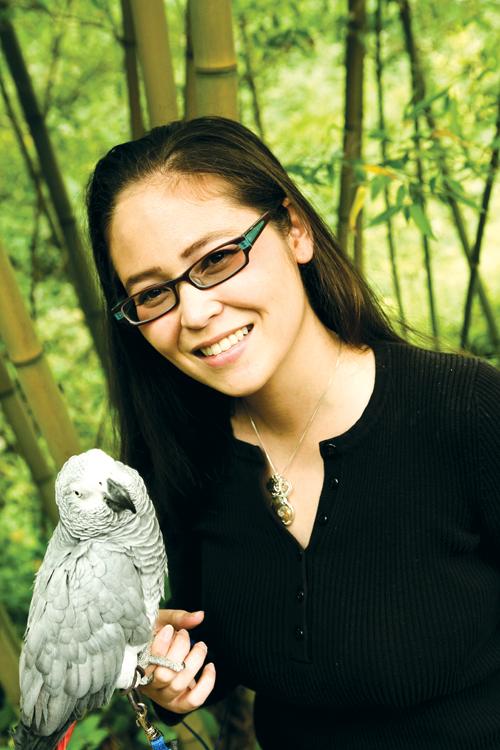 PHUKET: Teachers and students of the Prince of Songkla University, Phuket College joined by representatives of the US Embassy, recently welcomed Erin Hoffman, an American video game designer and book author who came to Phuket to conduct a workshop on game designing.

Erin Hoffman is a lead game designer at the Institute of Play's Glasslab project –which is focused on introducing educational elements into computer games. Erin is also a novelist; her latest fantasy novel, Shield of Sea and Space was published this year. Born in San Diego, Erin still lives in California. She started programing when she was just 14 years old.

The Phuket Gazette spoke to Erin before the workshop to ask her about her creative approach to both game design and writing:

What is your inspiration when creating games?

Erin: I like animal games – I like systems, biology and the way that biology can be introduced into game mechanics and game systems. I love online game design and people connecting with each other through the Internet. I wrote six or seven online games, not counting mobile [telephone based] games.

What motivates you to write a fiction?

I've always been interested in fantasy, particularly science fiction and futurism. I think that the features of science fiction and technology are going to be more female oriented. We will see more usability and software being more human which will influence science fiction as well.

What do you enjoy about writing fiction?

It is a connection between people. When you write something, like the books that I write, people read them and they feel very connected to me. I also enjoy giving people an experience they can not have in reality.

What are the most important elements of good game design?

There are two kinds of game designers, those who make games that they want to play and those who make games that other people want to play. These [second type of designers] are reacting more to other people needs. I think that the most important thing is being able to put a game in front of a person, watch them play it and observe if they are confused, or understand the game and learn from that experience.

What can a novel writer teach to a game designer?

Books have a much greater sense of pacing, they are full of twists and climaxes. Games often don't have that sense, their pacing can be off. The way that you get introduced to a concept can be either too fast or too slow. I think that the story telling of a novel can give a game a better sense of pacing, games that have a very good story also tend to be better paced.

What are you working on right now?

I'm working on an educational game. It will teach argumentation, logical thinking and how to evaluate if something that somebody tells you is true or not, whether it has evidence that supports it, so when children grow up and they are listening to the news, they can evaluate whether they agree with it or not. It will be a free tablet game.

What do you expect from this workshop?

I'm hoping to learn a lot from the students in Phuket. About what they want to be doing in games. I'm very interested in what kinds of games people in Thailand want to make if they could make games based on their own experiences. I'm travelling to the different universities, trying to connect with students to see what ideas are out there.


— Kanyawarat Pramprasert
Keep in contact with The Thaiger by following our
Facebook page
.
Out of 37 countries, Thailand has the worst pension system, says Bloomberg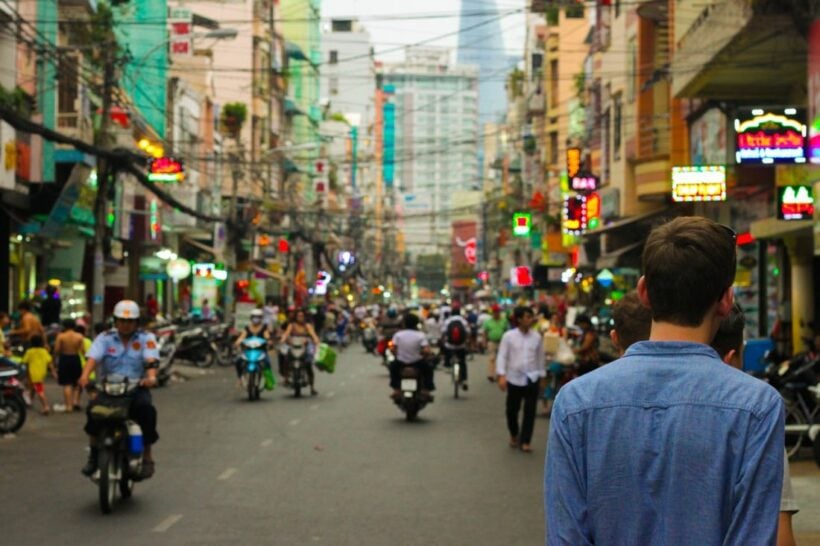 Thai Residents reports that on Sunday, Bloomberg published an article on the world's best pension systems, using information gathered from the 2019 Melbourne Mercer Global Pensions Index.
The survey looked at the pension systems of 37 countries with metrics including employee rights, savings, the number of homeowners, growth of assets, and growth of the economy. The purpose of the analysis was to determine what was needed to improve state pension systems and to gauge the level of confidence citizens had in their state pension system.
The Netherlands and Denmark were found to have the world's best state pensions, with Australia, Finland, Sweden, Norway, Singapore, New Zealand, Canada, and Chile next. Out of all 37 countries, Thailand finished last, with what the report described as an extremely ineffective and ambiguous system.
"Thailand was in the bottom slot and should introduce a minimum level of mandatory retirement savings and increase support for the poorest."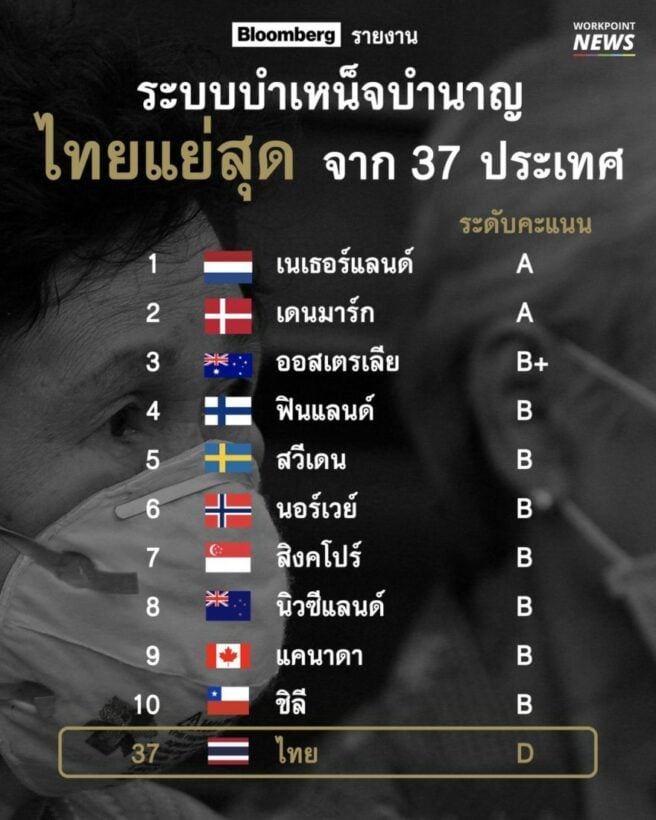 Photo: WorkpointNews
Thai Residents states that only those employed within the government system in Thailand are eligible for a pension based on salary. For most Thai citizens, pension amounts vary from 600 baht to 1,000 baht a month, depending on the recipient's age.
A report carried out by The Securities and Exchange Commission (SEC) advises Thai citizens to have at least 4 million baht saved by the time they retire, but Thai Residents reports that 60% of Thai retirees have less than 1 million baht in savings, with one in three citizens who have reached retirement age are forced to continue working in order to survive.
SOURCE: thairesidents.com
Keep in contact with The Thaiger by following our
Facebook page
.
Tax on salt content being considered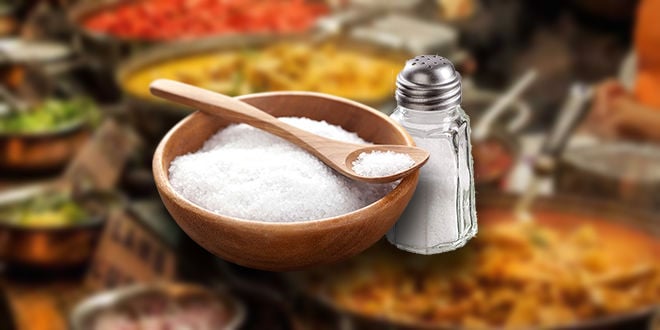 The Excise Department is considering imposing a tax on the salt content of food to encourage food producers to reduce the sodium content of snacks, instant noodles and seasoning cubes.
The director of the Office of Tax Planning said that the department is discussing a limit on the amount of sodium food can contain, in line with the standard set by the World Health Organization (WHO), which is 2,000 milligrams of salt per day.
In reality, Thai people consume an average of 1,000 milligrams per meal, making their daily intake well above WHO guidelines, according to the director.
He said any tax imposed would be at a level which would encourage food producers to reduce the sodium in their processed food without being punitive, adding that the proposal isn't intended to generate more tax revenue, but to help protect the health of consumers. Excessive sodium in the diet can lead to high blood pressure and kidney disease.
Fish sauce, soy sauce and salt would not be taxed.
SOURCE: thaipbsworld.com
Keep in contact with The Thaiger by following our
Facebook page
.
Water shortage warnings in 22 provinces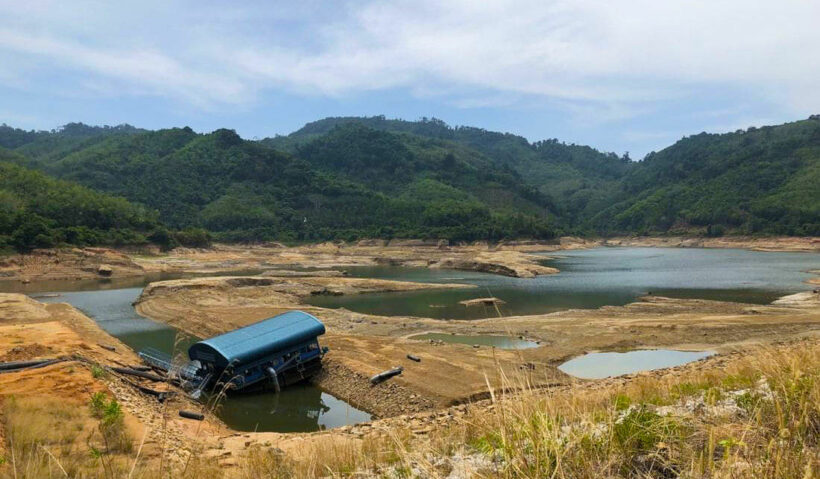 People living in 22 Thai provinces are being warned to prepare for shortages of drinking water during the upcoming dry season, due to start on November 1st.
The warning was issued by the National Water Resources Office, citing low levels in reservoirs, which are the main sources for tap water production waterworks in 22 provinces.
Areas at risk identified by the office are in northern, north-eastern, eastern and southern provinces.
Measures have been adopted by agencies charged with dealing with water shortages. including dredging water channels to allow greater volumes of water to flow into reservoirs, drilling underground wells, enlarging storage ponds and the purchase of water to supply to those in urgent need.
The Royal Irrigation Department has announced that people should use water sparingly.
There are currently about 6 billion cubic metres of usable water in reservoirs in the affected provinces, with 5 billion cubic metres reserved for consumption and ecological preservation, leaving only 1 billion cubic metres for use in agriculture.
This means farmers in the Chao Phraya river basin may not be able to grow a second crop of rice this year.
SOURCE: thaipbsworld.com
Keep in contact with The Thaiger by following our
Facebook page
.