How to save $24,000 a year – the move to Chiang Mai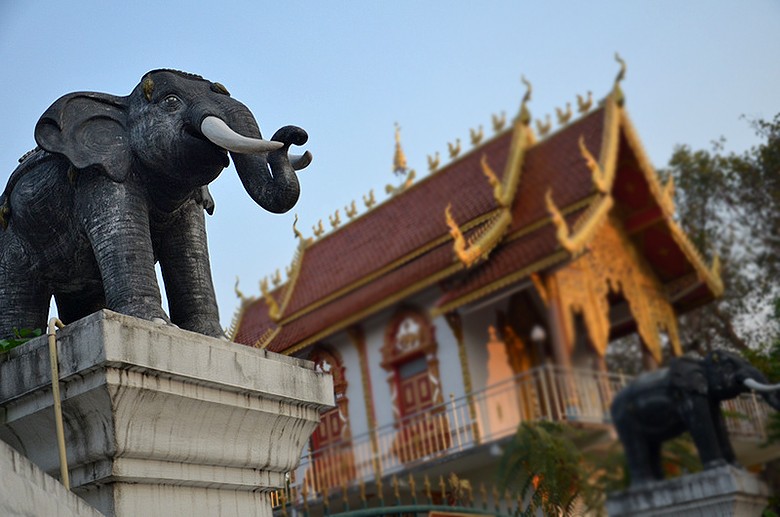 An Australian couple say they've saved almost $24,000 a year after a move from life in Melbourne to Chiang Mai.
Michelle and her fiance Jason moved from Melbourne in the southern state of Victoria to northern Thai 'capital' Chiang Mai at the start of 2018.
Freelance journalist Michelle has shared her savings and new lifestyle experiences in International Living.
"Before moving here, I knew Chiang Mai offered low-cost living and that the savings I'd make would mean I'd be in for a nice lifestyle upgrade. But I didn't realise just how good the value was."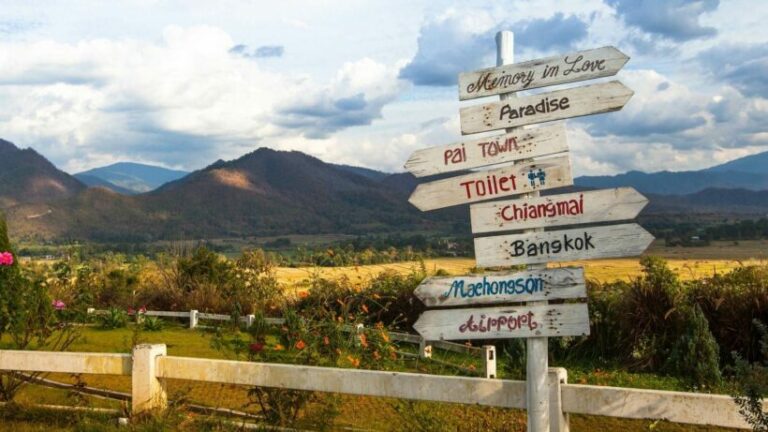 Rent
Michelle says the couple now save more than $10,000 per year on rent, $5,000 on transport and $2,600 eating out compared to their previous expenses back in Melbourne, Australia.
"In Melbourne, my partner Jason and I paid $1,738 (plus bills) for a two-bedroom apartment in an old building with no amenities. This worked out to $400 a week, cheap by Melbourne standards.
"Compare this to our modern condo in the trendy Chiang Mai suburb of Nimman, which comes with a pool, gym, sauna, library, rooftop area and more. We now pay less than half what we were paying for rent in Melbourne."
But Michelle says you can save lot more if you are content with older places a in slightly less-fashionable locations.
"Friends of ours rent a much older place, with no amenities, in the neighbouring area of Santitham for 7,000 baht ($290) per month," Michelle wrote.
Find a place to rent in Chiang Mai search HERE.
Travel
"Cars are expensive to run. Back in Melbourne, it cost me at least $50 a fortnight to fill up my Hyundai Elantra – that's $1,300 a year, just on petrol. Add to that the cost of insurance (in my case, $812 for comprehensive cover) and registration ($800), and you're looking at a total of $2,912.
"Multiply that by two (Jason's car expenses were roughly the same as mine) and the grand total is an eyewatering $5,824."
In Chiang Mai the couple no longer need a car, as many places are within walking distance or they just use the Grab ride hailing app – on average about 68 baht per trip.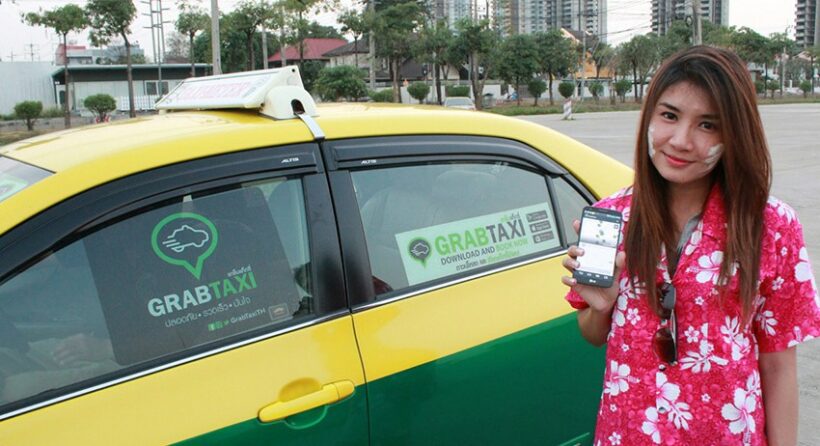 Hair and beauty
Michelle are that hair and beauty treatments are much cheaper in Chiang Mai than back in Melbourne.
Michelle say she sent $250 every six weeks for a cut, colour and blow-dry.
"I also used to treat myself to a pedicure ($30) every three months, which meant my beauty expenses – not including cosmetics – would set me back around $2,120 a year.
In Chiang Mai Michells says a cut, colour and blow-dry starts at around 2,850 baht ($118), while a pedicure is about 300 baht ($12) – an annual saving of $1,128."
"In Chiang Mai – a full-body, one-hour, oil massage for as little as 200 baht ($8). In Australia, that same massage would set you back at least $60."
Eating
"I estimate we spent at least $150 on either restaurant or takeaway food every week. Even takeaway Thai would cost about $40 for both of us".
But in Chiang Mai she says they make huge savings on food, despite eating out every night. She also says Chiang Mai is much cheaper when it comes to buying a beer compared to Melbourne.
"The other night, we spent 220 baht ($9) for two servings of pad Thai, a plate of pork ribs and two mango shakes,' Michelle added.
"We eat out every single night in Chiang Mai for about $100 per week. Compare this to our weekly restaurant/takeaway spend in Melbourne and we're saving about $2,600 a year on dining out."
"Back home, a beer would cost about $10.
"Here you can sip on a cold brew for as little as $2. Even if you only drank one beer a week, that's a saving of $416 a year", Michelle said.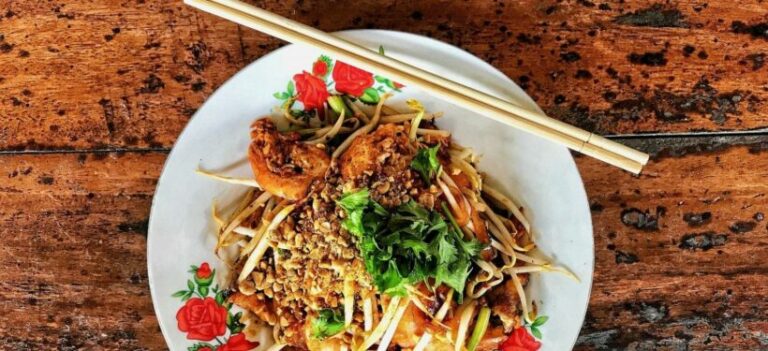 You can read Michelle's full article about the couple's re-location and savings HERE.
Keep in contact with The Thaiger by following our Facebook page.
Never miss out on future posts by following The Thaiger.
Air pollution reaches "unhealthy" levels in Thailand's north and northeast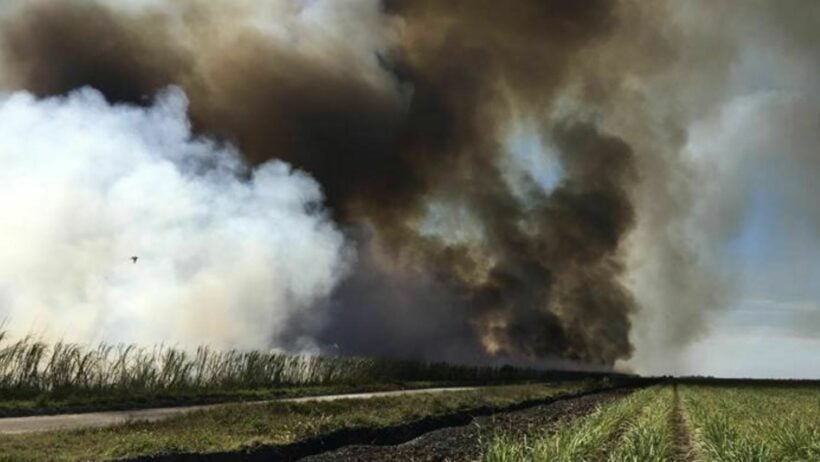 18 provinces in Thailand's north and northeast are being hit by a wave of smoke and air pollution as the burning season kicks in for the country's agricultural sector. The next 2 months are the peak of the burning off season for agricultural waste as farmers prepare their land for the next crops of corn, rice and sugar and use the fires to aid the harvest of some of their crops.
With sugar cane plantations, for example, farmers choose to burn the leaves off the plant, exposing the stalks, before harvesting the profit-making stalks, saving time and money. There are mechanical ways to achieve the same result but the farmers, pushed to slender profit margins by the multinational food companies, are unable to invest and amortise the additional costs.
The levels of PM 25 micron particulate, a measure of the smoke and haze, has been at "unhealthy" levels in Chiang Rai, Phrae, Sukhothai, Phitsanulok, Tak, Phetchabun, Phayao, Nan, Chiang Mai, Lampang, Khon Kaen, Roi Et, Chaiyaphum, Ubon Ratchathani, Saraburi, Nong Khai, Nakhon Phanom and Nakhon Ratchasima.
The Pollution Control Department are now openly admitting that the major cause of the seasonal smoke is "open burning by farmers who are preparing their land", according to the Bangkok Post. On Monday the Deputy PM Prawit Wongsuwan issued orders to prevent farmers from starting the plantation fires. You can check the result of his orders in the fire map below.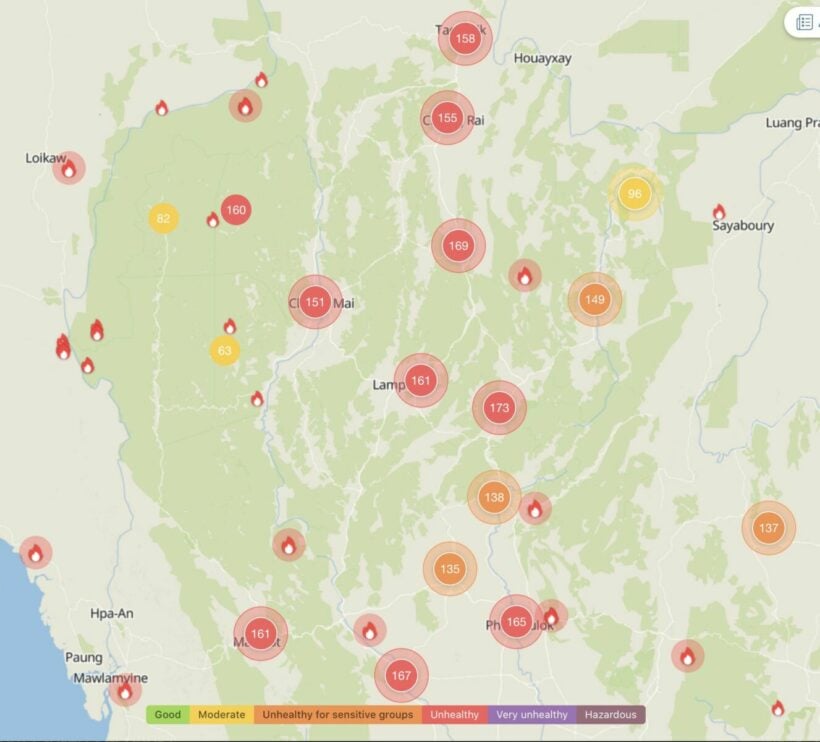 iqair.com measures the average level of PM2.5 dust in the North at between 35-85 micrograms per cubic metre (μg/m³) yesterday, considered "unhealthy". In the Northeast, the levels ranged between 40-99μg/m³.
The Thai Pollution Control Department considers PM2.5 readings below 50μg/m³ as "safe" but the Thai standard is twice as high as what is considered safe by the World Health Organisation.
firms.modaps, the NASA satellite fire tracking service, shows the number of fires currently alight around Thailand and the concentrations in the north and north east. The fires in northern Cambodia and north east Myanmar are also contributing to the Thailand's smog and haze, depending on which way the winds are blowing. During this time of the year, the winds are predominantly north east and light across much of Thailand. The firms.modaps feed is live, registering the fires alight at the time the screen capture was taken.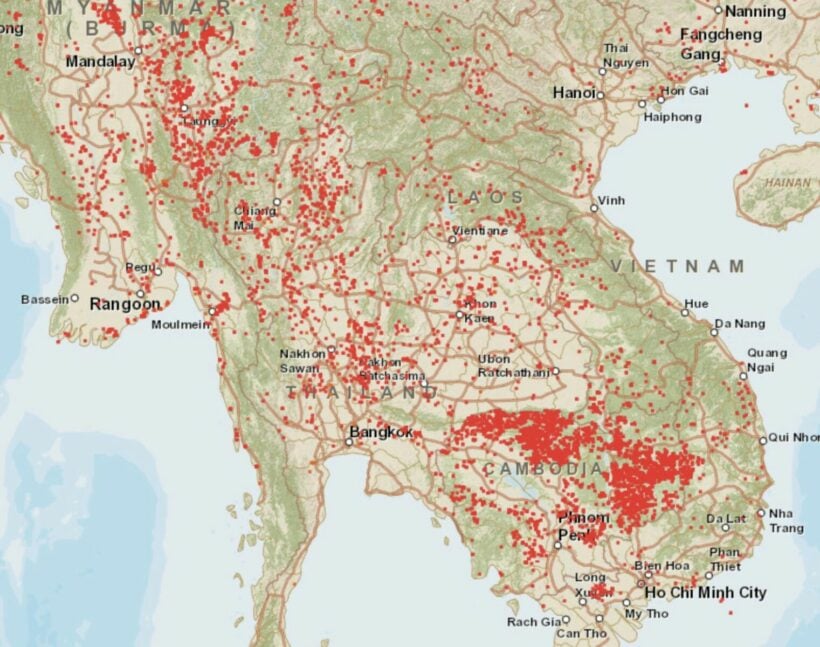 Bangkok starts off Wednesday with relatively better air quality than the past few weeks.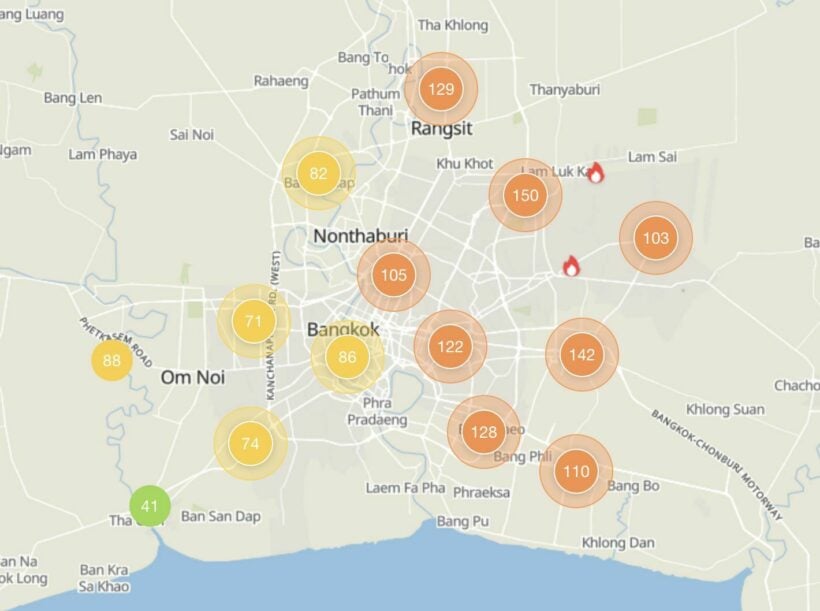 SOURCE: Bangkok Post
Keep in contact with The Thaiger by following our Facebook page.
Never miss out on future posts by following The Thaiger.
Chiang Mai night markets reopening tomorrow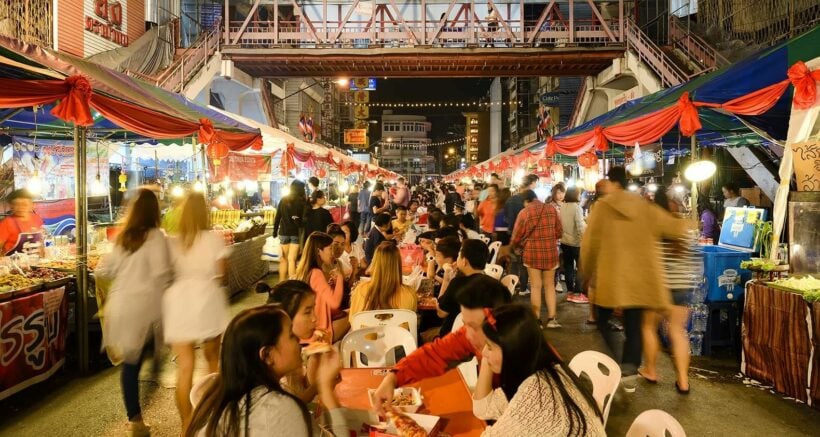 Night markets in Chiang Mai will be reopened tomorrow after the province went 6 consecutive days with no new Covid-19 cases.
According to Chiang Mai Governor, Charoenrit Sanguansat, the province and the provincial disease control committee agreed to ease up restrictions on social and business activities after the number of infections continually dropped and no new infections were reported during the past week.
As a result, flea markets, night markets, and walking streets across the province will be reopened tomorrow onwards.
However, the governor still reiterates that marketplaces and visitors must follow the disease control measures strictly.
Since the start of the second wave of Covid-19 in mid-December, Chiang Mai has tightened restrictions to prevent the virus spread in the province, with the order to close all markets and social activities for 14 days on January 6.
SOURCE: Nation Thailand
Keep in contact with The Thaiger by following our Facebook page.
Never miss out on future posts by following The Thaiger.
Thailand on fire – NASA satellite website tracks the country's farm fires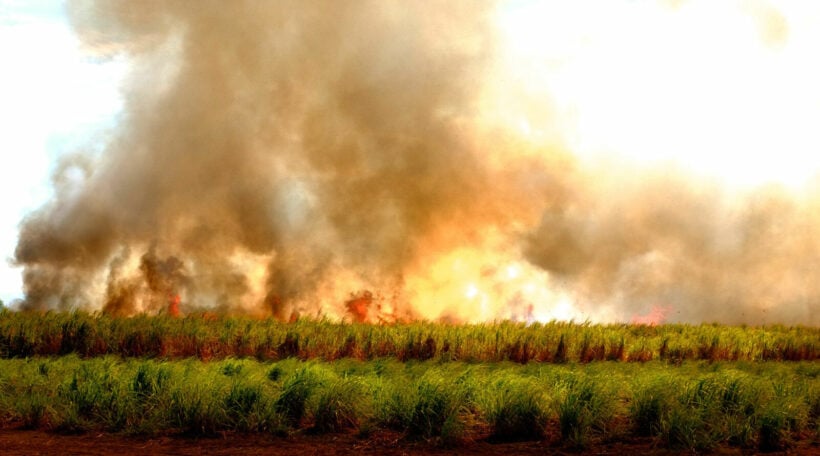 Thailand is burning. The burning off of harvested crop plantations is lighting up the agricultural areas. The truth is starkly revealed in the live NASA satellite feeds which track the fires around the world.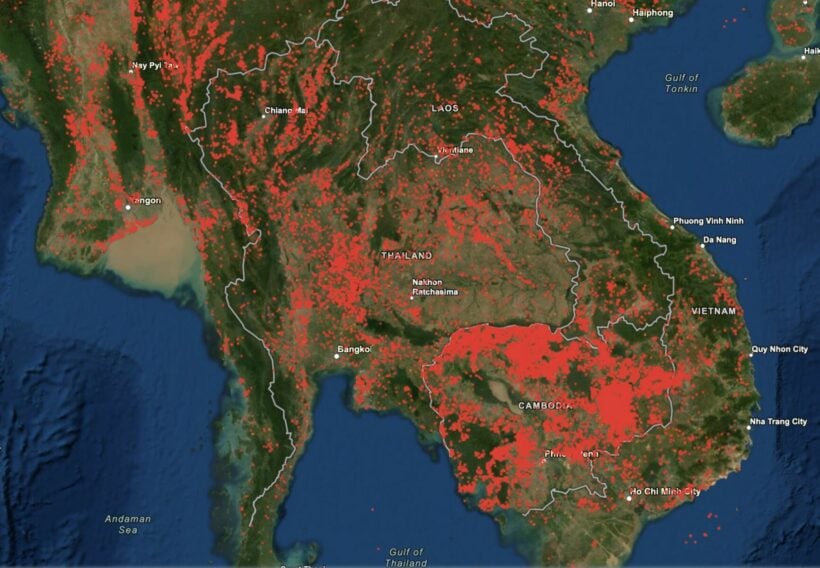 CHART: Fires in the past 10 days around parts of Thailand – Firms.Modaps
Concentrations of the current fires can be seen in Central Thailand, north of Bangkok, parts of Isaan, north east of Bangkok, and around Chiang Mai in Northern Thailand. Notably the concentration of fires in northern Cambodia and across the north-western border in Myanmar, is also causing plenty of problems as the foreign smoke drifts across the borders. No matter what Thai officials do to enforce the rice, sugar and corn plantation burn-offs, there is little they can do about the haze drifting across the borders.
Bangkok, so close to clusters of fires, is in for a bad air pollution day anytime the light winds of the start of the year blow from the north or the east. The lack of rain adds to the problem, the annual problem, that engulfs Thailand's capital during days between December and April, with the worst month, statistically, being March.
The alternative method of preparing for the next harvest, mechanical removal of the refuse and waste after harvesting, is both unpopular in Thailand and economically unviable for the small farmers whose margins remain thin with the multi-national buyers of their produce pushing for lower and lower prices every year.
In Chiang Mai, from January to the end of March, the locals even call it the 'burning season'. Coupled with the hot season, the farmers in northern Thailand burn their fields to prepare land for the next harvest and also to get rid of biowastes like corn that can't be sold in the market. It's officially illegal to do the burn offs but the lack of enforcement leaves the problem unresolved and the smog and haze remain as predictable as the annual wet season.
Chiang Mai also has a local geographic problem which exacerbates the bad smoke pollution. The city is in a valley, surrounded by hills, trapping in the smoke and helping block any breezes that could otherwise blow it away.
For today, Bangkok's air pollution is better than the past two days but still registering as 'unhealthy for sensitive groups' with city readings mostly between 140 – 170. Parts of the city, mostly south-east and south west, were registering readings above 300 in the past few days.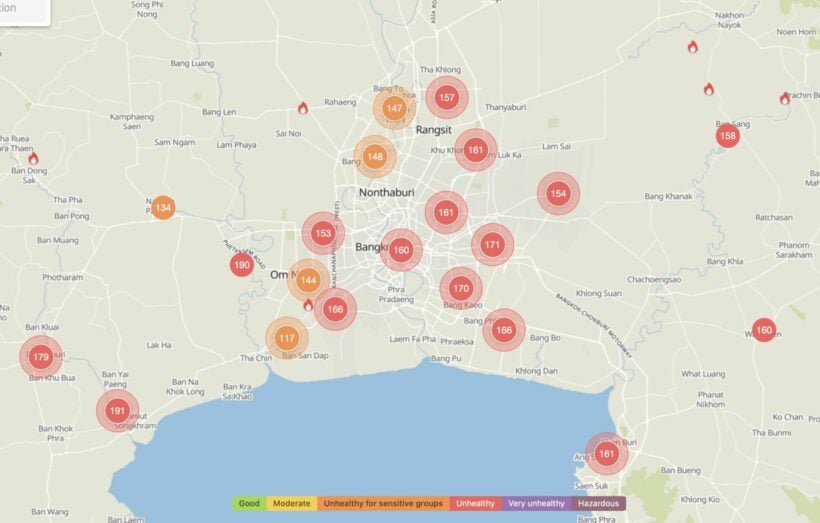 SOURCE: IQair.com
Watch this video for some more information about Bangkok's smog…
Keep in contact with The Thaiger by following our Facebook page.
Never miss out on future posts by following The Thaiger.