Massaman curry named world's #1 food by CNN Travel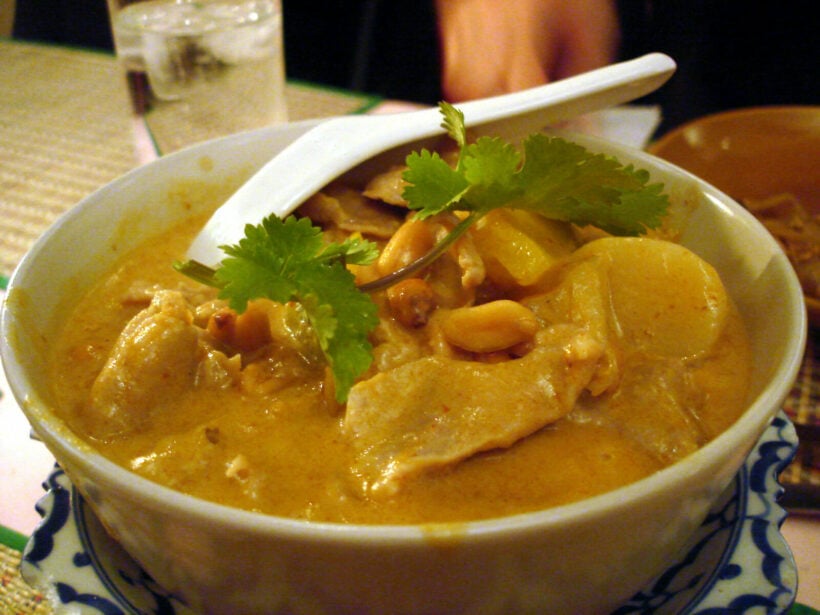 Massaman curry has once again topped CNN Travel's list of the World's 50 Best Foods, with 2 more Thai dishes gracing the list. CNN Travel first published its list of the best meals and snacks from around the world in 2011 and just updated it this month. Massaman curry – which the list described as spicy, coconutty, sweet, and savoury – once again ranked number 1, a distinction that the Tourism Authority of Thailand was quick to pounce on and tout to the world.
"TAT would like to remind all of you to stay safe until the COVID-19 situation improves, and prepare for the time when travel and tourism returns, and we can all embark on a culinary journey and explore Thainess through Thai dishes in unique destinations across Thailand."
Thailand's reputation as a foodie destination is only growing with this list being evidence that Thai cuisine competes not just as delicious street food, but up to and including 5-star dining experiences.
Thailand's culinary pride is justified though, as massaman curry is joined by tom yum kung ranked 8th on the list and som tam squeezes in at number 46 on the top 50 list. Tom Yum Kung, was lauded for the variety of flavours, encompassing spicy, sour, sweet and salty, and for how a dish filled with shrimp, tomatoes, mushrooms, galangal, kaffir lime leaves, and lemongrass could be found inexpensively.
Som tam, Thailand's famous papaya salad was praised while CNN listed off ingredients of grated green papaya, garlic, chillies, tamarind juice, lime juice, sugar cane paste, dried shrimp, tomatoes, peanuts, string beans and fish sauce.
Massaman curry beat out pizza for number 1 and managed to finish ahead of such global staples as hamburgers (#6), doughnuts (#14), lasagna (#23), Vietnamese pho (#28), fish 'n' chips (#33), and taco (somehow ranked at a lowly 43rd?!) for the top spot. CNN Travel called it the "king of curries" and said even home packets of massaman powder can turn anyone into a gourmet chef.
The top 10 was rounded out by (from number 2 to number 10) pizza, chocolate, sushi, Peking duck, hamburger, Penang assam laksa, tom yum kung, ice cream, and the African nation of Gabon's chicken Muamba. Other notable entries include corn on the cob at #13, lobster at #17, shish kebab at #18, croissants at #21, Indian butter garlic crab at #23, Filipino Lechon pig at #27, Canadian maple syrup at #34, hummus at #36, and poutine at #44.
Snacks popcorn and potato crisps a bit surprisingly made the list (or chips as CNN called them) at number 50 and 48 respectively. But perhaps in a move to remind readers to take the list with a pinch of salt, no pun intended, ketchup sauce was somehow listed as the 39th most popular food in the world.
Full list can be found here. What do The Thaiger readers think?
SOURCE: TAT News
Want more from the Thaiger family?
📱 Download our app on Android or iOS for instant updates on your mobile
📧 Subscribe to our daily email newsletter
👍 Like/Follow us on Facebook
🔔 Subscribe to or Join our YouTube channel for daily video updates


Find more SE Asian News courtesy of Thaiger.

Broke? Find employment in Southeast Asia with JobCute Thailand. Rich? Invest in real estate across Asia with FazWaz Property Group. Even book medical procedures worldwide with MyMediTravel, all powered by DB Ventures.

Cooking food at home more? Most Thais are during Covid-19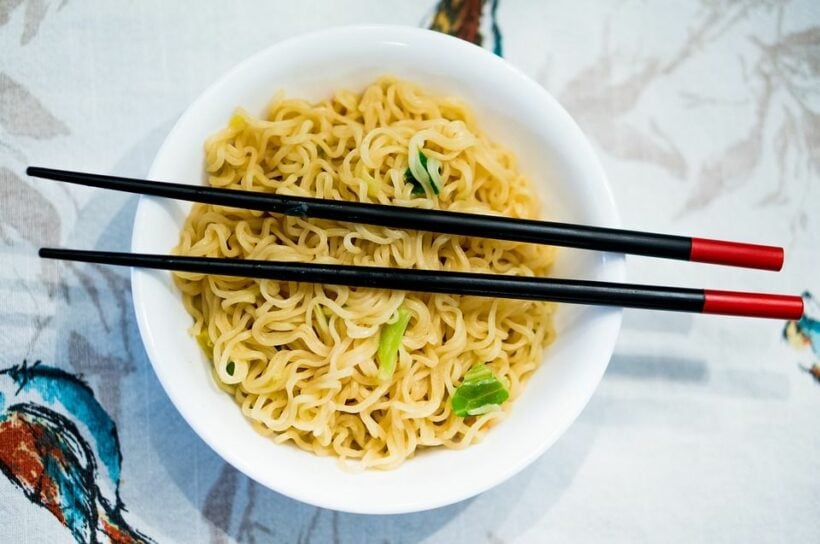 Are you an excellent chef? Did Covid-19 force you to learn how to cook food? Or maybe it caused you to pay closer attention to how healthy, how clean, and how well packaged your food is? A new Suan Dusit Poll found that Thai people are eating healthier and eating at home as a result of the Covid-19 pandemic. The poll, conducted last week by Suan Dusit Rakabhat University, asked 1,192 people about their eating habits.
The poll found that nearly 76% of people were cooking at home more often and 71% responded that since Covid-19 they have paid more attention to the importance of food. Only 3% said they pay less attention to their eating since the Coronavirus outbreak.
Most of the poll answers aren't too surprising, with lockdowns forcing more home meals, and fear of a contagious virus creating more awareness of hygiene practices. Nearly 48% of those polled believed that healthy eating helped against the Coronavirus while 38% were unsure. Nearly 50% were interested in knowing about foods that could build a Covid-19 resistance.
55% though herbs helped strengthen Coronavirus resistance, while Pad Ka Phrao, ginger, tom yam soup and kaeng som maroom (a sour moringa soup) were also mentioned favourably (51%, 49%, 43% and 32% respectively).
60% of those surveyed said they were choosing more healthy food, and 56% paid closer attention to the importance of food packaging. Somewhat surprisingly, 39% of respondents said they were spending more on food during the pandemic, about 37% said the amount was unchanged, and nearly 24% spent less money.
Food spending in Bangkok averaged 268 baht a day, while other provinces averaged 207 baht, creating a national daily food spending average of about 227 baht.
So how do Thaiger readers compare? What are you spending on food – more or less? Are you eating healthier? Are you dining out less? Perhaps some have become experts at cooking the #1 food in the world? Any recommendations for superfoods that ward off Covid-19?
The Thaiger looks forward to your responses in the comments on this story.
SOURCE:Bangkok Post
Want more from the Thaiger family?
📱 Download our app on Android or iOS for instant updates on your mobile
📧 Subscribe to our daily email newsletter
👍 Like/Follow us on Facebook
🔔 Subscribe to or Join our YouTube channel for daily video updates
Thai Airways food landing in 7-Eleven next month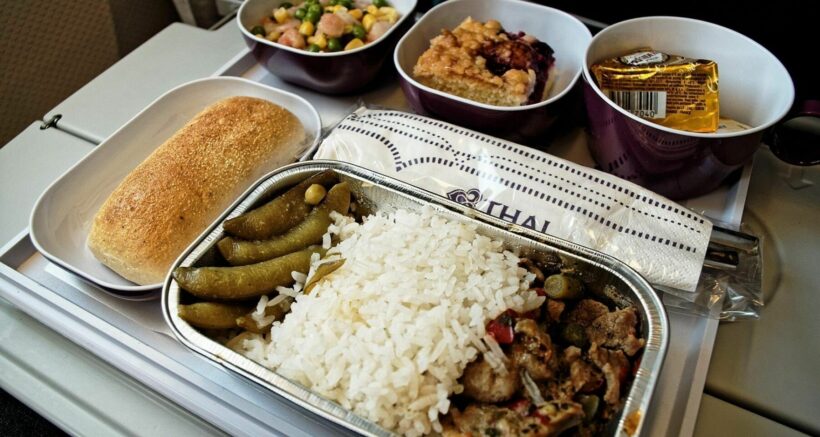 Warning. Some low-altitude turbulence is coming to a 7-Eleven near you. Thai Airways has cooked up a new money-making scheme during Covid-19 to sell its airline food in 7-Eleven. Set to take off on April 15, the mostly grounded and indebted airline will attempt to offset its losses during the pandemic by selling food in the ubiquitous convenience store and other supermarkets throughout Thailand.
It's a clever strategy for a struggling company, but will customers take the bite? Surely a few crispy pork and rice dishes will knock the edge of that 300 billion baht debt!
Claiming that their busy flight schedule has always previously stood in the way of the airline's foray into the fast food market, Thai Airways now has the supply (and time) with most flights grounded by the pandemic's decimation of the travel industry and less hungry mouths to feed in the sky.
The first meals schedule to arrive on the shelves of 7-Eleven just after the Songkran holiday are Thai Airways' halal chicken biryani dish, and the traditional Thai dish nam phrik long ruea, crispy and fluffy fish and sweet pork served in a fermented shrimp chilli paste. The primary push into the food industry will be more unusual meals to stand out in 7-Eleven's selection.
The question remains whether the food selection will fly off the shelves, but the airline's hopes are high after their airline launched pop-up restaurants in September and the public ate it up. It seems that, contrary to a million stand-up comedy jokes about how terrible airline food is, people have really missed it with so much cancelled travel due to border closures and restrictions.
Thai Airways hopes this creative departure from their main business will help bolster the struggling airline, who were previously denied a government bailout after declaring bankruptcy last year. They have tried everything from the pop-up restaurants to jumbo yard sales to renting out flight simulators. Even with the sharp reduction of flights due to the pandemic, flying will still be the company's main mealticket, but they hope meal sales will make up for low ticket sales until the travel industry recovers.
So stow your tray table and fasten your seat belt as we see if the 7-Eleven offerings of Thai Airways' food takes off.
(The Thaiger has a better solution. Let 7-Eleven lease Thai Airway's grounded planes and run the whole business instead)
SOURCE: Coconuts Bangkok
Want more from the Thaiger family?
📱 Download our app on Android or iOS for instant updates on your mobile
📧 Subscribe to our daily email newsletter
👍 Like/Follow us on Facebook
🔔 Subscribe to or Join our YouTube channel for daily video updates
Bring on the heat… here's our list of the spiciest Thai food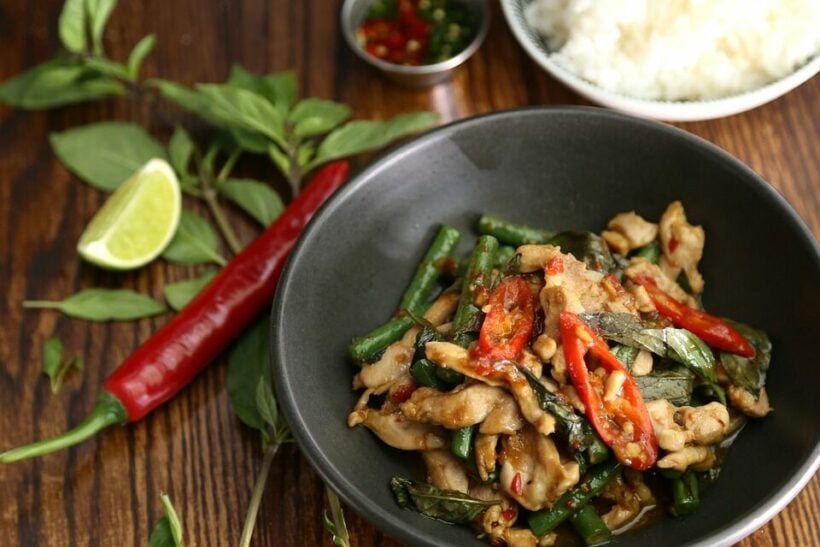 Thai food is raved about as one the best cuisines in the world… and the spiciest. The small red and green Thai chillies are typically what gives the dishes that extra kick, while dried chilli flakes and chilli paste, known as nam prik pao, are often served on the side to make the dishes even spicier.
While some foreigners come to Thailand with a palate prepared for spicy food, others can't handle the heat and Thais will typically lessen the spice level for visitors, calling it "phet farang," a more mild spice level for foreigners. Some restaurants and street food vendors may ask "Gin phet dai mai?" meaning "Can you eat spicy food?" For yes, say "dai," and for no, say "mai dai."
The spice level for many dishes can vary depending on the number of chilli peppers. Many spicy Thai dishes come with a side of cucumbers and other herbs and fresh vegetables to help bring down the heat.
We've come up with a list of the top 16 spiciest Thai dishes. Can you handle the heat?
1.Kaeng tai pla – Thai southern-style curry with fish entrails
Even some Thais don't try this dish, so be warned. Kaeng Tai Pla is one of the most well-known local dishes in the south of Thailand and one of the spiciest Thai meals.
Kaeng Tai Pla is known for its combination of salty, hot and spicy flavors. The main ingredient is the fish entrails that are fermented with salt for around a month before it's cooked. A special chilli paste is made specifically for the dish from garlic, shallots, white peppers, black peppers, dried chillies, kaffir lime vest, lemongrass and turmeric. The curry is typically served with a side of rice or rice noodles as well as a large plate of fresh vegetables to help with the heat.
2. Kaeng pa – Thai curry with vegetables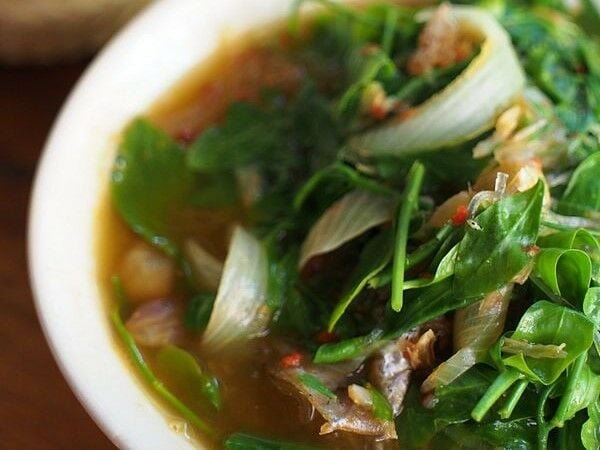 Kaeng pa, which means "jungle curry," is a watery, hot and flavourful curry. There's no coconut milk added to cool it down, so be warned. It's one of Thailand's spiciest curries. It's made with kaffir lime peel and leaves, lemongrass, green peppercorns, galangal, garlic and chilli. Traditional Kaeng pa was made with wild boar, but today, the curry is typically made with pork, chicken or fish.
3. Tom yum – Classic hot and sour soup
Tom Yum is one of the most well known Thai foods. The spicy soup, known for its herbal flavors, is made from lemongrass, kaffir lime leaves, galangal, tamarind, chillis, mushrooms and coriander. It's typically made with shrimp or a large prawn (tom yum goong), but can also be made with chicken (tom yum gai.) Coconut milk is often added to the soup, which lowers the level of spiciness and sweetens the flavour. To make it extra spicy, ask for the clear tom yum without coconut milk called tom yum nam sai.
4. Leng sab – Sour and Spicy Pork Neck Bone Soup
Leng Sab is a simple, but spicy dish and is very popular among Thais. It has a similar taste to Tom Yum, but has a sharper tanginess and a unique aroma from the green chillis. The dish is usually served hot with a large piece of well-boiled, soft pork neck in a flavorful broth. Lime juice and green chillies are added in to give a tanginess and heat. It's garnished with coriander and spring onions. It's typically served with a side of rice.
5. Kua kling – Stir-fried meat with curry paste
Kua Kling is a famous stir-fried dish from Southern Thailand. Typically made with minced pork, Kua Kling has salty and spicy flavours as well as aromatic notes of various herbs and spices. It's less spicy than Kaeng Tai Pla, but still extremely spicy. The dish can be served with rice and fresh vegetables like cucumber, Thai eggplant and other greens to help with the heat.
6. Kaeng som – Spicy and sour yellow curry soup
Kaeng Som, which translates to "orange curry," is a southern-style curry known for its salty, sour and spicy tastes. It's made from a combination of herbs and spices, and seasoned with shrimp paste, salt and lime juice. People usually add fish as well as bamboo and coconut shoots to the curry. Sides of a Thai-style omelet and a deep fried fish go well with the curry.
7. Som tum – Green papaya salad
Som tum is one of the most famous Thai foods and is a "must try" dish when visiting Thailand. Som tum is made from shredded unripe papaya, tomatoes, asparagus beans, lime, dried shrimp, chilli peppers, palm sugar and fish sauce.
Typically, a som tum vendor will ask how many chillies you'd like. "Mai sai prik" means "no chilli," but let's be honest, som tum without chilli is not real som tum. Around 3 or 4 chillies is normal, but very spicy. Some add 10 or more chillies. The salad goes well with sticky rice and grilled chicken, known in Thai as "gai yang."
There's also other variations of som tum, such as som tum pon la mai which is a fruit verison of the recipe with apple, tomato and corn in the same spicy seasoning as the original. There's also som tum pu pla ra which has raw crab and fermented fish sauce.
8. Phad kaphrao – Stir-fried meat with chilli and holy basil
Phad kaphrao is one of the most popular dishes in Thailand. The simple stir-fried dish is made with meat, typically chicken or pork, with chilli, garlic and holy basil. Some pad kaphrao dishes are made with shrimp, squid or crispy pork. It's served with a side of steamed rice, which helps to minimize the heat. It also pairs well with a fried egg, or "khai dao" in Thai.
9. Phad chaa talay – Stir-fried spicy seafood
Phad chaa talay is packed with a variety of herbs and spices, giving it a unique flavour combination, and of course, heat. This spicy dish is made with a variety of seafood like squid and prawns cooked with chilli, kaffir lime leaves, green peppercorn and fingerroot. The dish is sometimes made with pork, chicken or fish. It's usually eaten with a side of rice.
10. Khai phad khamin – Stir-fried spicy chicken with turmeric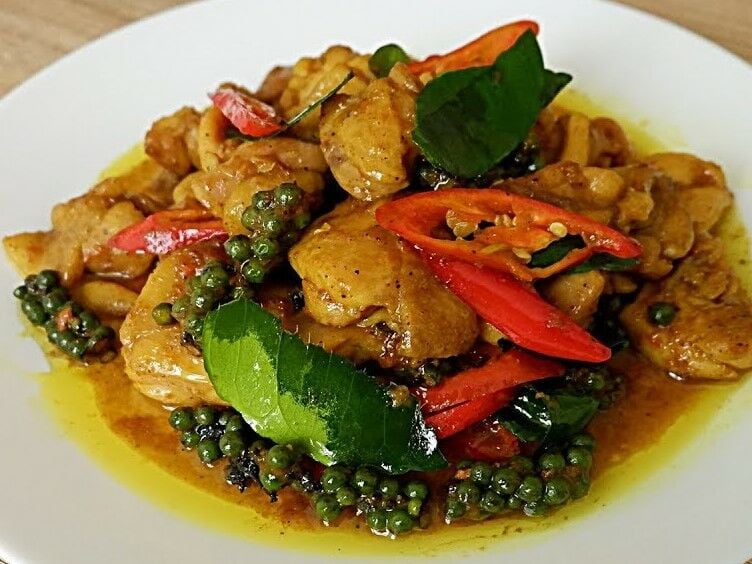 Khai phad khamin is a spicy dish with rich flavours of Thai herbs and spices. Turmeric is the dish a bold yellow. A paste for the dish is made with turmeric, garlic and black pepper. It's garnished with chillies and kaffir lime leaves. While it's not as spicy as some Thai dishes, the turmeric and black pepper are sure to make you sweat.
11. Tom sab kradook on – Spicy and sour soup with pork cartilage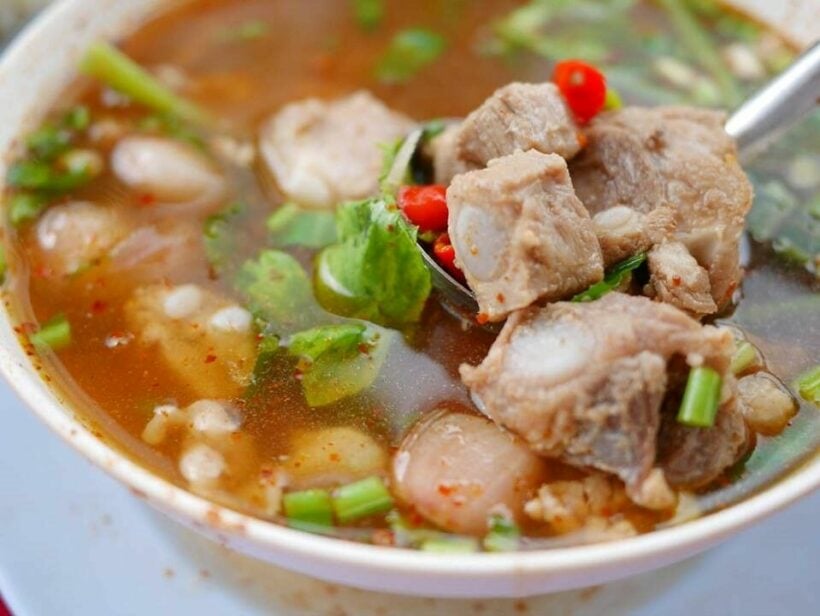 Tom sab kradook is based with the same ingredients as tom yum (lemongrass, kaffir lime leaves, galangal, chilli and coriander) but is added with deep-fried dry chilli. It has the spicy and sour taste of tom yum with a smokiness from the deep-fried chillies. Pork cartilage is a popular meat for the dish. The soup is normally accompanied with rice.
12. Gung kua phrik klua – Stir-fried spicy shrimp with chillies and salt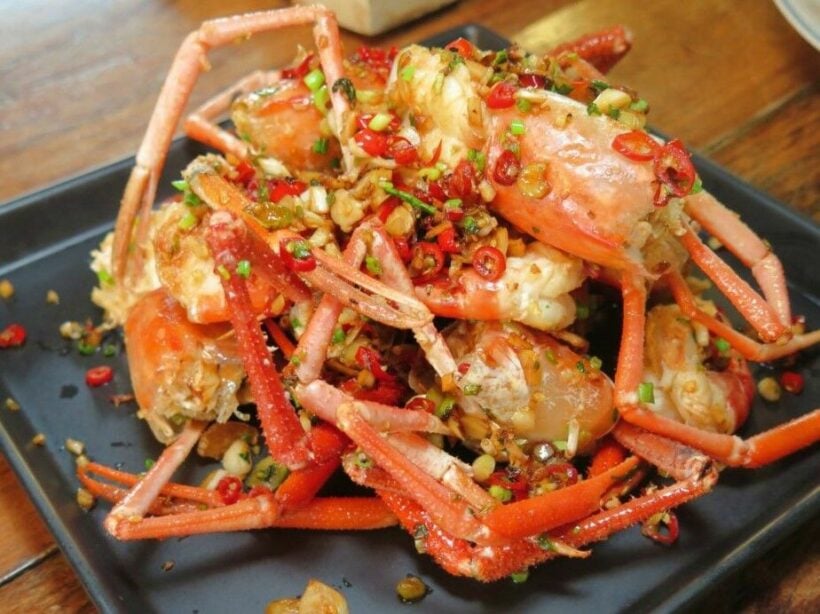 Gung kau phrik klua is a simple dish often offered at Thai restaurants. It's stir-fried shrimp with 2 main seasonings: chilli and salt. A pinch of pepper and some fish sauce are also added to enhance the natural sweetness of the shrimp. It goes nicely with a bowl of rice.
13. Nua phad phet bai yee ra – Stir-fried beef with red curry and tree basil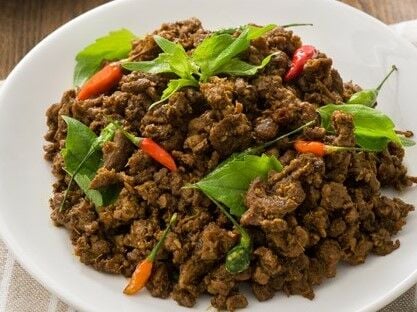 Nua phad phet bai yee ra is stir-fried beef cooked in a thick paste, which is made with the same ingredients as red curry: shallot, galanga, lemongrass, kaffir lime zest, dried chilli, white pepper, coriander seeds, cumin and garlic. It's topped with tree basil and pair nicely with rice.
14. Nam phrik kapi – Shrimp paste chilli dip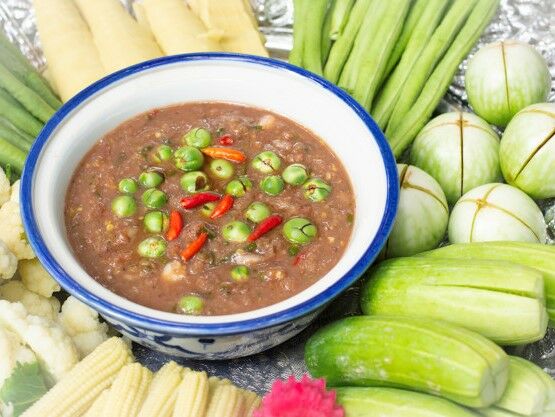 Nam phrik kapi is the staple chilli dip of Central Thailand. The dip is a savoury combination of salty, tangy and spicy. Shrimp paste gives the dominant salty favour. Chillies, garlic, shallot, lime juice and palm sugar are mixed in. The dip is typically served with deep-fried mackerel, steamed vegetables and rice.
15. Pad phrik khing – Stir-fried dry curry with long green beans and meat
Pad phrik khing is a more mild spice level than some of Thailand's spiciest dishes. The stir-fried dish can be made with different kinds of meat, like seafood, pork or chicken as well as green beans. Red curry paste, ginger and kaffir lime leaves make up a unique flavour. A salted egg goes well with the dish.
16. Mu phad phrik phao – Stir-fried pork with roasted chilli paste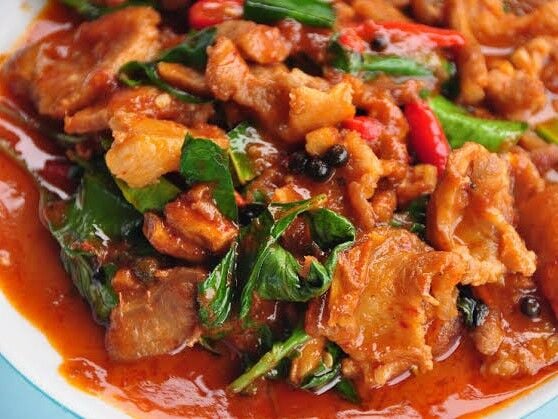 Mu phad phrik phao is stir-fried pork with roasted chilli paste, which gives the dish a hint of sweetness and sourness. Sweet basil is often added. Some use other types of meat like chicken, crispy pork or fish. It's best with a bowl of rice.
Want more from the Thaiger family?
📱 Download our app on Android or iOS for instant updates on your mobile
📧 Subscribe to our daily email newsletter
👍 Like/Follow us on Facebook
🔔 Subscribe to or Join our YouTube channel for daily video updates