Top 10 foods to try in Thailand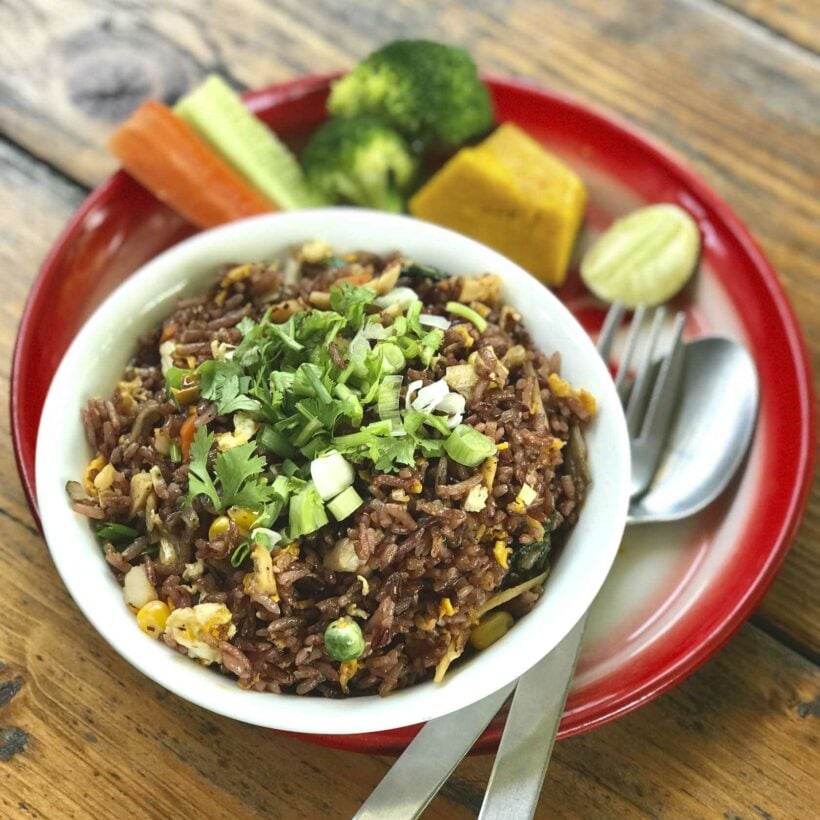 Thailand is known around the world not only for it's breath taking scenery, beautiful hosts but also for their food. Fresh and vibrant, the local food in Thailand is cheap and it is amazing. On the street or in a fancy restaurant, it's all good.
Be brave. Buy from the side of the road like the locals do, it will be the best meal you've had today. There is so much to sample and taste if you are willing to put yourself out of your comfort zone. Just remember one term "Mai Phet", no chill please!
Here is, in no particular order, our Top Ten foods to try in Thailand….
1. Khao Soi Gai (Spicy Noodle Chicken Soup)
Khao Soi Gai originates from the cooler climate of the North, in the cultural city of Chiang Mai, therefore a hot and spicy soup is just the ticket. Without a doubt my favourite dish in Thailand, even though this is in no particular order, it sits at number one for good reason. The spicy broth, with the steamed chicken and the crispy noodles on top are delicious. The dish is traditionally served with lime, shallots, pickled mustard and chilli for individual taste and flavour.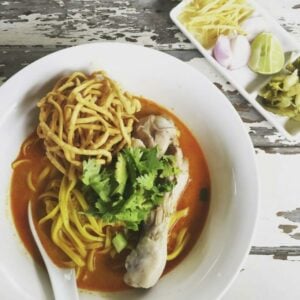 2. Durian
Buyer or should I say taster beware! Durian is the most popular fruit not only in Thailand but all over South East Asia, and beyond. It can grow up to 30cms long and 15cms wide and comes in a varierty of shapes and sizes, but I am dancing around the point: Durian has the most unpleasant (this is super polite) smell I think I have ever smelt. It is overpowering and has the stench of dirty socks which doesn't do it much favours and it's banned on most flights around Asia due to its pungency. The actual flavour of durian is quite pleasant and sweet if you can get past the smell as it approaches your mouth. Give it a go, be brave!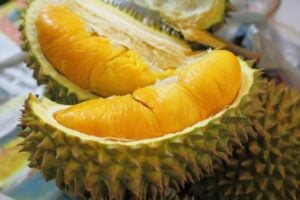 3. Phuket Lobster
Ironically Phuket lobster is more expensive than the Canadian lobster that has traveled half way across the world. If you can get past this fact then you must try the Phuket lobster because they're sweet and fresh, juicy and worth the extra baht. One of our favourite places to try Phuket lobster is Kata Rocks, an ultra luxury resort in the South.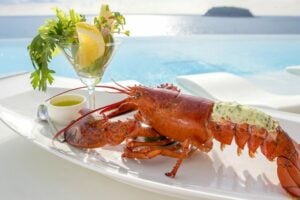 4. Chai Yen (Thai Ice Tea)
You can't travel to the land of smiles without trying Chai Yen, the local ice tea. I have two boys and if they had the chance, and I allowed it, they would drink this sweet tea daily. The secret ingredient that makes Chai Yen worthy of making this list is the fact it is sweetened by condensed milk which makes it thick and syrupy. Not recommended for a low calorie diet.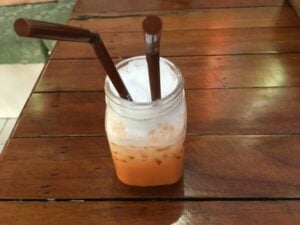 5. Fresh Coconut on the beach
We are so lucky here on the island of Phuket to have access to fresh coconuts. Lots of them. Coconuts not only feature in many local Thai dishes but they also have numerous health benefits according to some health practitioners. Whether you are drinking yours from Makro or on the side of the street you are doing your body a huge favour. Click HERE to see The Thaiger's Top Ten benefits of drinking coconut water….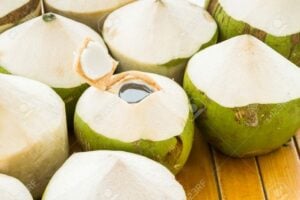 6. Gaeng Keow Wan Gai (Green Chicken Curry)
Laced with Thai super stars of food – coconut, palm sugar, kaffir lime, fish sauce and green curry paste, the chicken curry served with steamed rice is mouth watering and stomach filling (and sometimes spicy unless you ask for "mai phet". Super easy to also make at home, but steer away from "non Thai" versions. I can't say it for sure but I'm pretty sure Jamie Oliver's green chicken curry recipe isn't going to be authentic!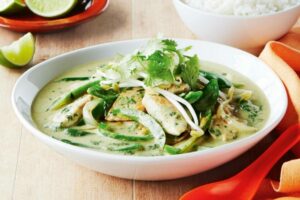 7. Miang Khum (Thai Snack)
I was first introduced to this snack more than a decade ago, you don't see it very often in "touristy" areas as it is a very traditional snack dating back to the court of King Rama V. It literally means "one bite wrap" whereby you grab a beetle nut leaf and place in it whatever takes your fancy from the plate, ginger, shallots, peanuts, chili, dried shrimp and lime. The beetle nut leaf itself is quite bitter so adding in all the flavours is a palate filling experience.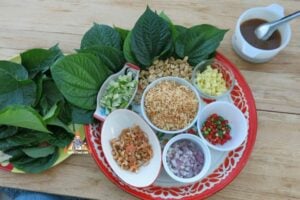 8. Som Tum (Spicy Green Papaya Salad)

Locals eat this dish every day, it is fresh and crisp and once again full of the flavours of Thailand. With shredded unripe green papaya, snake beans, tomatos, garlic, peanuts and dried shrimp it is quick and easy to make and often eaten on the side of the road. Once again be brave and buy from the local lady on the corner of the street making her living from Som Tum. But, again, it can be spicy so plead for a slightly less spicy version if Thai spices are too hot for you.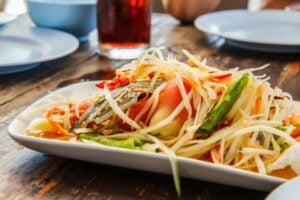 9. Goong Sarong (Prawns wrapped in deep fried noodles)
Typically I'm not a fan of prawns but when these little puppies are wrapped up in noodles, deep fried then served with sweet chillie sauce, I must indulge. Served traditional as an appetiser along with table top friends chicken satay and spring rolls, be careful not to have too much as you will spoil your dinner. Thanks Mum!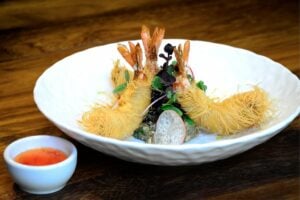 10. Tom Kha Gai (Coconut Chicken Soup) 
The go to dish for me when I can't decide what to order, the soup has all the flavours of Thailand – hot, sour, sweet and with the addition of fresh coconut milk makes the perfect balanced dish. Kaffir lime, lemongrass and galangal also add aroma and Asian flavours to finish off this beautiful soup.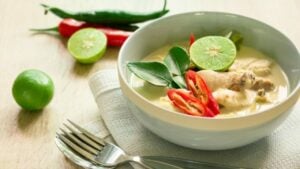 The new Blue Tree waterpark and entertainment precinct unveiled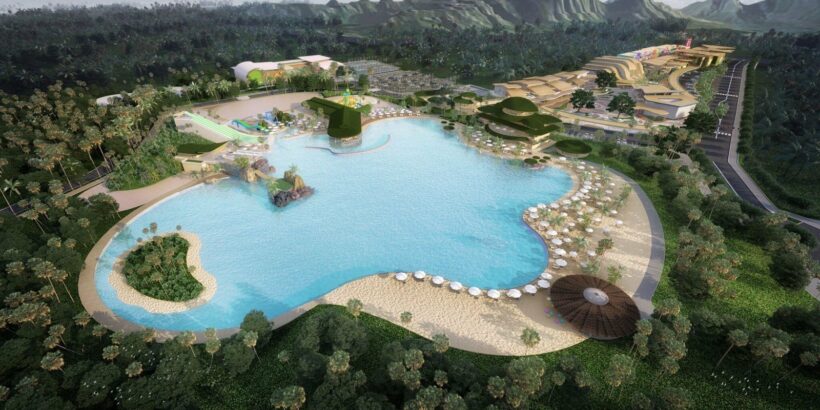 Phuket's tourism industry has received a major shot in the arm with the unveiling of the new Blue Tree Phuket – a US$40 million investment and multi-dimensional destination waterpark and entertainment complex set over 140 rai in Cherng Talay.
Positioning themselves as 'Phuket's premier family attraction', Blue Tree is the island's first international-standard, fully integrated waterpark and family entertainment complex.
The complex will feature a compelling mix of retail, destination dining, waterpark, beach club, and health and fitness with its star attraction at its centre – Blue Tree Lagoon – designed and built by world-leading US-based water attraction specialists Crystal Lagoons.
Opening early next year, Blue Tree is led by Michael Ayling, former Managing Director of Laguna Phuket.
"We are delighted to be announcing what we feel will be a key component in Phuket's tourism future as we are confident Blue Tree will appeal to families looking for high quality entertainment," said Michael.
The 10 rai (17,000 sqm) Blue Tree Lagoon, designed by world-renouned Crystal Lagoons, is the star attraction of Blue Tree Phuket.
"Phuket's tourism market has changed considerably over the past ten years. We now see strong demand for inland attractions driven by Thai families, residents of the island and the growth of the independent-travelling international tourism market. All three markets have one thing in common: a need for high-quality, family-focused entertainment away from the beach. This is what we will deliver," he said.
Blue Tree Phuket will offer a Water and Entertainment park, a four-storey vertical Beach Club, Fitness Zone, Kid's Club and multiple retail spaces. In addition, 17 restaurants and food outlets will cater to all tastes and budgets, centred around the complex's star attraction: Blue Tree Lagoon.
The 17,000-square-metre man-made lagoon has been designed by Crystal Lagoons, who most recently completed a mega inland lagoon project in the family attraction capital of the world, Florida. It is flanked by artificial beaches and offers an aquatic playground for family-friendly and adrenaline-driven activities such as a Slip N Fly, water slides, splash zone and even cliff jumping.

Michael Ayling
Aside from utilising state-of-the-art technology to maintain water clarity, Blue Tree Lagoon also boasts eco-friendly credentials. Powered by Crystal Lagoons' sustainable technology, the lagoon uses up to 100 times fewer chemicals and 50 times less energy than conventional swimming pool systems.
The vertical Beach Club is open throughout the day and into the night.
Blue Tree has been in development for the past two years, from the master planning stages to partnership selections and management – with environmental sustainability a core component of the project's DNA and fundamental to its promotion of an active and healthy lifestyle.
"Blue Tree has natural borders. These are thick, mature rubber plantations that surround the project and emphasise the lush tropical environment found throughout the grounds. The name itself is testament to our commitment – a green and blue oasis in the shape of a tree, with deep roots and strong connections to the destination, its heritage and its future," said Michael.
"Phuket will always be known for its spectacular sea and sand, but there's been a clear demand for inland entertainment alternatives for some time now and this will fit the bill, showcasing a lesser known side of Phuket but one that will appeal to both middle class Thai families and Amanpuri guests in one strategically located destination."
Admission fees will be kept affordable with a pay-and-use concept, while full access to all activities will be priced lower than 1,000 baht.
Find out more about Blue Tree HERE.

Spectacular views and the new lunchtime menu – Kata Rocks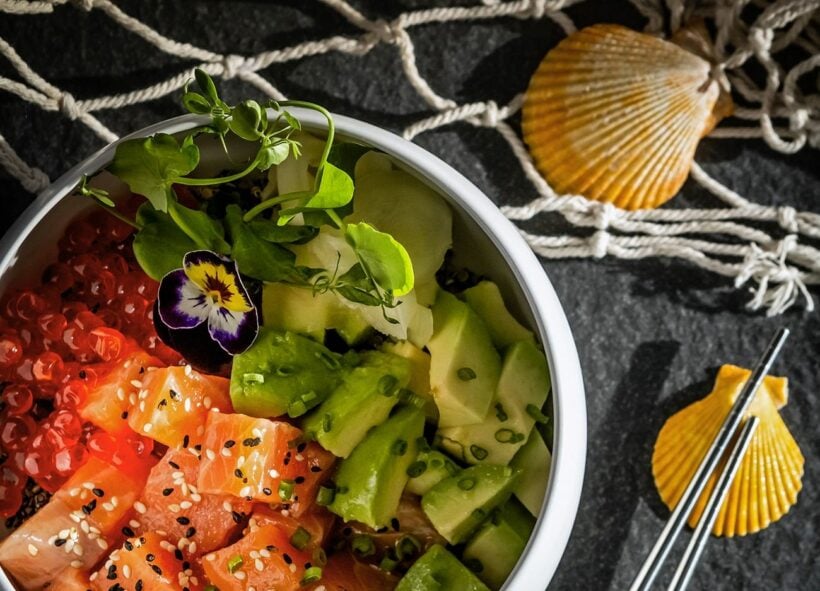 Kata Rocks, Phuket has launched a new lunch menu at the Oceanfront Clubhouse. You know the view, you'll LOVE the new menu.
With flavours inspired by both the Mediterranean and regional gastronomy, the refreshing new menu celebrates the summer and island life by using seasonal ingredients and seafood specialities. The new menu aims to make the Oceanfront Clubhouse a destination of choice for premium lunchtime dining on the island's  west coast.
Executive Chef Laia Pons says, "the highlight of this upgraded menu is not only its innovative use of unique, fresh flavours, but also its commitment to seasonal ingredients and the demands of our diners.
"We've also added some great new creative and healthy dining options on both our new menus," she added.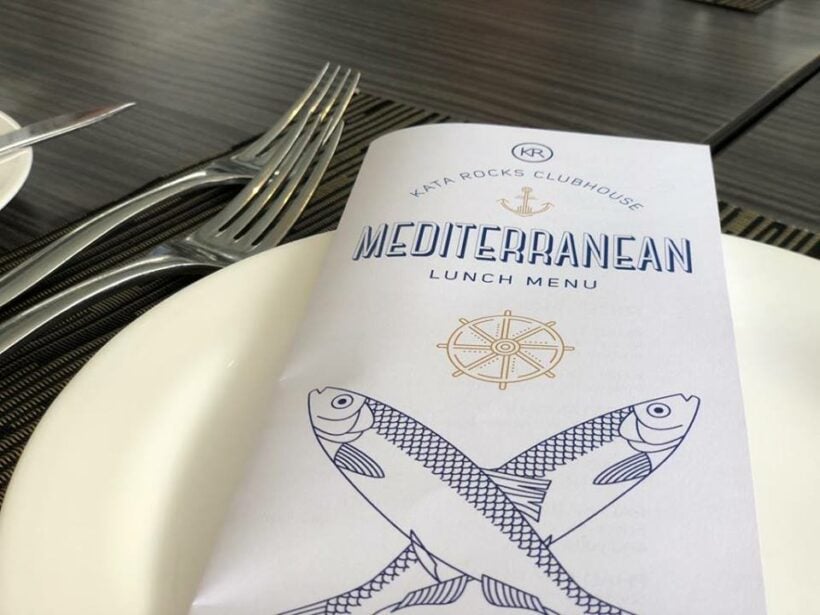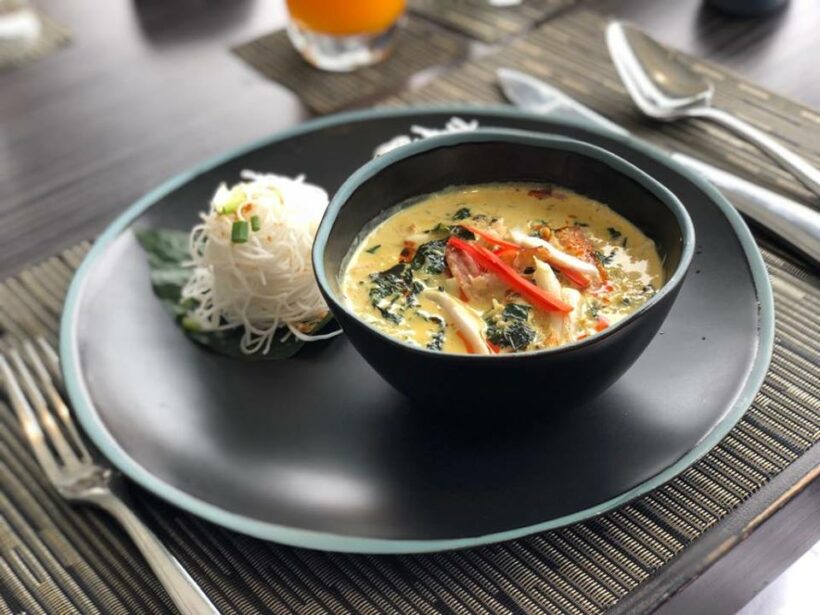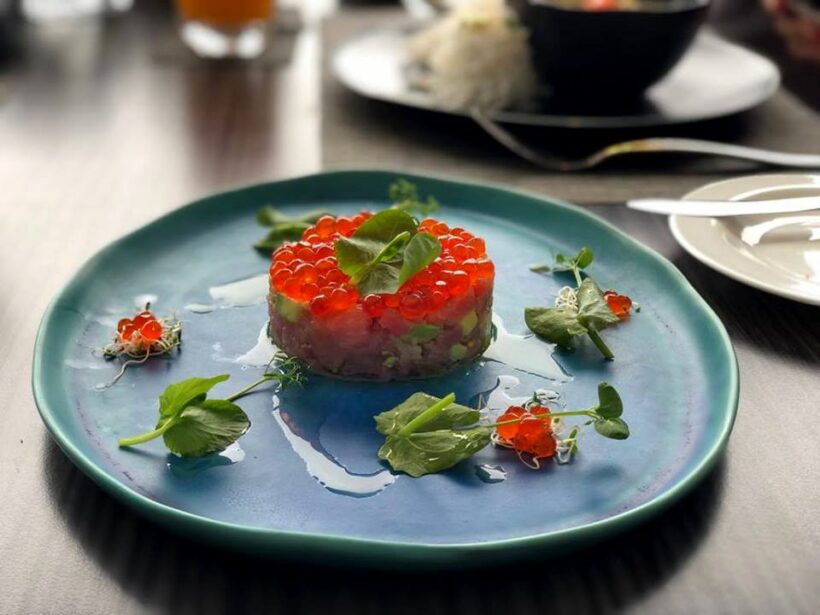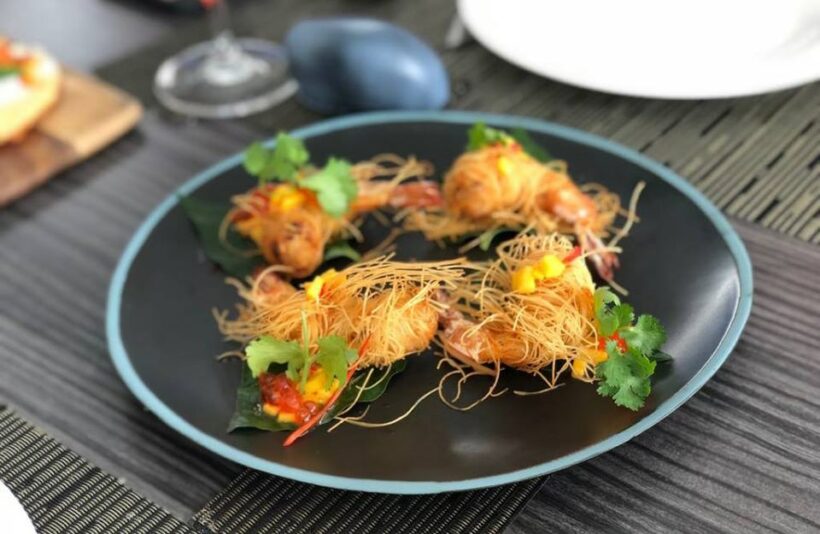 The Mediterranean Lunch Menu, which features specialities such as Grilled Lobster and freshly imported Fine De Claire Oysters, adds a touch of Riviera flair to island dining. Other new dishes include the Salmon Avocado Quinoa Bowl, Whipped Ricotta, Basil and Tomato Pizza, Lamb Burger with Tzatziki, and signature vegetarian options such as the Watermelon Rocket Feta Cheese salad with Berries and Caesar Salad with Avocado and Poached Egg.
For guests looking to experience a taste of Thailand, the new Thai Lunch Menu offers an inspired take on local gastronomy. New dishes include Nam Tok Nuea with dry chili, grapes, mint, roasted rice powder; Gaeng Phoo – Blue Swimmer Crab Curry with coconut cream, sweet basil, steamed noodles and Pla Ka-Pong – Deep fried Sea Bass with sweet and sour green mango dressing.
Wines from Kata Rocks' signature Wine Cellar, which features over 300 world-class wines, compliment the new menus and with 24 different wines available by the glass, guests can enjoy the perfect pairing. Alternatively, a selection of handcrafted cocktails are available created by the resort's master mixologists.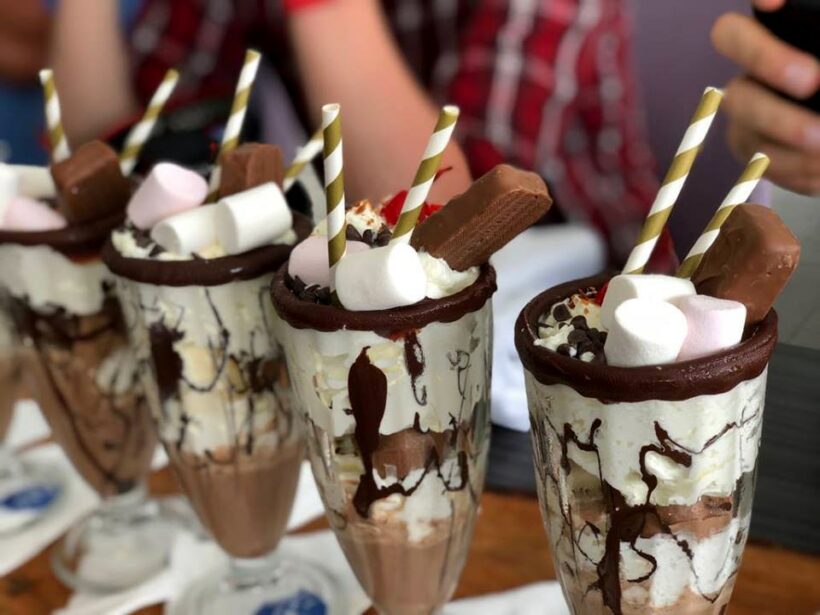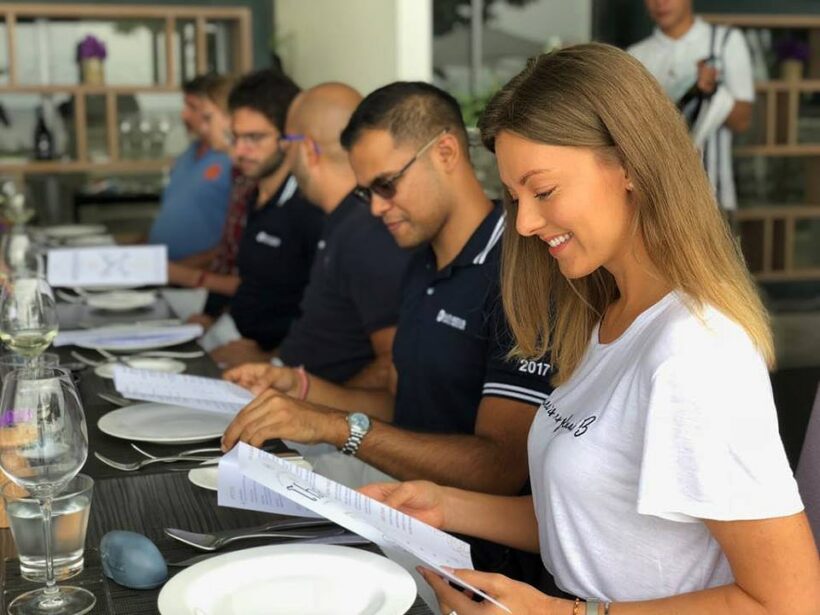 You can see the new menu HERE.
Find out more and make a booking HERE.
Tim Newton was a guest of Kata Rocks in previewing the new lunch menu.

A very Asian tale "Crazy Rich Asians" opens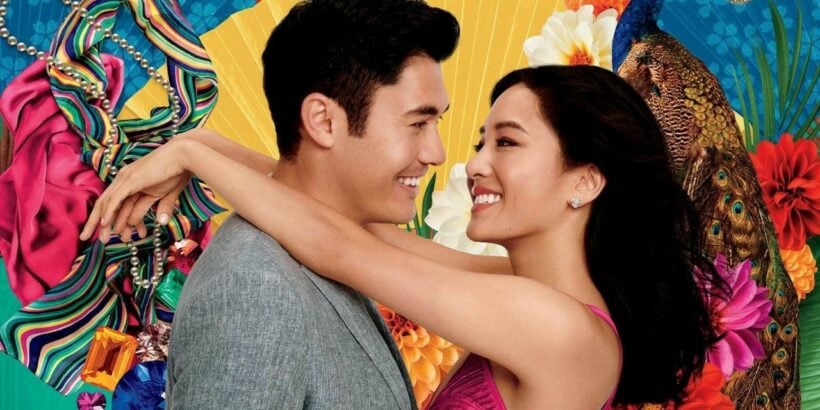 "The last high-profile Hollywood film with an all-Asian cast was The Joy Luck Club released in 1993."
By The Star, Asia News Network, Kuala Lumpur
It was a sweltering night in Singapore and the production of Crazy Rich Asians was in the last leg of filming. Director Jon M. Chu was sweating buckets and it's not entirely because of the humid weather.
Chu, who has worked on big budget Hollywood sequels like G.I. Joe: Retaliation and Now You See Me 2, said Crazy Rich Asians presented a whole new set of challenges for him.
Check out the Hollywood premiere of Crazy Rich Asians.
"Sometimes dressing people up for a wedding takes a lot more effort than filming ninjas on a mountain," Chu shared briefly on the set of Crazy Rich Asians, before rushing back to finish another scene.
Members of the media were observing the filming of an emotionally-charged moment featuring Rachel (Constance Wu, TV's Fresh Off The Boat) screaming into the night. In the scene with her were Tan Sri Michelle Yeoh and veteran actress Lisa Lu.
Some context: The ladies were all dressed to the nines for a high society wedding. At a later interview, Wu did not want to talk about how she prepared for that screaming scene.
"It's just actor stuff. If I have to tell you, it would be like I'm telling you how to fix a car, it's just boring," 36 year old Wu said with a laugh. Mind you, she had to do that scene over and over again just to get it right.
The truth is, there is nothing boring about what her character Rachel goes through in Crazy Rich Asians.

For the love of money
Rachel is an Asian-American economics professor living in New York with her charming boyfriend Nicholas Young (Henry Golding). One day, Nicholas invites her back to his country, Singapore, to attend his best friend's wedding.
It is only then that she finds out that her boyfriend is from a wealthy and well-connected family. Just how wealthy is this guy? Think crazy rich.
Based on the book by Kevin Kwan, Crazy Rich Asians is said to be inspired by real families and wealthy personalities in Asia. Kwan goes into specific details on what the rich do when they have too much money. From buying a hotel just to get rid of a snobby manager to hiring the Vienna Boys' Choir for a wedding, nothing is off-limits for the ultra-wealthy characters in the book.
However, Kwan won't divulge who these actual crazy rich Asians are.
"Nicholas is from this old money family. Wealth is passed through generations. He is very acutely aware that he is the heir to the riches that his family holds," Golding, 31, said about his character.
It's one thing to be rich but to be dating someone who is not from the same exclusive social circle? Oh, the madness.

Financial security
56 year old Yeoh steps in as Eleanor, Nicholas' mother and respected (think feared) matriach of the Young family. Eleanor makes it clear that she does not approve of Rachel. To be fair, she's just like most mothers with an only child who is set to inherit the family fortunes; tiger mum becomes (over)protective.
So, Eleanor hatches a plan to sabotage the relationship between Rachel and Nicholas.
"Eleanor would do anything for her son. She would die for him. And the thing is, she's not afraid to tell him all that," Yeoh laughed while explaining her character's motivation.
But that's not the craziest thing about Crazy Rich Asians. The fact that Hollywood is making a contemporary romantic comedy featuring Asians in leading roles is something unheard of.
Wu noted: "We've never had a studio movie with an all-Asian cast that was not a period piece."

Rich in diversity
The last high-profile Hollywood film with an all-Asian cast was The Joy Luck Club released in 1993. Wu lamented that Asians don't often get to be seen in a Hollywood film with a modern setting.
"Like, why don't we see Asians using cellphones? It's a way to include Asians in the current conversation by showing them in a contemporary context. We are here. Our stories matter and that to me is really groundbreaking," she said.
Other Hollywood cast members in Crazy Rich Asians include Ken Jeong (The Hangover), Awkwafina (Ocean's 8), Gemma Chan (Transformers: The Last Knight) and Sonoya Mizuno (La La Land).
From this region, expect to see the likes of Ronny Chieng, Pierre Png, Carmen Soo, Tan Keng Hua and Fiona Xie on screen. Hollywood newbie Golding described filming for Crazy Rich Asians as "insane" (his pun, not ours). Producer Nina Jacobson said they were looking for someone like Cary Grant to play Nicholas.
"There's a sense of class and elegance to Nicholas. At the same time, he's also down to earth. It was hard to find all those things."
"Henry did amazingly well on his screen test and he had all those qualities that we were looking for," Jacobson explained why the studio went with a newcomer.
While Golding has made Malaysia proud, his casting also stirred some controversy. There were those who noted how Golding was not "Asian enough" for the role seeing that he is part European.
Instead of dwelling on the backlash, Golding said he is proud to represent a part of South-East Asia that is mostly unknown to his Western counterparts.
"We have such a melting pot of identities in South-East Asia and that is something to be proud of. It's really important that we make this film. We're breaking boundaries and that is the most important takeaway," he said.
Value for money
Despite its very specific setting, Jacobson believes Crazy Rich Asians has stories that will resonate globally.
"We have a great universal story for anyone who has been rejected by their in-laws or people who have their foot in two different cultures," she said.
She also identified with Rachel as someone who is fascinated by a strange yet familiar new world.
"When I first read the book, I couldn't put it down. The expectations on Nick from his family was relatable. The story felt fresh and new. It took me to somewhere that I wanted to go," Jacobson said.
Will Nicholas' love for Rachel triumph over his family money?
Yeoh said you can't live on love alone: "When you're in love, you say you don't need money or you don't need anything (else). When love cools down and reality sets in, then what? Love is not bread and butter. You have to be sensible."
Yeoh saw Crazy Rich Asians as more than just a story about unimaginable wealth.
"It's also about the responsibilities of a family. Many people depend on them (Nicholas' family) for their livelihood. It's not just about them getting rich, it's also about the community.
"It's good to have money but it's what you do with it that really counts," she concluded.
And that token of wisdom is priceless.
STORY: The Nation