Thai Life
Environment: CSR project helps Phuket crab catchers cut out middlemen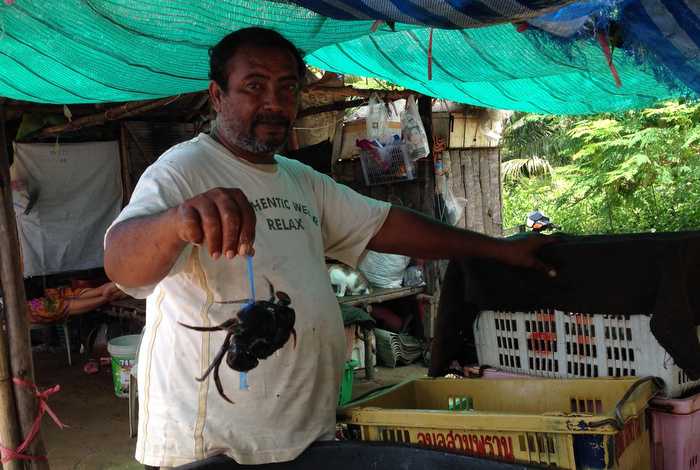 PHUKET: Phuket is one of the most charming and popular tourist destinations in the world, well-known for its gorgeous beaches. The number of people coming to Phuket increases every year, and while this is great for the economy, it has a direct impact on the environment, as well as local communities.
However, there are positive aspects to being a world-renowned tourist destination. Many hotels and local businesses in Phuket have been working diligently with their Corporate Social Responsibility (CSR) teams to develop closer relationships with local communities. Sustainability programs have played a growing part in this development, thus helping to ensure that Phuket remains an island paradise. This has earned participating hotels the respect and appreciation of their guests, as well as the support of the local and expat communities.
A sustainable program launched in a local community located at Moo 3, Suan Maphrao, Mai Khao, is one example which demonstrates how beneficial CSR programs can be for local villagers. Devised and run by JW Marriott Phuket Resort & Spa Phuket, the program provides five households – 32 people – with the opportunity to become self-sufficient seafood merchandisers.
The local villages are able to obtain seafood products because their community is located close to the seashore near a mangrove forest. They catch 7-8 kilograms of black crabs and make 700-800 baht per person daily. The business relies on good weather and luck. If there is heavy rain, there will be less opportunities to catch the crabs. However, during a full moon the villagers tend to be happier because the crabs they catch are often larger than usual.
"We've lived here for more than 30 years," said Kunya Nilsamutr, a local community leader. "Because we live so close to the mangrove forest, we saw an ideal opportunity to expand our business selling the crabs and other seafood produce to local hotels. However, we didn't have any real knowledge about planning a business model or setting up a marketing plan."
Mr Kunya said that villagers had three main avenues through which to sell their products: at roadside markets; delivering fresh fish and crabs to nearby villages; and selling their crabs and other seafood produce directly to hotels. Mr Kunya said that they had no problem selling their produce along the street and to nearby villages, but when it came to selling it to the JW Marriott, villagers had trouble understanding the purchasing system.
This is where Sean Paul Panton, CSR director at JW Marriott Phuket Resort & Spa, stepped in.
He soon realized that he needed to teach the fishermen how to manage their own money properly. His first action was to take them to a bank and have them open a community bank account.
"Once they did this, we were able to buy their products and pay them directly into their bank account. This meant there was no need for them to pay a middle-man," said Mr Panton.
Although there is a Standard Operating Procedure (SOP) to which the hotel adheres, Mr Panton said that the hotel was more than willing to be flexible, so that it could accommodate the villagers and achieve a sustainable business model that would benefit the entire community.
"This is a good way to forge links between our hotel and the local community. It's a win-win strategy. We see a lot of middlemen putting pressure on villagers to hire them, so that they can negotiate with us and other resorts on the villagers' behalf. As a result, the fishermen lose out big time. Our sustainable CSR model in this case, has been very effective in cutting out the middleman and making sure the profits go directly to the local community," said Mr Panton.
— Jirawat Kuramakanok